All You Need to Know About E-books but Were Afraid to Ask
Many or all of the products here are from our partners that pay us a commission. It's how we make money. But our editorial integrity ensures our experts' opinions aren't influenced by compensation. Terms may apply to offers listed on this page.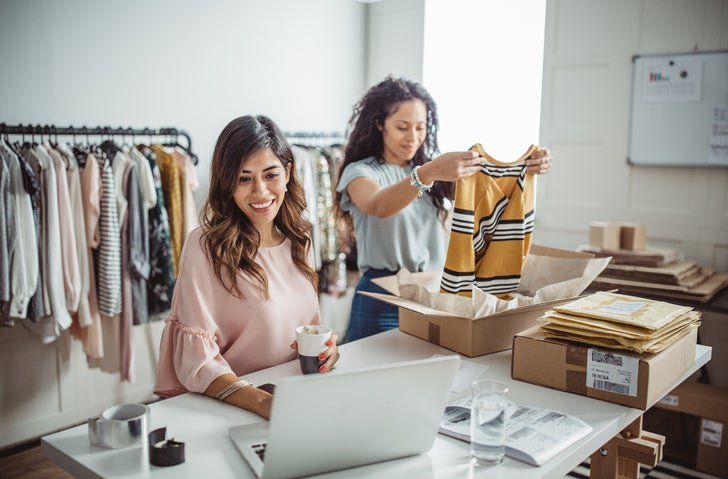 This article explains how e-books can help you connect with your audience, build your brand, educate your prospects, and generate leads.
Writing an e-book might seem like a task as mammoth as winning the Nobel Prize in Literature if you've never done it before. But don't worry, you don't have to write 80,000-100,000 words of beautiful prose that change readers' lives to create an e-book.
This article aims to simplify the process by explaining what an e-book is, detailing the benefits, and describing how to use e-books in your content marketing strategy.
Overview: What is an e-book?
An e-book originally described books created for digital screens, such as a Kindle or other e-reader. Now, the term is used to describe any longer content, at least 2,000 words, that you can download as a PDF. These are digital marketing e-books.
E-books often include original research, graphics, in-depth explanations, and contributions from multiple sources, normally experts in the topic.
Typically, you have to give up your email address to download the e-book.
4 benefits to using an e-book in your marketing strategy
E-books should play an integral role in your digital marketing strategy. Here's why.
1. Build your brand
Customers prefer to buy from a brand they trust. When people search for answers on Google, they're more likely to click on links from brands and companies they are already familiar with. So, even if you get your content on the first page of a Google results page, you might not get the clicks.
If you create a unique, useful e-book that makes people's lives easier or gives them the insight to operate their business or run their lives better, they're likely to remember your brand name.
2. Showcase your expertise
Once people know who you are, you need to show them what you know and what you can do. An e-book is an ideal medium to dive deep into a topic and provide insight that only you can offer.
Think about the topics you know inside out. Consider what makes your business unique. Speak to your customers if you aren't sure. When you offer insightful, unique tips, you'll demonstrate you know what you're talking about and have the experience and expertise that customers can trust.
3. Educate people about your business and product
Consumers increasingly want to buy from businesses that reflect their values. On the flip side, you want to engage with people more likely to be repeat customers and stay loyal to your business. This means explaining to people who you are, so they know if you're the best fit.
Your product or business ethos won't fit with everyone, and that's ok. And maybe you'll make decisions for business reasons that will turn people off. You can use e-books and long-form content to explain who you are and why you've made such decisions.
Take oat milk brand Oatly. In late 2020, the company accepted funding from global investment company Blackstone. This angered customers as the private equity firm has been accused of contributing to deforestation in the Amazon.
Oatly wrote long-form content explaining that it hoped to work with the company to show them that making plant-based investments that benefit the planet would pay off. It also repurposed this content into a blog post for people who wanted the short version.
Using e-books and long-form content in this way can help you find the right customers and help the right customers find you.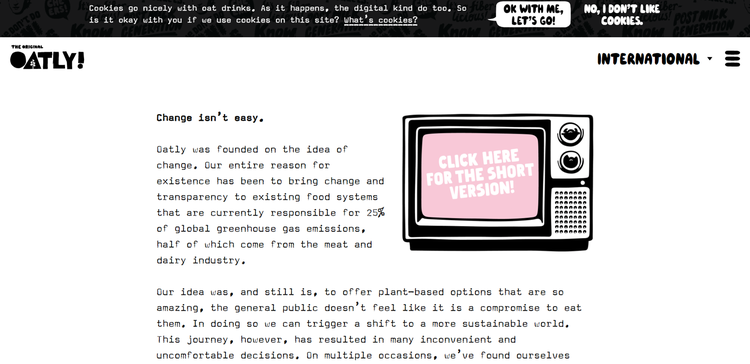 4. Collect warm leads
Most companies "gate" their e-books, meaning the content is free, but visitors have to give up their email address and sometimes phone number if they want to download a copy. You can then use these details to either send customers email newsletters or related content, as long as you've specified you'll be using their personal information in this way.
HubSpot goes one step further and asks for permission to send its blog posts by email, while also explaining that it won't misuse your information and you can unsubscribe at any time.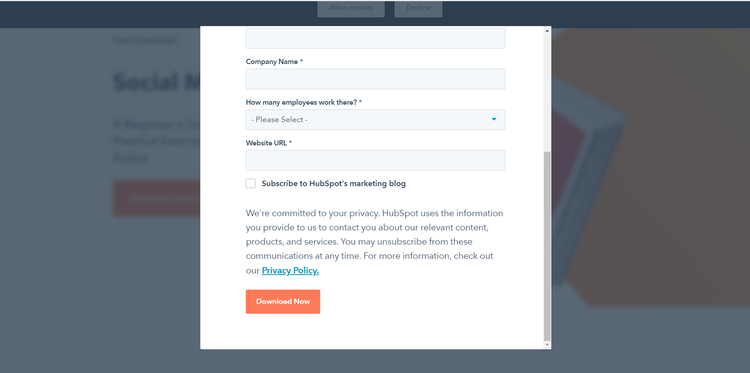 The benefit of collecting leads in this way is that readers have already shown they're interested in what your company does, and they'll already be familiar with your brand name when you contact them.
How to use e-books in your content marketing strategy for your business
Creating an e-book can seem like a daunting prospect. We've broken the process down into manageable steps to help reduce the overwhelm.
1. Set a goal
What do you want each e-book to achieve? These goals can include:
Generating as many leads and sales as possible
Raising brand awareness
Positioning yourself as an authority on the topic
Building an email marketing list
You can also have secondary e-book marketing strategies and goals, such as boosting your SEO presence by targeting specific keywords or building your social media following.
These goals will dictate the kind of topic you choose and how you create and position your e-book.
2. Decide on a topic
Your topic needs to match your goal and the marketing funnel stage you're targeting. For example, to generate sales, you need a topic nearer the bottom of the funnel, either at the consideration or decision stage.
This could even be a case study or an introduction to your product. Help desk software Zendesk provides an e-book that explains:
Why you need Zendesk
The benefits of its products
Setup strategies
Use cases
It's not a user manual since it doesn't delve into how you carry out any tasks, but it explains to prospects who have shortlisted the product why they should choose Zendesk.
3. Create a promotional strategy
HubSpot has a huge following on its blog, but even a company with such a large subscriber base still has to promote its content and invest in e-book advertising. The saying "build it and they will come" doesn't apply to content today. You need to invest in marketing your e-book.
Think about which social media channels you'll use. Do you have visuals you could use on Instagram? Do you have bite-sized quotes you can use on Twitter? Can you write a short LinkedIn post with excerpts from the e-book? Are you going to create a separate email newsletter announcing the launch of the e-book?
4. Repurpose the content
Don't let all the great content you've spent weeks or months creating go to waste. Reuse it where relevant. If you have research and graphs, you can use them to support your points in other articles. Or you might edit sections and format them into blog posts.
You can use the content for different formats, such as turning data into an infographic or discussing it in a podcast or video.
If you aren't getting enough downloads, repurposing content and linking from other articles is a great way to draw attention to the e-book. Just make sure you tweak the content so it fits the platform or channel.
Quality not quantity
It's tempting to take the same approach to e-books that many companies take to blog posts: produce as much content as you can regardless of the quality. Just as we recommend that you only create well-researched, insightful blog posts, the same goes for e-books.
Take your time. It will be a long process, but presenting research, unique insight, and useful expertise will drive better results in the long term.
We're firm believers in the Golden Rule, which is why editorial opinions are ours alone and have not been previously reviewed, approved, or endorsed by included advertisers. The Ascent does not cover all offers on the market. Editorial content from The Ascent is separate from The Motley Fool editorial content and is created by a different analyst team.
John Mackey, CEO of Whole Foods Market, an Amazon subsidiary, is a member of The Motley Fool's board of directors. Suzanne Frey, an executive at Alphabet, is a member of The Motley Fool's board of directors. The Motley Fool has positions in and recommends Alphabet (A shares), Alphabet (C shares), and Amazon. The Motley Fool has a
disclosure policy
.