The 10 Best E-Commerce Website Builders for Your Online Business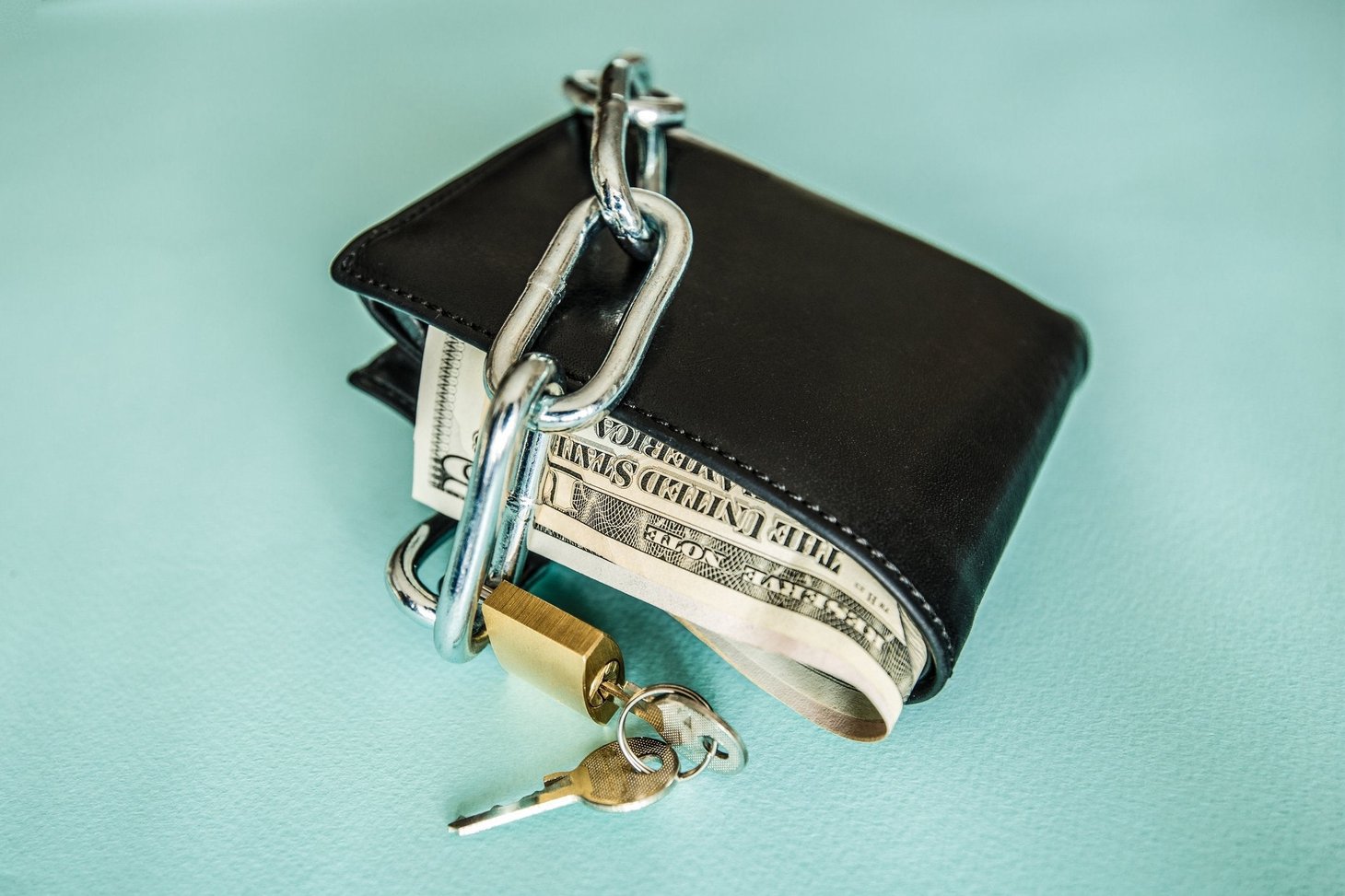 Many or all of the products here are from our partners that compensate us. It's how we make money. But our editorial integrity ensures our experts' opinions aren't influenced by compensation. Terms may apply to offers listed on this page.
It's a great time to launch your online business, but it's difficult to determine which e-commerce platform to use. The Ascent highlights our 10 top-rated e-commerce website builders.
It gets easier every year to launch a successful e-commerce website. You can sell things online in just a few clicks with very few resources.
To start an online store, you need the products you want to sell and some basic site design made easy with an e-commerce website builder. Then, just add some marketing and other e-commerce strategies, and bring your store to the masses.
The foundation for your online storefront is your e-commerce website builder. These tools have gained tons of traction over the past few years. They're basically content management systems optimized for selling products online.
Most solutions support at least basic e-commerce marketing functions to drive traffic to your website and monitor customer journeys.
We've put together a list of our top-recommended builders for your small business e-commerce site. Any of these tools can get your business's website built, but each offers nuanced capabilities, so take time for due diligence before making a selection.
Here are our top picks for the best e-commerce website builders for small businesses:
Wix eCommerce
Ecwid
Volusion
Squarespace Commerce
WooCommerce
Magento
What to consider when choosing an e-commerce website builder
There are many factors you need to keep in mind while researching your new website builder. You need a system you can operate with your current skill set and resources. Your choice should complement the type of products you sell, with adequate profile pages.
You should be able to tie in marketing tools that match your strategy. The reporting and analytics need to inform your decision-making. And you need to be able to manage the sales channels that translate to revenue for your business.
All of these factors are dependent on the type of business you have or are starting, the nature of your product and sales process, and your overall marketing and monetization goals. Be sure to think about what your business needs to be successful before jumping into a new e-commerce platform.
Here's a deeper dive into these five considerations to keep in mind as you evaluate your new e-commerce website builder.
1. Ease of use
Everyone wants their e-commerce tool to be easy to use, and most offerings are a breeze to operate. But ease of use is a spectrum dictated by experience and resources.
For example, are you planning on designing your site from scratch, or will you rely on a pre-built template? Either way is fine, but that's the type of question you need to answer when determining your ease-of-use needs.
2. Product management
A critical factor in your decision-making should be how an online store builder manages your product profiles.
Product management is an essential tool offered by any e-commerce platform, but be sure to look at how the system manages or offers integrations for front-end and back-end product management support.
Successful front-end product management keeps descriptions and prices accurate, ensures that images load properly, and updates product availability. The back end of product management has more to do with traditional inventory management, shipping, and delivery capabilities.
3. Marketing integrations
Website marketing is critical for the sustained growth of any e-commerce businesses. You need easy-to-use tools for promoting your business, website, and individual products.
An email marketing e-commerce strategy is a common marketing channel, but it's best executed by another tool, which needs to integrate with your site builder.
Ensure that the e-commerce platform you choose either offers robust enough tools or integrates with other marketing systems that match your channel and strategy needs.
4. In-depth analytics
Reporting and analytics tools are foundational components of a successful retail business. That doesn't change just because your store is online. You need accurate, easy-to-read reports and dashboards that show performance across your online store.
Google Analytics is essential for website information such as site visits, pages per session, and more. But you also need to know which products are selling the most, which products have the highest margin, what customer segments are the most and least valuable, and so on.
These are the metrics you need your platform to provide.
5. Multichannel sales
Your online store isn't your only online sales channel. It's certainly the main hub or central repository for your business, but selling must take place across the channels where your customers exist. Your e-commerce platform should support sales across your website, social media channels, Amazon, eBay, and more.
10 best e-commerce website builders for small businesses
Here are our 10 picks for the best e-commerce site builders to manage your online storefront.
1. Wix eCommerce
Wix eCommerce is currently our top-rated e-commerce website builder. It's designed to best serve solo entrepreneurs and other small businesses.
The platform is especially easy to use. You can put together a site in no time using its intuitive drag-and-drop page builder. It's no problem to add media, products, and other essential e-commerce assets to customize your site.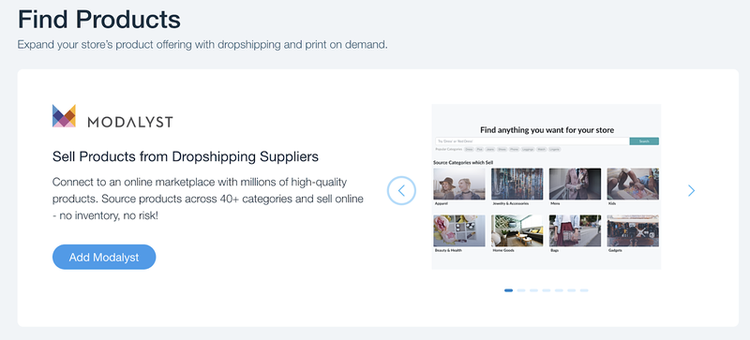 Wix eCommerce backs up the drag-and-drop builder with a host of other helpful features. Its most unique feature is its dropshipping supplier platform that enables you to source inventory to sell directly from the platform.
The tool provides you with a catalog of manufacturers and suppliers whose products you can sell on your site. As dropshippers, they manage the inventory and delivery so you can stay lean and focus on your business.
The built-in SEO implementation tools ensure that all of your pages and content are optimized to rank highly for targeted keywords and drive more organic traffic.
The intuitive cart abandonment capabilities will automatically email shoppers as soon as they leave your site without completing a purchase. And Wix also features built-in social media advertising tools to help you drive shoppers to your products and business from your social channels.
There are three pricing tiers for Wix eCommerce. Even the most expensive plan is priced affordably, again making this tool a great fit for start-ups and small businesses. The plans run $23/month, $27/month, and $49/month. Feature sets and server storage space increase along with the price.
Read The Ascent's full Wix eCommerce review
2. Shopify
Shopify has become something of a stalwart in the online storefront space. The system is easy to like. It offers an impressive feature set so you can get right to business. And its ease of use ensures that you don't need any coding or web development experience.
Shopify offers an array of valuable features, such as product management and customer management capabilities. It also features a full suite of marketing capabilities and integrations that fill in all the gaps. Shopify offers built-in email marketing tools and integrations for marketing across social channels.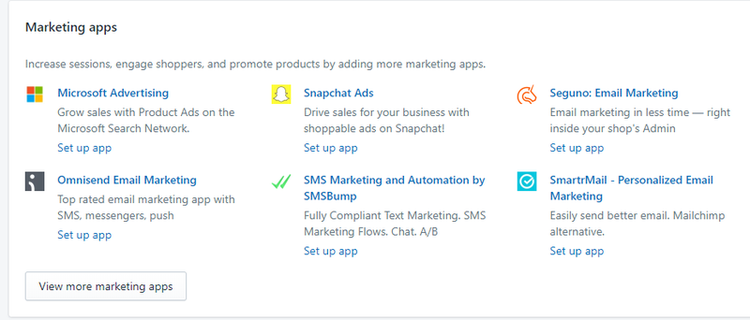 A unique component of Shopify is its enormous marketplace, where you can purchase a pre-built store. More than storefronts, these are actual online businesses for sale.
Shopify controls the marketplace exchange to limit scams and other nefarious behavior. These existing businesses cost anywhere from $50 up to $1 million depending on the success of the business.
For pricing, Shopify offers three tiers that range from $30/month to $300/month. Prices are dependent on feature sets and sales volume.
Read The Ascent's full Shopify review
3. Ecwid
Ecwid is designed to support new businesses looking to launch an online store. It offers a forever-free option that, while limited, is an ideal fit for first-time sellers. The platform is actually a plug-in, but it works with most website platforms. You can use Ecwid to turn an existing website into an online storefront.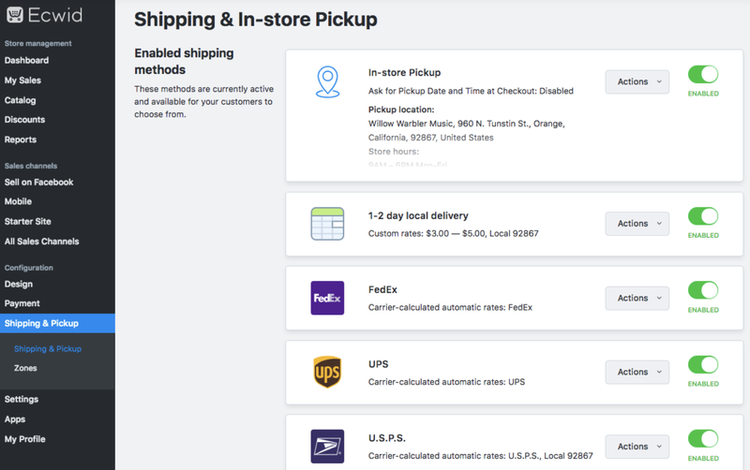 The feature set Ecwid offers is impressive for a plug-in. You can count on essential e-commerce features such as product profile optimization, inventory tracking, and customer management.
The platform also provides shipping management features as well as critical multichannel sales tools to sell nearly anywhere online. Ecwid features tons of tools and integrations to maximize your marketing efforts.
And it's also a great fit for digital creators who want to monetize their work online as it supports selling digital files.
Ecwid offers an always-free version that is pretty limited but provides enough power to get started. If you need more features, there are three paid pricing tiers: $15/month, $35/month, and $99/month.
The paid options increase the number of products you can sell, add more advanced features to your tool set, and boost your support.
Read The Ascent's full Ecwid review
4. Weebly eCommerce
Weebly eCommerce is an online store builder tied to the Weebly CMS platform and powered by Square. It's simple to use, with pre-built themes and templates as well as a drag-and-drop tool for customizing pages.
It's an ideal platform for new entrepreneurs and small businesses that need to get up and running quickly without any web development resources or experience.
Weebly eCommerce offers an expansive set of features for inventory control and shipping management to help you monitor stock counts and facilitate deliveries. The platform provides marketing tools to support email marketing for promo and cart abandonment as well as SEO monitoring and site optimization.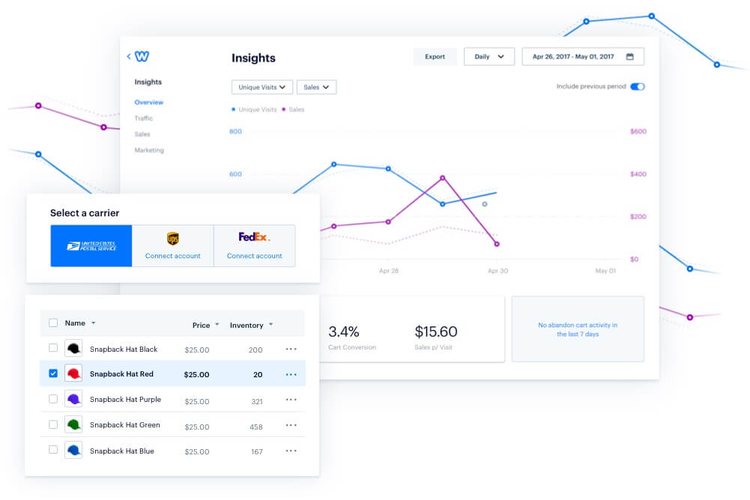 And Weebly eCommerce provides customer review capabilities so shoppers can read helpful peer reviews of your products.
Pricing for Weebly eCommerce breaks down to a forever-free option and three pricing tiers. You can launch a free e-commerce website with the forever-free version, but it has the same typical limitations as other free online storefronts.
The paid options run $6, $12, and $26/month, making Weebly eCommerce a great choice for budget-focused entrepreneurs.
Read The Ascent's full Weebly review
5. Volusion
Volusion is a longtime player in the e-commerce space and offers an abundance of valuable tools in its feature set.
This online store builder provides everything you need for managing customer purchase histories, inputting and optimizing product profiles, tracking inventory, and even conducting email marketing.
Volusion offers a host of professionally designed templates and themes for your site. And it also offers plenty of third-party integrations to monitor ad performance, boost SEO, offer more customized design support, and more.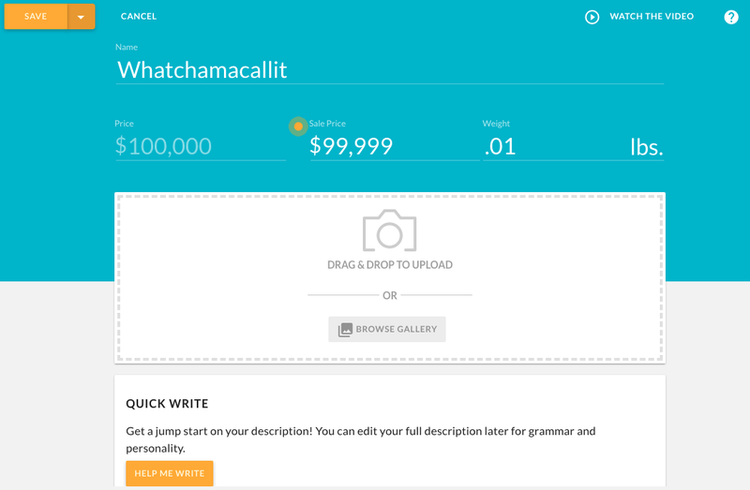 Volusion also boasts technical enhancements that boost site performance, improve the visitor experience, and increase organic traffic.
The primary technical enhancement is Volusion's commitment to maintaining incredibly fast loading speeds. This reduces the likelihood of bounces and cart abandonments while improving SEO signals for Google.
Volusion has four price tiers that cost $26/month, $71/month, $161/month, and $269/month. The increase in price comes with additional features such as cart abandonment reporting and additional payment gateways.
The more expensive plans also include technical consultations and additional customer support options.
Read The Ascent's full Volusion review
6. BigCommerce
BigCommerce offers an easy-to-use platform for building your online store. It offers all the features you'll need to get your business launched and generate sustained growth. The platform scales as you grow, supporting businesses from start-ups to large enterprises.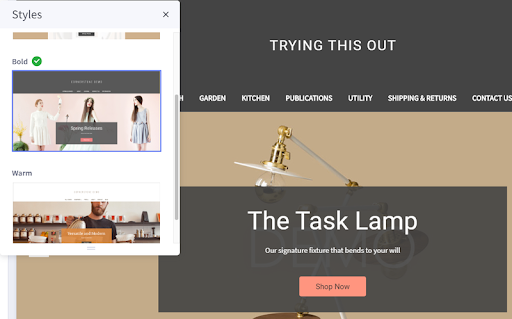 BigCommerce offers essential features such as detailed reporting and analytics dashboards; selling across channels; aesthetically pleasing, predesigned templates; and more.
BigCommerce provides tons of customer support assets, including many helpful guides and resources to troubleshoot and optimize your online store.
In addition to a 15-day free trial, there are three pricing tiers at $30/month, $80/month, and $300/month. Pricing is based on a growing feature list as well as sales volume. The platform also offers negotiable prices for enterprise clients.
Read The Ascent's full BigCommerce review
7. Squarespace Commerce
Squarespace Commerce, not to be confused with Square POS, is the e-commerce platform tied to the widely used Squarespace site-builder tool. The basic site builder has become a popular alternative to WordPress, and the commerce platform earns equally high marks.
Squarespace Commerce offers tutorials and helpful information to ensure new businesses are optimizing their storefronts for their industry. Beyond this, it has all the features necessary to grow and scale with your business.
One essential feature is supporting multichannel sales strategies. The platform centralizes inventory and sales processing across online, brick-and-mortar, and social media selling channels.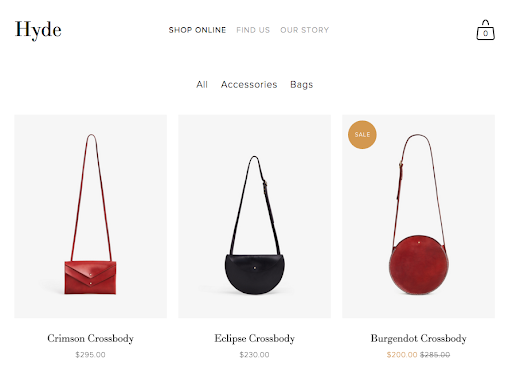 The platform also offers a detailed online product and inventory system that's designed to update in real time as sales come in across any channel. This ensures that you, your employees, and your customers know if a product is sold out.
Squarespace Commerce has two pricing plans that cost $26/month and $40/month. The less expensive option comes with everything you need to set up and run a well-designed, successful online storefront.
The more expensive plan adds helpful features like subscription-based pricing for your customers and in-house email marketing capabilities.
Read The Ascent's full Squarespace Commerce review
8. GoDaddy eCommerce
GoDaddy eCommerce is the e-commerce CMS and storefront builder tied to the GoDaddy domain marketplace. It's an easy-to-use platform that empowers you to set up a store in no time. GoDaddy eCommerce is a great fit for smaller businesses that are just starting out with online sales and not in need of a large, robust website.
The platform has intuitive navigation that makes it easy to find your tools and features. There's an impressive feature set in the platform that includes pre-built themes and templates, multichannel selling, basic customer outreach, and custom insights.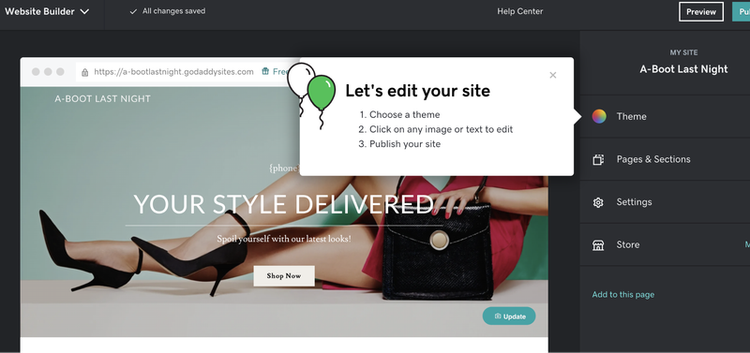 GoDaddy eCommerce makes it easy to upload media to your site for product profiles and engaging content, and it provides a quick and easy way to edit copy across the site.
Pricing is straightforward for GoDaddy eCommerce: It's either $20 or $30/month, depending on whether you pay monthly or annually. Pricing is on the higher end for the fine (but limited) feature set and inability to truly scale with your business.
Read The Ascent's full GoDaddy eCommerce review
9. WooCommerce
WooCommerce is designed to turn websites powered by WordPress into online stores. It's built to satisfy new website creators as well as users with an existing Wordpress site.
The platform is a great fit for small businesses taking their first steps into selling online. It integrates right into your Wordpress site, so if you can manage there, you'll be fine building and managing your online storefront with WooCommerce.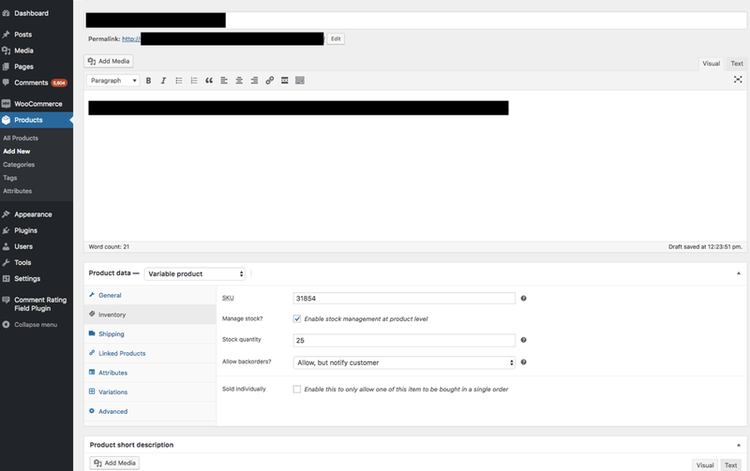 A benefit of being a Wordpress plug-in is that WooCommerce can rely on the extensive Wordpress extension catalog to supplement tools it may lack.
However, the platform really offers all of the essential features you need to create detailed product profiles and launch your online store. It offers multiple payment-processing options, including PayPal and Amazon Pay. It also empowers you to offer unique pricing models for your customers, including subscription-based payments and dynamic pricing designed to increase spend.
WooCommerce doesn't have straightforward pricing like the rest of these options. It's actually free to download and to integrate into your Wordpress site. However, there are fees associated with using the tool, including developer fees for customizations and maintenance, costs for any designed themes or site templates, and the ongoing cost of additional extensions.
Read The Ascent's full WooCommerce review
10. Magento
Magento is a beastly e-commerce builder from Adobe. It's designed for the volume and needs of enterprises and high-growth organizations. It best serves successful online sellers that need tons of customization for their site and processes. Due to these customizations, it works well for B2B and B2C operations.
Magento's customizable nature stands out from the rest of options on this list. You can't rely on pre-built templates to create and manage your page. Magento requires web development expertise to design and build your front-end store and back-end operations.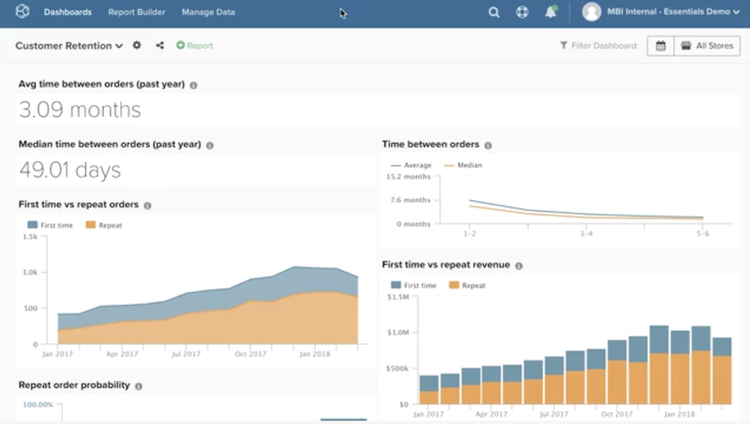 Features include the ability to support enormous amounts of sales and inventory. Sales processes are customizable to include the ability to negotiate pricing for bulk orders as well as requesting quotes for more expensive products.
Magento is capable of powerful analytics processes to monitor and report on the state of inventory, sales, and customers.
Magento's prices will be close to if not the highest on this list. There is a free, open-source option, but it requires web development resources. If you want to approach a paid plan for the e-commerce builder, monthly subscription prices are in the thousands.
Read The Ascent's full Magento review
It's a wide and rich field for e-commerce platforms
It's truly an amazing time to be an entrepreneur or small business owner launching an online store. You can see from our top 10 list that there's a plethora of amazing platforms, each with a slightly different feature set.
It's up to you to put in the research and press the account reps about capabilities and pricing. If you do the work, you'll make the best selection for your business and make it as easy as possible to launch your online store.
Alert: highest cash back card we've seen now has 0% intro APR until 2024
If you're using the wrong credit or debit card, it could be costing you serious money. Our experts love this top pick, which features a 0% intro APR until 2024, an insane cash back rate of up to 5%, and all somehow for no annual fee. 
In fact, this card is so good that our experts even use it personally. Click here to read our full review for free and apply in just 2 minutes. 
We're firm believers in the Golden Rule, which is why editorial opinions are ours alone and have not been previously reviewed, approved, or endorsed by included advertisers. The Ascent does not cover all offers on the market. Editorial content from The Ascent is separate from The Motley Fool editorial content and is created by a different analyst team.
John Mackey, CEO of Whole Foods Market, an Amazon subsidiary, is a member of The Motley Fool's board of directors. Suzanne Frey, an executive at Alphabet, is a member of The Motley Fool's board of directors. The Motley Fool has positions in and recommends Alphabet (A shares), Alphabet (C shares), Amazon, Intuit, PayPal Holdings, and Target. The Motley Fool has a
disclosure policy
.