Lead Scoring 101: A Guide for Small Business Owners
Many or all of the products here are from our partners that pay us a commission. It's how we make money. But our editorial integrity ensures our experts' opinions aren't influenced by compensation. Terms may apply to offers listed on this page.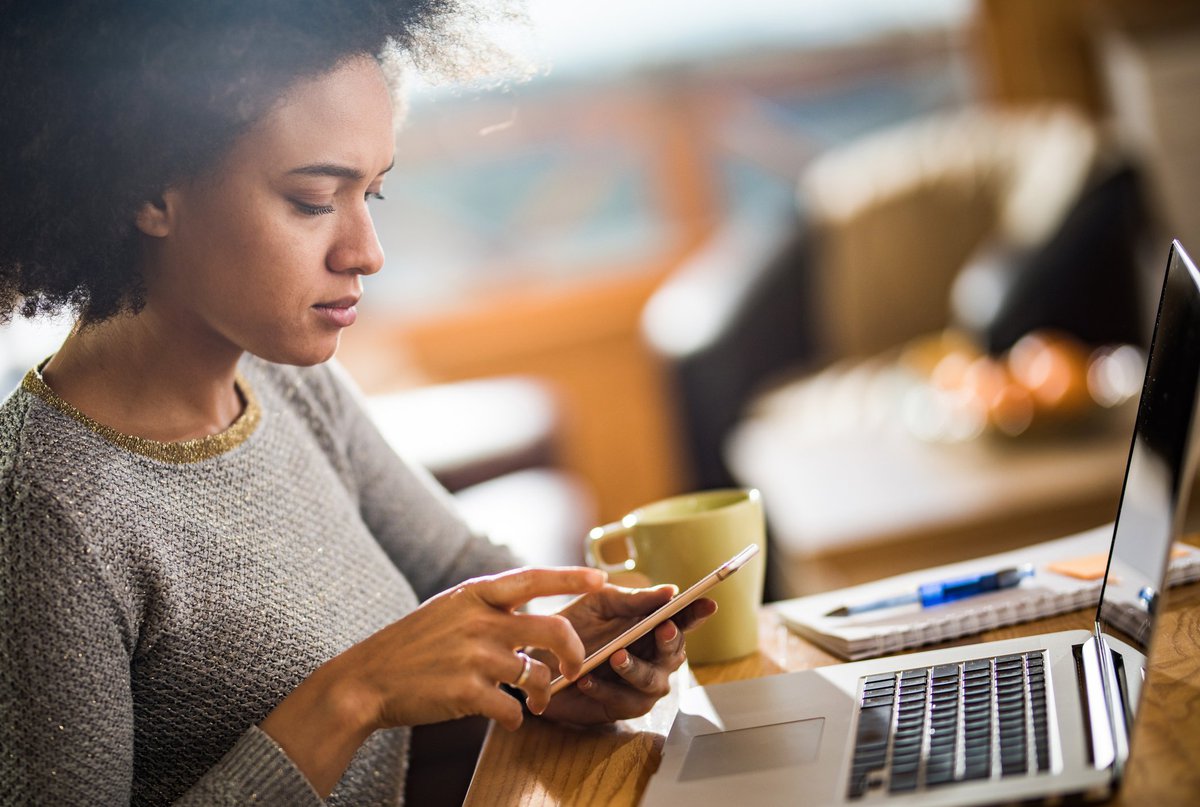 Lead scoring is a process-driven strategy to boost the quality of leads that marketing hands off to sales teams, empowering businesses to accurately and efficiently prioritize leads to maximize sales.
Marketing teams serve the business, and the sales team, by generating leads. But not all leads are the same, and time is money for sales teams. This is why it's critical that marketers implement a lead scoring system to automate much of the early qualification process.
Scoring provides the sales team with accurate estimations of which prospects are legitimate leads. These lead scoring estimations are central to achieving accurate and actionable sales forecasting. And according to Marketo, just a 10% increase in the quality of leads translates into a 40% increase in sales productivity.
Continue reading to learn more about scoring models, see some lead scoring examples, get tips for implementation, and note how to overcome common pitfalls of lead scoring strategies.
Overview: What is lead scoring?
Lead scoring is a mechanism that quantifies how interested a lead is in your product or services. It's the third of four steps in the overall lead management process and is a critical component of inside sales strategies.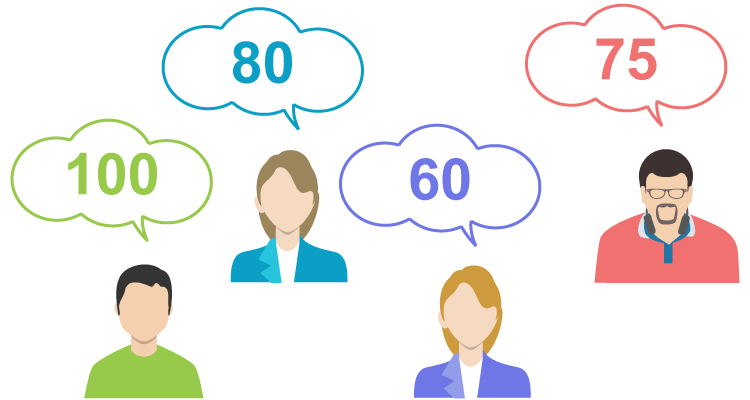 Scoring models may differ across businesses and CRM systems, but they all share a similar lead scoring framework. The framework is rooted in a scoring formula that considers:
Professional information submitted to you by the lead
Information scraped from the web about the lead, which is completed automatically by most leading CRM systems
Actions the lead has taken across your website, emails, ads, and digital properties
Notes from additional qualifying engagements
Traditional lead scoring requires a ton of hands-on, human interaction to set up lead scoring models, input data, and tweak models for optimization. It may be a difficult time-spend for most small businesses. Predictive lead scoring fixes these issues by eliminating most human error and expediting the scoring process.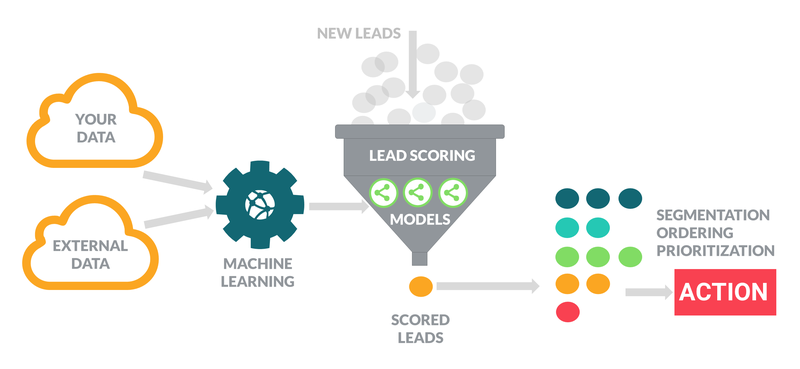 Predictive lead scoring employs algorithms to identify patterns in the various lead scoring data points among leads that became customers and leads that did not. The modeling then uses these identified patterns to predict future sales.
Such data-driven predictions boost the accuracy and efficiency of scoring models, solidifying the value of marketing's role in the process and providing sales with more quality opportunities.
Lead scoring models
Marketers have a ton of information to use in building a lead scoring model. Every lead provides numerous data points to choose from, some more valuable than others.
It's critical that you use sales analytics tools to identify valuable, shared attributes from past and current customers. Those shared attributes should highlight particular behaviors, personas, segments, etc. that indicate a high likelihood of a lead becoming a customer -- and a valuable one at that.
Here's an example of what a scoring breakdown looks like.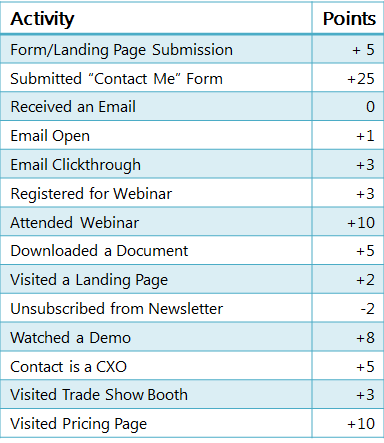 If you've defined a formal customer acquisition strategy, then the attributes of these high-value leads should simply transfer into your lead scoring modeling. If you haven't completed a customer acquisition strategy, then you should create that in tandem with your lead scoring modeling strategy.
Here are five lead scoring models that you should blend together to create an optimized framework for your unique lead scoring needs:
1. Behavioral
Behavioral attributes are the most telling data points for your leads. These include direct and indirect actions that a lead has taken with your website. These actions are a form of communication and relationship building that leads can partake in with your product and brand.
The amount of volume and accuracy of information you can gain from these behavioral insights is only as good as the content on your website. It's critical that you regularly publish new content and downloadable materials for leads to interact with.
Another best practice is to ensure leads always have an easy path to take action on (convert) on your site.
Key behavioral attributes you'll want to consider include:
Conversions - This covers if a lead has input their information on your site. You should consider how they arrived there as well as the context of the page they've converted on. A conversion on pricing information or product comparison page is typically more valuable than on a general page. Depending on the conversion type, this could indicate a move through the sales funnel and into the sales pipeline where the lead receives active outreach from the sales team.
Downloads - As a type of conversion, downloads can better indicate the level of interest a lead has in making a purchase since there's context in the downloaded content. It's important to offer downloadable material at all levels of the sales funnel and tag accordingly for easy analysis (awareness, discovery, evaluation, intent, purchase, and loyalty).
Page visits - You can use analytics to track page visits across your site. So even if a lead hasn't directly converted, they may have visited your pricing page multiple times in a short duration. This behavior would boost the score of such a lead as it shows an indication to make a purchase.
Time on page(s) - Marketers can analyze the time leads spend on particular pages to determine the lead's level of interest. The subject matter of the page also provides helpful context for scoring and further outreach. For example, a lead spending time reading how to switch from a competitor's platform to yours would indicate a desire to purchase and provide a great talking point for the sales team.
Time between visits - Time between visits can influence positive and negative scoring. If a lead is visiting your site daily over the course of a week, they may be researching for an upcoming purchase. On the other hand, if you get a high-value download from a lead but they don't visit your site again for months, that would decrease the lead's score in your system.
2. Offsite engagement
While behavioral insights cover engagements that leads take on your site, leads can still interact with your brand away from your site. Marketers must analyze these offsite engagements across email, social, and paid media campaigns.
Similar attributes carry over to offsite engagements. Marketers must be able to quantify social engagements such as likes, shares, and comments, as well as email open rates, paid media click-thrus, and third-party/syndicated content engagements to build a more accurate lead scoring model.
3. Demographic
Demographic information refers to gender, race, age, geographic region, and other basic information that's often provided during a conversion.
If your sales analysis shows that the majority of past sales are from African American women working in the Midwest between 28-35 years of age, then you'd want to score similar leads higher.
Marketers must collect demographic information, but it's more of a secondary or even tertiary indicator for lead scoring compared to other options. It's most effective in tandem with behavioral insights and more detailed segmentation information on the lead.
4. Segmentation
Segmentation is a more detailed demographic attribute that considers a lead's company and their position within that company. It's more powerful than standalone demographics because it highlights purchasing power.
For example, while your product may sell well with millennials, segmentation data empowers you to drill down into "millennial" and find shared industries and job titles of your top customers. If your product is complex and expensive, then your final decision maker may likely be a C-suite executive.
Your lead scoring model would score a C-suite higher than an associate or manager who may just be doing initial research.
5. Degradation
Degradation highlights the fact that your product won't be a fit for every lead you encounter. The goal of lead scoring isn't to boost all leads to a max score but to offer a prioritized view of your leads so that you can engage appropriately to efficiently maximize sales.
Scores should drop for inactive, non-engaging leads, as discussed above in the "Time between visits." It'd be inefficient for a sales member to dedicate time to a lead that downloaded a whitepaper two years ago and hasn't engaged since.
Your lead scoring model must dynamically adjust scores up and down to account for such disengaged activity.
Lead scoring best practices
The efficiencies lead scoring provides are only as bountiful as the actions you have in place to capitalize on your prioritized lead list. Lead scoring serves to automate prioritization as well as execute engagements, which is something you should consider if examining a new CRM system.
Determine how easily the system sets and adjusts scoring as well as the engagements triggered after leads cross a certain point threshold or complete a high-value action.
Here are a few additional best practices to consider as you build and refine your lead scoring strategy.
Define scoring criteria and responsibilities
Sales and marketing teams must come to the table to define a lead scoring structure as well as which team is responsible for outreach. The goal here is to establish a unified sales process that begins when a prospect enters the funnel.
It's important to be in agreement on how actions are valued in the point system. The actual amount of points awarded for these actions only matters in relation to the thresholds you determine.
For example, maybe any lead that reaches 100+ points in your scoring system is kicked to the sales team for one-to-one outreach. With that 100 points in mind, you'd want to appropriately value actions like basic site visits (1-5 points) with a conversion for more information (30-50 points).
Tips for successful criteria:
The key takeaway here is that marketing and sales must collaborate on calibrating the scoring system and defining when outreach responsibilities change. With that collaboration in place, marketers can set automated triggers for lead outreach.
Collaborate: Points thresholds and next best actions must have input from both teams to ensure branding and messaging are aligned and optimized for moving leads toward a purchase.
Automate: Set thresholds in your lead scoring platform so that messages are triggered and automatically sent in response to a lead's actions.
Nurture, nurture, nurture
Email nurture campaigns are a proven mechanism for engaging leads and continuing to guide them through the sales funnel. According to Marketo, successful lead nurturing generates 50% more sales-ready leads at two-thirds the cost.
Nurture campaigns are dependent on a steady stream of content marketing materials. Marketers who employ a nurture campaign must ensure they can meet these constant content demands. Thought leadership blogs and white papers are great nurture content.
Upcoming webinar registration pages, as well as recordings from past webinars, are also great resources to use.
Tips for successful lead nurturing:
The goal of nurture campaigns is to stay in touch with leads and provide them an easy opportunity to move further down the funnel.
Differentiate: Nurture campaigns are not a one-size-fits-all. It's critical to build nurture paths that account for where leads are in the sales cycle as well as their industry, past behaviors, etc.
Curate: Whether you're short on content or not, including a thought-provoking article from reputable sources is a great way to build trust by "doing the research" for your leads.
Continuous optimization
Designing a lead scoring system can be a cathartic experience: 50 points means we send this eBook, 100 points means we hand off to sales. While that can certainly be true, it's also critical not to get too comfortable in your point structure and outreach strategies.
Marketers must operate from an iterative mindset when setting up a lead scoring system. Tweaks and changes to point allocation, automated outreach, and other components will inevitably change, and probably more often than you'd like. That's fine.
You're not building a static fortress with your lead scoring but rather a chain of interconnected pathways to empower your leads to become customers.
Tips for continuous lead scoring optimization:
Your lead scoring strategy should be a living thing rather than a "set it and forget it" program. Continuous optimization is required to ensure your program maps to the ever-changing needs of your current and potential customers.
Review: Set time monthly, quarterly, or semi-annually to bring sales and marketing leaders together to ensure the journey is built through lead scoring maps to the ideal customer journey. Look for ways to do more with fewer touchpoints while also considering how fast your strategy moves customers down the funnel.
Experiment: Take the time to personally engage in different business' landing pages and enter their lead management system. Look for effective responses and the actions you took on their properties that triggered them.
Common pitfalls to avoid with lead scoring
If you're looking to boost business metrics by implementing or optimizing a lead scoring strategy, keep in mind that it's a moving target. It's a "journey is the destination" type of strategy, and the journey never ends. Operating your lead scoring through this adaptive mindset will help you overcome a ton of hurdles.
Here are a couple of other common pitfalls and advice on how to avoid them:
Breaking down silos
Collaboration between sales and marketing is an absolutely critical component of lead scoring. There must be a shared understanding of the scoring models as well as protocols in place for handing off leads to sales and attributing sales wins back to the marketing tactics.
Soliciting input from customers
An overlooked tactic to improve lead scoring, and all your customer interactions, is to elicit feedback from leads and customers. This can take many different shapes, including individual outreach, net promoter scoring, and automated surveys that are triggered at various moments.
Lead scoring is table stakes for growing your business
Lead scoring models automate much of the early qualification process; predictive scoring models go even further. Any business relying on a strong pipeline of marketing leads must implement at least a basic lead scoring framework.
The technology is increasingly becoming easier and more affordable to adopt and set up. Likewise, the downside of not optimizing your lead prioritization and outreach is growing in this competitive market. The time is now to launch your lead scoring model and reap the rewards.
We're firm believers in the Golden Rule, which is why editorial opinions are ours alone and have not been previously reviewed, approved, or endorsed by included advertisers. The Ascent does not cover all offers on the market. Editorial content from The Ascent is separate from The Motley Fool editorial content and is created by a different analyst team.
Discover Financial Services is an advertising partner of The Ascent, a Motley Fool company. The Motley Fool recommends Discover Financial Services. The Motley Fool has a
disclosure policy
.