A Beginner's Guide to Sales Automation
by DP Taylor | Updated May 26, 2022 - First published on May 18, 2022
Many or all of the products here are from our partners that pay us a commission. It's how we make money. But our editorial integrity ensures our experts' opinions aren't influenced by compensation. Terms may apply to offers listed on this page.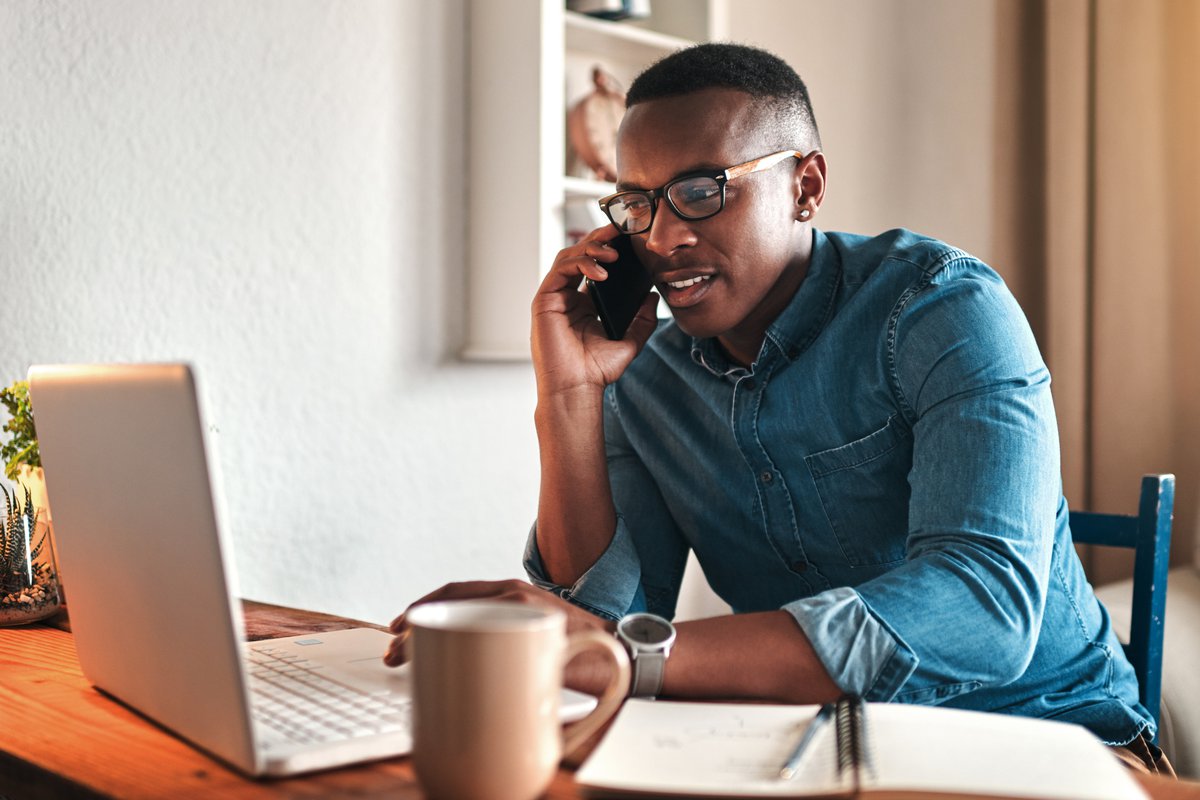 Improve your sales team's efficiency by choosing a CRM tool with sales automation features. Here are six automation strategies that will improve the sales process.
Sales can be a grind, but there are aspects of it that are genuinely thrilling: getting to know clients, making a great pitch, and, of course, closing that sale.
You know what's not fun? Data entry. Dialing. Crunching numbers. Sales forecasting. Administrative tasks. Sales consulting company XANT conducted a survey where they found that just 35.2 percent of a salesperson's time was spent actually selling. Yikes.
The wonderful thing about living in this day and age is all of the powerful automation technologies available to us today that didn't exist even 10 years ago. These automation tools can blast through all of these tedious chores, leaving you with more time to do the stuff that got you into sales to begin with.
But first, you need to understand the basics of automation and how it can help your sales team.
Overview: What is sales automation?
Sales process automation simply refers to software tools that automatically do a number of tasks that are important to your sales team, but are often repetitive and time-consuming. That can include tasks like data entry, manual dialing, and data analysis.
Automation eliminates the need to do these tasks, so your sales team can spend more time on the high-value tasks you can't automate, like making a sales pitch or closing a deal.
Automation can also boost efficiency by dialing numbers in order of opportunity instead of by alphabetical order, for example. It is particularly effective for companies focused on inside sales, since those types of sales rely heavily on phone and email which are the best communication mediums for automating.
Do you need to incorporate automation into your sales process?
A sales automation system may not necessarily be right for your business, especially if it comes at an extra cost -- there's no sense paying money for automation if it's not going to make you markedly more efficient, after all.
Some businesses rely heavily on referrals and advertising rather than cold-calling or other tactics that involve manual processes that can be automated.
Here are a few questions you should ask to determine if sales automation software is right for you.
Is the quantity of calls important?
If your business does a lot of cold-calling, software with sales automation tools can really come in handy. Some software options offer auto-dialers. All a salesperson has to do is pop on a headset and click go, and the auto-dialer will do the rest.
Without the need to manually dial or record that a call was made, a salesperson can get through a lot more names.
Is my team spending a lot of time on tedious tasks?
There are some tedious tasks that are important but also repetitive, taking away time from other activities. Your team may need to manually enter information from a database, or perhaps generate a report by compiling numbers using data from the last quarter.
If this is the case, you should consider software that can do these tasks automatically.
How much would it cost to upgrade to automation features?
Yes, some automation may help your business, but would it help you enough? Some sales software options offer great automation features but at a tremendous extra cost.
The best way to determine if the software is right for you is to calculate how many hours per week your team is spending on tasks that could be automated, and then dividing that by their average hourly pay to determine exactly what you're spending on lost time each month.
Armed with that information, it's a pretty simple calculation to see if it makes financial sense to buy the software.
Sales automation strategies to streamline your team
If you're pretty settled on a sales automation CRM to improve how you do things, it's time to implement some strategies so you can get as much out of this technology as possible.
There are five in particular you'll want to focus on to maximize your success.
1. Boost your dialing speed
When your team is dialing hundreds of times in a day, even a few wasted seconds each call can really add up. Many software options offer an autodialer that can not only move through a list quickly, but can also prioritize contacts based on where they are in the sales funnel.
Ways to boost your dialing speed:
A lot of the repetitive tasks that happen over the course of the day take place when your team is actually dialing, and there's a couple things you can do about that.
Find an autodialer: An autodialer will enable your team to pop on a headset at the beginning of the day and go hard for hours without ever having to dial a telephone, greatly increasing the number of prospects you can get through in a day.
Tie it to your pipeline: The autodialer should be tied not merely to your contact list, but your sales pipeline as well. That way, you can focus just on, say, customers who are at the "interest" phase in the sales funnel. You're not jumping back and forth with people at different stages in the sales cycle, which can result in costly mistakes.
2. Use email to stay top of mind
Emails can be a very tedious job, but they're important for making follow-up contacts and staying fresh in a potential customer's minds.
Email marketing software can help keep those communications flowing without your sales team having to lift a finger. It can also help you with customer acquisition and lead management, helping you qualify more prospects and get them into your sales pipeline.
Ways to use email to stay top of mind:
Automatic email marketing is made more effective if you do a little prep work beforehand and you take the time to review how it's performing periodically.
Create pre-built email campaigns: By having a selection of pre-built campaigns at your disposal, you can send a fresh message to potential clients each time without having to spend a lot of time on it.
Track how they perform: Every now and then, review the performance of these various campaigns. Which ones are doing the best? Why do you think some are underperforming? Tweak based on these assessments and continue to refine them.
3. Streamline your pipeline management
Managing your sales pipeline can get overwhelming quickly. There's a lot of moving parts and the complexity can easily overwhelm sales teams if there isn't a high level of automation.
A good software option should be able to automatically shift customers through the pipeline based on the actions of your team.
Ways to streamline pipeline management:
Your pipeline is a vital information tool that can help you when you're ready to make calls, and automation can improve how you use it.
Take advantage of artificial intelligence: Choose software with artificial intelligence (AI) capabilities. It can help you see how potential customers interact with your website or salespeople in order to determine which individuals are most likely to buy, and therefore, where they should be located in the sales funnel.
Tie your sales pipeline to your calendar: A big part of sales is timing, hitting customers at the right time. Your software should automatically tie your sales pipeline to your team's calendar so they know exactly when it's time to reach out to set up a pitch meeting, for example.
4. Eliminate data entry
Salespeople sometimes spend hours per day on data entry and other administrative tasks: punching numbers into spreadsheets, preparing status updates, and filling out forms.
Ways to eliminate data entry:
By getting rid of data entry needs, you not only free up your sales team's time, but you also open the door to better sales performance thanks to more data and more timely information.
Look for a CRM that tracks interactions: Automation tools have come so far that they can actually track your interactions with customers and automatically input that data into the software. This helps your sales team focus entirely on the call rather than worrying about taking notes, which improves their connection with the customer.
Manage contacts and other data: You should choose software that will automatically manage contact profiles and tasks. If you mark a task as complete, it updates all contacts, opportunities, and other data that is tied to that task.
Fill out more info about contacts: Some software options are able to scour the web and automatically fill in extra details about your contact that you didn't even know about. That could include basic contact info, profile pics, or other vital clues about a customer that could mean the difference between getting a sale and watching the prospect walk.
5. Generate more reports
When you're making sales calls, there's a lot of data that comes rolling in, such as the average amount of calls one has to make to get a meeting, how many contacts it takes to get a close, and what the average value of a sale is.
As you're entering that data, you need software that will digest it all and generate an actionable report automatically so your team doesn't have to do it manually. These reports will provide critical insights on what you can do to improve the efficiency and productivity of your sales team.
Ways to generate more reports:
A sales platform that is capable of cranking out excellent, highly visual reports can revolutionize your sales team.
Use AI: Just like tracking your sales pipeline, AI also does great crunching your data and coming up with actionable intelligence that will give you insights into your sales process. You'll gain insights you may have never realized doing this manually.
Find business analytics software: Business analytics software can integrate with many CRMs to pull data and then generate automatic reports. Even better, find a CRM that already offers powerful sales analytics tools.
Make sure it's visual: Reports are great, but you want something your team can easily digest. Look for tools that can generate reports that are highly visual and readable.
Best CRM software to automate your sales process
Many of the best CRM software options are starting to add more and more automation features as their customers demand them, so there are many options to choose from.
Here are three examples of different CRM platforms and how they each handle a different aspect of automation.
1. Salesforce CRM
Salesforce automation does a good job generating reports with important data.
For example, you can run a report on something like open opportunities, and then schedule future reports to be automatically delivered at scheduled intervals.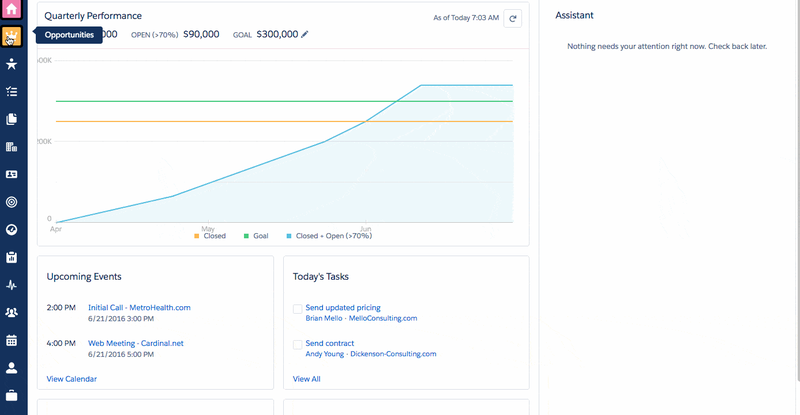 2. Insightly
Insightly automates both workflows and pipelines. It can send emails, create tasks, add new records based on triggers such as pipeline stage change.
Additionally, Insightly can automatically adjust tasks, leads, opportunities, and many other aspects of the software.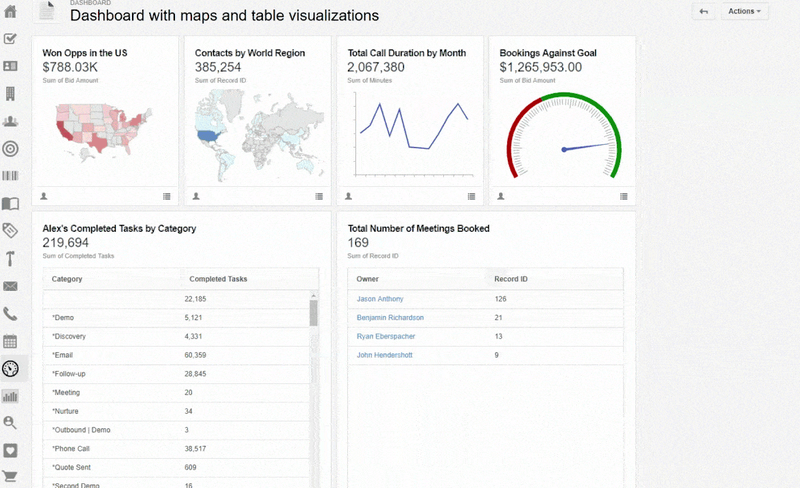 3. Agile CRM
Agile CRM features an autodialer that offers one-click dialing, call recording, call logs, reporting, and more.
You can adjust which contacts it will dial, the time gap between each call, and even add a tag so you can revisit the list later.

It's time to give automation a try
If you haven't used automation in your sales team yet, now's the time to give it a try. It's best not to try to automate everything at once, but it might be wise to explore a pilot program.
For example, try out one of the CRM platforms' autodialers for a week and then consult with your sales team to see what they liked and didn't like about it. Then you can come up with a plan to incorporate it more into your sales process, or explore another type of automation instead.
You should try a few CRM solutions before you settle on one. While they all have their benefits, every sales team has their own needs as well. Most of these CRM software options offer free trials or even free versions that you can experiment with before making a decision.
We're firm believers in the Golden Rule, which is why editorial opinions are ours alone and have not been previously reviewed, approved, or endorsed by included advertisers. The Ascent does not cover all offers on the market. Editorial content from The Ascent is separate from The Motley Fool editorial content and is created by a different analyst team.
Suzanne Frey, an executive at Alphabet, is a member of The Motley Fool's board of directors. The Motley Fool has positions in and recommends Alphabet (A shares) and Alphabet (C shares). The Motley Fool has a
disclosure policy
.