The 10 Best Salesforce CRM Alternatives for Your Small Business
Many or all of the products here are from our partners that pay us a commission. It's how we make money. But our editorial integrity ensures our experts' opinions aren't influenced by compensation. Terms may apply to offers listed on this page.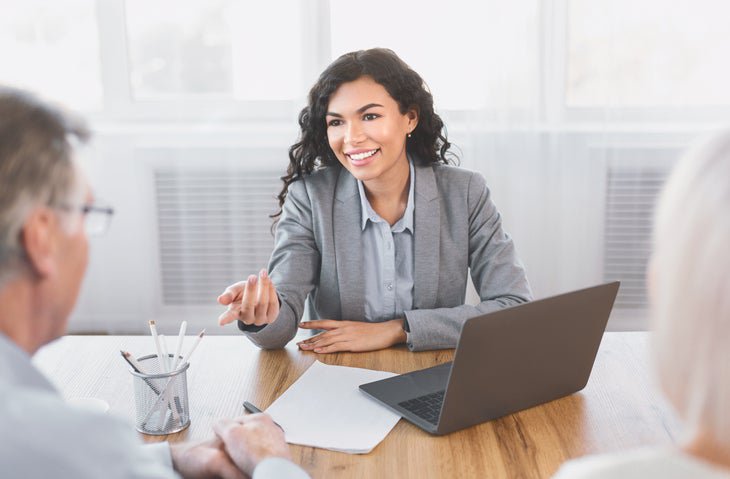 Salesforce is popular CRM software, but you might need specific features to that suit your needs. If you're looking at different options, you might want to consider these 10 Salesforce alternatives.
When it comes to CRM software, it's hard to go wrong with Salesforce products. But perhaps you think Salesforce for small business isn't quite up to snuff, or you just want to know what alternatives to Salesforce software are available.
We've rounded up the 10 top Salesforce CRM alternatives and identified what features they offer that makes them shine. Some may be similar to Salesforce, but their approach to lead management or sales analytics may be radically different, for example.
No matter what your business's needs are, you should be able to find what you're looking for to give your sales process a shot in the arm with our list of CRM examples below.
Here the top alternatives to Salesforce as a CRM software:
What to look for in a great Salesforce CRM alternative
Salesforce is fantastic in many ways. It's got clean and visual dashboards to help you keep track of your sales pipeline, it has a ton of powerful features to help you get to the next level, and it integrates well with third-party platforms.
But no software is perfect, and there are a few areas where Salesforce competitors might do a better job.
1. Reporting
Salesforce does well with reporting overall, but sometimes their reports can be a little complex and not that intuitive. Some users may want a software solution that makes reports a little more simple to produce and understand and that can be more easily applied to their sales cycle.
2. Customization
Customization is important for effective sales management, and Salesforce has some downsides in this area. There aren't as many customization options as other platforms, and their customization tool kits can be a little difficult to use. Also, additional customization is fairly expensive.
3. Support
Salesforce does well when it comes to support, but it could be better. For one thing, their support is pricey, and you can only get free support for the most crippling of problems that affect all users. The company does offer Salesforce University to help you get the most out of the software, but it comes at an additional cost.
Our top 10 picks for Salesforce CRM alternatives
When looking at Salesforce alternatives, we looked for what made these software options stand out from the pack, and what you'll get out of them that you won't get out of Salesforce's various editions, or at least not to an equal extent.
1. Best for ease of use: Pipedrive
Sometimes, you just want a software option that's really easy to use rather than deal with the learning curve of Salesforce, and Pipedrive certainly fits the bill there.
We found Pipedrive to be a clean, simple platform that was easy to pick up and use right away. And Pipedrive offers customer support around the clock, which is a huge plus and certainly not typical of most CRM platforms we've reviewed.
Other benefits of Pipedrive include email marketing, lead generation, and data analysis.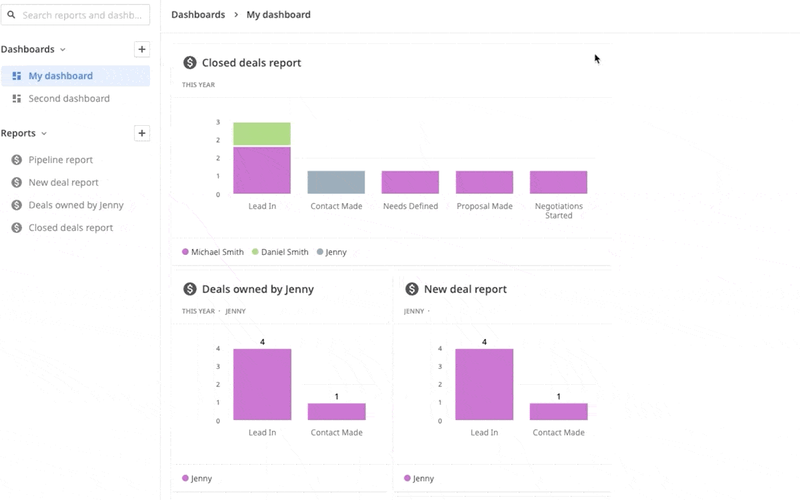 Standout feature: Pipedrive offers a Contacts Timeline that allows you to see a visual history of all calls, emails, and other activities related to any particular contact.
2. Best for top rated: Insightly
If you just want the best all-around software, you might be interested in Insightly, which scored the highest overall out of all software options. This cloud-based platform is generally geared toward mid-sized businesses that want to have marketing tools intertwined with sales capabilities.
The software does a particularly good job of organizing all of your leads and sales in one place and then using analytics to offer important insights.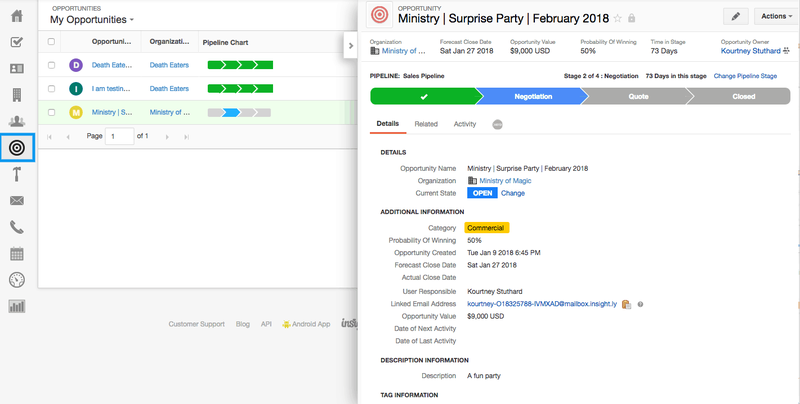 Standout feature: Insightly has a powerful lead routing feature that tracks vital information about your leads, including marketing campaign source, phone calls, and tasks. It sends leads to the right person on your sales team automatically so that they can be followed up with before the lead goes cold.
3. Best for enterprise: HubSpot CRM
HubSpot has a powerful list of features and is incredibly easy to use, making this a great platform for enterprises with large teams.
The simplicity of this software makes onboarding easier for your team and therefore reduces the amount of downtime from switching software.
And its powerful reporting tools can help you improve the efficiency of your team by spotting opportunities to make improvements, such as spending more time on prospecting or adjusting closing techniques.
It offers clean, straightforward dashboards to help large teams stay on the same page, and stats that are updated in real time so everyone knows where they stand.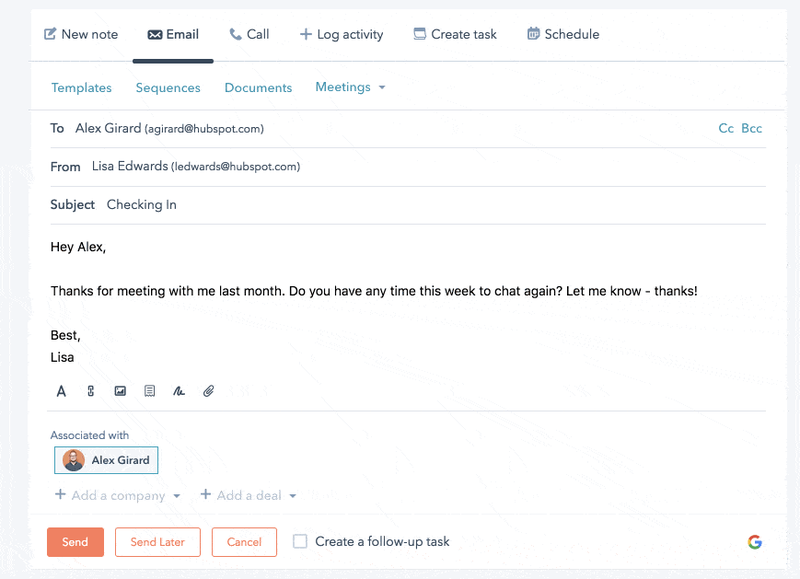 Standout feature: HubSpot has email templates and automation that save time when it comes to contacting and following up with customers. If you're sending the same email over and over again, you can turn it into a template and share it with the team, or automate personalized emails to clients.
4. Best for value: Agile CRM
Not only is Agile one of the top rated CRM software options in our directory, it is also one of the least expensive. There's a completely free version for up to 10 users that allows you to have 1,000 contacts and companies, custom data fields, appointment scheduling, email tracking, and more.
The paid options aren't too expensive either, with the Starter package offering analytics, email templates, and a landing page builder for $8.99/month per user, if you pay up front for two years.
Starting at $29.99/month per user, you can get the Regular or Enterprise versions that include service and support.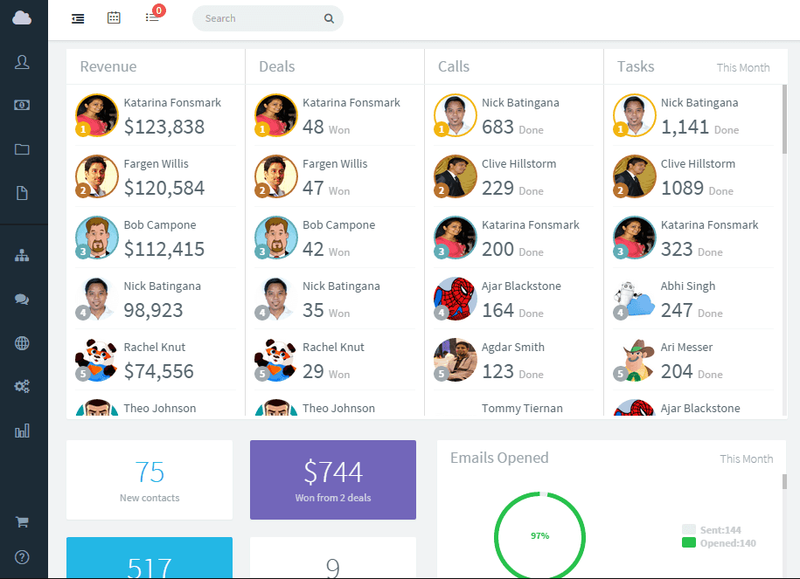 Standout feature: Agile has a gamification feature, which encourages competition and collaboration within your sales team -- and hopefully boosts sales in the process.
5. Best for tech savvy: Bitrix24
Bitrix24 is a good option for sales teams that are fairly tech savvy and can handle an open-source platform with a steep learning curve. It's a powerful piece of software and most of its tools are available for free, although you will need to pay a sturdy price for the premium packages.
It can be used as a social networking tool, which is a nice extra that isn't offered by a lot of other software options out there.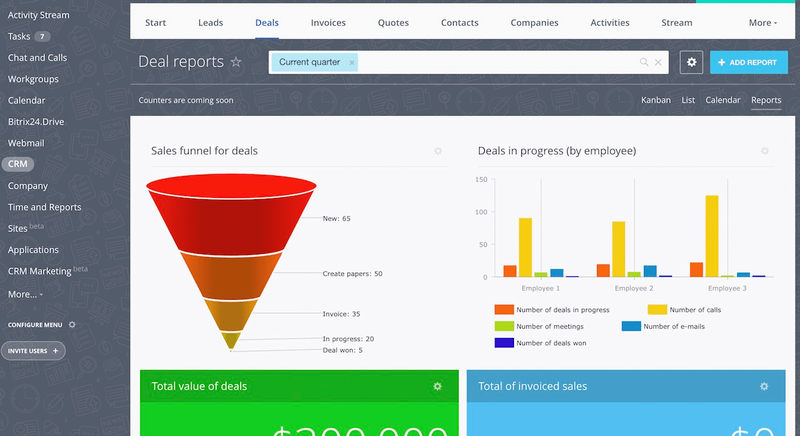 Standout feature: Bitrix24's Contact Center allows you to provide real-time support to your customers via social networks, messengers, email, live chat, or telephone, and you can manage it all in one place.
6. Best for open source: Close
We chose Close as the best open-source alternative to Salesforce because of powerful automation features such as sales process automation, automatic calling and logging, and built-in email marketing functions that can send follow-up emails without your input, saving your team time.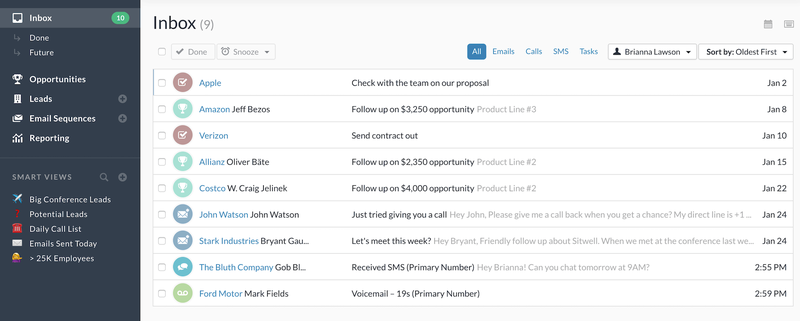 Standout feature: Close's new Pipeline view provides your team with a drag-and-drop workflow that can be customized and provides insights on your revenue. It also does sales forecasting so you can see actual and expected value at every stage.
7. Best for web-based: Redtail CRM
The salesperson on the go needs a CRM that can be accessed from anywhere, and that's what's so great about Redtail.
You can load up your dashboard in a browser and quickly access your calendar, contacts, and everything else you need to start a productive day of contacting clients.
This software is a bit lighter on features than other options out there, but if you just want a straightforward CRM that you can use anywhere, this is a great choice.

Standout feature: Redtail offers a large variety of different reports so you can break down important data within your organization to come up with actionable insights that can improve your team's performance. There are reports on opportunities by contact, standard fiduciary reports, client summary reports, workflow reports, and many others depending on your needs.
8. Best for customization: SugarCRM
SugarCRM is the solution if you want a CRM platform that fits your organization like a glove.
If you've got the development team to mold this open-source solution to fit your needs, you'll find that it has incredible potential to take your team to the next level.
It has a steep learning curve and a vast amount of features, but that's what you need if you have a sales team that wants to graduate from simple contact organizers and calendars.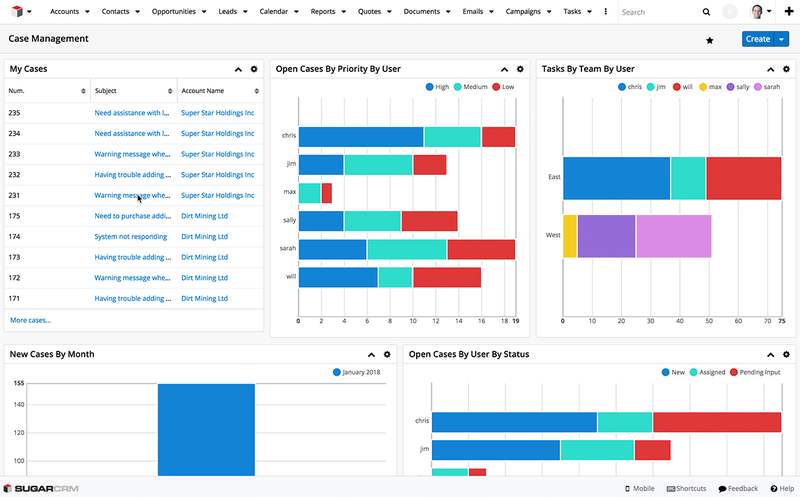 Standout feature: This software automatically gathers data on your contacts from a wide range of sources, such as social media, the news, and the business world. This saves time on data entry and provides actionable information that you wouldn't know about otherwise.
9. Best for sole proprietors: Vtiger Sales CRM
If you're a sales army of one, Vtiger might be your best choice. This platform streamlines your sales operation and helps you get organized if you're starting from square one.
It's also got some automation capabilities to save you time so you can focus more on closing sales than manually entering information. And it's quite affordable compared to a lot of the other software options out there.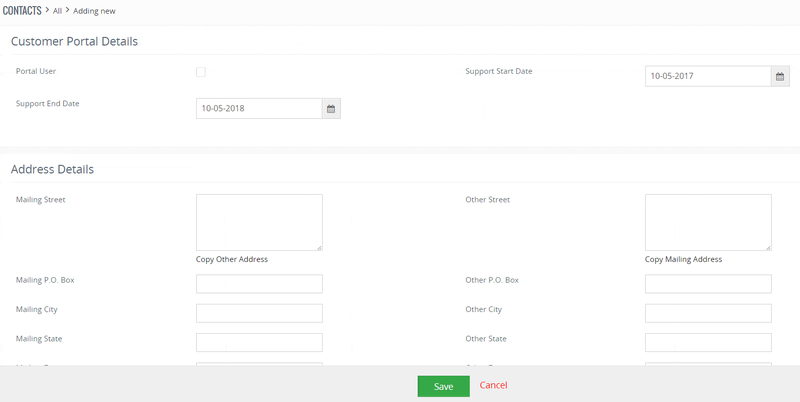 Standout feature: Vtiger allows you to click on any opportunity to immediately see information such as expected close dates and related contacts. You will also be able to add notes or attach documents and have conversations with the rest of the team on how to close this deal. You will also be able to visualize the opportunity pipeline in real time via your dashboard.
10. Best for small businesses: Zoho CRM
Zoho CRM is perfect for small businesses who want a tool that is straightforward and easy for a team to pick up, but also has a lot of customization options so you can mold it to fit your operation.
It's also good for tech novices, using a web-based platform that integrates well with third-party platforms your team is probably already using. It also comes in at a lower price than Salesforce, and it boasts a free version.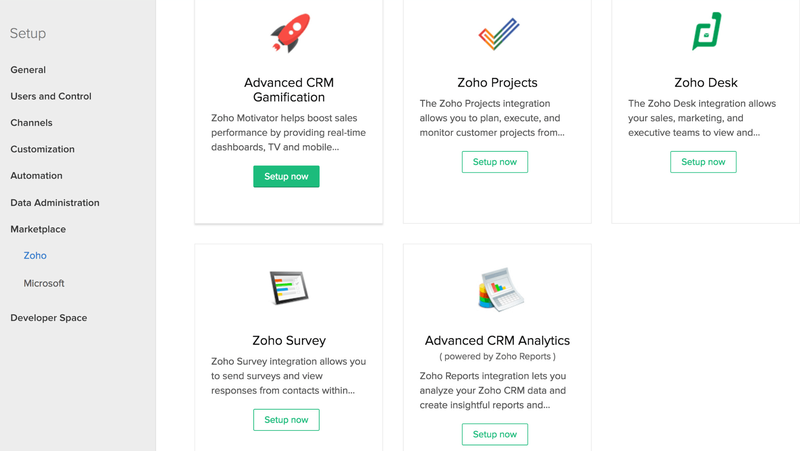 Standout feature: Zoho CRM's workflow automation will update everything anytime someone on your team follows up with a lead or updates a significant field. There are also workflow rules you can set up that trigger actions when certain conditions are met, with up to 10 conditions for each rule.
Should use choose Salesforce, or an alternative?
Salesforce does many things well, such as providing clean dashboards, powerful tools, and lots of integrations. But if things like customization and simple reports are important to you, it may be time to explore an alternative.
However, rather than jump right into buying a software option that looks good, make sure you try Salesforce as well as a few options that look good to you.
Then and only then will you have the context you need to make a purchasing decision.
We're firm believers in the Golden Rule, which is why editorial opinions are ours alone and have not been previously reviewed, approved, or endorsed by included advertisers. The Ascent does not cover all offers on the market. Editorial content from The Ascent is separate from The Motley Fool editorial content and is created by a different analyst team.