6 Customer Service Phrases to Enhance Your Customer Relationships
Many or all of the products here are from our partners that pay us a commission. It's how we make money. But our editorial integrity ensures our experts' opinions aren't influenced by compensation. Terms may apply to offers listed on this page.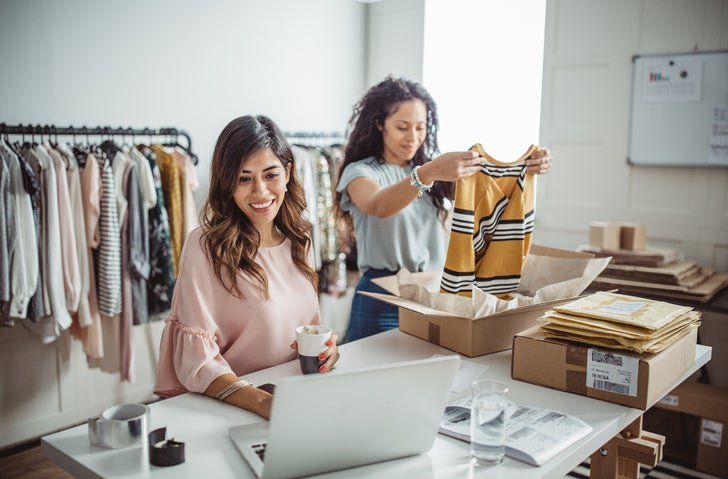 The right customer service phrases can turn an ordinary customer experience into an excellent one. Here are six customer service phrases that can boost the quality of your customer service.
Using effective customer service phrases doesn't guarantee successful customer service delivery. After all, customer service has a lot to do with helping people with their issues and concerns, and that takes action, not just mere words.
What's more, there isn't a one-size-fits-all cheat sheet for handling customer interactions that guarantees increased customer satisfaction.
Having said all that, however, using certain customer service phrases can still improve your customers' experience with your support team. It can augment their positive experience, giving them a more pleasant encounter with your company. Considering the benefits you can gain from using excellent customer service phrases, there's no reason why you shouldn't use them to provide better customer support.
To improve the customer experience with your business, consider using the six phrases below.
"I am happy to help."
"I will find out for you."
"I understand, and I would be frustrated, too."
"Thank you for bringing this to our attention."
"I will send you an update by (specific time or day)."
"Thank you."
1. "I am happy to help."
Using positive words should be included in your customer service standards. It changes the overall tone of the customer interaction into something more favorable. Sometimes that's all you need to reduce any frustrations your customers have with your company.
For example, using the phrase, "I am happy to help," can make a huge difference in your customer interactions. When they hear the word "happy," it subconsciously redirects their train of thought from the frustration they're experiencing to something pleasant. Many times, the impact of these words is subconscious, so the more positive words you include in your customer interaction, the more positive the direction of the conversation becomes.
When customers contact your company to resolve product or service issues, instead of replying with, "I will look into this for you," put a positive spin on it and tell them you'd be happy to help.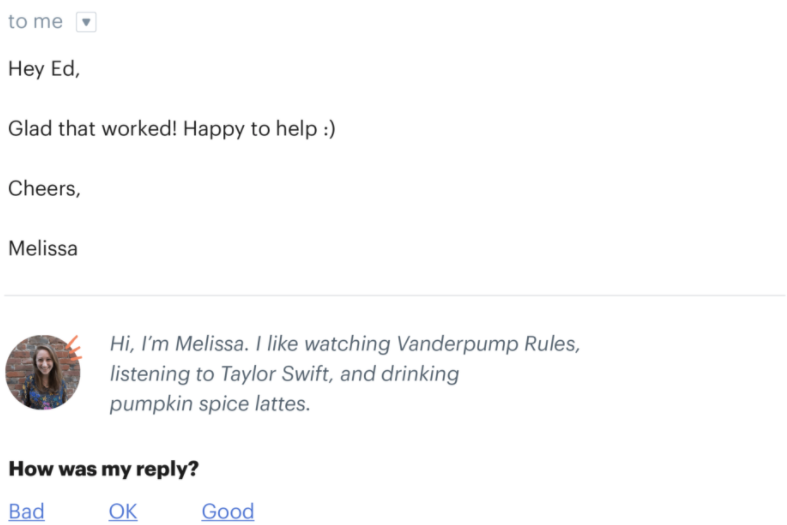 The power of using positive phrases for customer service is easy to implement. It helps to make your customers feel that you're willing, even excited, to address their problems, thereby increasing their satisfaction.
2. "I will find out for you."
Don't ruin the customer experience by needlessly transferring your callers to various departments countless times. While you can't always immediately address their concerns, reassure them that you're going to help.
A good customer service phrase to use is, "I will find out for you." This puts the spotlight on what you will do to get the answer, assuring customers that you're working on finding a solution.
Don't guess the answers by saying things like, "I'm pretty sure," or, "If I remember correctly." The customer might question your ability to resolve the issue because such phrases make you sound unsure.
Make sure your customer service reps stick to saying they will find out what your customers need and efficiently deliver the solution.
3. "I understand, and I would be frustrated, too."
It frustrates customers when they think a support agent doesn't understand their concern and why they're upset. Customers want you to acknowledge their frustration, making empathy in customer service crucial to providing an excellent experience.
Use customer service lines that convey empathy by saying, "I understand, and I would feel frustrated, too." This lets customers feel that you're on their side, and you're genuinely sorry for the inconvenience and frustration the situation has caused them.
Use empathy lines to help de-escalate the situation, apologize for any mistakes on your part, and focus on delivering the solution to promptly rectify the customer's issue. A simple line acknowledging your customers' feelings and showing them empathy can go a long way to improve the customer experience.
4. "Thank you for bringing this to our attention."
A lot of customers choose not to report issues, so you should be grateful to those who take the time to do it. After all, getting customer reports helps you identify, fix, and improve your products and services.
Saying "Thank you for bringing this to our attention," shows your appreciation. Use these good customer service words to recognize your consumers' efforts, strengthening your relationship with them and fostering loyalty.
You can also offer incentives to customers who bring problems and operational bugs to your attention. For example, use customer service software that allows them to report issues. Then set up a simple incentive program to reward those who send in reports.
5. "I will send you an update by (specific time or day)."
If you're flooded with email follow-ups from customers regarding an issue they previously called about, then you're likely failing on some level. Chances are a good chunk of your customers feels neglected and lost, and it's just a matter of time before they get angry and frustrated about how long it's taking for their issues to be addressed.
Let customers know you'll keep them posted on the resolution to their issue by saying, "I will send you an update by (a specific date or time)," and then be sure to follow through. This assures your customers you'll update them and that you're working on resolving their problem.
Specify a date or time so they know when to expect to hear from you. While you can't always promise to deliver a solution by a particular time, make it a customer service philosophy to give customers regular updates to keep them informed.
The image below from the Groove software support team is a good example of setting proper response time expectations.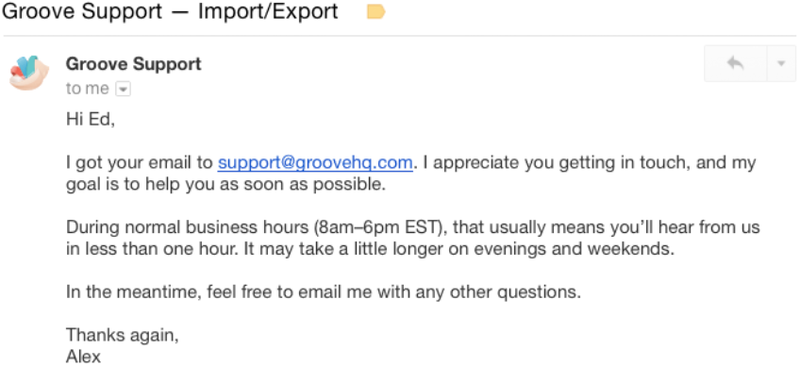 Keep your customers in the loop and deliver on your promises. It's a great way to show customers that you value their time, plus it helps you build trust and improve your customer service.
6. "Thank you."
Make sure your agents say, "Thank you," during customer service conversations whenever it's appropriate. Doing so shows your appreciation and portrays your brand as a professional and respectable business. If you have access to your customer's transaction history with your company, personalize your thanks by referring to the number of years they've been with you.
Customers like feeling valued, so thanking them in your interactions will reinforce their relationship with your brand.
Thank them for bringing an issue to your attention, for calling in, for patiently waiting for their resolution, and for other relevant scenarios. It's a positive and simple way of strengthening your customer relationships.
While there's nothing grand about thanking customers, you can rest assured that saying, "Thank you," can help lighten the conversation between your customers and your support team. It helps de-escalate frustrated customers, and it better positions your team to build rapport.
Bring your best customer service game with the right phrases
These examples of good customer service phrases are far from complete. However, if you integrate them into your customer encounters, you're bound to see positive results. Your customers will have a pleasant time with your support team, which helps you cultivate a more meaningful relationship. And, as your customer relationships became deeper, so does loyalty to your brand.
We're firm believers in the Golden Rule, which is why editorial opinions are ours alone and have not been previously reviewed, approved, or endorsed by included advertisers. The Ascent does not cover all offers on the market. Editorial content from The Ascent is separate from The Motley Fool editorial content and is created by a different analyst team.