Customer Engagement: An Easy-to-Understand Guide for Business Owners
by Jimmy Rodela | Updated Aug. 5, 2022 - First published on May 18, 2022
Many or all of the products here are from our partners that pay us a commission. It's how we make money. But our editorial integrity ensures our experts' opinions aren't influenced by compensation. Terms may apply to offers listed on this page.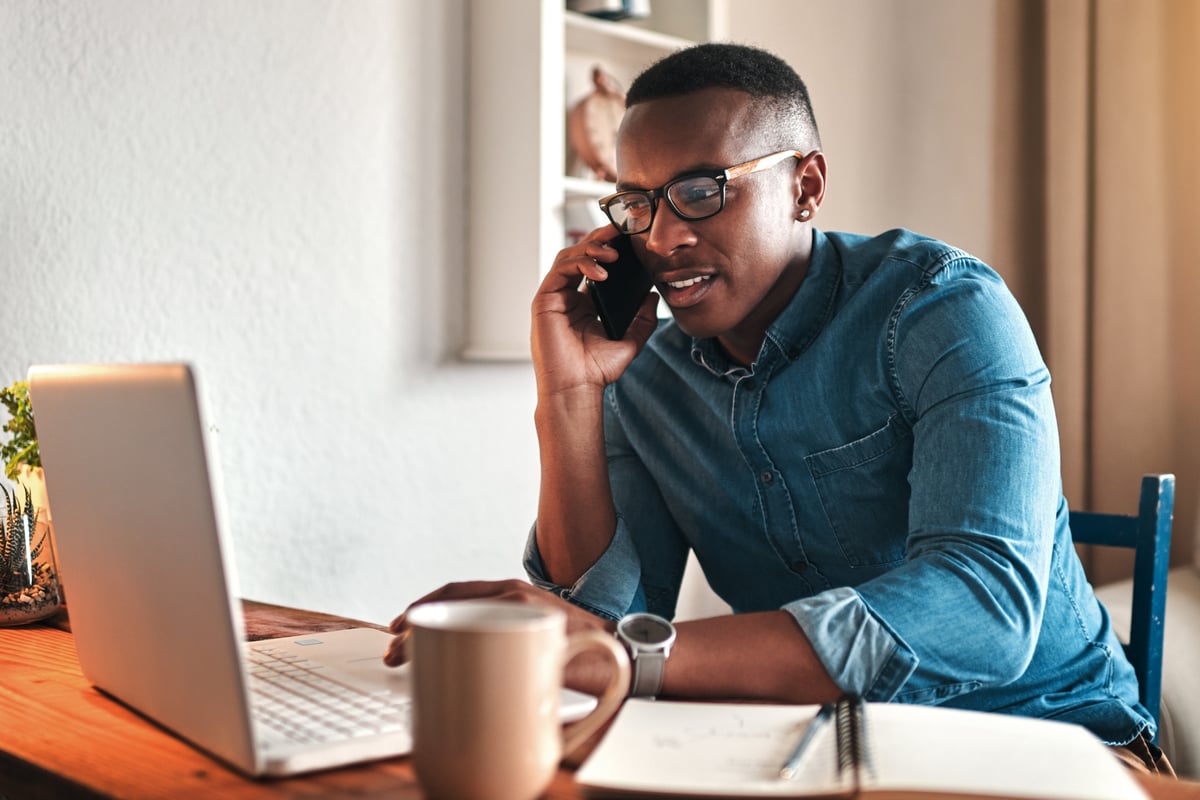 Your customer engagement strategy can make or break your business. In this guide, we hope to equip you with the knowledge you need to run a successful customer engagement marketing strategy.
Done right, your online customer engagement initiatives can help you generate truckloads of leads and sales.
If you're skeptical about the impact of customer engagement, just look at the numbers. Statistics show that 80% of consumers are more likely to do business with a brand if it offers a personalized way of engaging them.
This figure highlights how a carefully crafted (and executed) customer engagement strategy, and software, can be a game-changer for a company.
That's why if you're serious about taking your business to the next level, you need to pay very close attention to your digital marketing campaigns and marketing channels to efficiently connect and build strong and valuable relationships with your customers.
To help you with that, we're going to look into the nitty-gritty of customer engagement.
At the end of this guide, you'll have a better grasp of how customer engagement works, allowing you to come up with an airtight strategy to connect with your audience and convert them into paying customers.
Overview: What is customer engagement?
At its core, customer engagement is about the communication and the interaction between a brand and its customers.
There are a couple of key elements you'll encounter when learning about customer engagement:
Personalization
Emphasis on positive customer experience
With customer engagement, giving your customers a positive experience becomes your No. 1 priority instead of revenue. When you create and share highly personalized content, your customers will feel like your brand is engaging them specifically instead of sending out generic content without much thought.
What to consider when evaluating customer engagement
Before we jump into specific customer engagement marketing strategies you can use to grow your business, let's first look at the crucial elements you need to consider to make your endeavors successful.
1. Target demographics
Define your target demographics clearly. Study them and know their pain points, their digital footprints, social media lifestyles, job descriptions, etc.
The more you know about your audience, the easier it becomes for you to influence them to take action on your offers.
2. Marketing methods
In some cases, you'll get better results if you engage your audience through a social media campaign; other times, being active in forums can be the key. There are also times when referral marketing can do wonders for you instead of trying to engage customers through e-commerce platforms.
Depending on who your target demographic is, one marketing method might work better than another. That's why you need to carefully plan the marketing methods you'll use.
3. Your offer
The value you bring to your customers is essentially your offer, so it needs to be enticing.
Even if your marketing channels and methods are spot on, all of your efforts could still go to waste if your audience decides to reject your offer because it doesn't resonate with them.

You need to make sure your offer is highly relevant and worthwhile for your audience.
4. Your content type and angle
When running customer engagement marketing campaigns, it's also crucial to uncover what type of content will resonate well with your customers. Will memes work better than infographics? Should you use videos instead of text-based posts, perhaps?

Because customer engagement has a lot to do with personalization and a positive customer experience, your content type and chosen angle should highly resonate with your audience.
Customer engagement marketing strategies you can use
Now, with that primer on customer engagement, let's dive into a few popular customer engagement marketing strategies that can help grow your business.
1. Use augmented reality (AR)
Augmented reality allows people to add digital elements such as graphics, videos, and sounds (among other things) to the physical world.

When used in e-commerce, AR allows customers to get a better feel of how certain products would look when being used, or how a product might look in a particular area of your home. With this function, customers can better determine if the product they're looking to purchase will, in fact, be a good buy.

A classic example of this is Houzz's mobile app, an architecture, design, and home improvement application.

The "View in My Room" feature on the app allows customers to see how a product would look when placed in a chosen area in their house.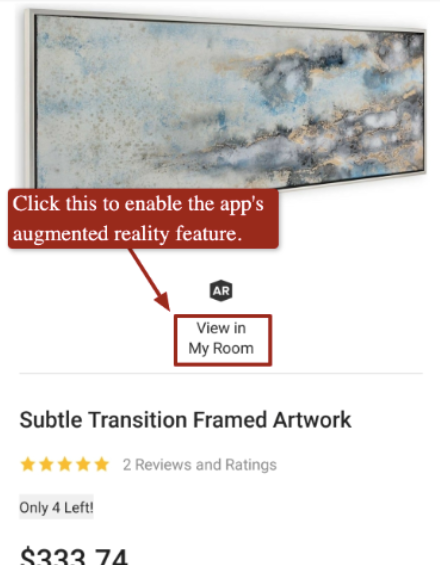 Your screen displays the AR image with the product included after you click the "View in My Room" link.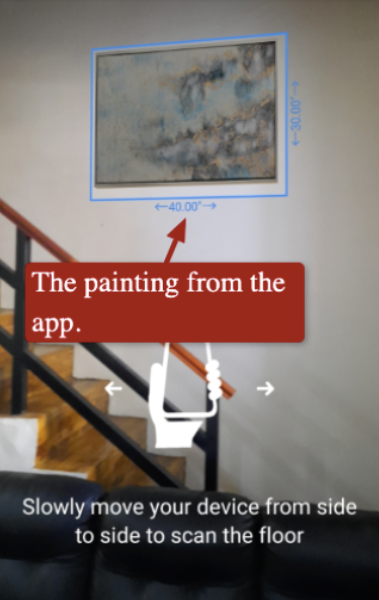 Enabling your customers to see how a product would look in their home through augmented reality eliminates the mental burden of guessing whether that product would fit well in their home or not, making it easier for them to make the purchase.
Tips for using augmented reality:
Partner with a reliable augmented reality provider. Having an augmented reality feature on your website is great. However, if the feature is faulty and unreliable, it can cause your customers loads of frustration.
Make your AR feature easily visible to your customers. If the link to your AR feature isn't visible enough, your customers might overlook it. When that happens, it's a missed opportunity to "wow" them and convert them into paying customers.
2. Run strategic product recommendations
Online sales at Amazon increased by 29% when the site began integrating recommendations into almost every part of its customers' purchasing process. That shows you how valuable product recommendations are to businesses.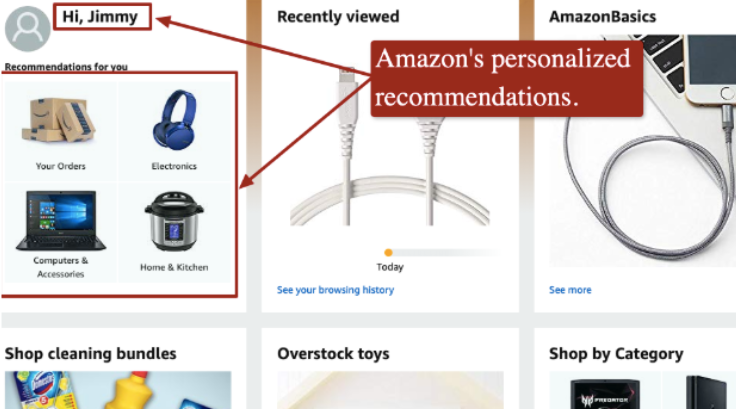 When you offer product recommendations, you make it easier for your customers to buy all of the products they need. Of course, the easier you make it for your customers to shop, the better their experience will be in your online store.
Whether you're using direct response marketing to improve your client engagement, or you're using social media management software to improve your service engagement, there's almost always a way for you to integrate relevant product recommendations.
Tips for using product recommendations:
Don't blindly recommend products. Recommending random products to your audience can ruin their experience on your website. For example, if you recommend pork cuts to a vegan shopper, it'll leave them confused and disappointed, or even angry. Your recommendations need to be data-driven. Base them on previous purchases, products the customer has already looked into, products they've shared, etc.
Test your recommendation strategies. There are a couple of things you can test and try in the hopes of improving your recommendation process. You can check the format of the recommendations, the time they will appear, and/or where they should appear on the website. As you run these tests, you'll likely uncover the ideal way to recommend products.
3. Gamify your website
Gamification can give your customer engagement marketing campaign a massive boost.
Since gamification is all about adding game principles or elements to non-game contexts, such as your online business, it can add fun and excitement to your customers' experiences on your website.
For example, you can offer site discounts and freebies as prizes to your games. Customers could then use those points and winnings to shop in your store.
Stylesbysoma did this by adding a roulette wheel on its website.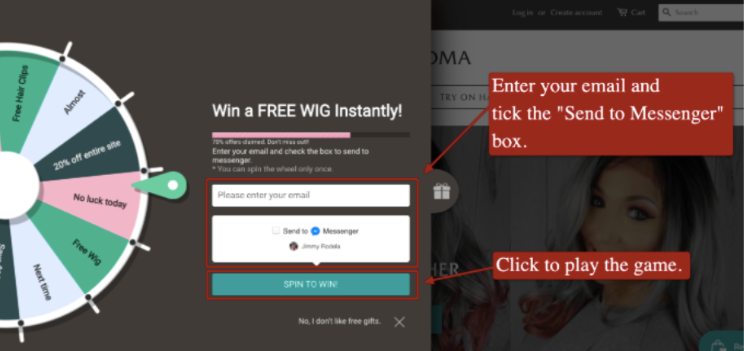 Since visitors need to add their email address before they can spin the roulette, it allows the site owner to grow its customer list in its email marketing software.
Once Stylesbysoma has amassed a decent number of emails, it can start sending messages for marketing research purposes so it can improve its customer journey map, nurture its leads, and increase its sales.
Here's what happened when I clicked "Spin to Win" after filling in all of the required details.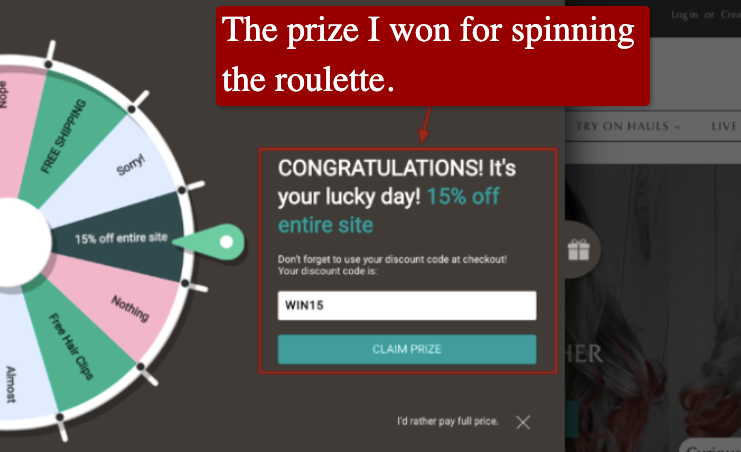 Because I won a 15% discount on every item on the site, it encourages me to stay engaged and shop.
Integrated marketing efforts such as these allow e-commerce store owners to add more "oomph" to their marketing strategies. Not only does it inject an element of fun into the customer experience, but the prizes offered also encourage a purchase.
What's more, the benefits store owners get out of capturing their web visitors' email addresses will yield long-term results.
Tips for gamification:
Make your prizes count. Don't just add a prize for the sake of it. Be thoughtful about the prizes you offer, otherwise, your web visitors won't be enticed to play the game.
Make it easy for your customers to join. Don't make your games complex. If playing your game is too much of a hassle for your customers, or if it takes too much time to figure out, they'll simply ignore it.
4. Run surveys
Another way to engage with your customers is running surveys. When you ask your customers for their thoughts -- mostly about how you can serve them better through your products and services -- it shows you value their ideas.
Showing them you are genuinely interested in their opinions is a great way to build meaningful customer relationships.
The results from these surveys will give you a better understanding of how your customers really feel about your brand, and they'll appreciate the chance to engage by sharing their honest opinions about your products and services.

That is why surveys are perfect for customer engagement: They give you the opportunity to connect with your audience and learn valuable information at the same time.
We can learn from Krispy Kreme on how it used surveys for customer engagement: through a rewards system.

Customers who've made a certain number of Krispy Kreme orders can claim a free set of donuts after completing the customer experience survey, which is a great incentive.
Tips for using surveys:
Invite them to do the survey post-purchase. You can insert short and catchy surveys just after customers process their payment and before they receive their shipping information. Doing this lets your buyers complete their purchase seamlessly and answer your questions quickly before reviewing post-purchase details.
Run a contest. Answering surveys becomes fun for customers when they know they can claim prizes and freebies after completing them. Just remember to make your rewards attractive enough to entice people to participate.
5. Use 3D viewers
Some people prefer shopping at brick-and-mortar stores instead of online because it allows them to physically interact with the products. They might want to know how a product would look from a certain angle, or what the colors look like in real life.
You can give your customers a similar experience online with the help of 3D viewers.
With the use of 3D viewer technology, your online customers can view your products from just about any angle. Many 3D viewers also give customers the ability to replace certain parts of the product or change the color for a thorough and realistic experience, among other things.
3D viewers add a level of completeness to your product pages, helping ensure your customers can get all of the information they might want or need before making a purchase.
Sayduck offers a 3D viewer platform you can use to create product visualizations with photorealistic details.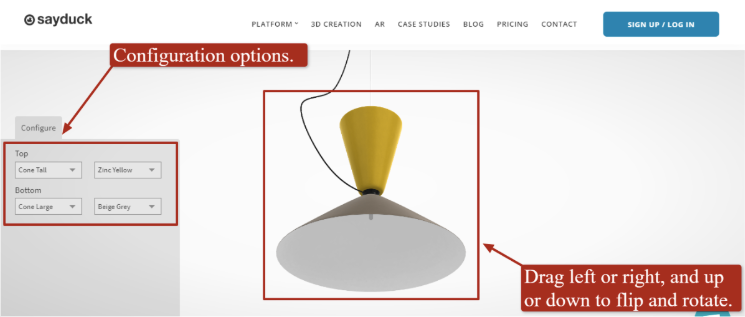 You can configure the image of this pendant light to your liking: Rotate it 360 degrees, flip it up or down, change the style or color, and even see what it looks like when the light is turned on.  
With 3D viewers, your customers can better interact with your products and customize them according to their preferences -- making the shopping experience memorable and more useful. 
Tips for using 3D viewers:
Go for a hosted 360-degree viewer. Hosted viewers let you upload high-resolution images that are optimized for file delivery, which allows for faster uploading, but never compromise on picture quality. In this way, you can ensure your customers can view 3D product images quickly and clearly on your website.
Use JPGs. Using the JPG file format is ideal when it comes to spin images because the file size allows for faster load times, clearer images, and better resolutions. 
6. Use interactive videos
Interactive videos are perfect for educating, informing, connecting with, engaging, and having fun with your audience. Customers respond well to interactive videos because it feels more like a real conversation. 
Plus, you can get as creative as you want with your videos, publishing unique content that helps your brand stand out from competitors and leaves a lasting impression on your customers. 
For instance, Honda's "Other Side" interactive video gives viewers a simultaneous experience of dual realities from the perspective of the same driver.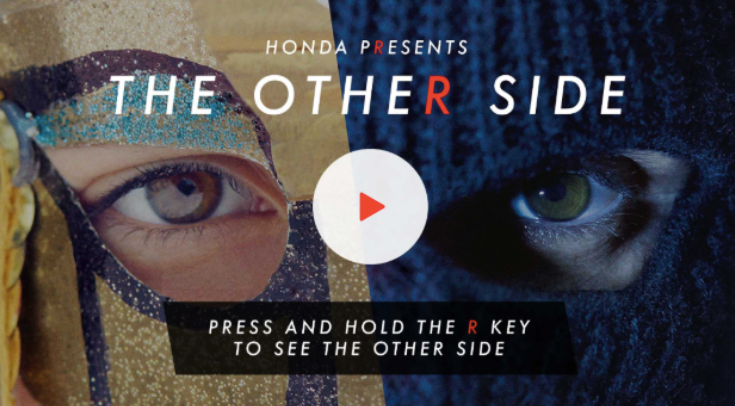 Viewers can hold the R button on their keyboards, or tap on their screens when using mobile devices, and they'll see the two alternate realities in the video. 
In one scenario, the driver is a carpool dad, and in the other, he's a getaway driver in the middle of a heist. Viewers can switch between the two viewpoints throughout the entire video. This gives prospective buyers a unique and compelling experience.
With interactive videos, your customers can get more involved and familiar with your products, and it also helps boost your engagement. 
Tips for using interactive videos:
Encourage them to replay the video. When customers replay your videos, they can better absorb your content. Viewers aren't always ready to watch when they click the "play" button, and outside distractions can hinder them from understanding or fully digesting what they see. By encouraging them to replay a video, your customers can go back to the parts they missed or didn't understand -- allowing for a better learning experience.
Make sure your videos work on multiple devices. Your customers are using various devices, so your interactive videos need to work on all kinds of electronic equipment. The last thing you want is for your customers to try playing the video on their device only to get an error message.
Final advice about customer engagement
Always adjust as you go. Be flexible.
There is no one-size-fits-all customer engagement marketing strategy that will bring you stunning results 100% of the time. Some strategies will work, and some won't -- and it's not always the ones you expect.
As you adjust and fine tune, you're bound to come up with a customer engagement strategy that resonates with your customers -- and will bring you truckloads of sales.
Expert-picked business credit cards with rich rewards and perks
Cash back, travel rewards, 0% intro APR financing: all of these can be great credit card perks for business owners. But how do you find the right business credit card for you? There are tons of offers on the market today, and sifting through them to find the right one can be a big hassle. So we've done the hard work for you.
Get started with one of our top business credit card picks of 2022 today.
We're firm believers in the Golden Rule, which is why editorial opinions are ours alone and have not been previously reviewed, approved, or endorsed by included advertisers. The Ascent does not cover all offers on the market. Editorial content from The Ascent is separate from The Motley Fool editorial content and is created by a different analyst team.
John Mackey, CEO of Whole Foods Market, an Amazon subsidiary, is a member of The Motley Fool's board of directors. The Motley Fool has positions in and recommends Amazon and Target. The Motley Fool has a
disclosure policy
.