How to Improve the Customer Service Experience for Your Small Business
Many or all of the products here are from our partners that pay us a commission. It's how we make money. But our editorial integrity ensures our experts' opinions aren't influenced by compensation. Terms may apply to offers listed on this page.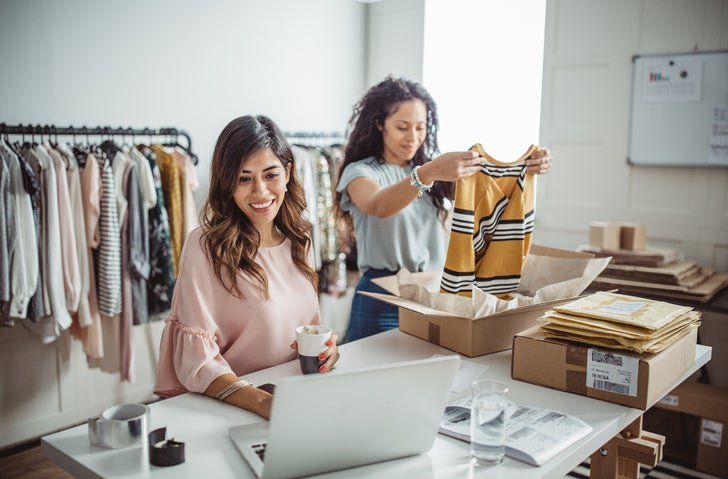 Following these best practices for enhancing customer service skills will help your clients have a better experience.
A business can have all the technical building blocks: a great e-commerce platform, an in-depth understanding of performance metrics, the right CRM, and more.
Still, it is simply impossible to build the customer base you need without creating an exceptional customer service experience, so which customer service skills should you be prioritizing?
Overview: What is the customer service experience?
Simply put, the customer service experience is the experience a client has with your brand, from speaking with online representatives to navigating a site built for customers, and in-person or over-the-phone interactions. At every turn, your customers will feel either valued or frustrated.
And the full areas of customer service are wide-ranging, starting from pre-purchase and continuing through to receiving an order or completing a purchase.
Why is the customer service experience important?
The customer service experience sets up customer expectations for your business and can either give a boost in sales or leave an unshakeable bad taste in the buyer's mouth.
Setting the tone
First impressions are crucial, and interaction on a customer's end can determine from the very first minute how they will feel about your brand. If their first experience interacting with your brand is pleasant and helpful, they are more likely to continue their journey with you.
If customer service is lacking from the start, they will either start super wary or abandon the relationship altogether.
Problem resolution and outcome
Since nothing is guaranteed to run 100% perfectly, problems will inevitably arise. But dealing with them with excellent customer service skills can leave your customer feeling well taken care of and secure in your company.
Conversely, even if everything goes right transactionally, a negative experience with customer service at any point can tarnish the whole sales cycle and make someone less likely to purchase again or recommend you to others.
Social sharing
News travels faster than ever, and a negative customer service interaction story soars on social media, so a single bad experience is amplified, making damage control, as well as one-on-one relationship management, that much harder.
Ways to create the best customer service experience for your small business
Here are six specific things you can do to improve your customers' overall impression of their experience with your business.
1. Positive, helpful email interactions
Especially in e-commerce, email marketing sets an important expectation for your customers. What takes a well-run business a step further, though, is continuing a consistent and pleasant email communication when customers respond to an email.
These emails should employ the same customer service skills of helpfulness and positivity, mirroring your brand promises throughout your entire email campaigns.
Tip: Prep email templates. Issues will vary, but the consistency should be there in everything from email format to how an email begins so that brand cohesion is preserved. Your customer service representatives can include the details, but all emails should exhibit a pattern and consistency for cohesion.
2. Pay attention to the back end
It's easy to confine the idea of "customer service" to interactions with reps, and phone or email. Still, the reality of customer service these days is that it involves setting up customers for success without their needing to reach out.
People are more independent and savvy these days, so providing them with resources, be it a helpful FAQ section or a website designed for customer flow, is a service to customers, so make that a positive part of your company's value chain, too.
Tip: Bring in fresh eyes. Have someone with no relation to your company beta test your website, clicking through to see how using your site feels as a customer, and if resources are easily accessed.
3. Personalize within reason
People don't want to feel a part of a mass commodity anymore. And, while individualization on a massive level is not always possible, customers feel most secure when they are treated as individuals and not numbers or groups.
From emails to chatbot prompts to phone calls, you should be able to dial in your responses to the situation at hand, making your customers feel like they're receiving personalized attention.
Tip: Get ahead of the game using automation rules for customer segmentation. You can break a large customer base down by demographics and other factors so that customer communications can be as personalized as possible.
4. Be invested in their opinions
Don't wait for customer service issues to arise and cause problems. Similarly, show your customers that you are invested in them and care about what they think.
Proactively soliciting feedback, in a non-invasive way, is a great communication strategy to show you are always actively looking to improve for your customers, and it's a great way to capture any potential negative feedback before it reaches boiling point.
Tip: Look for help with survey builders. You can find some free options out there that let you send out surveys directly to all customers or specific segments.
5. Don't be afraid of some personality
It may seem like brands should be all proper and staid in language, but that's old thinking. These days, people want to feel like they're connecting with another person, so an essential element of the customer service experience is to infuse personality throughout your brand.
From social media to web copy and emails, keep things less rigid and more relatable. Even before people talk to individuals, they will feel like they know your business on a personal level.
Tip: Take your cues from the big brands such as the humor of Wendy's or the imagination of Old Spice, but make sure you optimize for your customer base. Take into account your industry and your demographics. As examples, are your customers older or younger, and use that to gauge which personality and how much humor or spunk to sprinkle in.
6. Don't overpromise
The old adage of "underpromise, overdeliver" does hold a nugget of truth. While you don't want to undersell your business completely, you don't want to make wild promises and claims that you can't keep.
Set realistic expectations, whether around shipping, product quality, response time, etc., and then strive to beat them. Give your customers an experience of either being satisfied that you fulfilled your promise or pleasantly surprised that you exceeded it.
Then, if something does happen and there is a delay, it is a minor incident, and it gives you a chance to use those smooth customer representatives you've hired.
Tip: Start with something simple but essential: shipping or service delivery. If you know your shipping without fail takes three to five days, set the expectation at four to five. And for services or completing projects, schedule in some cushioning and promise a hard deadline a day or two past what you anticipate genuinely needing.
Customer service skills make for a great business
It's a delicate art and a science, but fine-tuning those crucial customer service skills can turn your small business into a thriving, sought-out endeavor. Brand cohesion centered around smooth interactions for your clients will let you reap the rewards for ages.
We're firm believers in the Golden Rule, which is why editorial opinions are ours alone and have not been previously reviewed, approved, or endorsed by included advertisers. The Ascent does not cover all offers on the market. Editorial content from The Ascent is separate from The Motley Fool editorial content and is created by a different analyst team.
The Motley Fool has no position in any of the stocks mentioned. The Motley Fool has a
disclosure policy
.