How to Create a Unique Selling Proposition (USP)
by Clark Boyd | Updated Aug. 5, 2022 - First published on May 18, 2022
Many or all of the products here are from our partners that pay us a commission. It's how we make money. But our editorial integrity ensures our experts' opinions aren't influenced by compensation. Terms may apply to offers listed on this page.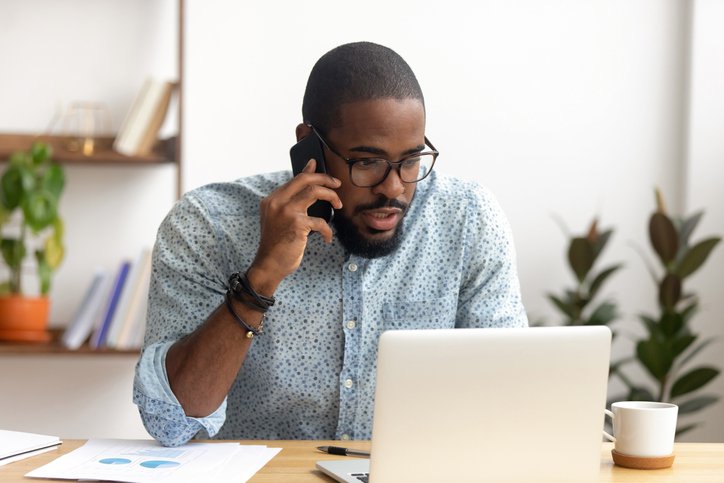 The right unique selling proposition can help you communicate your message to employees and customers. In this guide, we show you how to create a compelling USP for your small business.
You might be wondering what you'll gain by reading this article. By the end of this guide, you'll be able to create a new selling proposition that attracts and retains customers by setting you apart from the competition.
There are plenty of articles promising that, but we'll take a different approach. We'll begin with a practical guide filled with advanced tips you won't find anywhere else, then share examples that put these theories into practice. That's our unique selling proposition to you, the reader.
Overview: What is a unique selling proposition?
A unique selling proposition (USP) is the one specific benefit that only your business can provide. In a crowded market of similar competitors, this proposition will help customers understand what your business can do for them. It's a deceptively nuanced practice.
Your USP is not simply what you believe your company stands for, nor is it purely what your customers think of you. An effective USP integrates these two perspectives, starting with the customer.
When you nail that proposition, it will inform everything from the copy on your website to the way you manage customer service.
How to create a unique selling proposition
So, how can you create a successful sales proposition for your business? The steps below can help.
Step 1: Take the customer's perspective
The first step in this process is to define your customer segments. While it's tempting to group customers by their demographic status or the products they buy, starting from this perspective will narrow your thinking too much.
Instead, consider the value your customers receive from your products or services. What are they able to do, find, or feel when they interact with your business?
This value concept is fundamental to a successful USP. It will help you align your business with what the customer wants rather than what you want to sell. That's a much more adaptable and sustainable position to take.
How can you figure out what value your business provides? This information is all around you.
Speak to your customers directly. What better way to find out how your customers view your business than to ask them?
Ask your customer service team about the typical queries they receive. This helps to unlock potential new sources of value by revealing other pain points you can help resolve.
Analyze data from your e-commerce strategies and social media marketing campaigns to see which messages resonate with your audience. Do particular phrases or calls to action draw higher engagement rates in your ads?
As you conduct this research, keep your focus on the customer's perspective. Combine these qualitative and quantitative insights to sketch the customer's current needs, and we'll align this with your company's mission at the next stage.
Step 2: Ask questions
Next, figure out how well you cater to your customers' current and future needs. Ask yourself some questions about your business, and share these with other major stakeholders.
Some useful questions at this stage include:
Why does your business exist?
What are the key selling points of your business?
Why are you relevant to today's customer?
How do you solve customer problems in a unique way?
What new technologies enable or threaten your business?
How has your business changed in recent years?
How will your business change in the future?
It's helpful to work on this separately, then share your answers with everyone in a meeting. This will highlight commonalities or discrepancies in how people on your team perceive your current proposition. This approach also minimizes the possibility that one person will shape the opinions of the others -- knowingly or unknowingly.
At this stage, you're looking to pinpoint factors that make you stand out. They also need to align with the audience's needs, so you should keep your notes from step one handy.
See if you can spot areas of overlap between the company's internal view and the customer's view of the business.
Step 3: Identify gaps in the market
By now, you should have a good idea of what the customer receives from your business, what they want, and how well you cater to these needs. You should also have a sense of what your current USP is and whether it fits your purpose.
Look for gaps between your existing proposition and the customer's changing needs. Assess the positions taken by your competitors and consider where you could better align with what the market wants.
These insights provide opportunities to craft a new proposition. For example, if your business has a strong heritage in customer service, and you find that your audience craves this personal attention, double down on this in your USP.
Don't be afraid to emphasize these points with hyperbolic language. Once you see a clear gap in the market that aligns with your identity, seize it. A unique selling proposition should fill the customer with confidence and explain clearly to them what they can expect from your business.
This will lead into your brand positioning strategy, too, as the USP should always be tied to the brand promise.
Step 4: Test your statements
Your e-commerce marketing channels can be a fantastic place to test selling propositions, as they provide almost instant feedback. Try a few different alternatives in your Google Shopping or Facebook marketing campaigns to gather data on customer sentiment.
You can measure the success of a new unique selling proposition by the click-through rate each variation attracts, and also in commercial metrics. A reduction in cost per acquisition of new customers or an increase in customer lifetime value may indicate that your USP strikes a chord with your customers.
You can carry out these tests before you commit to a new USP that will be communicated widely.
It's also a great idea to develop an "elevator pitch," wherein you craft a short statement that conveys the core message of your USP. Try this out on people within the company as well as outside it, then ask for feedback.
Cut out superfluous phrases, and distill your core message into its purest essence, without losing its meaning. If you can pitch the USP to a varied audience and they immediately understand why your offering is valuable and distinctive, the statement works.
Step 5: Show and tell
Customers will see through an empty selling proposition, no matter how clever or compelling it sounds. Today, they are also likely to share this knowledge with their networks on social media. Businesses need to demonstrate that they live the values they communicate in their brand messaging.
Everyone within the company should know what the unique selling proposition is and should be able to communicate it clearly. Your USP should also be built into your company's processes.
For example, if you promise the fastest service, but your employees work using outdated equipment, they won't be able to deliver on the USP. Incentivize staff to hit targets based on the company's vision and enable them to do so by removing any blockers they may encounter in company processes.
Then, you can communicate your USP with conviction in marketing materials, knowing you will provide the experience the customer expects. Although customers are quick to share frustrations on social media, they'll also let their connections know if a business goes above and beyond to keep them happy.
Step 6: Adapt over time
A successful unique selling proposition is consistent and recognizable over time, but it's also closely aligned with customer needs. Customer needs change dramatically and often, so it's hard to marry these competing pressures. New technologies and competitors may also create the need for a revised USP.
Monitor your marketing performance data, run regular competitor analyses, and stay close to the customer. If you recognize the need to adapt, follow the process outlined above.
Examples of effective unique selling propositions
These companies have crafted unique selling propositions that stand the test of time and deliver great results for their customers.
1. The Cemex service promise
Cemex started as a cement and concrete company in Mexico in the 1980s. Although its product is not technological, Cemex realized at an early stage how technology could help it stand out.
The company developed a network of more than 300 servers and 7,000 computers to help track its delivery trucks. Through Global Positioning System (GPS) data and a proprietary algorithm, it could predict delivery times for its products to customers.
Cemex was so confident it could deliver on time that the company offered a rebate for orders that arrived more than 20 minutes late. This service began as early as the year 2000.

No other company could match that selling proposition, and it directly responded to a lasting customer frustration. This USP helped transform Cemex from one of Mexico's largest cement producers to the world's second largest building materials company.
The service promise lives on, although it has been extended to cover other areas.
2. John Lewis: "Never knowingly undersold"
John Lewis is a chain of high-end British department stores founded in London in 1864. The company has always focused on beating competitor prices, but its famous slogan "Never knowingly undersold" came into effect in the 1950s.
A letter circulated within the company in 1982 reminded staff of the phrase's true meaning: "Although it acts as a reminder to our customers of our pricing policy, its main purpose is as a discipline upon our central buyers to ensure that in arriving at their selling prices, the best possible value is offered to our customers."
The phrase itself is interesting -- and quintessentially British in its understated tone. The juxtaposition of the declarative "never" with a modifying "knowingly" directly after helps to soften the company's stance. "Never undersold" would be a rather different, riskier USP.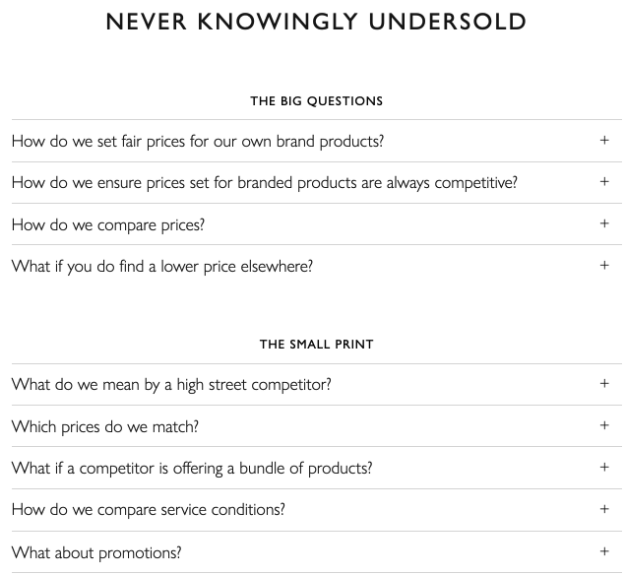 By adding "knowingly," the company let customers know that it will never be undersold if it can help it -- and it will happily refund the difference to the customer should such an occurrence arise.
John Lewis' e-commerce business continues to promote this USP, and there is a knowledge hub on the website to explain precisely how it works.
3. Amazon: Anything, anywhere, anytime
Amazon has grown from an online bookstore to a technological colossus in just over 20 years. It has achieved this by ruthlessly focusing on delivering its unique selling proposition. Amazon provides access to huge choice selection, at low prices, with fast delivery.
Since its inception, Amazon has aimed to pinpoint the customer needs it knows will never change. No matter what the future brings, it's almost certain that customers will want their products faster and cheaper.
The company focuses less on the aesthetics of its e-commerce platform and more on the logistics behind the scenes. Instead of adding features that look good but would slow page load speeds, it works on a product recommendation system that brings new items to the shopper's attention.
Amazon even has a newsletter that provides updates on the improvements it makes to fulfillment centers.

This customer-centric focus allows the company to plan for the next five to 10 years, knowing anything that delivers on those goals will be welcomed by their customers.
Whether Amazon launches drone shipping or robot delivery men, we know any new developments will have a clear focus on the company's USP.
Creating and delivering customer value
A business USP contains a balance of different interests.
It should reflect the customer's perspective, without being restricted by it. It should deliver on the company's business objectives without bringing them to the foreground. And it should be timeless, while also responding to the customer, competitor, and technology landscape of the moment.
Small wonder these statements are so difficult to craft. By following the process above and taking inspiration from the selling propositions we all know so well, you can bring a reliable methodology to what can otherwise seem an alchemical exercise.
We're firm believers in the Golden Rule, which is why editorial opinions are ours alone and have not been previously reviewed, approved, or endorsed by included advertisers. The Ascent does not cover all offers on the market. Editorial content from The Ascent is separate from The Motley Fool editorial content and is created by a different analyst team.
John Mackey, CEO of Whole Foods Market, an Amazon subsidiary, is a member of The Motley Fool's board of directors. Suzanne Frey, an executive at Alphabet, is a member of The Motley Fool's board of directors. The Motley Fool has positions in and recommends Alphabet (A shares), Alphabet (C shares), Amazon, and Target. The Motley Fool has a
disclosure policy
.