A Quick Guide to Creating Email Marketing Funnels
Many or all of the products here are from our partners that pay us a commission. It's how we make money. But our editorial integrity ensures our experts' opinions aren't influenced by compensation. Terms may apply to offers listed on this page.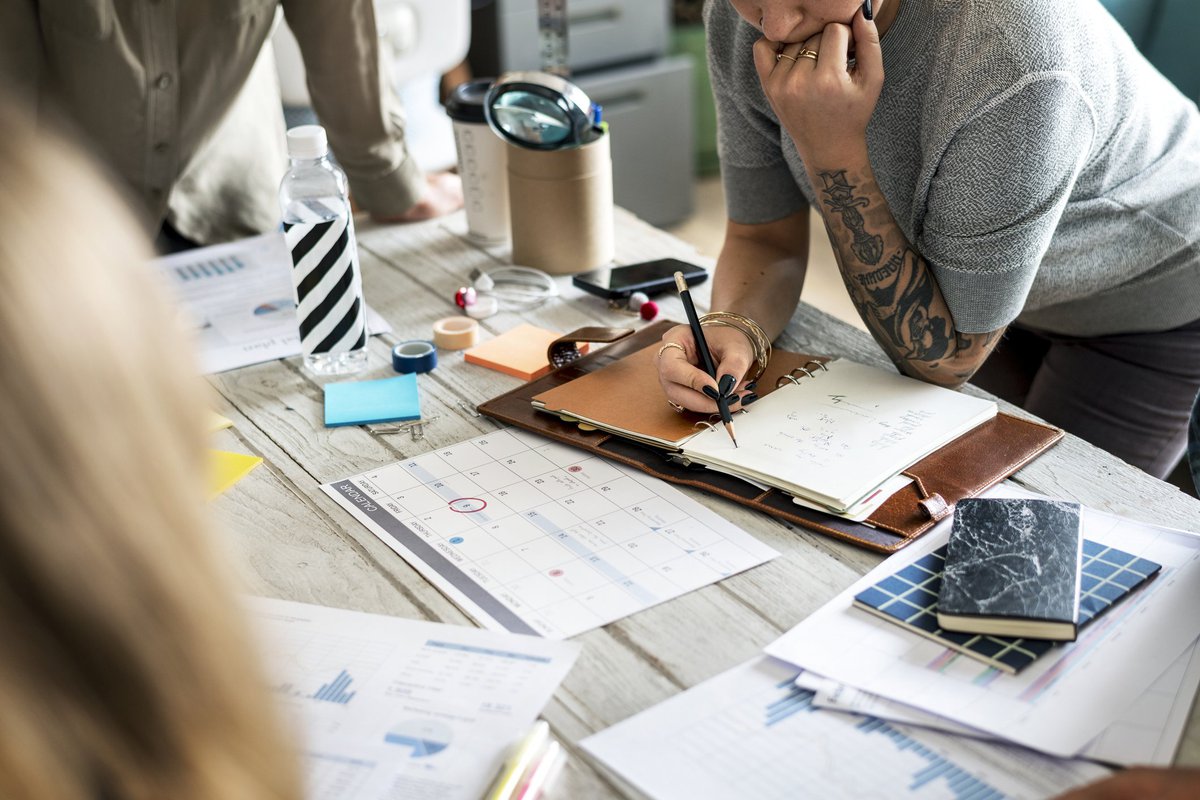 You know your product is amazing, but most people will take some convincing. This article explains how to create email marketing funnels to turn cold leads into loyal customers.
Not everyone is ready to buy your product right at this moment. Some are just browsing, some stumbled on your site by accident and will never come back, and some just need a push to get over the finishing line.
Different leads are currently in different parts of the funnel and it's your job to use your small business email marketing expertise to move them down this funnel to get them closer to making a purchase.
The way you speak to them, the content you send them, and the type of emails you create will vary depending on the funnel stage. Here's how you can create a funnel to keep your leads interested and show them why they should buy what you're selling.
Overview: What is an email marketing funnel?
You can't expect a lead to go from not knowing a thing about your company to buying your product without any intervention. Instead, you need to use email marketing campaigns to engage and communicate with that lead until they feel ready to buy.
To do that, you need an email marketing funnel. This funnel allocates leads to different stages in the purchasing journey depending on how much they know about your product and company, and how ready they are to buy from you.
While you can tailor these stages to suit the way your business operates, there are four basic stages leads go through on their way to becoming a customer:
Awareness
Interest
Consideration
Purchase
What to consider when creating an email marketing funnel
While the way you run your funnel will depend on your business model, there are some basic principles that apply to all email marketing funnels.
Funnels aren't necessarily linear
While the idea of an email marketing funnel is to move customers in the direction of purchasing, it's common or leads to jump around different stages during their shopping journey.
For example, I'm looking for a desk and chairs for my home office. I click on an email in a newsletter a friend has forwarded. I land right on your product page, spend some time browsing items, put a chair in my shopping cart, and proceed to the checkout.
You think I'm in the purchase stage of the sales funnel and send me emails relevant to that stage, such as 10% off promotion or free shipping.
But then you don't hear from me again until several months later when I download an ebook on 10 tips for working from home. Am I ready to purchase that chair? Or have I moved back several steps in the funnel? That leads us to the next consideration.
Leads can be in multiple funnel stages
If you sell different product lines or offer different services, leads can be in multiple funnel stages at the same time. For example, I've downloaded the Uber app and have looked at the price of a trip.
That means I'm in the purchase stage of the process. But Uber also has its UberEats food delivery service, which I've never heard of.
That means I'm right at the top of the funnel in the awareness stage and require a completely different email marketing strategy.
How to create an email marketing funnel for your small business
The key to creating an email marketing funnel is to keep leads moving. If they get stuck in a stage and they just won't move, then it's time to focus your marketing efforts elsewhere. Here's how you can create a funnel that maximizes your chance of closing sales.
Step 1: Build your email list to generate leads
If you want to have people to market your product or service to, you need to collect their contact details. The first step toward building an email funnel that leads to sales is to generate leads by building your email list.
To do this, you need to embrace omnichannel marketing, whereby you use all your channels together to achieve your goal. Here are some ways you can build your email list:
Post a link to your email subscription page on social media
Create popups or web forms
Add calls to action (CTAs) at the bottom of your blog posts
Create lead magnets, such as ebooks or whitepapers
Host events (both virtual and in-person)
Optimize your sign-up page for SEO
If you want someone to hand you their email address, explain the value of what they'll get and be clear on what they can expect. For example, clearly state how often they will receive your email newsletter and what kind of content you'll provide.
Remember to regularly manage your email list, removing people when they aren't active and deleting any duplicate or misspelled addresses.
Step 2: Engage and nurture your list
You now have a list of emails, so you need to engage these prospects. Here's how to do this:
Segment customers
Personalize content
Automate email sequences to ensure you send the right emails at the right time to the right people according to your email marketing funnel stages.
Segment customers
Instead of sending every email to every customer, segment your list so you only send relevant content. For example, break it down by location so you only send offers about sunglasses or swimwear to people in geographic areas where they currently have warm weather.
Or, you can go further and segment via pages they have visited on your website. For example, segment customers that have visited your sportswear webpages. You can use multiple factors to segment your list to send highly targeted content.
Personalize content
Your customers want to feel like they are individuals rather than just a number, which means you have to personalize all emails. Early era personalization involved adding your name into welcome email subject lines, but there are more advanced techniques out there now.
Customize your newsletter sign-up forms so they include enough data to personalize emails. For example, if you sell shoes, include fields to collect shoe size in your sign-up forms. Then use dynamic content to show certain sections of your email to specific customers.
Email marketing software can automate this process, saving you time and improving the efficacy of your personalization efforts.
Zoho Campaigns' dynamic content functionality enables you to display different content based on conditions, such as the recipient being on a list or in a segment, or based on custom contact fields, such as shoe size.
You can apply multiple conditions to one email, which increases the level of personalization.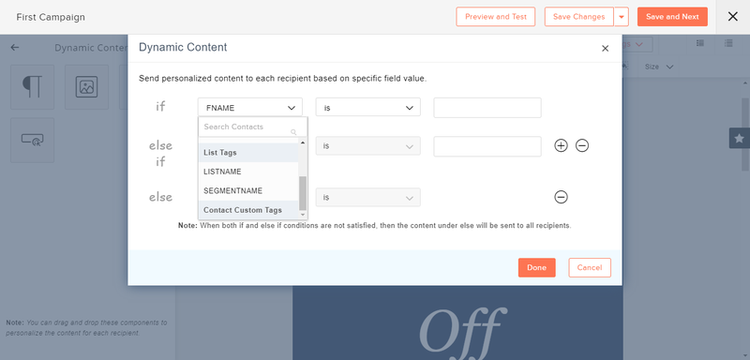 Automate email sequences
You need to be ready with the right content at the right time if you want to engage your customers and move them down the funnel. Doing that manually is almost impossible. That's why you need to create an automated email sequence strategy.
For example, if someone has just added an item to their cart but abandoned the site, you need to automatically send an abandoned cart email. If a customer signs up to your email newsletter, you need to send a welcome email.
And you need to send it soon after they take the action to fully engage them before they forget about you.
SendPulse marketing automation platform automatically sends emails, text messages, or push notifications based on user behavior and events, such as:
Abandoning a cart
Making a purchase
Signing up to a newsletter
The workflow builder also lets you choose a timed interval at which to send the message. For example, you can wait 30 minutes after a user has signed up for an email before starting a welcome campaign series.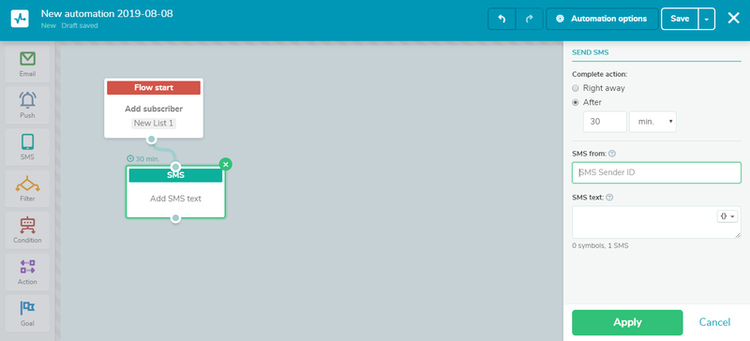 Step 3: Explain the benefits of your product
Now that you've done a ton of hard work engaging with your customers in a relevant, personalized, and timely manner, it's time to push them over the finish line. Here is where you need to sell the benefits of your product or service, explaining how it works and why it's better than that of your competitors.
This is also the stage to start capitalizing on the results you've collected from your automated email sequences. Send discount codes or offer free shipping to provide an incentive to complete the purchase.
Make these offers time-sensitive to create a sense of urgency. Or try to upsell and cross-sell related products to increase the order value.
This is another opportunity to use other marketing channels to help close the sale. Use retargeted ads on social media or Google that include incentives to help persuade customers to finish their purchase.
Step 4: Engage customers post purchase
Just because you've made a sale doesn't mean you can forget about those customers. You now need to turn them into repeat customers.
Retaining customers is much cheaper than winning new ones, and you already have a solid base to work from (assuming all went well during the purchasing process), which makes it important to continue to engage post purchase.
This step stops the second the purchase is confirmed in the form of transactional emails. The customer should, at minimum, receive a confirmation email immediately, but communicating with them while they are waiting for their product or service helps garner loyalty. Examples of these emails include:
Delivery information
Feedback surveys of the purchasing experience
Related products
Relevant email newsletters
Then, a few weeks after the purchase, engage again to ask how everything is going, if they have any problems, or would like more information. When they act on one of your emails -- such as clicking a product link -- then you can move them back into an earlier funnel stage and start the process again.
Email marketing software Mailjet includes transactional email templates so you can quickly create campaigns to engage your customers after they have bought something.
You also receive real-time notifications if your transaction emails have not been sent, if there is a delay in delivery, or if recipients are not opening and clicking on these emails.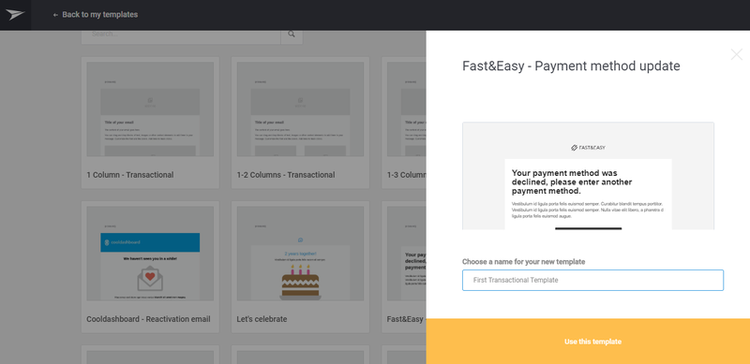 Test everything
What works for your business won't necessarily work for your neighbor's business or your best friend's company. Set goals, track metrics, and test different tactics to see which ones nurture your customers down the funnel, and which have them running for the hills.
And don't be afraid to remove customers from your funnel. You only have so much time, and you need to focus your efforts on leads who are more likely to convert.
We're firm believers in the Golden Rule, which is why editorial opinions are ours alone and have not been previously reviewed, approved, or endorsed by included advertisers. The Ascent does not cover all offers on the market. Editorial content from The Ascent is separate from The Motley Fool editorial content and is created by a different analyst team.
Suzanne Frey, an executive at Alphabet, is a member of The Motley Fool's board of directors. The Motley Fool has positions in and recommends Alphabet (A shares), Alphabet (C shares), and Target. The Motley Fool recommends Uber Technologies. The Motley Fool has a
disclosure policy
.