9 Email Marketing KPIs to Track for Your Small Business
by Mark Roy Long | Updated Aug. 5, 2022 - First published on May 18, 2022
Many or all of the products here are from our partners that pay us a commission. It's how we make money. But our editorial integrity ensures our experts' opinions aren't influenced by compensation. Terms may apply to offers listed on this page.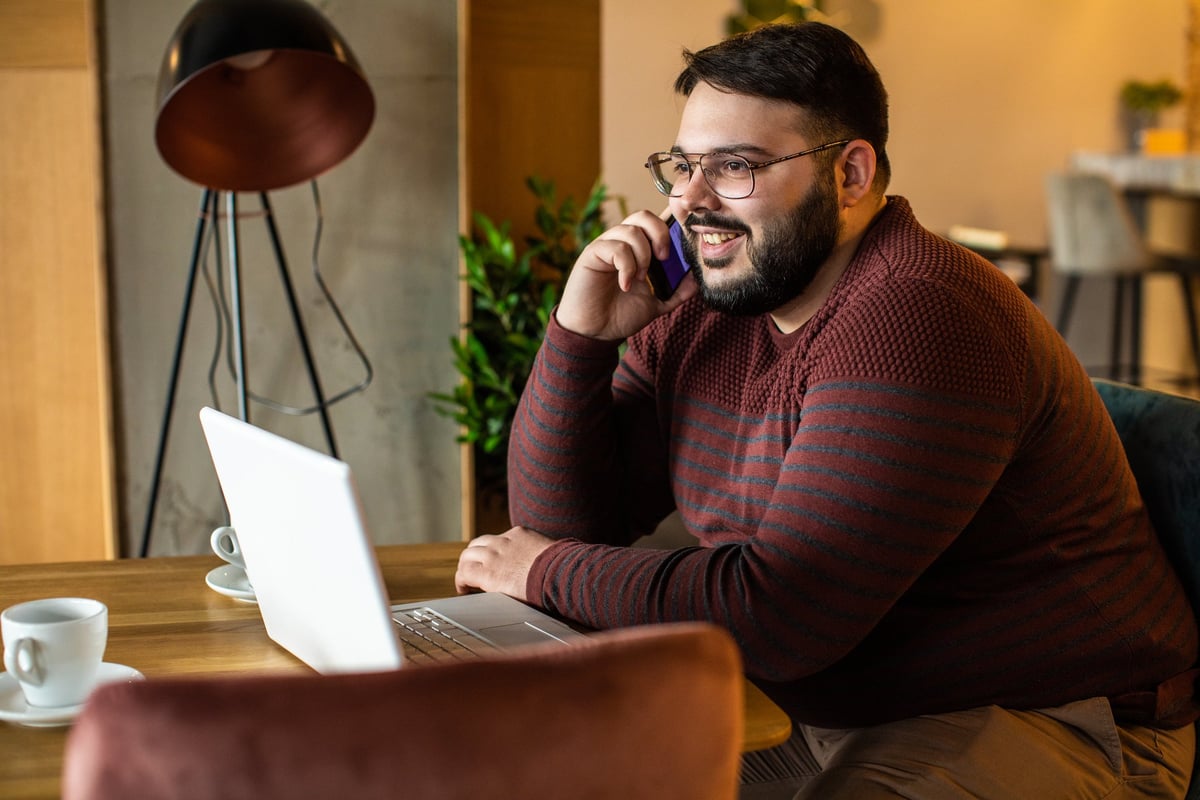 Email marketing is integral to growing your customer base and increasing revenue. The Ascent goes over the nine most important KPIs to track so you can maximize the results of your efforts.
As a small business owner, you want to leverage every email marketing opportunity for the maximum return. At the same time, you have to make sure you're tracking the performances of every email marketing e-commerce campaign you run so you can learn from them and allow them to inform your future efforts.
If you're already using email marketing -- or want to know if it would be worth your time and effort -- the nine key performance indicators (KPIs) below will provide you with actionable data you can use to increase your sales and brand awareness.
Overview: What are email marketing KPIs?
To the uninitiated, mass email marketing may seem like the digital equivalent of those direct mail pieces you regularly find -- and likely ignore -- in your snail mail box. The fundamental difference, though, is the granular-level data these email KPIs provide that can fine-tune your marketing efforts.
Email marketing KPIs range from open, bounce, and click-through rates all the way to revenue generated per email. These metrics will determine the relative success of individual emails sent to your subscriber list as well as the comparative success of all your campaigns.
It's critical to track these marketing metrics for your email campaigns because of the outsized impact emails can have on your business.
According to the 2019 Email Marketing Industry Census, email accounted for only 13% of companies' marketing spend, but it generated 19% of revenue. Related research also shows that each dollar spent on email marketing results in over $51 of revenue.
What to consider when setting email marketing KPIs
To effectively track and utilize email marketing KPIs, the first thing to identify is the primary purpose of each email you send. Is it lead acquisition? Brand awareness? Customer engagement? Direct revenue generation? Growing your subscriber list? Collecting additional customer data?
These things aren't mutually exclusive, but knowing exactly what you want to accomplish will make the data you collect more directly applicable to your business strategy.
Choose an email marketing provider
To facilitate your bulk email production and distribution, you should choose one of the best email marketing services, such as MailChimp or Campaign Monitor.
Using a third-party provider will allow you to easily track relevant KPIs, and you'll be able to access email marketing examples to give you different ideas as well as email marketing tips. Plus, their email automation features will let you send messages based on predefined triggers.
Activity vs. objective metrics
There are two types of metrics you should be tracking -- activity and objective -- and while both are important, you'll need to keep the distinction between the two in mind. Activity metrics measure actions taken by email recipients such as opens, click-throughs, complaints, and unsubscribes.
Objective metrics calculate the success of a campaign based on your identified goals, such as total revenue generated, revenue generated per email, revenue per order, and revenue per subscriber.
Return on investment
Ultimately, the most important KPI is your return on investment (ROI) based on the time, personnel, and cost required to maintain your email marketing efforts. Don't lose sight of the forest because of the trees, though.
The data metrics are not an end unto themselves; they're meant to provide actionable insights so you can generate more revenue. Keep that in mind, and your email marketing and list management will produce the best results possible.
The best email marketing KPIs your business can track
No matter what types of communications you send out -- newsletter, abandoned shopping cart alert, one-off coupon, networking email, autoresponder welcome message, or something else -- using these email analytics will help you make the most of your small business email marketing.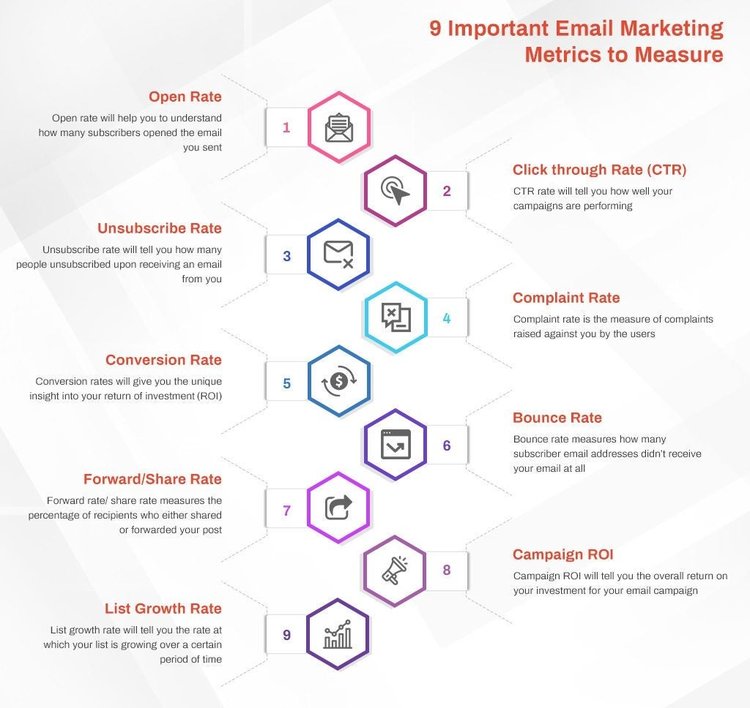 1. Opens
The first most important metric is the open rate: the percentage of emails delivered that were subsequently read. If you had 900 emails successfully delivered, and 90 of them were opened, that would be an open rate of 10%.
Tips for tracking open rates:
While you'll want to track your own open rates, you should also compare your percentages to industry averages, which can range from 15% to around 29%.
Distribution schedule: Experiment with sending your emails on different days and times to see which combination generates the best results. This will vary by industry.
Subject line testing: Segment your list into two groups, and test differently worded subject lines with each -- keeping the body of the email the same -- to see which vocabulary and phrasing are most effective.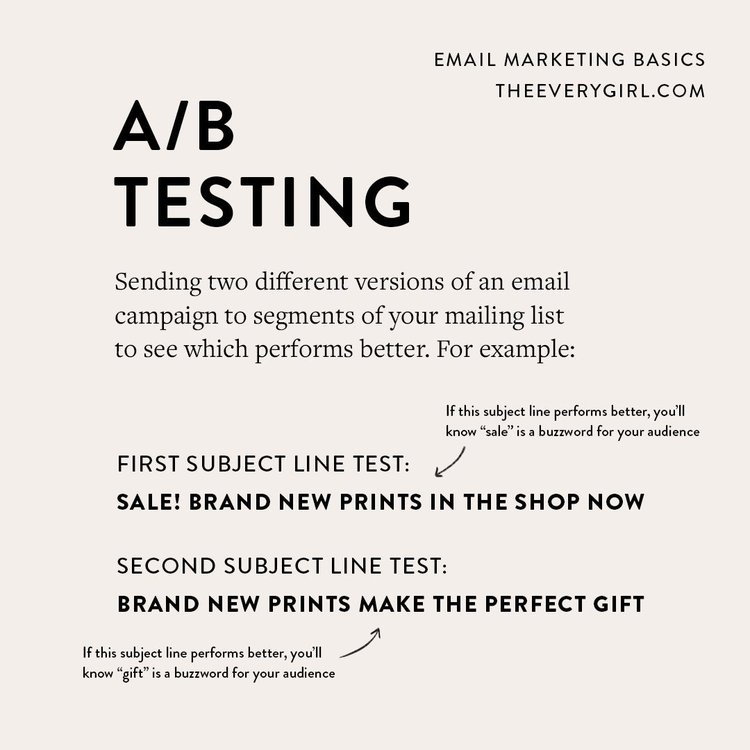 2. Click-throughs
Your click-through rate (CTR) is the number of times subscribers clicked on a link in an email as a percentage of total emails opened. After all, beyond just eyeballs on text, you want recipients to actively interact with your email.
Tips for tracking CTRs:
As with other metrics, once you've established a baseline CTR from your initial email campaigns, you'll want to dig down to see what your customers are responding to most often.
Different click-through options: Don't just use links embedded in text. Also try including images that link out to coupons, buttons, or even interactive polls.
Optimize site speed: If a customer clicks a link back to your site, but your pages are slow to load, that customer is having a poor experience with your brand. Once they realize there's a waiting game after clicking a link, they likely won't click any more of them.
3. Unsubscribes
Your unsubscribe rate will be the percentage of people who opt out of receiving future messages each time you send out an email campaign. Sometimes this is simply because your emails aren't what recipients wanted or expected, but you can try to minimize this.
Tips for tracking unsubscribe rates:
Much of the time, unsubscribes are related to your email format. Is it too long? Too text- or image-heavy? Is the call to action (CTA) unclear or poorly placed? To reduce your unsubscribe rates, list segmentation for A/B testing will be key.
Frequency testing: No matter how relevant your content, if you're sending out emails more often than customers have interest in receiving them, they'll unsubscribe to keep their inboxes from becoming cluttered. Use control groups to test sending messages (1) two to three days a week, (2) once a week, and (3) every two weeks to determine your optimal schedule for each type of email you send.
Targeted emails: The days of the one-size-fits-all email blast -- sending the same uniform message to absolutely everyone on your master distribution list -- are long gone as customers want content that's directly relevant to them and feels personalized. Segment your lists according to recipient demographics to create more targeted emails, and your unsubscribe rates should remain low.
4. Complaints
Even more problematic than the unsubscribe rate is the complaint rate per campaign. In this context, complaints are recorded by a user marking an email as spam in their inbox. This generates a message sent to both the user's ISP and your email marketing provider that you spammed them.
Tips for tracking complaint rates:
It's critical to keep this metric as low as possible to prevent being blocked by your email marketing provider or having your IP address blacklisted.
Once an IP address is blacklisted, email providers will not deliver any emails from it. The industry standard for spam complaints is less than 0.02%, or roughly one complaint per 5,000 recipients.
Easy unsubscribe process: If your complaint rate is higher than you'd like, make the unsubscribe option in your email -- you're required by law to include one -- even more prominent. You don't want people to unsubscribe, but it's better if they do that instead of reporting your email as spam.
Email frequency: As noted above, you need to hit the sweet spot with the frequency of your emails. You don't want to swamp people's inboxes, but you also don't want to send emails so infrequently that people forget they signed up to receive them.
5. Conversions
Unlike the email metrics above -- which consist of relatively uniform data from campaign to campaign: open rates, unsubscribes, complaints -- each email you send has its own unique action you want recipients to take, and this is called the conversion.
This could be registering for an event, signing up for a demo, buying a product, or filling out a form.
Tips for tracking conversion rates:
You must have a clearly defined action you want your recipients to take. Ideally, you'll have one primary action for customers to perform; multiple ones will muddy your results.
Use an effective CTA: Tie the action you want your recipients to take directly to your CTA. After all, if those two things -- desired action and CTA -- aren't working in tandem, your email will lack a clear focus.
Optimize emails for mobile devices: In 2019, 46% of all emails were opened on smartphones or tablets, so your conversion rate will be lower than it should be unless you optimize its display for mobile devices.
6. Bounces
The percentage of emails that were undeliverable is your bounce rate. For example, if you sent out 10,000 emails and 1,000 of them bounced, that would be a bounce rate of 10%.
A bounce rate above 10% is problematic because it can result in your email marketing service blocking your account so its IP address is not blacklisted.
Tips for tracking bounce rates:
Beyond calculating your bounce rate, you also need to identify the reasons emails were undeliverable. Then, you can make any necessary adjustments to keep your bounce rate as low as possible.
Hard bounces: These occur primarily due to an invalid or nonexistent email address or domain. To address this, use a double opt-in -- send a confirmation email each time someone signs up -- so if the address is bad, they won't get the email and can't be added to your list.
Soft bounces: These are due to temporary issues on the receiving end, such as an inbox being full, a server being down, or the message being filtered out for being too large or some other reason.
7. Forwards and shares
While forwards and shares aren't the same as conversions, they're important because they indicate that readers find value in your content. Plus, they extend the reach of your message via the implicit recommendation from the people distributing it through their social networks.
Tips for tracking forwarding and sharing rates:
The email marketing reports from your email provider should include this data. If they don't, you definitely need to switch to one that does provide this information.
Include sharing buttons: If you want your emails shared, make it easy for people to do so by including social media sharing buttons as well as an option to forward within the email.
Use single-subject emails: People will be more likely to share or forward an email if it has a single subject because it means they don't have to explain which section to pay attention to or require people to figure it out on their own.
8. Campaign ROI
As we noted above, ultimately, the success of every campaign is in the ROI: how much you spent versus how much you earned. Even if you know how to make a newsletter with the highest open rate and CTR, that doesn't matter if it's not directly generating revenue in the final analysis.
Tips for tracking campaign ROI rates:
The ROI percentage is calculated by taking the money earned, dividing it by money spent, and multiplying that number by 100. There are, however, a couple of other related email KPIs to keep an eye on.
Revenue per email (RPE): While the cost to send 100 emails versus 1,000 emails is essentially the same no matter how much revenue is generated, tracking RPE will let you know how recipients are perceiving the value of your emails. Effective list segmentation will raise your RPE.
Define intangible ROI: While the immediate bottom line is key, make sure to define additional ROI as applicable, including lead generation and qualification, list growth, reduced marketing costs, and other objective metrics.
9. List growth
Finally, just as you'll have inevitable unsubscribes, you also want to track how your distribution list is growing over time. List growth rate is calculated by subtracting hard bounces and unsubscribes from the number of new email subscribers gained in a given month.
Tips for tracking list growth rates:
Your annual list churn rate -- the number of people who leave for one reason or another -- can be as high as 25%, which means healthy list growth is essential.
Identify sources of new subscribers: To maximize list growth, determine where new subscribers are coming from. Is it a website sign-up form? Forwarded emails? Online ads?
Re-engage inactive subscribers: You'll have to regularly cull inactive subscribers from your distribution list to gather valid metrics about your campaigns. Try to re-engage them by sending a personalized reconfirmation email, offering a product discount coupon, or reminding them what they'll be missing out on if you have to drop them from your email list.
Maximize your email marketing results
Using email marketing best practices will allow you to maximize your email campaign KPIs. And there's no better time than now to collect and analyze the pertinent data to best formulate and execute your email marketing strategy.
Expert-picked business credit cards with rich rewards and perks
Cash back, travel rewards, 0% intro APR financing: all of these can be great credit card perks for business owners. But how do you find the right business credit card for you? There are tons of offers on the market today, and sifting through them to find the right one can be a big hassle. So we've done the hard work for you.
Get started with one of our top business credit card picks of 2022 today.
We're firm believers in the Golden Rule, which is why editorial opinions are ours alone and have not been previously reviewed, approved, or endorsed by included advertisers. The Ascent does not cover all offers on the market. Editorial content from The Ascent is separate from The Motley Fool editorial content and is created by a different analyst team.
The Motley Fool has positions in and recommends Target. The Motley Fool has a
disclosure policy
.