How to Integrate Email and Social Media for Highly Effective Marketing
by Rose Wheeler | Updated Aug. 5, 2022 - First published on May 18, 2022
Many or all of the products here are from our partners that pay us a commission. It's how we make money. But our editorial integrity ensures our experts' opinions aren't influenced by compensation. Terms may apply to offers listed on this page.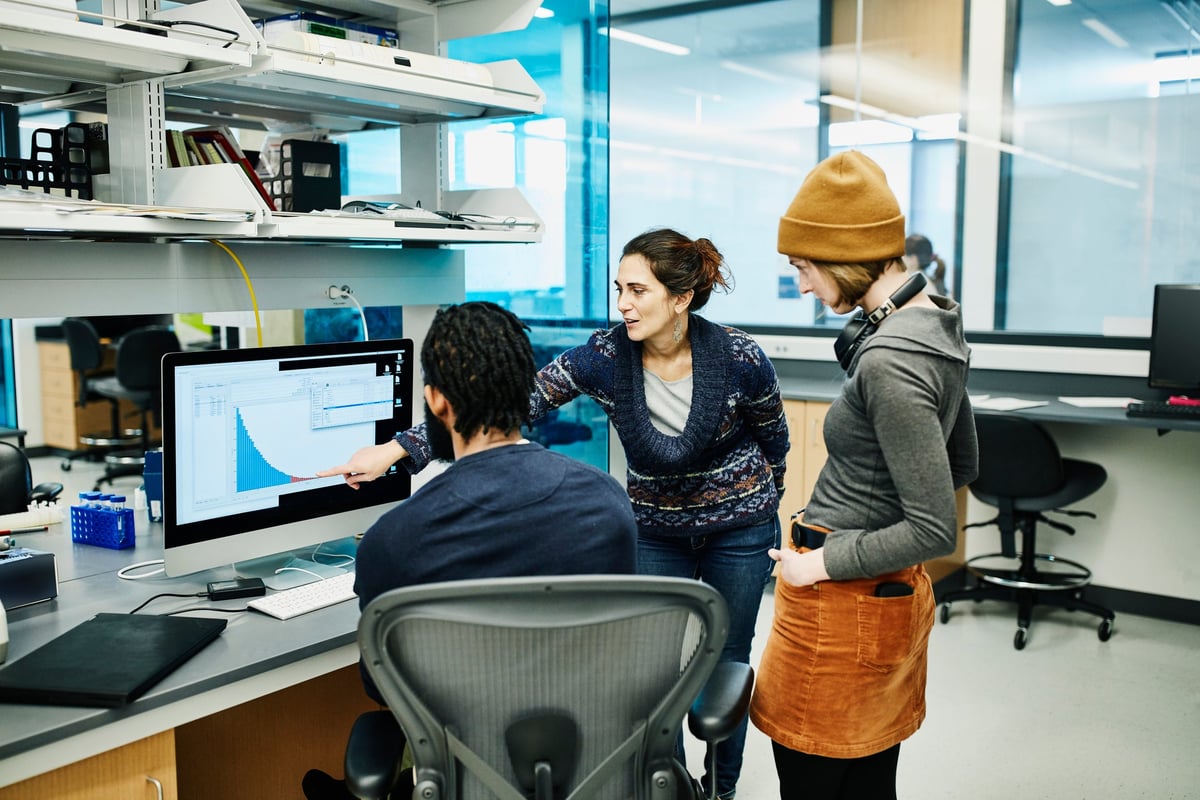 Email marketing and social media marketing offer unique advantages and benefits for any business. Here are a few ways you can integrate social media and email to maximize the strengths of both.
It's a spirited debate between marketers. Which is better: email marketing or social media marketing?
But maybe we're asking the wrong question. Both email and social media have their strengths and weaknesses. Both allow us to promote products and connect with people while building and maintaining relationships.
Email especially shines in the areas of customer retention and transactions. Meanwhile, social media gives your brand personality, builds awareness, and creates an active community of followers.
Maybe the real question is: What's the best way to harmoniously harness the power of both email and social media?
What is email marketing?
Email marketing uses email to promote products and services, build brand loyalty, and share relevant information about your business. Today, email is a more direct marketing strategy. Emails usually go out to targeted email lists.
If you think email is outdated, think again. More than three-quarters of small businesses depend on email as their primary channel for customer acquisition. And that's not a bad strategy. 3.9 billion people use email every day, with 4.3 billion daily users expected by 2023. In fact, for every $1 you spend on email marketing, the average expected ROI is $42. Marketers who use segmented email campaigns report up to a 760% increase in revenue.
If you're not using email marketing yet, it's definitely worth checking out. You can also look into email marketing platforms that save you time and enhance the customer experience. Strategies like creating email marketing funnels and automating emails save even more time while keeping your leads engaged and informed.
Email marketing is cost-effective and incredibly easy to track with metrics such as email reach and email conversion rates. Because you're sending emails to people who have given you permission, you're only targeting interested consumers.
That means people actually chose to see your email advertisements -- unlike ads on social media, television, or radio.
In addition to acquiring customers, email is an excellent way to retain customers. Emails allow you to build trust and relationships and keep your customers in the loop about new products and offerings.
What is social media marketing?
Social media marketing is using social media platforms such as Facebook, Instagram, Twitter, and Pinterest to connect with your audience. It can help you build brand awareness, promote products and services, and interact on a more personal level with customers and potential leads.
Globally, 3.81 billion people use social media. Creating social media content that shares your brand story, mission and vision, and your products or services is a great way to build awareness -- and boost sales.
Like your email subscribers, people who follow your social media accounts have chosen to engage with your business and the content you share.
Thirty-seven percent of consumers say they find purchase inspiration through social media, making it the biggest source of inspiration for purchases. Additionally, 71% of consumers who have a good social media experience with a company say they are likely to recommend the company to others.
Use social media to increase sales and conversions by posting direct links to your website and current offerings.
Although marketers find it difficult to measure ROI for social media, it's certainly cost-effective. Even if you don't have an entire social media team, posting regularly on social channels isn't especially time-consuming. You can also save time using social media scheduling tools.
Social media gives your brand more personality and makes you more relatable. Think of Wendy's quirky, humorous presence on social media, or Pop-Tarts' penchant for "toasting" their followers (a play on "roasting").
Your social media marketing strategy will depend on your target audience and your company's vision and values.
Whatever strategies you use, social media provides an excellent vehicle to reach a wide audience while building personal relationships. Instead of relying solely on promotional social media blasts that do little to engage followers, make your social media channels fun and interactive.
Post contests and giveaways, respond to followers' comments and questions, include well-placed humor and/or pop culture references, and even share what's going on behind the scenes.
Email marketing vs. social media: Which should you be using?
So, when should you use email marketing, and when should you plan a social media campaign instead? Or should you integrate both for best results?
Both types of marketing have their own superpowers. Email is best for delivering targeted, personalized messages. These messages can correspond to stages in the buyer's journey, specific consumer actions, or a particular segment of consumers in a way that social media cannot.
It helps you convert subscribers into paying customers, and it's the best method for customer retention. If you're especially successful with email conversion, it's an indication that email marketing appeals to your audience.
On the other hand, social media reigns supreme when it comes to building brand awareness and fostering community. It's also an effective way to develop your brand's story and personality in a way that speaks to your audience. If that audience is younger, you may want to focus your efforts on social media over email.
Both email and social media enable you to effectively build relationships while promoting products and services. They excel in different areas that complement and build on one another. Integrating the two into one stellar marketing strategy provides a holistic customer experience.
How to integrate email marketing and social media
These seven strategies will help you maximize the strengths of both email marketing and social media, thereby expanding your reach and boosting your business.
1. Encourage social media followers to subscribe to your email list
People who interact with your social media channels might also want to sign up for your emails. Make sure your followers know about your email content or newsletter and make signing up simple.
Post about the benefits of signing up, like exclusive offers, then include a link. Take advantage of built-in social media tools, too. Facebook offers an opt-in tab, while Twitter includes prefilled lead generation cards with its ads toolkit.
2. Promote your social media channels in your emails
Include social media icons at the top or bottom of your emails that link to your social channels. This marketing strategy is extremely easy, but it's not necessarily the most effective. Icons alone don't provide your subscribers with much information about why they should follow you.
For that reason, it's also helpful to directly promote your social media channels in an email or two. Why should your email subscribers follow you on social media? What type of content do you post? What are they missing out on?
How will following you on social media benefit them? If you're holding a fun social media contest, send out an email promoting that as well.
Or, offer social media as an alternative to email subscribers who don't interact with your emails. Use a statement that's short and sweet such as, "Not loving our emails? Maybe you'd prefer to keep in touch on social media!" Then link to your various accounts.
3. Upload your email list to social media
Upload your email subscriber list to the social media accounts that you use. You can then follow your subscribers on social media, create a list of customers, and/or run social media campaigns targeted to the people who are already interested in your business.
You'll also gain excellent customer insight using this strategy. You'll see the names and faces associated with the email addresses on your list. What are they posting about? What other brands are they interacting with?
Pay attention to what they're worried about and interested in. The more you know your audience, the more effectively you can reach them with your posts and emails.
4. Make sure everyone is on the same page
If you have separate teams working on emails and social media, make sure everyone is on the same page. Your brand voice, your mission, and your values must remain aligned.
Both teams should work together to avoid miscommunication or scheduling conflicts and to collaboratively promote initiatives. Editorial calendars or project management tools make this a smooth process.
5. Encourage the use of customized hashtags
Create customized hashtags exclusive to your brand. Hashtags build community on social media, and you can mention them in your emails, too.
For instance, let's say you're having a conference (even a virtual one). In an email that goes out to attendees, encourage them to share on Facebook, Instagram, or Twitter with a conference hashtag.
6. Include live social media feeds in your emails
Take your hashtag strategy a step further by including live social media feeds in your emails. Here's how to code a live dynamic Twitter feed. This way, you can show email subscribers the most recent posts featuring a hashtag while encouraging them to get in on the fun.
Even without a hashtag, you can feature live Twitter posts or a live picture grid of your Instagram using a software tool such as Zapier. If a subscriber clicks on the feed, they'll be directed to your social account.
7. Use social media ads to retarget active email subscribers
Ads aren't cheap, so you want to maximize your conversion rates. Retargeting campaigns provides a powerful way to engage people who are already interested in what you're offering.
Install a tracking code on your website, then send an email to your email list that directs subscribers to your website. Now you can target your social media ads to the people who clicked on your email link.
Alternatively, you can use URL shortener tools with the links you share on social media. This way you retarget people who interact with your social media accounts but haven't visited your website.
Better together: Integrate social media and email for best results
Marketers, let's call for a truce. Social media and email work best when you integrate them and provide a holistic experience for your customers.
Understand the strengths of both and use them together to drive awareness, engagement, conversion, and retention. You'll build a memorable brand that your customers love to interact with -- and buy from.
Expert-picked business credit cards with rich rewards and perks
Cash back, travel rewards, 0% intro APR financing: all of these can be great credit card perks for business owners. But how do you find the right business credit card for you? There are tons of offers on the market today, and sifting through them to find the right one can be a big hassle. So we've done the hard work for you.
Get started with one of our top business credit card picks of 2022 today.
We're firm believers in the Golden Rule, which is why editorial opinions are ours alone and have not been previously reviewed, approved, or endorsed by included advertisers. The Ascent does not cover all offers on the market. Editorial content from The Ascent is separate from The Motley Fool editorial content and is created by a different analyst team.
The Motley Fool has positions in and recommends Target. The Motley Fool has a
disclosure policy
.