9 of the Best Mailchimp Alternatives for Email Marketing
Many or all of the products here are from our partners that pay us a commission. It's how we make money. But our editorial integrity ensures our experts' opinions aren't influenced by compensation. Terms may apply to offers listed on this page.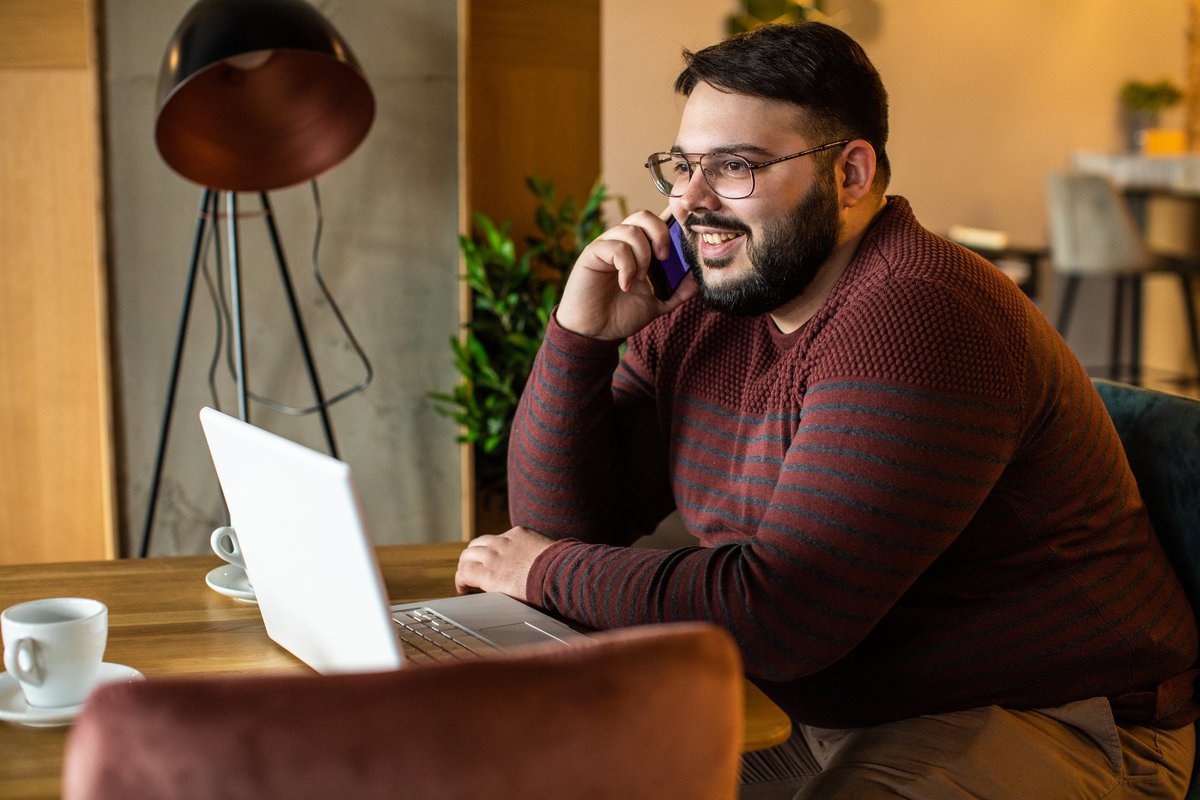 You've heard the name. You've seen the logo.
You know people who use it. You've used it at a previous job. You use it for your personal projects.
One, if not all, of these statements likely applies to your relationship with Mailchimp.
And, let's be honest, there's a reason for that. It's a great piece of software. Here at The Ascent, we scored Mailchimp 8.4 out of 10, which makes it one of our best email marketing software.
But there are email services like Mailchimp that might be better suited for the unique needs of your business.
That's why we've put together a list of the top Mailchimp alternatives that serve specific email marketing purposes.
At a glance: The best Mailchimp alternatives to use for your email marketing
Top Rated Email Marketing Software: Zoho Campaigns
Best for free 24/7 support: Elastic Email
Best for predictable pricing: Mailerlite
Best for customizable dashboard: Sendinblue
Best for outsourcing your email campaigns: VerticalResponse
Best for overall marketing functionality: ActiveCampaign
Best for building your email list: SendPulse
Best for meeting specific marketing goals:
Best for integrations: Constant Contact
What to look for in a Mailchimp alternative
We have to say it again: Mailchimp is a great email marketing tool … but not perfect.
And not for everyone. There are some areas that it could improve on. There are some Mailchimp competitors that offer features and functionality that make them a better option for your business.
Here's what you should look for in a Mailchimp alternative.
1. Support
Reliable, easily accessible support is crucial to the smooth running of any email marketing service, which is why we made it one of the pillars of The Ascent review score.
Imagine reporting a bug to your email marketing software provider and not getting a response for four days. In the meantime, you've missed your regular day for sending your newsletter.
Or you've managed to somehow delete your entire contact list and you need urgent help to get it back, but your plan doesn't include 24/7 support. That's why support is so important.
2. Predictable pricing
When you first start using an email marketing tool, the price probably seemed reasonable, and that was likely one of your deciding factors when choosing a certain option.
But as your business expands, and your email list grows, you need to send more emails to more subscribers and you want access to premium features only included in higher price tiers.
Suddenly what seemed like a good deal now leaves you dreading opening bills or talking to your accountants about the steep price increase.
Either you have to go through the process of finding a new email marketing solution, or you have to pay up. That is why you need predictable pricing.
3. Integrations
Your accounting department needs details of deals closed by the sales department so they can send out invoices. Your payroll department also needs this information so they can work out each salesperson's commission.
Your customer service department needs information from the sales department so they can resolve any support tickets in the most effective way.
For this information to be able to flow between departments, you need to make sure that all the different software integrates seamlessly. Quickbooks needs to integrate with Asana, which needs to integrate with HubSpot, all of which need to integrate with your email marketing software.
The best Mailchimp alternatives for your email marketing needs
Email marketing is not a one-size-fits-all channel. Each business will have their own set of requirements based on their email preferences and needs. Here are our top picks for the best alternatives to Mailchimp.
Top Rated Email Marketing Software: Zoho Campaigns
While Mailchimp might score a lofty 8.4 out of 10 in our review, Zoho Campaigns pips it to the post with an impressive 8.6 out of 10. Zoho has a suite of business software that rivals that of its fierce competitor, Microsoft, from HR to accounting to project management.
While Zoho Campaigns is aimed at small businesses, the robust nature of its feature set makes it suitable for any size of business.
Zoho Campaigns has a strong email editor, great autoresponder functionality, advanced segmentation, and detailed reports. This means you can create complex campaigns with highly tailored and personalized content.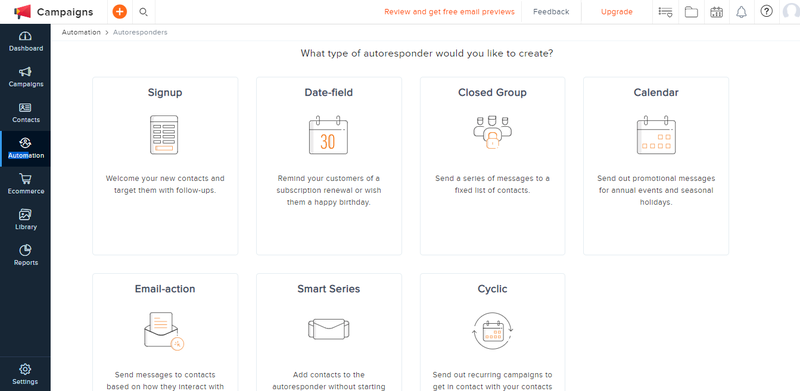 Zoho Campaigns' user experience is on par with Mailchimp's. It's easy to navigate and intuitive, plus it has well-organized navigation with drop-down submenus that display further options. Moving through each step is a breeze, and it never feels overwhelming.
Best for free 24/7 support: Elastic Email
Mailchimp tailors its support options according to how much you're willing to pay.
For example, it only provides phone support to customers on its Premium plan, which costs $249.99 per month for up to 500 contacts.
It only offers email support for 30 days to anyone on its free plan and, after that, you're on your own. Your only option is to search through the knowledge base and try to find the answer yourself.
If you dig hard enough, you can find a form to report a bug or other issue, but this option is hidden away, and is not easily accessible when you're using the software.
Elastic Email -- an advanced email marketing solution that meets the needs of experienced marketers -- offers 24/7 email and live chat support to all its customers, even those on the free plans.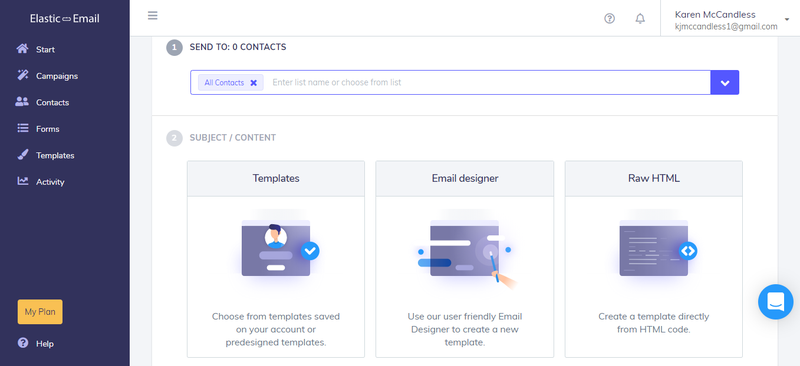 When you use its live chat options, you can speak to a human instead of a bot, which means you get more tailored, personalized options rather than a generic answer.
The sticky help button is on screen at all times when you're using the software, so you can quickly start a chat or send an email.
If you do want to pay extra for an even higher level of support, there is a Premium support option. With this package, you get access to a dedicated account manager plus you get priority when it comes to getting live chat support. Prices start at $199 a month, which makes it a bit pricey for most users.
Best for predictable pricing: Mailerlite
Mailchimp's pricing seems very reasonable on the surface. It offers a free plan with access to advanced features, such as:
In the section above, we mentioned that Mailchimp does monkey around when it comes to providing support for free plans, only offering 30 days of free email support and then leaving you to sort out problems yourself with only knowledge base articles to guide you. Its pricing also goes up steeply the more your email list grows and the more contacts you add.
Take the Standard Package:
It starts at a very reasonable $14.99 for 500 contacts
It jumps up to $49.99 for 2,500 contacts
It then goes up to $74.99 for 5,000 contacts
Of course, you can calculate the price before you sign up, but the difference between the price for 500 and 5,000 contacts is vast.
However when comparing Mailchimp and Mailerlite -- an email marketing solution that comes with a strong feature set but an outdated user interface -- Mailerlite clearly takes a completely different tact when it comes to pricing.
It provides a simple, straightforward pricing structure so you don't have to work out which plan is best for now, and which features you might want to budget for in the future.
All of its paid plans include the same features. The only difference in price is the number of email subscribers. Here is a break down of the pricing
1–1,000 subscribers is free for up to 12,000 emails a month
1–1,000 subscribers costs $10/month for unlimited emails
1,001–2,500 subscribers costs $15/month for unlimited emails
2,501–5,000 subscribers costs $30/month for unlimited emails
5,001–10,000 subscribers costs $50/month for unlimited emails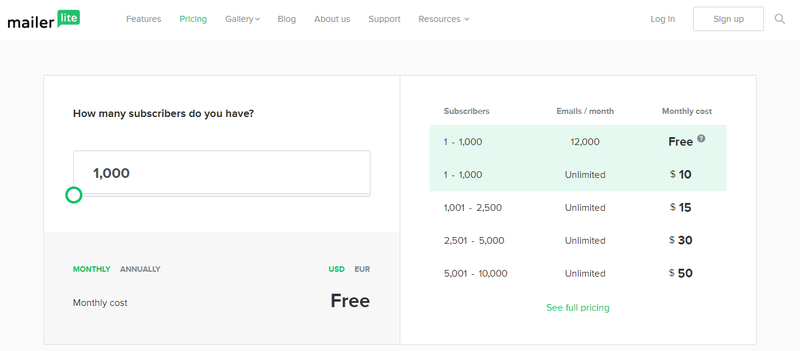 The free plan doesn't include features such as:
24/7 live chat support
Newsletter templates
Delivery by timezone
But with all plans, you can budget more easily as you can clearly understand what any price increase will be.
Best for customizable dashboard: Sendinblue
Mailchimp is a data-driven email marketing software, offering advanced analytics and allowing you to use customer data to create personalized and tailored direct marketing campaigns. The more emails you get, the smarter its analytics and recommendations become.
So it makes sense that it's main dashboard displays the performance of your campaigns.
But that doesn't reflect the fact that people use email marketing software for a variety of different reasons, and prioritize different features and functionality.
Sendinblue is an email marketing solution that focuses on helping you create highly personalized campaigns. When comparing SendinBlue to Mailchimp, the former recognizes the desire for customization, allowing you to change the main dashboard to suit your preferences.
You can turn features on and off depending on whether you want to quickly access them or whether they are important to you.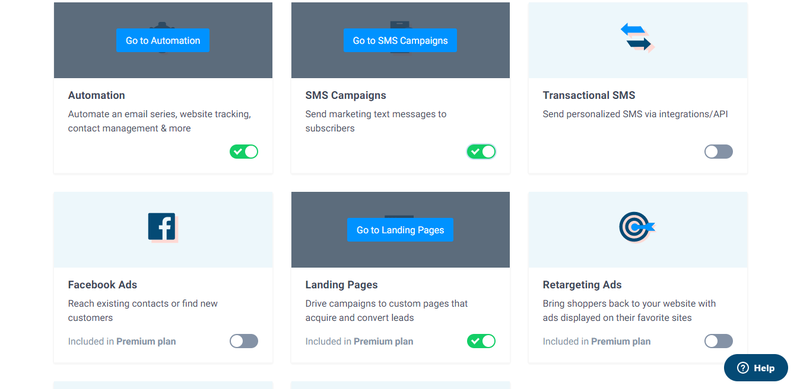 For example, if you only want to focus on email marketing, you can turn off SMS marketing and Facebook ads so they don't show up on your dashboard. You can change the status of these features at any time.
Best for outsourcing your email campaigns: VerticalResponse
If you've just set up a business and you're pushed for time and resources, or if you're a complete novice when it comes to email marketing, then outsourcing is a tempting option.
Most email marketing software is easy to use and provides plenty of training and support to help you get up and running, but this may not be enough.
This is especially true if you choose Mailchimp's free plan, which only provides 30 days of free email support, after which you have to solve any issues yourself using the knowledge base.
VerticalResponse -- which is an extremely easy-to-use solution that lacks advanced segmentation capabilities -- offers a plan that is akin to outsourcing your email marketing.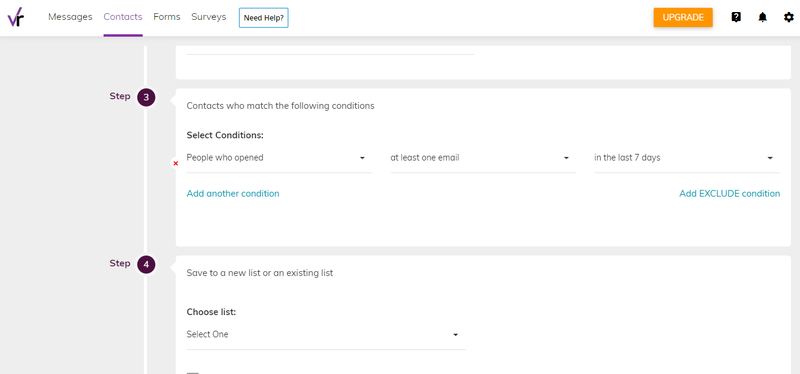 The Pro+ plan is described by VerticalResponse as: "For businesses needing expert guidance with their campaigns."
Starting at $196 per month (price depends on the size of your email list), you get access to:
A dedicated account contact
An email campaign strategist
Emails created by experts
Newsletters created by experts
Social posts created by experts
Tailored reports and consultation
You also get access to VerticalResponse's full range of features so you can even combine this approach with in-house email marketing, or move down a plan when you feel more comfortable using the solution.
Best for overall marketing functionality: ActiveCampaign
Mailchimp is working on adding overall marketing features to its solution but, for now, it's more focused on email marketing and automating emails based on customer behavior and specific triggers.
ActiveCampaign, compared to Mailchimp, is a great email marketing solution for both B2C and B2B marketers, with its lead scoring functionality and ability to manage customer accounts with multiple contact points, as opposed to individual consumers.
One of ActiveCampaign's strong points is that it offers email marketing, marketing automation, and CRM functionality as separate apps that all work from within one solution.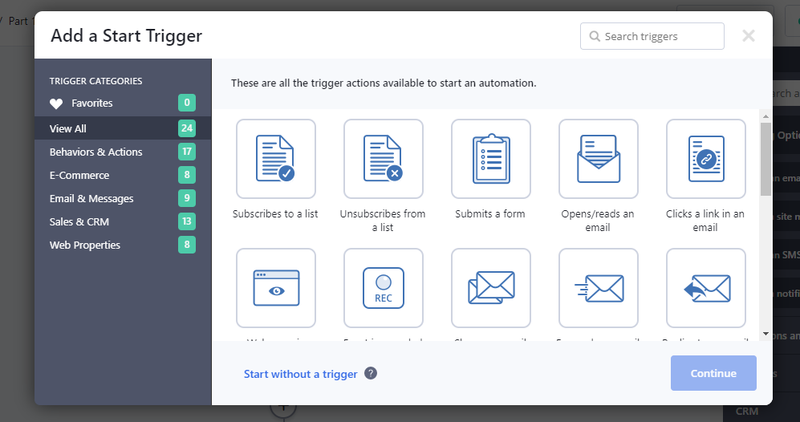 If you currently only want to use its email marketing capabilities, then you only pay for that app. If in the future you want to also take advantage of ActiveCampaign's marketing automation capabilities then you can add that app.
You can also remove this functionality whenever you want to so you only pay for the feature set you need at that time.
The data from these apps all feeds into one central database, so you can track performance in one place.
This means you don't need separate solutions for sales management, customer relationship management, and email marketing, and don't have to worry about integrations and smooth data flow between the software.
Best for building your email list: SendPulse
To start building an email list -- or to grow your existing contact base -- you need to create signup forms and landing pages.
These allow you to collect customer details that are relevant to your business -- for example, if you're a shoe retailer, you could collect shoe size -- and gives you permission to send marketing communications.
Mailchimp provides a signup-form builder that allows you to create a popup or embedded form and edit the signup fields, color, font, and graphics.
SendPulse -- a multi-channel marketing automation platform that comes with advanced segmentation options to allow you to create highly-targeted email campaigns -- takes this one step further.
One of the most difficult parts of getting customers to sign up is knowing where to position your forms so that they are obvious, but also don't distract from the user experience or stop customers from achieving their goal when coming to your site.
SendPulse provides different types and positions of signup forms to help you achieve that, including:
Embedded
Popup
Floating
Fixed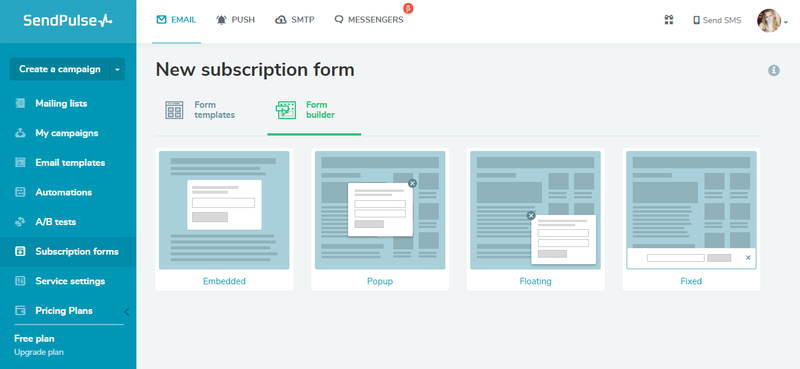 You can also make tons of edits to the layout, including style, color, notification text, and whether it is horizontal or vertical. SendPulse also provides templates if you need inspiration for creating these forms, and allows you to track how successful a form is in generating signups using either Google Analytics or Yandex.Metrica.
Best for meeting specific marketing goals: GetResponse
Whether you use Mailchimp or GetResponse, each of your email marketing campaigns has its own specific goal, so the actions you need to take to reach those goals will differ accordingly. When you first start using email marketing software, it can be unclear what you need to do.
This is not the case with GetResponse. With its modern, sleek user interface, navigating around is easy, and the platform gives you confidence it can deliver what you need to create compelling campaigns.
The Quick Actions menu helps you jump to commonly used tasks and features, while the ability to customize the user interface means you can design the user experience to best fit your needs.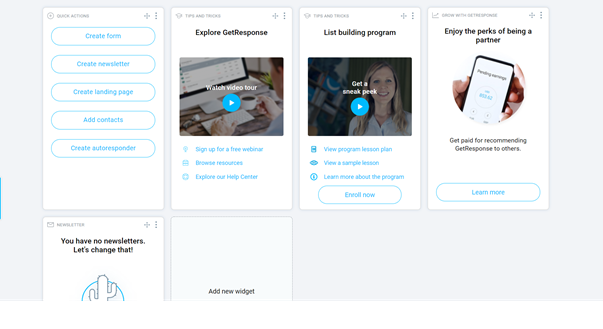 Best for integrations: Constant Contact
Both Mailchimp and Constant Contact have several integration options. Mailchimp offers a whole host of native integrations, along with an API that allows you to connect third-party apps by building your own integrations (although it cannot provide you with any support on that).
Constant Contact goes the extra mile by providing an app marketplace with software that was specifically built to work with this email marketing solution.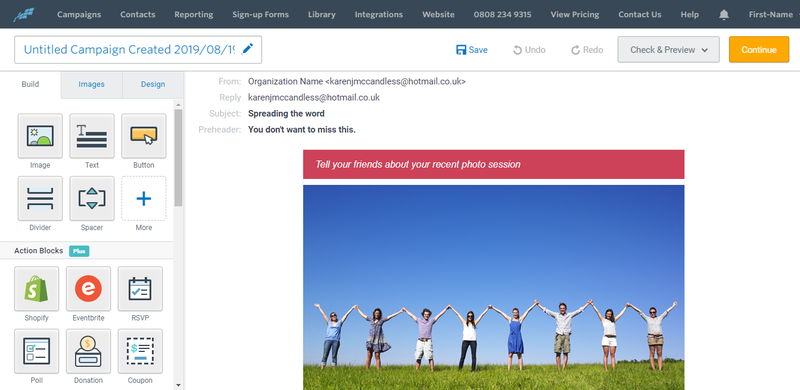 You don't need any technical knowledge to get the software to integrate or troubleshoot data integration issues.
For example, if you sell products online, you can download the Constant Contact for WooCommerce App. Using this app, you can add products from your online store into your email, and use Contact Contact's segmentation and autoresponder functionality to send targeted and automated emails to drive sales.
Do your research
If you're already using Mailchimp and thinking of ditching the chimp, or if it's your first foray into the often-confusing world of email marketing software, take your time to make your decision.
Here are some steps you can take to help you decide which software might be best for your needs:
Make a list of your must-have and nice-to-have features
Get clear on your budget
Do your research, and don't limit yourself to just the big hitters
Check out our email marketing software reviews to see which solution meets your needs
We're firm believers in the Golden Rule, which is why editorial opinions are ours alone and have not been previously reviewed, approved, or endorsed by included advertisers. The Ascent does not cover all offers on the market. Editorial content from The Ascent is separate from The Motley Fool editorial content and is created by a different analyst team.
Randi Zuckerberg, a former director of market development and spokeswoman for Facebook and sister to Meta Platforms CEO Mark Zuckerberg, is a member of The Motley Fool's board of directors. Suzanne Frey, an executive at Alphabet, is a member of The Motley Fool's board of directors. The Motley Fool has positions in and recommends Alphabet (A shares), Alphabet (C shares), Meta Platforms, Inc., and Microsoft. The Motley Fool recommends Intuit. The Motley Fool has a
disclosure policy
.