6 Steps to Writing the Perfect Request for Quotation (RFQ)
Many or all of the products here are from our partners that pay us a commission. It's how we make money. But our editorial integrity ensures our experts' opinions aren't influenced by compensation. Terms may apply to offers listed on this page.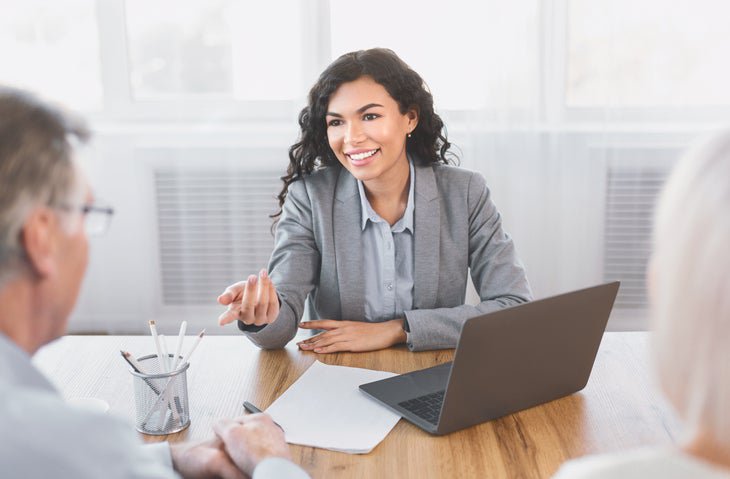 A request for quotation (RFQ) involves inviting vendors to submit pricing quotes based on a specific brief. Learn how to write the perfect RFQ with this guide.
Outsourcing work to another company is common in the field service industry, but it can be a task that is mired in miscommunication when managed incorrectly.
Requests for quotation (RFQs) aim to make the process of hiring vendors and suppliers easier for all parties. In this guide, we'll go through what the difference is between an RFQ and a request for proposal (RFP), what the RFQ process looks like, and what to include in any future RFQ you put together.
Overview: What is a request for quotation (RFQ)?
An RFQ is a document used by companies to obtain information from vendors and suppliers, either for goods or services.
RFQ documents contain detailed specifications about what a company needs, such as technical requirements, length of the contract, required labor, or quantities of goods. Once RFQs have been created by the procuring company, they are sent to potential vendors that the company has an interest in working with, who can then respond with pricing quotes based on the requirements laid out.
Once the company receives these pricing quotations, it can then select the vendor that best suits its requirements.
Request for quotation (RFQ) vs. request for proposal (RFP): What's the difference?
A request for proposal (RFP) is a document used by companies to procure a vendor or supplier when they aren't quite at the stage of knowing exactly what they want.
In terms of RFQ vs. RFP, an RFQ is compiled when a company knows what deliverables they need and simply want pricing estimates, while an RFP is used to collect information on services from potential companies. RFPs will contain information other than just pricing quotations, including:
The goal of the project or service to be undertaken
The qualifications the vendors should have
The scope of the project
The deliverables schedule
Just like the RFQ process, companies will send out RFPs to companies with which they're interested in working. The receiving companies can then respond to the RFP in detail, usually in the form of bid proposals that describe how they will complete the project and how much they estimate it would cost.
How the request for quotation (RFQ) process works
Let's take a look at the six main steps that make up the RFQ process.
1. Prepare the RFQ document
This step is when you present your requirements and conditions in full; the document will likely include many of the following factors:
Payment terms
Quantities of goods
Estimated hours of labor
Project length
Contract terms
Quotation submission requirements
Invest time in this part of the process. The quotes you receive will only be as good as your RFQ, and being clear on exactly what you require will mitigate the need for you to repeat certain steps of the process.
We recommend using a document management tool to help you manage all iterations of the RFQ document and allow all stakeholders to have easy input into its creation.
2. Create a vendor list
You'll likely have certain vendors or suppliers in mind, but it's also important to do some research into other companies to which you can send your RFQ document. Gather all of the necessary contact details and create a vendor list.
3. Send out the RFQ document
This step sounds easy, but make sure you have consistent processes in place to support it.
For example, before sending out the RFQ, make sure it includes clear instructions for how it is meant to be completed and the due date for submissions. Plus, creating an FAQ ahead of time will save you time when potential bidders come back with questions.
4. Receive responses from vendors
Again, this step sounds easy, but you'll need organized processes in place to help you manage a fair and structured RFQ process.
Make sure you keep track of all responses and submissions, acknowledge receipt of them, and remind respondents of your timeline for notifying the selected vendor.
5. Select the chosen vendor
Your review committee will now need to choose a vendor to award the contract to. Make sure to review the submissions carefully, and be especially sure that contenders meet the necessary requirements for the job.
If you've used a consistent template, it should be more than easy to compare vendor pricing quotations to select the cheapest or best option.
Many field service management solutions offer capabilities that enable you to create RFQs and allow vendors to respond. Below is an example of a response template created by Jobber that clearly lays out all costs for the required services.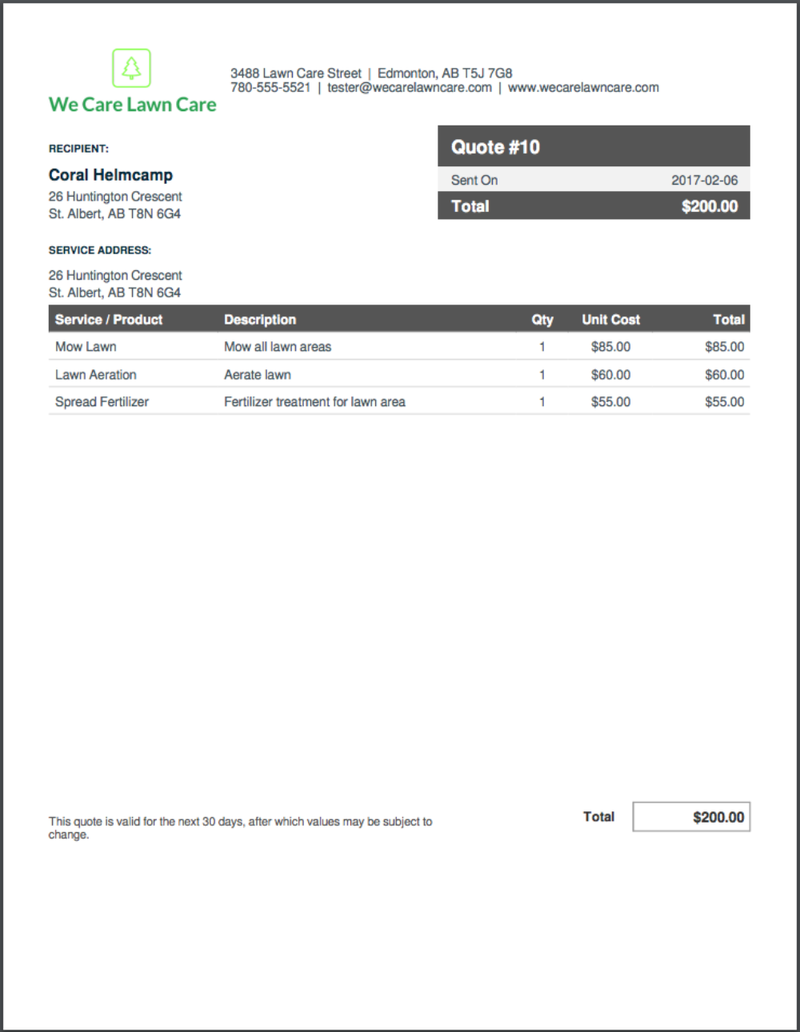 Once you've chosen the successful vendor, make sure to notify and thank the unsuccessful vendors for their time.
6. Close the final contract
After you've double-checked that everyone is on the same page with regards to the contract, all that's left to do is sign on the dotted line.
What should you include in a request for quotation (RFQ)?
An RFQ document should include the following elements:
1. Executive summary and project requirements
Provide background information about your company and an overview of the services or goods you are looking to procure. Be as detailed as possible about your requirements.
2. Submission dates and contract requirements
Be clear about the submission deadline, what should be included in each submission, and the details of the contract.
3. Pricing details
Despite the type of service or goods you want to procure, you'll want your bidders to get as granular as possible with their pricing quotations. For example, ask bidders to break down labor costs and equipment costs so that you can pinpoint these expenses during the review process.
4. Project timelines
If you're procuring a service, be clear about the length of the contract and include specific dates. If you're looking to acquire goods, be upfront about when you expect the company to fulfill the order.
5. Contact details
Clearly identify the relevant contact details that bidders can use when requesting more information. If you've created one, also attach your FAQ document to the RFQ.
6. Selection criteria
Be open about how you will select the successful bidder. More often than not, the winning bidder will be chosen based on pricing, but if there are other criteria that you will apply to the decision-making process, let the bidders know in advance.
Example of a request for quotation (RFQ)
Depending on your industry and the size of the request, each RFQ will look different. Below is an example of a typical RFQ document, which outlines pricing details and instructions for submission.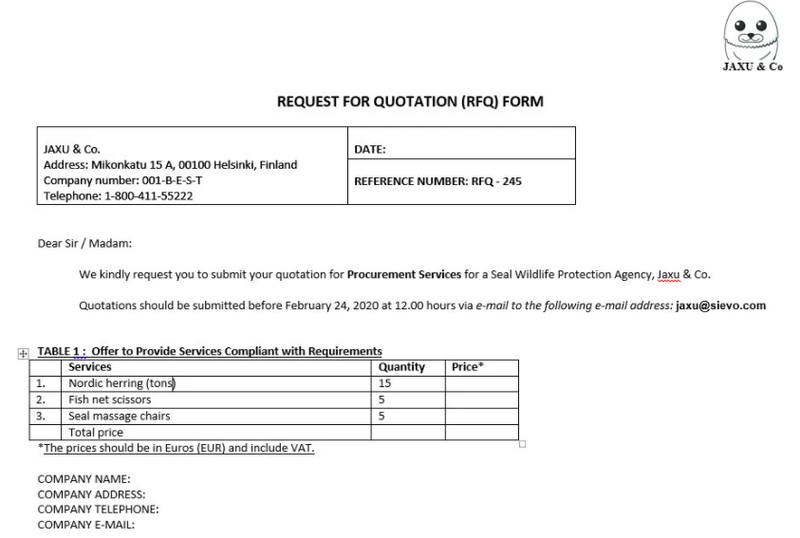 Mind your Ps and RFQs
Good organization is the backbone of good RFQ processes. Once you've established proper processes and guidelines, the RFQ process becomes easier every time you initiate it.
By making processes straightforward for both you and your bidders, you can save time on administrative tasks and quickly get down to business.
We're firm believers in the Golden Rule, which is why editorial opinions are ours alone and have not been previously reviewed, approved, or endorsed by included advertisers. The Ascent does not cover all offers on the market. Editorial content from The Ascent is separate from The Motley Fool editorial content and is created by a different analyst team.