How to Master the Art of Employee Engagement
Many or all of the products here are from our partners that pay us a commission. It's how we make money. But our editorial integrity ensures our experts' opinions aren't influenced by compensation. Terms may apply to offers listed on this page.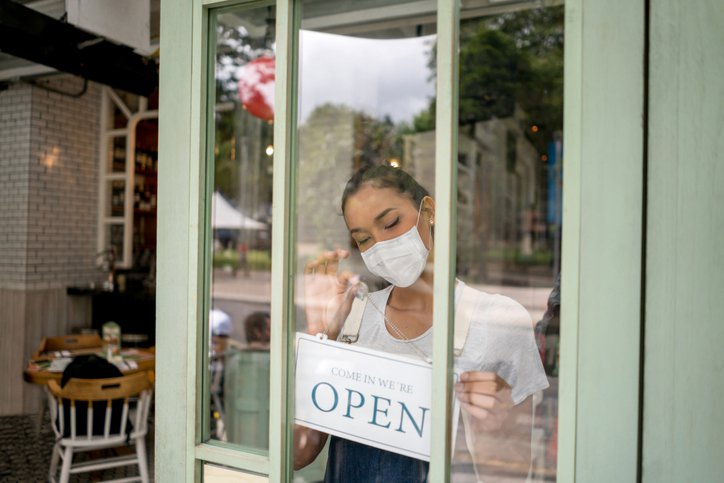 A committed, passionate, and motivated workforce is the bedrock of any company's success. To achieve that, you need to focus on and measure employee engagement. Here's how.
Retaining talented employees is crucial for the success of any business. When you've taken the time to source and recruit top talent, you want to hang onto it.
But your employees are going to walk right out the front door if you don't make an effort to keep them engaged. Workplace engagement is your best defense against high turnover rates and watching your competitors poach your best employees.
Here are employee engagement ideas that can motivate your employees to do their best work and invest in your company.
Overview: What is employee engagement?
Employee engagement refers to how committed workers are to their jobs, their responsibilities, and the company as a whole. While this engagement will naturally fluctuate over time depending on the circumstances of your company and each individual, it's an important HR metric to track.
How to develop employee engagement within your business
There is no one-size-fits-all approach, and any employee engagement program will need to evolve over time as your company and the needs of your workforce change. For example, as new generations join the workforce, you may need to adapt your employee engagement strategy.
That said, there are general tips and principles you need to apply if you want to boost engagement.
1. Carry out engagement surveys
While there are often signs that an employee is no longer engaged -- missing deadlines, taking long lunches, not contributing to meetings -- sometimes the first sign you get is when they hand in their notice.
That's why you have to catch poor engagement before it becomes a big enough issue that an employee decides to leave the company. And the only way you can know for sure is to ask.
Create engagement surveys specifically focused on engagement. Make them simple and quick to fill out. This example survey created with BambooHR human resources solution has one question that can be answered with one click.
Employees can leave additional comments if they have more to say, but that is optional.
These kinds of surveys use measurable analytics to easily track engagement over time.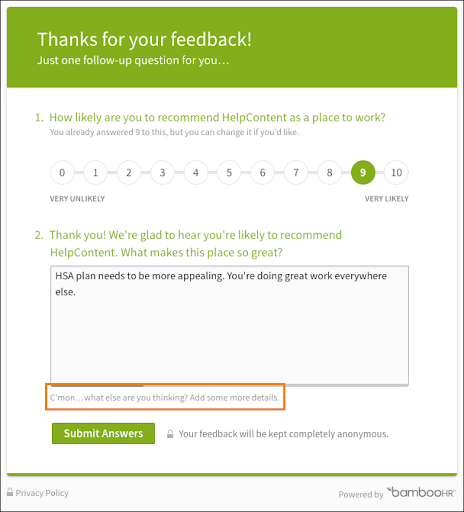 2. Set realistic and meaningful goals
Employees who don't feel like they are contributing to the success of the company are more likely to disengage. Set meaningful goals that let them see how their work matters and how it is essential to the company.
Make sure these goals aren't too easy; you don't want your workers to hit them within six months and then disengage afterward. But also make sure they are realistic. If your employees feel like there is no way to achieve their goals, they are less likely to try.
3. Provide incentives
Hard work should be rewarded. If your staff feels that there isn't a level playing field or that there's no reason to work hard, since it doesn't make any difference to the outcome, they are more likely to disengage. That's why you need a reward or incentive scheme.
If you're a small business, you might balk at the idea of having to shell out money for rewarding your employees, but these incentives don't have to have a high price tag.
Think about some of these options instead:
A long lunch break
An extra vacation day
Kudos in the company newsletter
Consideration for a promotion
More remote working
Make sure you're on the same page as your staff by asking them what kind of incentives would motivate and engage them. If remote working is their No. 1 priority, that's what you need to be offering.
4. Offer training
Learning and development opportunities are crucial for employee engagement and retention. According to Harvard Business Review, almost three-quarters of millennials say they are likely to leave their current employer in the next two years if their leadership skills aren't developed.
Training doesn't have to be expensive if you get creative with your methods. For example, instead of providing formal courses, tap into the skills you already have in-house. Set up mentorships and shadowing programs.
Ask employees to conduct masterclasses where they share their expertise. Take advantage of free online learning courses on platforms such as Udemy and edX.
5. Run regular performance reviews
In the olden days, HR departments and managers would conduct performance reviews only once a year. These were ineffective. Imagine waiting a year to tell an employee that you aren't happy with their work.
Now those days are over, and we have ushered in the age of continuous feedback as part of overarching talent management programs. If you want to keep your employees engaged, you need to check in with them on a regular basis to see how they are performing and if there are any issues that can be resolved.
This can be as simple as a quick message of thanks on Slack, or you can provide more formal feedback through your HR software.
Zoho People is a good example, here. The software lets you choose what kind of feedback to leave and whether the feedback is for your direct report, a coworker, or 360-degree feedback for your manager.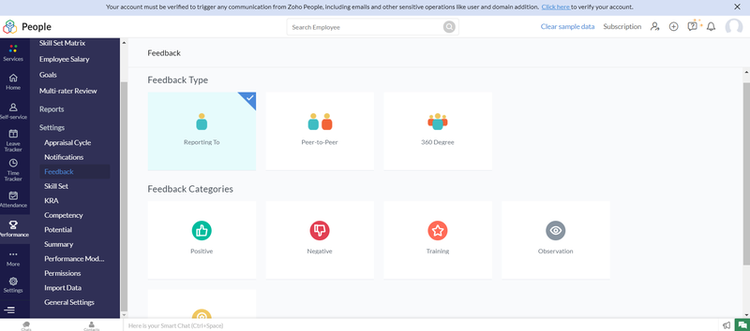 3 employee engagement tips for remote employees
Due to unprecedented world events, there has been a big shift toward remote working for many companies. This trend is only going to continue and expand as we adjust to a new way of working.
Managing remote workers brings its own challenges in terms of employee engagement. How can you keep workers motivated when you aren't in the same office and aren't engaging face-to-face? Here are our employee engagement strategies for remote workers:
Tip 1: Decide on communication channels
Even before the massive shift to remote working, many companies were already embracing virtual communication and collaboration. Slack, Zoom Meetings, Trello, Asana, and Microsoft Teams are just a few of the tools that have replaced email when it comes to remote communication and engagement.
It's important to decide which tools you are going to use to communicate with employees and add that decision to your employee handbook or HR strategy document.
You don't want workers going rogue and using other tools to communicate; this will only lead to confusion and important information not being shared.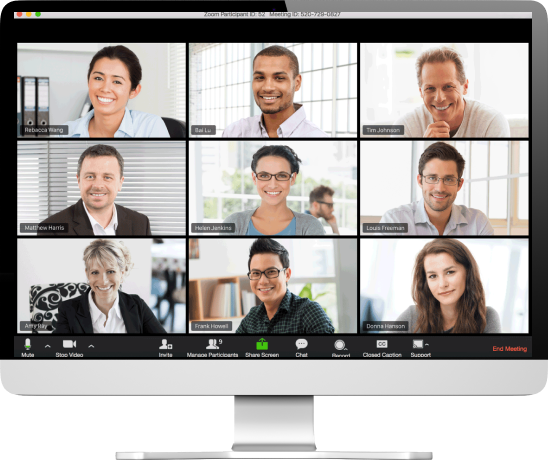 Tip 2: Make the workday more fun
Working in an office should not be all nose to the grindstone. There are moments that punctuate the day, break up tasks, and make work more fun. These include:
Getting a coffee
Going out for a break or lunch
Having a chat with a coworker
When you're working remotely, these moments don't exist. It can be easy for people to work all day long without breaks or interactions with their coworkers. That's why you need to introduce moments of fun into the workday.
Organize virtual coffee breaks and happy hours. Send funny articles and gifs. Run online quizzes. Make time to chat and catch up at the start of each meeting.
Don't forget about team engagement. Make sure all these activities bring your team members closer together, so they can encourage each other.
But remember to make these optional. Nobody likes enforced fun.
Tip 3: Set limits
One of the difficulties of working remotely is knowing when to stop for the day, especially when you work for a global company. That's why you should take the lead and tell your employees when they should stop for the day.
Write a remote work policy that makes it clear you don't want them answering emails at midnight or starting work before they've even had their first cup of coffee.
Create a culture that shows you care about your employees and recognize the importance of work-life balance. Lead by example, and switch off your laptop and work phone at a reasonable hour.
You can't win them all
Sometimes, no matter how much effort you put in, you just won't manage to reengage an employee. Maybe they aren't the right cultural fit for your company. Maybe they need a change of scenery. Maybe your workplace just can't offer what they need right now.
As long as you've followed the steps above, you can rest assured that you've done all you can. You have to know when to fight for your workers and when to let them go.
We're firm believers in the Golden Rule, which is why editorial opinions are ours alone and have not been previously reviewed, approved, or endorsed by included advertisers. The Ascent does not cover all offers on the market. Editorial content from The Ascent is separate from The Motley Fool editorial content and is created by a different analyst team.
The Motley Fool has positions in and recommends Microsoft. The Motley Fool has a
disclosure policy
.