A Guide to Performing Employee Evaluations
Many or all of the products here are from our partners that pay us a commission. It's how we make money. But our editorial integrity ensures our experts' opinions aren't influenced by compensation. Terms may apply to offers listed on this page.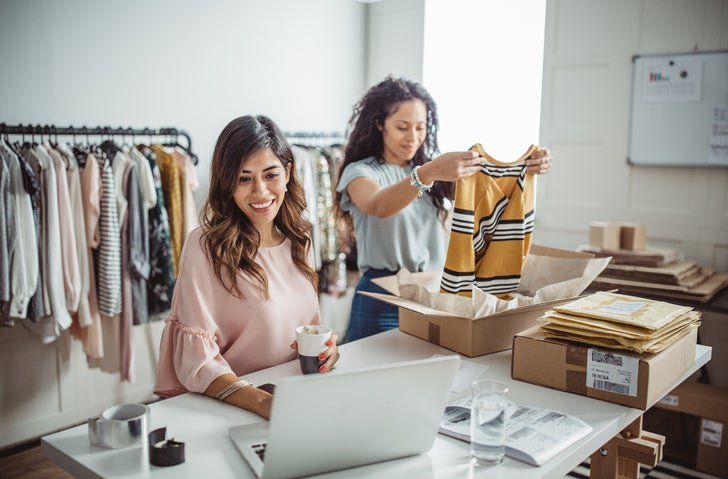 If you aren't measuring performance, how will you improve it? In this article, we look at how you can create an employee evaluation process to help you better track performance.
How do you really identify your top talent?
Let's look at an example. One employee comes in on time every day and leaves after you without fail. They always look busy and say and do the right things to curry favor with you and their peers.
Another worker arrives a few minutes late every day, they leave on time, or even a few minutes early. But they were also responsible for coming up with and executing a new product line. Who is more valuable to your company?
This isn't a question you can easily answer unless you have an employee evaluation process in place with standards and metrics that allow you to track, measure and analyze performance.
Overview: What's the purpose of an employee evaluation?
If you want to understand how an employee is performing, why they are performing to that standard, and how you can improve performance, then you need to be collecting data. That's where an employee evaluation comes in.
The more you know about your employees, without being creepy or seeming like you don't trust them, the easier it is to make changes and improvements. Improvements that make it easier for workers to do their job, and do it better.
It will also help you improve your human resource planning process, as you can tie the needs of the organization -- now and in the future -- with the goals you set employees.
What to consider when evaluating employees
Before you start the work evaluation process, there are a number of factors you must consider if you want to get results.
1. 360-degree feedback
It's important to evaluate employees, but this should also extend to employees evaluating their managers in what is known as 360-degree feedback. Bad performance reviews can sometimes stem from a bad manager.
You need to know if there is an issue with the manager, or even in the relationship between one employee and their manager, making sure the job performance evaluation is fair and unbiased.
2. Performance standards
You need to be consistent in the way you carry out your staff evaluations. You need to implement a set of standard performance measures for all employee assessments.
For example, you could decide to set quarterly goals and measure each goal on a scale of 1 to 10. Meeting your goal means you get a reward, but if you exceed your goals by 20% then you get a further standardized reward, such as a day off.
These standards should be documented in your employee handbook, so everyone is aware of how they will be measured and evaluated.
3. Employee input
Worker evaluations should aim to get the best out of your employees, rather than making it seem like you're pushing them too hard, or finding ways to punish them. If you don't already, you need to realize how fickle employees can be and, if they aren't happy, your most talented workers will be out of the door like a shot.
Draw up performance standards, goals, and rewards with input from employees so you can ensure you're being reasonable, that everyone understands the process, and that you are rewarding them in a meaningful way.
4. Regulations and legislation
It's important to design your employee evaluation process in line with the relevant legislation and regulations to protect your business from a lawsuit.
Take employment contracts. If you provide at-will employment contracts then you can normally change the way you evaluate employees without any notice or discussion. If you provide other types of contracts, such as implied contracts, then it restricts the way in which you can use the results of the performance reviews. For example, you might only be able to use data-driven evaluations as a basis for termination.
How to evaluate an employee
In the four-step process below, we provide tips on how to evaluate an employee to make sure you are tracking, measuring, and rewarding your workers.
Step 1: Set goals
You can't, or shouldn't at least, solely evaluate an employee based on how you feel about them and whether you think they are doing a good job. You need cold, hard data. That's why you need to set SMART (specific, measurable, attainable, realistic, timely) goals.
You also need a way to measure these goals, ideally through HR software or a standalone performance management solution.
Tips for setting goals:
Before setting goals, you need to collect information from different departments and your employees. This will help you set more attainable and realistic goals.
Work collaboratively to set goals: Before you set goals, sit down with your employees to discuss what they want to achieve, where they see their role heading, and what kind of work they enjoy doing. A happy worker is a more productive worker and is more likely to stick around.
Make sure the goals are in line with the company goals: There's no point having a goal to produce 20 videos a year if your business wants to focus on written content. Your employee's goals need to contribute to company growth in some way.
Step 2: Give regular feedback
You don't have to wait until a formal check-in meeting to give feedback. If your workers have done something well, let them know immediately so you don't forget. You could just say a simple "well done" or send out an email thanking them for their hard work.
This feedback can count towards your review of staff goals and make it a lot easier to evaluate employees. Your staff will also feel more appreciated.
Tips for giving regular feedback:
You don't always have to give feedback in person, especially if you have a remote team or people work from home a lot. Emails, Slack messages and phone calls are all fine.
Schedule check-ins: Add weekly check-ins to your calendar at the start of the year. Even if you don't meet every time, you at least have a reminder that you need to provide feedback.
Note the negatives and positives: Feedback doesn't always have to be positive. If you notice an issue, bring it up immediately. But instead of giving your employees a dressing down, see if there is a problem that needs to be addressed and that you can fix so it doesn't happen again.
Welcome peer-to-peer reviews: Feedback doesn't always have to come from managers. Encourage your employees to leave feedback for people they have worked with on projects.
Step 3: Review goals regularly
In the old days, companies held performance reviews once a year. These were static processes often answering the same questions, no matter what the role, and ticking boxes. They failed to address underlying issues or consider extenuating circumstances such as sick leave or a change in company direction.
Those days are gone. Now you should be regularly providing feedback, whether just a quick check-in over coffee or a more formal meeting.
Tips for reviewing goals regularly:
Reviewing goals on a regular basis doesn't have to be an onerous process, and you shouldn't view it as yet another task on your to-do list. If you automate the process, you'll make life a lot easier.
Track goals automatically: Trying to manually keep an eye on goals is ineffective and time-consuming. If you use HR software, you can add goal tracking to your dashboard, showing your progress each time you log in.
Set a budget for training: If an employee isn't meeting their goals, they might need extra training. In this situation, you can create a performance improvement plan to make sure you have the resource available to give them the help they need.
Step 4: Reward and recognize achievements
The final part of the employee performance equation is to recognize good work and reward it accordingly. If you're providing regular feedback and checking in on goals periodically then you should have all the necessary data to see who deserves a reward.
Tips for rewarding and recognizing achievements:
By recognizing an employee's achievements, you're showing that you appreciate their hard work and that it doesn't go unnoticed. It's an important employee retention strategy. Make sure you know what kind of rewards your employees are looking for before giving them out.
Come up with creative rewards: If you're a small business on a limited budget, it might not be possible to provide bonuses or gifts. Get creative and think about what else you can provide. This could be extra days working from home, an afternoon off, or even just a nice coffee from the local hipster cafe.
Explain why you are rewarding employees: You don't want to be accused of favoritism, so make sure you have data to back up your rewards. That way you can explain your decision and show you are being impartial.
Best HR software for managing employee evaluations
Employee evaluations form a key part of strategic human resource management, but they can take up a lot of time if you haven't got the right tools. HR software can streamline and simplify the process
1. Zenefits
Zenefits is a user-friendly solution that helps companies save time carrying out employee evaluations. By using Zenefits' performance management templates, you can quickly get started with creating goals and running performance reviews on an individual, team, and company level.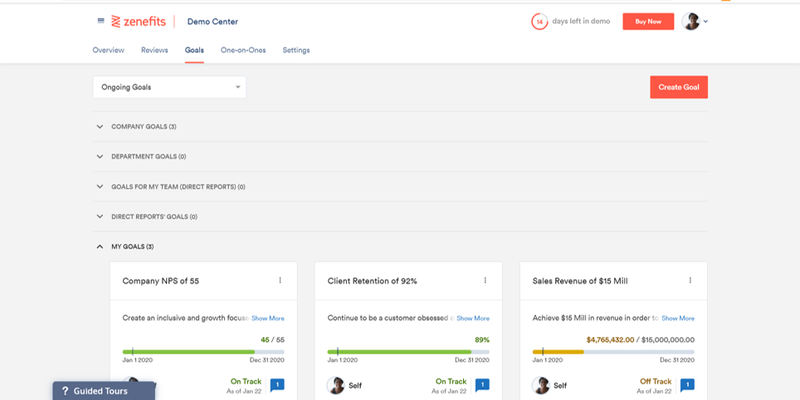 Instead of having to manually track the progress of all goals, Zenefits does it automatically and displays the percentage achieved on the dashboard. With the built-in calendar, you can keep track of scheduled performance reviews. Employees can also leave feedback for you and other managers.
2. BambooHR
BambooHR helps you streamline regular feedback and periodically reviewing goals. Within each goal, you can create subtasks. You can then track the progress of these tasks and provide feedback along the way.
BambooHR also provides automated reminders and notifications for all employees, which alerts them when they have feedback, as well as keeps them up to date with their goal progress.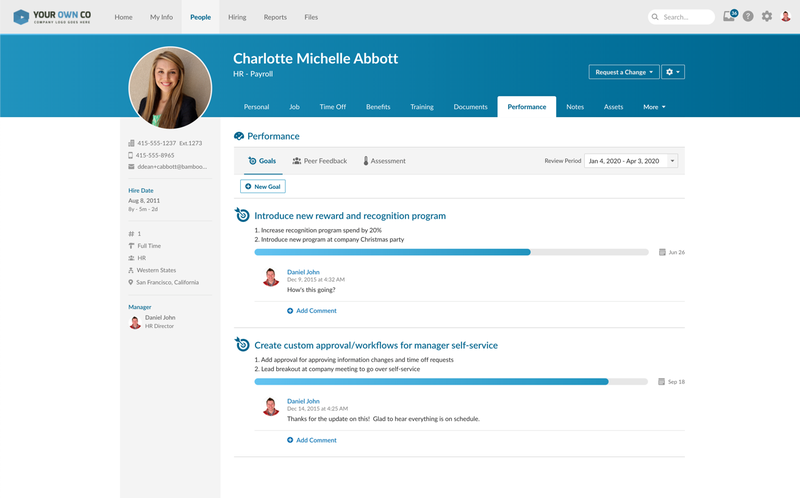 3. Workday
Workday's talent and performance management module helps you not only create a goal-focused onboarding process, inputting skills, development, and experience from day one, but it also helps both employees and managers track and measure progress.
The main dashboard displays your latest feedback and allows you to provide feedback from others. You can also see how close you are to achieving your goals.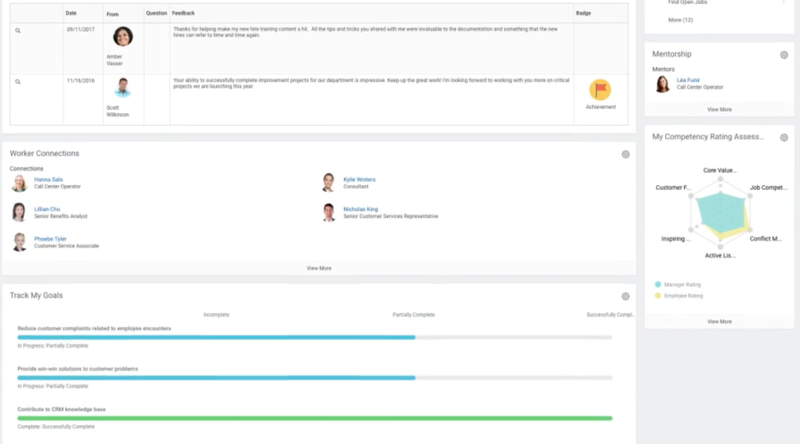 A win-win situation
If conducted properly, employee evaluations should benefit everyone. You can find out how employees are performing, identify any issues that are hampering them from doing their job fully and take action to resolve problems. You also get insight into your top-performing employees and reward them accordingly.
For your employees, they get more regular feedback on their work, they aren't expected to meet unreasonable goals, they get access to training to help them meet objectives, and they get recognition for a job well done. It's a win-win situation.
We're firm believers in the Golden Rule, which is why editorial opinions are ours alone and have not been previously reviewed, approved, or endorsed by included advertisers. The Ascent does not cover all offers on the market. Editorial content from The Ascent is separate from The Motley Fool editorial content and is created by a different analyst team.
The Motley Fool has no position in any of the stocks mentioned. The Motley Fool has a
disclosure policy
.