A Beginner's Guide to Creating an Employee Referral Program
Many or all of the products here are from our partners that pay us a commission. It's how we make money. But our editorial integrity ensures our experts' opinions aren't influenced by compensation. Terms may apply to offers listed on this page.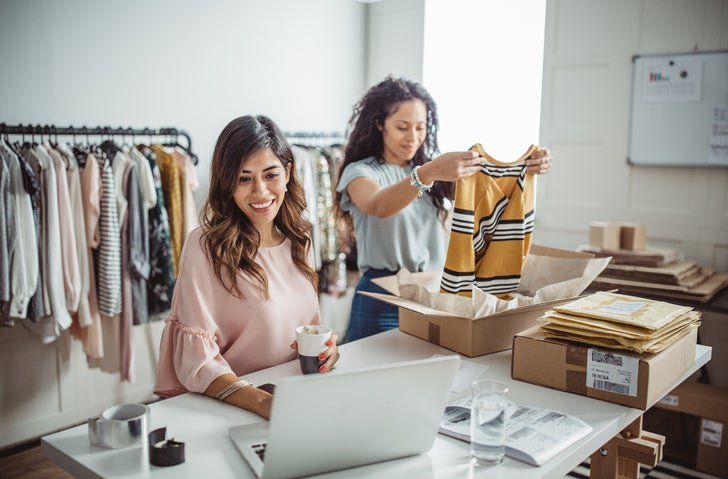 Learn how to build, promote, and optimize an effective employee referral program so you can recruit top talent quickly.
It's a candidate's market. Hiring top talent is harder than ever before, with the best candidates disappearing from the market before you've even had a chance to speak to them. That's why you need to focus your efforts on the most effective channels for recruiting the best employees.
According to a study by LinkedIn, the No. 1 way people discover a new job is through a referral from someone they know who works at the company, and companies can expand their talent pool by 10 times by recruiting through their employees' networks.
The benefits of creating an employee referral program for the purposes of strategic human resource management are clear, but you need to create an effective system that makes it easy for your current workers to refer their talented contacts, and for prospective candidates to apply for your open positions. Here's how.
Overview: What is an employee referral program?
Your employees are your best resource when it comes to finding top candidates, especially as many of these candidates won't be actively looking. An employee referral program is a formal way of asking your workers to recommend people to fill open job positions.
To make this work, you need to have a formal process in place so you can make it as easy as possible for your staff to make referrals.
What to consider when creating an employee referral program
You understand the benefits of creating an employee referral program, and you're ready to get going, but there are a couple of things you need to consider first.
1. Employee satisfaction
If you treat your employees poorly, they won't recommend anyone they know (and like!) to join the company. You need to keep an eye on employee satisfaction to make sure your workers are happy, engaged, and motivated.
Make sure they like the work they are doing as well as the company culture and workspace. This will also help with convincing top candidates to choose to work for you instead of another company.
2. Job ad specifications
You need to be crystal clear about what skills and experience you are looking for and what kind of candidate would suit the role. For example, are you open to remote work, or do you need them to be based in the office? What kind of contract are you offering -- freelance, at-will employment, or something else?
If you don't include all of the details, then you waste your employees' time and the time of their contacts.
How to build an employee referral program
Follow the steps below to build an employee referral program that helps you more efficiently and effectively recruit better candidates and improve your human resource planning processes.
Step 1: Plan logistics
Who will oversee your referral program? How much time will you spend managing the program? What are the goals of this program, and how will you know if it's been successful? Do you want to use the program to fill certain positions, speed time to hire, or recruit more loyal candidates who stick around longer?
These are all questions you need to consider before you start to build your plan.
Tips for planning logistics:
There are a number of factors to consider when you're in the planning stage that will influence how you shape your program later on.
Set SMART goals: Use people analytics to decide which HR metrics to track, such as the time it takes to hire a candidate for a position. These metrics need to be specific, measurable, achievable, relevant, and time-based.
Be collaborative: Get input from all departments to learn how they can help with the program and what they want and need to make it useful.
Step 2: Set rules
It's important that your employee referral program is transparent and fair and that you are completely open about all aspects of the system. That's why you need to set rules at the very start and communicate them clearly, ideally including them in your employee handbook so everyone can refer back to them at any time.
Tips for setting rules:
Setting rules also means sticking to the rules. Don't create rules and then discard them. Here's how you can best-set rules for your program.
Keep it simple: Don't add so many rules that you make it incomprehensible, or your employees don't make any referrals because they don't understand the program.
Decide how to deal with complications: What happens if two employees refer the same person? How will you handle it? Think about all reasonably possible scenarios before you roll out the program.
Step 3: Design the program
This step is where you decide how you are going to ask employees to refer contacts and what they will receive as an incentive. When designing your program, consider the goals you set in step one and make sure the program can help you achieve what you set out to do.
Tips for designing the program:
Being collaborative is important, as you want to ensure that your staff actually use the program, rather than finding out you wasted time creating a system that everyone deems too complicated or without a fair reward.
Survey your employees: Make sure the program is easy enough to understand and that employees are happy with the referral bonus program. Employee referral bonuses don't have to be monetary; they could be an extra day off or a long lunch. Ask your staff for employee referral program ideas so you can ensure it meets their needs.
Automate the process: Manually tracking the various steps of a program such as this is time-consuming and prone to errors. To be more efficient, use HR software to stay on top of all activity. Workable gives you a detailed breakdown of all of the referrals you've received so you can easily move relevant candidates to the next stage.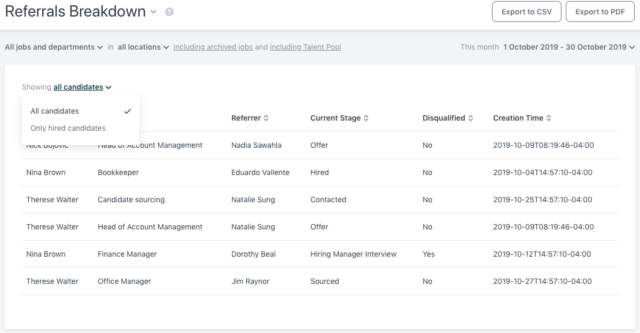 Step 4: Promote the program
You've put loads of hard work into creating a program, and now you have to launch and promote it across your whole company so referrals can (hopefully) start rolling in.
Remember to tell new hires about it during the employee onboarding process, and you can even use the referral program as a way to promote your company and its fringe benefits when sourcing candidates.
Tips for promoting the program:
The focus when promoting your program should be on informing and motivating employees so they understand how it works and are excited to start referring contacts.
Organize a launch event: Try to tell most people at the same time so everyone understands how the program works rather than hearing the information secondhand. It's best to tell people in person for maximum effect.
Make the information easily accessible: Whether it's including a page on your company intranet or employee handbook, or reminding people regularly, everyone needs to be able to refer to the details of the program anytime they want or need to.
Step 5: Track and optimize
Once you've launched and promoted the program, you need to make sure you maintain it. Track the metrics you set earlier in the process and use them as performance measures to see if there are areas where you need to optimize and improve.
Tips for tracking and optimizing
Analyzing performance can help you create a list of employee referral program best practices that form a key part of your people management and staffing plan and help you improve your human capital management processes. Here's what you need to do to be able to track and optimize your program.
Give it time: It'll take a while to start to see the effects of any employee referral program, so don't abandon it if you don't immediately start to reap the benefits.
Use HR software to produce reports: If you automate report production, you can save time, work with more accurate data, and easily see what needs to be changed. Workable syncs with your hiring pipelines so you can get an overview of how many candidates came from each possible channel, including employee referrals.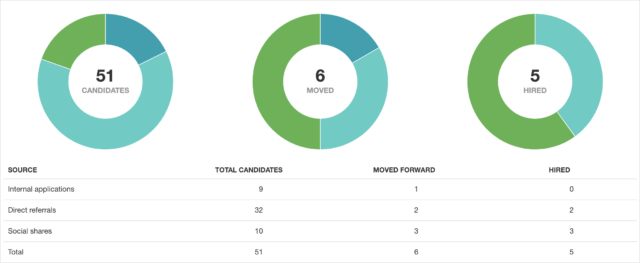 Employee referral program examples
If you need some inspiration, here are our picks for the best employee referral programs currently active.
Google
Yes, Google has the resources to give great employee referral bonuses, but it also talks to employees to find out what they want from these bonuses.
When their employee program was failing (yes, even Google gets it wrong sometimes), the company surveyed employees and found that they wanted experiences instead of cash. So, the department switched up the rewards to include dinners and trips.
DigitalOcean
Software company DigitalOcean recognizes the fact that employees increasingly like to give back to their community and make donations to charity instead of just receiving rewards themselves.
That's why under their employee scheme, the worker receives a $3,500 referral bonus, and DigitalOcean makes a $1,500 charitable donation on the employee's behalf.
If an employee chooses to donate any of their bonus to charity, DigitalOcean will match that amount.
Long-term benefits
Employee referral programs don't just help you hire better people; they make sure those people do better work, feel more motivated, and stay at the company longer.
You want to recruit candidates who fit with your company culture and will feel happy at work, but it can be hard to gauge that during a traditional recruitment process.
If a candidate is referred by one of your current employees, not only will they have inside insight into what your company is really like, you will also have a guarantee that they can produce good work -- if you treat them well.
We're firm believers in the Golden Rule, which is why editorial opinions are ours alone and have not been previously reviewed, approved, or endorsed by included advertisers. The Ascent does not cover all offers on the market. Editorial content from The Ascent is separate from The Motley Fool editorial content and is created by a different analyst team.
Discover Financial Services is an advertising partner of The Ascent, a Motley Fool company. Suzanne Frey, an executive at Alphabet, is a member of The Motley Fool's board of directors. The Motley Fool has positions in and recommends Alphabet (A shares) and Alphabet (C shares). The Motley Fool recommends Discover Financial Services. The Motley Fool has a
disclosure policy
.