The Small Business Guide to Executive Onboarding
by Paul Dughi | Updated May 26, 2022 - First published on May 18, 2022
Many or all of the products here are from our partners that pay us a commission. It's how we make money. But our editorial integrity ensures our experts' opinions aren't influenced by compensation. Terms may apply to offers listed on this page.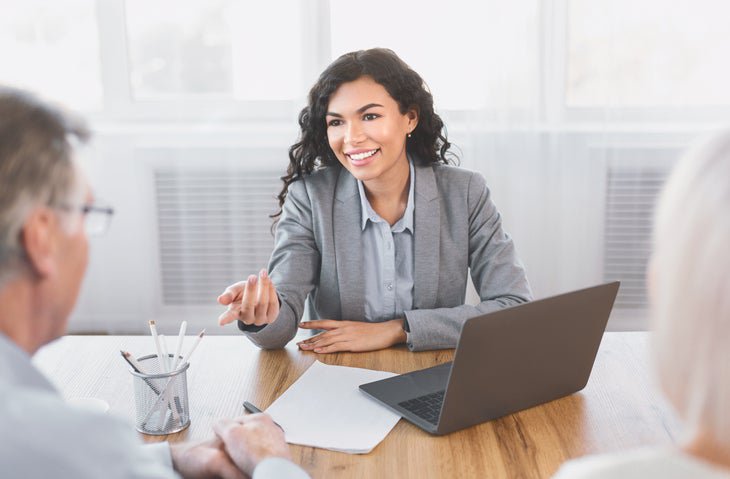 Learn from this guide why some executives fail to deliver in their new job and how your onboarding process can set them up for success.
You spent so much effort looking for the right person to take your business to the next level. You invested time and money to get them on board, but the results turned out to be less than you expected. You can find yourself wondering what went wrong.
An efficient executive onboarding plan involves a lot more than just hiring the right person. Setting them up for success should also include integration into the business. Unfortunately, that doesn't happen as often as it should.
According to a Harvard Business Review study of 500-plus executives, fewer than a third said they had any meaningful support during their transition. And a survey of new executives by leadership advisory firm Egon Zehnder reported that only 38% of external hires and 28% of internal hires felt they were fully prepared for their new roles.
That could be why the majority of executives said it took six months or more before they had any real impact on the business.
Research from the Corporate Leadership Council found there are the five common reasons new executives fall short:
Failure to establish a cultural fit
Failure to build teamwork with staff
Unclear about expected performance
Lack of political savvy
No strategic onboarding plan
Bringing someone on board goes beyond filling out new employee forms and signing documents saying they've received the employee handbook. Here are some executive onboarding best practices that increase your odds of success.
Cultural analysis
Often, small- and medium-sized business owners will bring in a veteran exec or onboard a new manager who has the skills needed to move the business forward. Yet those skill sets may have been honed in a culture very different from the one in your business.
Let's say you need more strategic planning and accountability, so you hire someone with those strengths. Then you drop them into a culture that's a little more freewheeling and laid back. Without guidance, the shift could be so abrupt that the new hire rejects the new way of doing business.
Even if you want fundamental change, leadership onboarding best practices should strive to understand the current culture and plan for evolution before blowing it up.
Take the story Julie Roehm told Bloomberg Businessweek about her time at Wal-Mart. Roehm was the director of marketing communications at Chrysler Group before getting lured to Wal-Mart. She was hired to spice up the marketing communications department at the largest U.S. retailer.
One of the first things Roehm did upon arrival was to paint her office chartreuse with brown trim to send a message to others at the company's Arkansas headquarters, known for its gray walls and windowless offices. It ruffled the corporate culture the way she wanted, but it felt like a slap in the face to those who had embraced the status quo for years.
Roehm lasted just 10 months on the job. When she sued the company, Wal-Mart's reported response was that she was free to collect the paint supplies and step ladder she left behind.
Competitive analysis and business drivers
Every business is unique – even those within the same industry. It helps to formally discuss the key things that drive you and your business forward. This should include a rundown of the challenges and opportunities, along with a competitive analysis.
While you want the new leader to do their own analysis, you also want them to know the current thinking. Their investigation may challenge assumptions, which can lead to new insights.
Lines of authority
New managers often struggle to understand how much authority they have early on. Can they truly hire and fire, change the company name, or scrap product lines on their own, or do they need to consult other stakeholders first? The clearer you can be with expectations and any limitations, the more likely you can avoid problems with mission alignment.
Legal and compliance
Compliance can include company rules, policies, and procedures. They can also include other legal and regulatory compliance measures. If you're in healthcare, it might be HIPAA (Health Insurance Portability and Accountability Act) for protecting patient information.
If you're in retail, it can be PCI DSS standards for safely managing credit card transactions. If you're a publicly-traded company, it might be the Sarbanes-Oxley Act regulating corporate accounting and financial reporting best practices.
Don't assume your new manager knows these rules. The stakes are too high.
Introducing the team
Early actions can tell a team a lot about a new boss. Your leadership onboarding best practices should include an assessment of current team members. While the new leader needs to find out any strengths and weaknesses themselves, it helps when they know how people are currently perceived by the group.
It's important to help new leaders manage their first impression. New leaders have a window of opportunity to command attention. With all eyes on new hires, it needs to be the right kind of attention.
Setting expectations
There's probably nothing more important than setting out clear expectations for the new role. A new executive will want to know how you define success and how it will be measured.
People aspiring to leadership positions often have an abundance of confidence. A 2007 poll of leaders by Bloomberg Businessweek expressed this well: 90% of the executives surveyed considered themselves to be in the top 10% of all leaders. This confidence may help them to take bold actions, but it may also drive them to make missteps without first setting expectations.
Continuous communication
A lot of your strategic human resource management comes down to active communication. Even seasoned executives will have knowledge gaps about your organization. The sooner you can fill in the gaps, the better performance you can expect.
Ongoing talent management
Your executive onboarding program should also include a commitment to talent management. There's a learning curve with a new executive or manager, and they'll need some guidance to get started. Once they're up to speed, they'll still have the same need for coaching as every employee.
You can set the tone right from the start by emphasizing learning opportunities for the team and the new executive.
A formal onboarding framework
Successful onboarding doesn't happen by accident. It's planned in advance and formalized with an onboarding checklist to make sure everything's covered.
It starts with the basics. Your HR software should walk you through the necessary paperwork to get them on the payroll, including:
W-4 for tax withholding
I-9 verification
Health insurance
Direct deposit forms
Contractual agreements
Any other required forms
You also need to set them up with any tools, software, logins, and training they need to do the job. You might also want to give them keys to the place.
Your checklist should include an onboarding plan to cover the things discussed above. Many companies, even small businesses, will have a Day One, Week One, 30-Day, 90-Day, and Six-Month onboarding plan. You want to give the new executive confidence that you've set them up for success.
Onboarding starts before hiring
All of these things should be part of your conversation during the hiring process. Onboarding should start before someone is hired so the new employee doesn't have unrealistic expectations walking into the job.
Most of the five main reasons executive hires don't work out can be avoided if there are clear expectations on both sides right from the start.
We're firm believers in the Golden Rule, which is why editorial opinions are ours alone and have not been previously reviewed, approved, or endorsed by included advertisers. The Ascent does not cover all offers on the market. Editorial content from The Ascent is separate from The Motley Fool editorial content and is created by a different analyst team.