Your 7-Step Guide to Full Cycle Recruiting
Many or all of the products here are from our partners that pay us a commission. It's how we make money. But our editorial integrity ensures our experts' opinions aren't influenced by compensation. Terms may apply to offers listed on this page.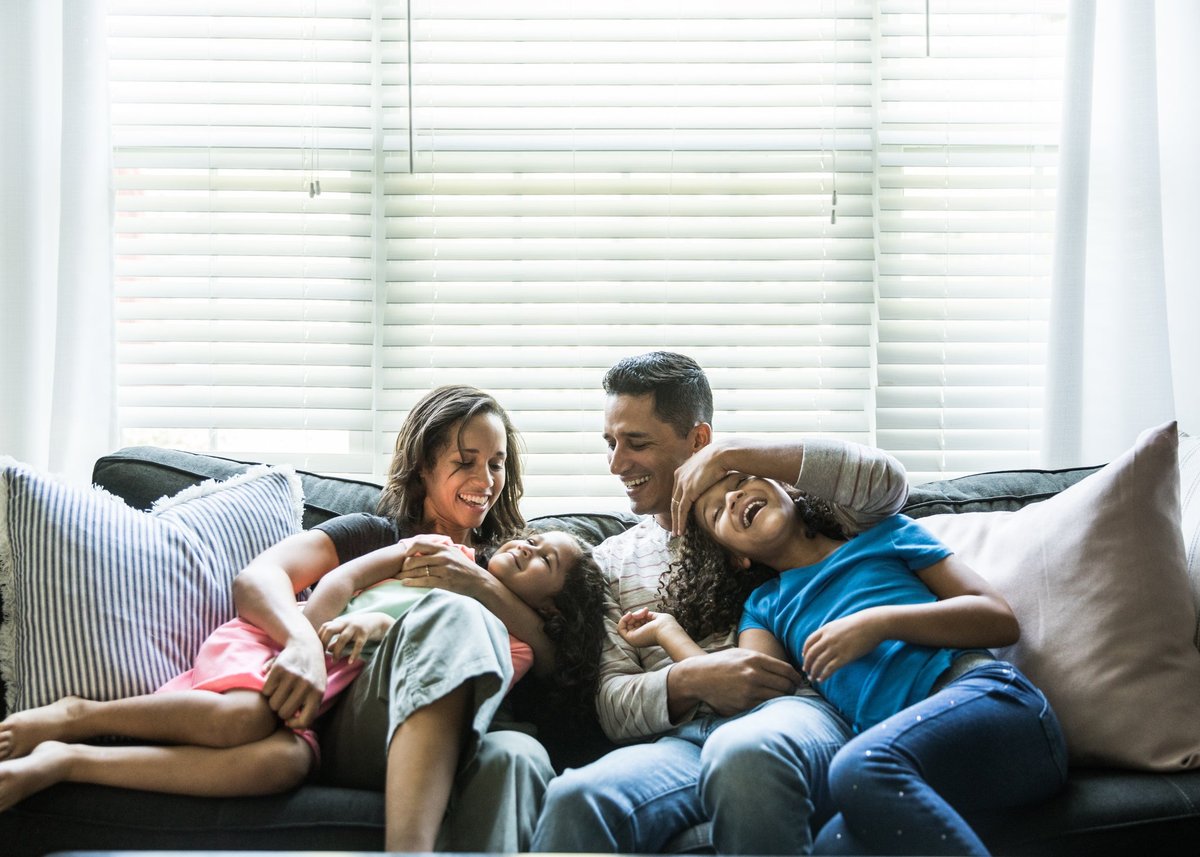 Hiring is a source of frustration for businesses of all sizes. A strategic approach to full cycle recruiting can help your business get the best talent with less time and expense.
With the job market tighter than ever, employees are quitting at record rates. They're quitting fast, too: Nearly half of employees who leave are gone before their first anniversary.
That revolving door is expensive, and it hits small businesses especially hard. With a strategic approach to full cycle recruiting, you can get a better return on your investment in talent management.
Overview: What is full cycle recruiting?
Full cycle recruiting is the complete process of recruiting talent, from initial human resource (HR) planning to onboarding new hires. In most small businesses, one person is tasked with managing these recruitment cycles. This recruiting 101 provides tips for handling each phase of the recruiting cycle for better results.
What is the full cycle recruiting process?
Full cycle recruiting is a key element of strategic human resource management. It is a dynamic process rooted in company goals, informed by HR metrics, and fed by a steady flow of internal and external talent. The process encompasses the following six stages:
Step 1: Workforce planning
Full cycle recruiting begins with workforce planning, the ongoing process of evaluating your business's needs and identifying the tasks, skills, and people required to meet them.
Tips for workforce planning:
Following are some tips for successful workforce planning.
Start with goals: Organizational change is a fact of business life. Yet all too often, job positions remain static year after year. As your company's goals change, your employees' duties should be developing as well. Continually reevaluating the matchup between goals and jobs is a central task of human capital management.
Measure results: Use workforce analytics to assess how well you're leveraging talent, including data such as employee retention, turnover rates, and productivity levels.
Get front-line input: As you reevaluate job descriptions and performance metrics, ask employees and supervisors how they see their work evolving to keep pace with the company's needs.
Develop internal talent: Your talent pipeline doesn't end at your doorstep. Are you nurturing talent within your organization as well as without?
Step 2: Recruiting
Recruiting is more than filling job openings in your company. It's basically networking on an enterprise level to attract talent to your company.
Tips for recruiting:
The following HR best practices will help your business attract top talent.
Always be recruiting: Full desk recruiters know that they need to work both sides of the desk equally to succeed. They can't afford to wait for a position and go hunting for candidates. For a full cycle recruiter, developing a talent pipeline is a year-round pursuit.
Be honest about your value proposition: It's tempting to present your company, and a job, as everything you want it to be. But overselling is a recipe for disappointment on both sides of the employee relationship.
Write better job descriptions: Put top priorities and minimum qualifications first. If you have a hard cutoff for years of experience or formal education, for example, state that up front.
Consider lessons learned: When you lose an employee, rather than copying and pasting the job description of someone who left, write a new description aimed at attracting a better fit.
Invite internal applicants: You may really need those star players in their present roles, but denying them opportunities to advance is a good way to lose them altogether.
Step 3: Screening
Tight labor market or not, job descriptions can easily net you hundreds of applications online. Screening is the process of winnowing those down to a short list of qualified contenders.
Tips for screening:
The key to initial screening is finding fast, low-effort ways to weed out the non-starters.
Use software to manage applications: Use HR software to field, track, and respond to applications.
Put minimum qualifications first: List minimum qualifications such as required years of experience up front. Deal breakers such as on-site work only should also get top billing.
Automate all you can: While artificial intelligence has its limits -- searching resumes for keywords, for example, is a mixed bag -- it makes sense to automate simple steps wherever you can. For example, software that allows you to ask yes or no questions such as "Do you have three years or more of experience?" or "Do you have a bachelor's degree in earth science?" can be a major time saver.
Do a quick go/no-go: Many applications are non-starters. Get them out of the pile quickly.
Require a cover letter: Requiring a cover letter eliminates people who are broadcasting applications and also gives you a ton of added insight without getting on the phone. How do they sell themselves? What do they lead with? How well do they make a case for their candidacy? Why are they applying?
Step 4: Interviewing
Once you've gone through the prior steps, you're ready to interview the short list. With each step, you're investing more time in the candidate, so it's important to narrow your choices before picking up the phone, and to narrow them even more before meeting in person.
Tips for interviewing:
Discipline is key to getting the best results from the interviewing process. The following will help you identify the right candidates quickly.
Conduct quick, scripted phone interviews: Keep these to 15 to 20 minutes. Anything longer should be handled in person.
Take a team approach in person: For in-person interviews, inviting the team to sit in can help ensure a positive team dynamic.
Focus on results and goals: Keep the interview focused on past results and future goals. How has the candidate approached problems and overcome challenges?
Embrace the art of questioning: Good interviews hinge on asking the right questions. What those are will depend on your business and your culture. Coming up with questions that support your culture and goals should be an ongoing challenge for corporate management and employee teams.
Be honest: The temptation to oversell is even greater in person. Resist it. You're looking for a good fit for the realities of the job.
Step 5: Selecting
After screening and interviewing, you may have a consensus around a clear winner. Often, however, the process is a bit more complicated.
Tips for selecting:
The following tips will help you choose the right person from your finalists.
Conduct skills testing: Tests can be anything from an online exam to a sample project to an in-person problem-solving session with the team.
Consider personality tests: Many recruiters consider personality even more critical to a good match than skills. Personalities are relatively fixed, and they affect everything from conflict management to productivity. If you conduct personality tests, make sure to apply them uniformly and constructively throughout your business.
Reverse engineer bad matches: When a hire turns out to be a poor fit, investigate what went wrong and tweak your recruiting program to avoid a repeat performance.
Step 6: Hiring
As your new employee's first experience with your company, your hiring process is critical to getting the relationship off to a good start.
Tips for hiring:
Following are best practices for a positive hiring experience.
Benchmark your offer: Use compensation surveys and other benchmarks to ensure that you're making a competitive offer.
Keep the process moving: Avoid needless delays and stay in touch with candidates throughout the hiring process.
Step 7: Onboarding
Only 12% of employees feel strongly that their company does a good job of onboarding. A good onboarding process empowers employees to get to work and start contributing, which is key to employee satisfaction.
Tips for onboarding:
Consider the following practices to enhance your onboarding process.
Provide a smooth transition: An employee's work space should be ready and fully equipped from day one, with easy access to all of the systems and technology they need to get to work.
Bring them all the way on board: Onboarding begins with basic training on company policies and tools for the job, but it shouldn't end there. Employees should receive regular check-ins for at least 90 days to see how they're doing, and to learn from them, too.
Invest in ongoing training: People want to grow at work, so provide continual opportunities for learning and development to employees at all levels.
The best HR software for full cycle recruiting
HR software cuts the monumental task of full cycle recruiting down to size. Following are three great choices:
1. Workable
Workable is a user-friendly software that makes recruiting a breeze. It is suitable for in-house recruiters and recruiting agencies. Workable provides a wealth of helpful features, from job ad templates and keyword assistance to a customizable job application form.
With a rich applicant tracking system (ATS) and artificial intelligence (AI) that finds candidates for you, Workable puts the full recruiting cycle at your fingertips.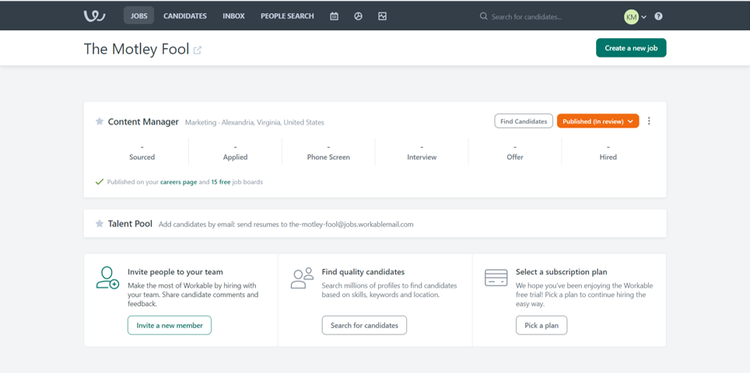 2. Workday
Workday is a powerful HR software solution that makes it easy to manage recruiting and track key performance measures. It provides a robust recruiting module with a user-friendly ATS.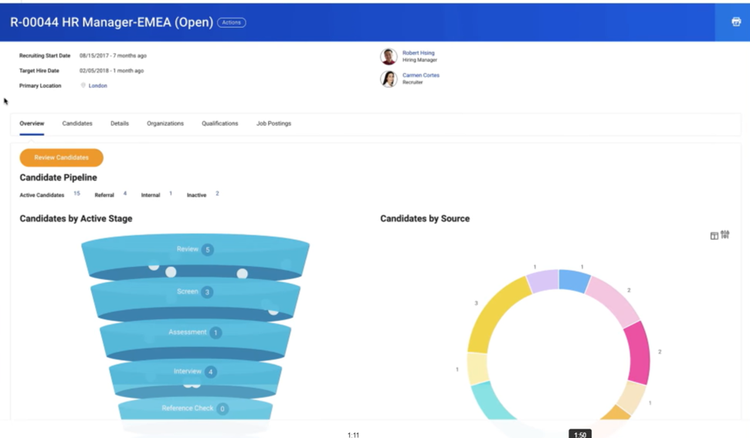 Workday includes rich people analytics to inform workforce planning and an onboarding module that allows managers to tailor the employee onboarding experience and track progress.
2. SentricHR
SentricHR has excellent recruitment features for nurturing internal talent as well as your applicant pipeline. The software allows you to create job ads, share them on job boards, and track candidates through every phase of recruitment.
For each job opening, SentricHR locates internal and external candidates who are qualified for the position. Teams can score candidates and share comments to aid in screening.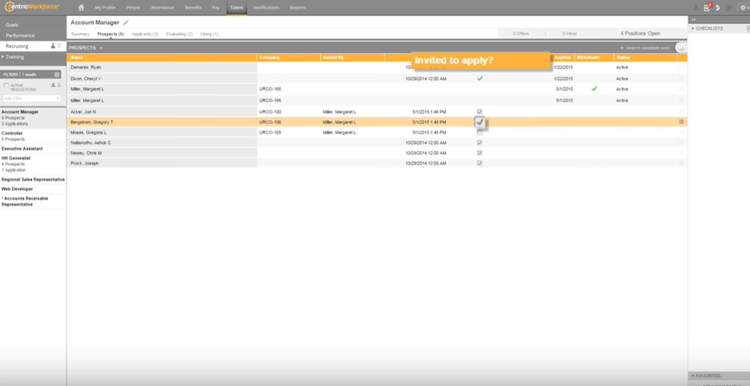 The right people in the right positions
Recruiting is never going to be a perfect science, and you're not going to win every battle in the war for talent. But you can win more of them by using data to drive your decisions, connecting all phases of the recruiting cycle to your business goals, and learning from the inevitable mismatch.
Expert-picked business credit cards with rich rewards and perks
Cash back, travel rewards, 0% intro APR financing: all of these can be great credit card perks for business owners. But how do you find the right business credit card for you? There are tons of offers on the market today, and sifting through them to find the right one can be a big hassle. So we've done the hard work for you.
Get started with one of our top business credit card picks of 2022 today.
We're firm believers in the Golden Rule, which is why editorial opinions are ours alone and have not been previously reviewed, approved, or endorsed by included advertisers. The Ascent does not cover all offers on the market. Editorial content from The Ascent is separate from The Motley Fool editorial content and is created by a different analyst team.
The Motley Fool has no position in any of the stocks mentioned. The Motley Fool has a
disclosure policy
.