A Guide to HR Compliance for Small Businesses
Many or all of the products here are from our partners that pay us a commission. It's how we make money. But our editorial integrity ensures our experts' opinions aren't influenced by compensation. Terms may apply to offers listed on this page.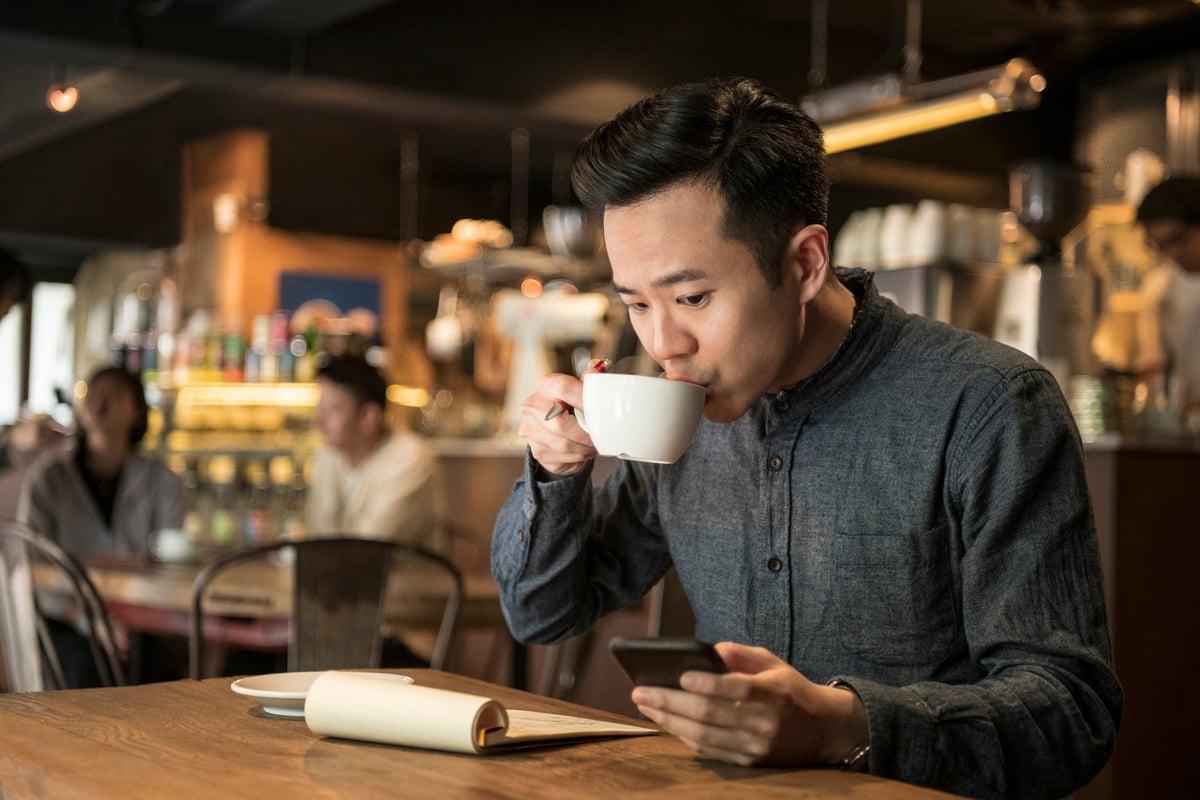 As your business grows, your human resource compliance requirements change. Find out what you need to know to ensure HR compliance in compensation, hiring, benefits, and performance management.
Once in a job interview, I was asked how I would feel about working with a bunch of millennials. I was so surprised by the question that I don't even remember how I answered. I laughed it off, but to be honest, it made me feel terrible.
From interview questions to how paychecks get distributed, pretty much every human resources (HR) activity you can think of is governed by one law or another, and for good reason.
Shooting from the hip and being yourself is great for a team of one. The bigger your company gets, the more important it is you promote an inclusive, sustainable work environment. And the heart of that effort is compliance.
How can you be sure your HR policies and practices follow the letter of the law, especially when you need to follow so many? This article breaks down the biggest areas of concern and provides tips for incorporating compliance into your HR planning.
Overview: What is HR compliance?
HR compliance is the process of ensuring that a company's HR policies and practices meet applicable legal and regulatory requirements. It goes beyond the company's written policies to all of the actions resulting from them every day.
For example, a company may publish a sick or bereavement leave policy that adheres to the Family and Medical Leave Act (FMLA). But if a manager makes a decision regarding sick leave that violates the law, the company's compliance is compromised.
That's why it's so important for businesses to establish a culture of HR compliance as part of their overall human resource management strategy.
That culture is one in which executives, managers, and employees understand their rights and mutual responsibilities under the law and are empowered to respond to activities that threaten the company's compliance.
This is tremendously valuable to any business because it protects you financially, safeguards your good name, and promotes a positive, functional work environment for all employees.
How to create and execute an HR compliance strategy
Employment laws fall into seven general categories. To create HR compliance, you'll need a human resources process for each of these areas. As your workforce grows, new laws apply, so you may need to adapt your policies over time to stay compliant.
Communicate these policies through your employee handbook, appropriate workplace posters, and HR compliance training.
1. Discrimination
Federal HR laws protect employees from workplace discrimination and include the Equal Pay Act (EPA) and the Immigration and Nationality Act (INA).
Employers with 15 or more employees must further comply with Title VII of the Civil Rights Act (Title VII), the Genetic Information Nondiscrimination Act (GINA), the Pregnancy Discrimination Act (PDA), and the Americans With Disabilities Act (ADA).
When you reach 20 employees, you're also subject to requirements of the Age Discrimination in Employment Act (ADEA).
Together, these laws make it illegal to discriminate in employment decisions based on a person's race, color, religion, sex, national origin, physical abilities, genetic information, or age. These qualities are called protected characteristics.
Antidiscrimination laws also protect employees who file discrimination complaints from being fired or otherwise punished for complaining. Taking an adverse action against an employee for exerting rights under any employment law is called retaliation.
In addition to federal laws, states impose their laws regarding employment discrimination. Many states, for example, outlaw discrimination based on gender identity and sexual orientation.
These laws cast a wide net and affect widespread HR operations including recruiting and screening, hiring, promotions, pay, benefits, leave, and retirement, among others.
Because they affect so many everyday HR functions, it's critical all employees understand their rights and duties under antidiscrimination laws and that managers obey them to the letter.
Tips for complying with antidiscrimination laws:
Write explicit policies: HR policies should explicitly prohibit discrimination based on protected characteristics. Managers need to understand what protected classes are and how to avoid speech or actions that could be construed as biased against them.
Provide hands-on training: If you want to influence behavior, stories beat regulatory requirements any day. Don't just share policies and laws. Use role playing and other activities to show all employees how to avoid potentially discriminatory acts.
Prohibit harassment: Harassment is in the eyes of the beholder. What one person considers an innocent or even flattering remark, "That dress looks so beautiful on you", may make someone uncomfortable. If it relates to a protected characteristic and is part of a pattern of behavior, no matter the intention, it may form the basis for a discrimination complaint. The EEOC's HR compliance checklists on harassment are a great training resource for this.
Prohibit retaliation: Of all the discrimination charges filed in 2019, more than half were for retaliation. Even if you consider a complaint baseless, and even if you have a legitimate reason for taking an adverse action against an employee, if they have a complaint in the works, wait. Build a case and proceed slowly. Many businesses have been dragged into court on discrimination charges that didn't hold up, but the retaliation charges stuck, anyway.
Lawyer up: All policies should be written or approved by legal counsel.
Check your numbers: Even if you follow HR best practices carefully, it's possible for systemic discrimination to creep into your operations. Examine HR metrics periodically to identify unintended bias.
2. Wages and working hours
Federal laws also protect employees from unreasonable working conditions. Most are encompassed in the Fair Labor Standards Act (FLSA), which provides a federal minimum wage and rules for overtime pay, record keeping, and youth employment.
While qualifications are detailed and complex, the FLSA generally applies to employees working in businesses of all sizes. It is enforced by the U.S. Department of Labor (DOL).
Many states and municipalities have wage and hour laws of their own. The District of Columbia and 29 states have higher minimum wages than the federal minimum wage of $7.25 per hour.
Wage and hour laws affect HR activities related to scheduling, pay, and hiring independent contractors. If you use HR software, it will make all of these activities much easier.
In addition to communicating applicable standards for your workplace and posting them prominently, consider the following areas when managing schedules and wages.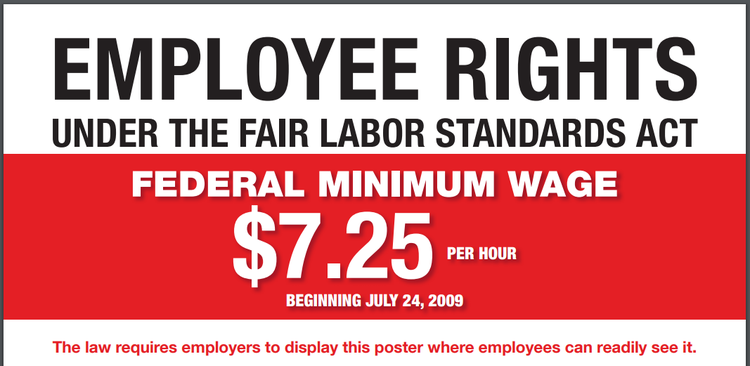 Tips for meeting wage and hour requirements:
Understand exempt status: Employers can't randomly designate an employee exempt from overtime. These employees must generally meet salary and duty tests. Misclassifying workers as exempt is a major source of FLSA claims against employers. Check the DOL's guidance on exempt employees for details.
Understand independent contractor status: Misclassifying an employee as an independent contractor can land you in hot water. This employment relationship fact sheet will help you distinguish contractors from employees under the FLSA.
Observe youth employment rules: If you hire workers under 18, be sure to comply with FLSA rules limiting working hours and the types of work they can perform.
Pay promptly: Pay employees promptly and provide final pay to terminated employees within required time periods.
Keep accurate records: The FLSA requires employers to keep accurate records of wages, hours, and other employee data.
3. Immigration
The Immigration Reform and Control Act (IRCA) and INA require employers to hire only eligible workers, which includes U.S. citizens, nationals, and others with authorization to work in the U.S. Employers must also complete and retain I-9s for all employees to verify employment eligibility.
Tips for meeting immigration laws:
Review documentation: You're responsible to secure and examine proper identification documents to determine whether they reasonably appear genuine.
Retain records: All copies of I-9s and ID documents should be kept on file for at least three years. (A good HR document management system can help with this.)
4. Employee leave
The Uniformed Services Employment and Reemployment Rights Act (USERRA) protects the jobs of employees returning from military service, and all employers must comply.
Employers with more than 50 employees are also subject to the FMLA, which allows workers to take unpaid leave of up to 12 weeks due to birth or adoption of a child, illness, or illness of a child, spouse, or parent.
In addition, the law provides up to 26 weeks of military caregiver leave. During a covered leave, group health insurance coverage must be continued under the same terms as if the employee had not taken leave.
While USERRA and FMLA do not require employers to provide paid leave, the employer must allow an employee to return to the same job or an equivalent one upon returning from leave and refrain from discriminating or retaliating against them.
For the balance of 2020, employers with fewer than 50 employees are also subject to provisions of the Families First Coronavirus Response Act (FFCRA), with limited exemptions. This temporary law requires certain employers to provide paid sick leave or expanded FMLA leave to deal with COVID-19.
Tips for meeting FMLA requirements:
Be consistent: You have flexibility within the FMLA to let employees use paid leave as part of their FMLA leave. Be sure to publish your policies in writing and apply them consistently to all employees.
Seek advance notice: Encourage employees to notify you early of the need for FMLA when practical to provide a smooth transition.
Beware retaliation: Avoid taking any adverse employment actions within 60 to 90 days after a covered leave, and carefully build a case for actions following that time. Even if the action is warranted, timing of the events can open you up to charges of retaliation.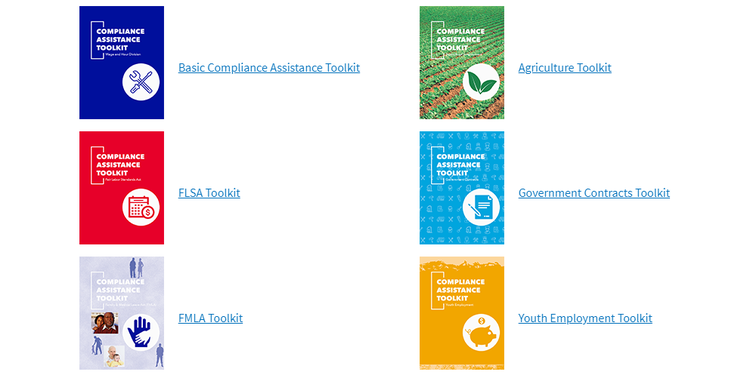 5. Benefits administration
Employers must protect confidential employee health information under the Health Insurance Portability and Accountability Act (HIPAA). They must also protect employees' genetic information under GINA.
GINA also prohibits health insurers from discriminating based on genetic information. For example, your insurer cannot require employees to undergo genetic testing to qualify for their health care plans.
Employers who offer group health plans or qualified retirement plans must ensure that they meet minimum standards established under the Employee Retirement Insurance Security Act (ERISA).
A qualified plan is one that allows employees to defer income taxes, such as a 401(k). ERISA covers vital issues such as participation, vesting, benefit accrual and funding, and fiduciary responsibilities of plan managers.
Businesses must also meet the requirements of the Affordable Care Act (ACA), reporting required information to the Internal Revenue Service (IRS).
Small businesses that offer health insurance must do so in accordance with the Act, which prescribes minimum waiting periods and eligibility standards for employees and requires employers to provide a summary of benefits to employees, among other provisions.
The ACA requires businesses with 50 or more employees to either offer health insurance or make an employer shared responsibility payment to the IRS.
Once you reach 20 employees, you must comply with the Consolidated Omnibus Budget Reconciliation Act (COBRA). COBRA allows employees who are leaving their jobs to continue health insurance coverage for a limited time.
At 50 employees, employers must ensure that mental health and substance abuse treatment services are treated equitably under their health care plans in compliance with the Mental Health Parity and Addiction Equity Act (MHPAEA).
Tips for benefits administration compliance:
Ask the experts: Don't get too deep into the weeds on something like ERISA, but ask providers like your retirement plan manager or health insurance broker to provide information on their plans' compliance with federal laws. They may also be able to provide information you can share with employees to explain their rights and demonstrate your plans' compliance.
Ensure proper data storage: Protecting confidential employee information is a key duty of employers, no matter your size. Paper records with sensitive information must be kept under lock and key. Electronic records should be protected with appropriate data security.
6. Safety
Everyone wants employees to be safe and healthy at work. The Small Business Handbook provided by the Occupational Safety and Health Administration (OSHA) provides a template to launch a safety program in your workplace.
You might believe your workplace is not hazardous, but I once saw someone bloodied by a file cabinet. It can happen.
Having protocols and protections in place can keep small incidents like that from developing into something worse. It also prepares you for the big risks like fire, tornadoes, and acts of violence.
Tips for meeting workplace safety standards:
Assign responsibility: Designate a point person or committee responsible for safety, and provide the people and resources needed to implement a safety program.
Identify hazards: Follow OSHA guidance and catalog the hazards in your workplace. Use the OSHA handbook linked above to make the job easier.
Create protocols: Establish written protocols such as emergency exit plans to address all of the hazards identified by your team.
Provide safety training: Invest in employee safety training to ensure your compliance with policies and procedures.
7. Union rights
The final area of human resources legal compliance to consider is union rights protected under the National Labor Relations Act (NLRA). The NLRA grants employees the right to form or join unions or decline to join them.
It also guarantees employees the right to meet and discuss working conditions, including public forums such as social media. The National Labor Relations Board's fact sheet on social media provides helpful guidance.
Tips for complying with the NLRA:
Vet your policies: Be sure to check policies restricting employee speech with an attorney.
Communicate: The best way to avoid NLRA complaints is to maintain and encourage open communication about company policies.
Examples of HR compliance issues
Creating compliant policies covering the HR laws applicable to your business is only half the job. As noted earlier, HR compliance is a combination of policy and practice. These are the three most common issues that hinder a company's efforts to create a culture of HR compliance.
1. Paper policies
The most common issue for small businesses is adopting written policies that get filed away and forgotten. Remember, HR compliance is a team effort.
Frequent training focused on the positive, proactive aspects of HR compliance -- empowerment, inclusion, and open communication -- is critical to achieving your goals.
2. Rogue managers
The second common problem in adopting a culture of compliance is managers who feel that compliance cramps their style or gets in their way. The solution is intensive manager training and one-on-one counseling if needed.
When it comes to federal law, half measures don't cut it. You need total buy-in from your management team.
3. Crank employees
Companies sometimes end up trying to correct legitimate performance problems only to have the employee threaten to sue for a rights violation.
In these cases, be sure your policies are being applied neutrally, proceed methodically through your written disciplinary process, and document every step. You may still end up in court, but you will have the documentation you need to defend your business.
The ultimate benefit of HR compliance
HR compliance denotes a culture of respect for the individuals who make up your company.
Involving employees at all levels in open discussions about their rights and their responsibilities to one another encourages buy-in, empowerment, and even positive course correction whenever someone wanders off course.
All of that strengthens your business and makes it a better place to work.
Expert-picked business credit cards with rich rewards and perks
Cash back, travel rewards, 0% intro APR financing: all of these can be great credit card perks for business owners. But how do you find the right business credit card for you? There are tons of offers on the market today, and sifting through them to find the right one can be a big hassle. So we've done the hard work for you.
Get started with one of our top business credit card picks of 2022 today.
We're firm believers in the Golden Rule, which is why editorial opinions are ours alone and have not been previously reviewed, approved, or endorsed by included advertisers. The Ascent does not cover all offers on the market. Editorial content from The Ascent is separate from The Motley Fool editorial content and is created by a different analyst team.
Citigroup is an advertising partner of The Ascent, a Motley Fool company. The Motley Fool has no position in any of the stocks mentioned. The Motley Fool has a
disclosure policy
.