A Quick Guide to HR Operations for Small Businesses
Many or all of the products here are from our partners that pay us a commission. It's how we make money. But our editorial integrity ensures our experts' opinions aren't influenced by compensation. Terms may apply to offers listed on this page.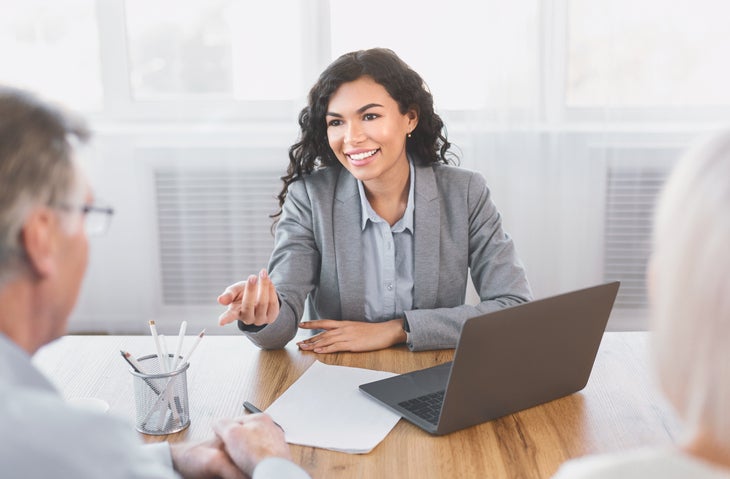 HR professionals have a varied list of operational tasks to take care of on a day-to-day basis. Find out more about the main goals of HR operations, as well as their impact on different departments.
In previous jobs, one question I've heard people ask each other is what HR people do all day. There's no quick answer to that question, but it is more than just hiring and firing. HR professionals have to deal with both people and processes.
One day they might have a heart-to-heart chat with an employee about issues that are affecting their performance and preventing them from meeting their goals.
The next day they might be ensuring a new hire has filled out all the relevant paperwork and provided all the necessary documents so they can legally start working at the company.
It's a varied role that not only encompasses creating a strategy and plans that help companies meet their goals, but also working day-to-day to ensure that the people are taken care of and are motivated and satisfied.
This article looks at the HR operations human resource professionals must carry out on a daily basis.
Overview: What are HR operations?
HR operations refer to the services that a human resource department and HR professionals provide to other business units.
These HR functions cover the entire employee lifecycle and include areas such as the small business recruiting process, administration, performance management, benefits administration, absence management, and offboarding. These are often referred to as HR activities.
HR operations managers normally carry out the tasks related to these processes on a day-to-day basis; it makes up the bulk of their work. The day-to-day operational processes and tasks differ from strategic human resource management, which is normally the responsibility of the head of human resources.
They look at HR from a business-performance and planning perspective, ensuring that that the human resources department aligns with the direction of the company and its overall goals, and that its work supports the work of the business as a whole.
How HR operations look in each department
Human resource professionals are involved in all aspects of the business, but their interactions with employees can change depending on the business unit or department they are working with, as we explain below.
Sales department
HR operations in sales involve aligning departmental goals with overall company objectives. HR leaders can also help with compensation management, and getting the right balance between basic salary, benefits, perks, and commission.
The sales department feeds into all areas of the business, and HR needs to make sure there are enough salespeople with the right skills to meet the objectives of their staffing plan.
This not only involves full-cycle recruiting, but also learning and development initiatives. Sales and HR need to decide on hiring needs (both short- and long-term), the ideal candidate profile, the recruitment process stages, the onboarding process, and performance and employee management strategy.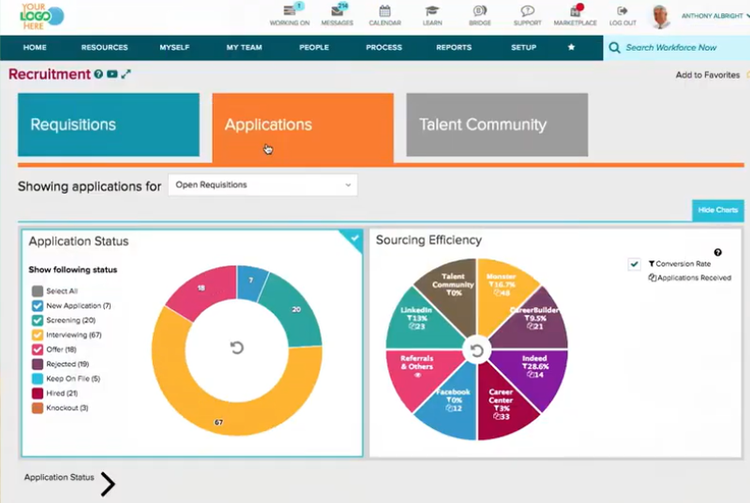 The HR solution ADP Workforce Now provides pipeline management capabilities that help you understand the actions you need to take to ensure you are meeting the hiring needs of your staffing plan.
Marketing department
The needs of the marketing department can vary dramatically according to factors such as new product launches, company announcements, or external and internal events that your business must react to. That's why it's important that the department has access to the necessary resource at short notice.
This is where the HR department's talent acquisition process comes in. You need to have a database of candidates who you can reach out to at these times, whether you're hiring a full-time employee or freelancer.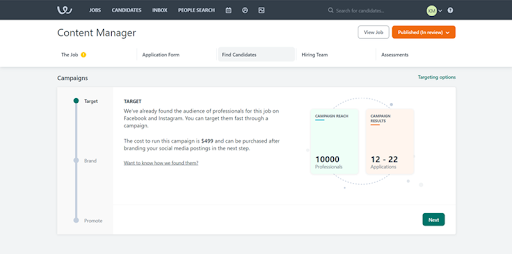 Ideally, you'll already have a database of past candidates you can draw on or a speedy sourcing process, such as the AI-based service provided by HR software Workable.
Customer service department
As your customer service team is the first point of contact for anyone getting in touch with your business, it's important to make sure that they have the skills and tools to adequately deal with all situations, whether they are positive or negative.
This involves hiring the right people with the right experience, but it also extends to collaboratively creating performance measures so employees can work toward improving skills, and providing the necessary training to close skills gaps.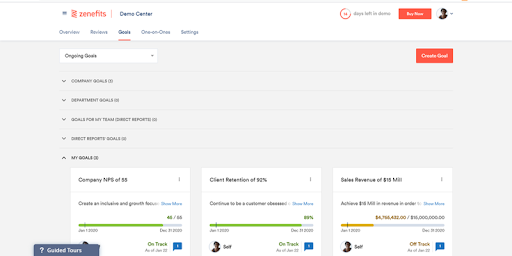 HR software Zenefits can help, as it provides templates that allow you to easily create goals and run performance reviews on an individual, team, and company level. You can also track both the progress of goals and the performance management process as a whole.
The main goals of HR operations
While different businesses will have different HR structure models, with some small businesses even preferring to outsource the entirety of their human resources operations, the overarching goals remain the same.
These goals will be similar to those of HR professionals who are carrying out strategic work for their company.
1. Proactively identify issues
As HR operations managers deal with human resources processes on a day-to-day basis, they are best placed to identify issues and improvement opportunities before they become serious problems for the business.
If you are monitoring and measuring the different HR functions, such as recruitment, onboarding, talent management, employee satisfaction and retention, performance management, and compensation, you can easily get the insight you need.
For example, if you notice that you several employees within the same department aren't on track to meet their goals, then you can check in to see if they need more training or if they're unhappy with something.
As with anything, it's important to regularly check how all processes are working so you can optimize and adjust as necessary, doing more of what works well, and stop anything that isn't serving your business.
2. Improve employee relations
In the past, the HR department has gained a bad reputation for caring more about processes, rules, and regulations than people, while not applying the same principles to everyone across the business.
By having HR processes in place to govern day-to-day operations, you can focus on improving your interactions with employees and creating a positive work environment.
Streamlining the way you run HR operations means that you can better support all your employees across different departments and empower them to achieve company goals.
3. Establish HR best practices
Through the experience and expertise you gain from dealing with different facets of HR every day, you can start to build up an idea of what works and how you can optimize your human resources processes to boost company performance.
You can also start to understand what is achievable with your level of resources and experience, as well as what works for your particular business, industry, and staff.
This will then allow you to create a set of HR best practices that you can apply across the company and that will guide your strategy as you grow as a company.
Getting the best out of your workforce
Happy workers are more productive workers, and the HR department plays an important part in making sure that all employees feel happy with their roles and responsibilities and are content to continue working at the company.
Day-to-day HR operations, combined with overall human resources strategy, allow a business to function at its highest potential, and achieve the best results. Don't underestimate the importance of the HR department.
Expert-picked business credit cards with rich rewards and perks
Cash back, travel rewards, 0% intro APR financing: all of these can be great credit card perks for business owners. But how do you find the right business credit card for you? There are tons of offers on the market today, and sifting through them to find the right one can be a big hassle. So we've done the hard work for you.
Get started with one of our top business credit card picks of 2022 today.
We're firm believers in the Golden Rule, which is why editorial opinions are ours alone and have not been previously reviewed, approved, or endorsed by included advertisers. The Ascent does not cover all offers on the market. Editorial content from The Ascent is separate from The Motley Fool editorial content and is created by a different analyst team.
The Motley Fool has positions in and recommends Target. The Motley Fool has a
disclosure policy
.