How to Write a Termination Letter
Many or all of the products here are from our partners that pay us a commission. It's how we make money. But our editorial integrity ensures our experts' opinions aren't influenced by compensation. Terms may apply to offers listed on this page.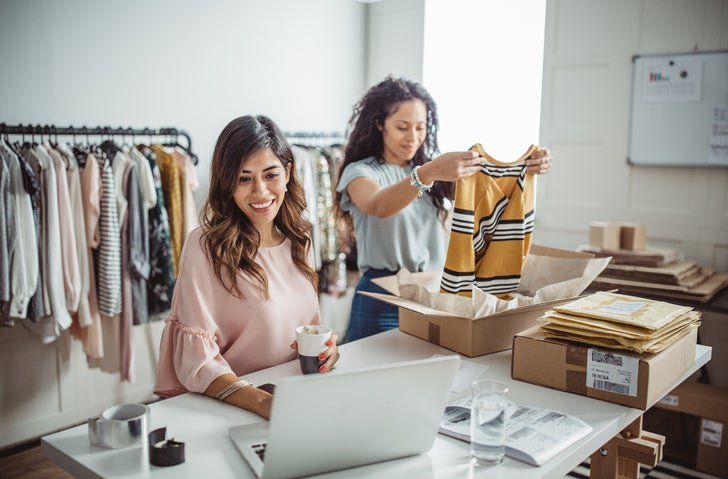 Firing an employee is stressful. With good planning and a professional termination letter, you can take some of the sting out of the process when a job is just not working out.
Firing an employee is never easy. But there are ways to reduce the trauma for everyone involved and even spare your company from a potential lawsuit. If you need to let someone go, take the right steps, including a proper letter of termination, to make a clean, professional break.
Overview: What is a termination letter?
A termination letter is a letter given to an employee to officially document the employee's termination. While termination letters are not required by federal law, some states have notice requirements, including the following:
California, Connecticut, and New York require written notice.
Georgia, Louisiana, and Tennessee require employers to use specific state forms for terminations.
Arizona and Illinois require employers to give terminated employees materials from the department of labor or employment security.
Minnesota, Missouri, and Nebraska require employers to furnish some employees with documents or information upon request.
Whether your state requires them or not, job termination letters are valuable conflict management tools, serving as a road map for the termination meeting and providing useful information for the employee to digest afterward. They can also provide critical documentation in case of disputes.
What to consider when writing a termination letter?
A termination letter is just one component of the termination process, which is part of a much wider context of performance management and human resource planning. Before you sit down to write a letter, consider the following:
1. Terms of employment
In every state but Montana, employment is at will, meaning you can terminate someone for any reason as long as it is not illegal. Illegal reasons include discrimination and retaliation.
Before proceeding with a termination, you'll want to be sure you're not violating the terms of employment. Consider the following questions:
Do you have a contract with the employee providing terms such as a specific period of employment?
Have you made verbal promises to the employee that might constitute an implied contract to keep them on?
Is the employee a member of a group protected by antidiscrimination laws? If so, can you show that your policies have been applied without bias across all employee groups?
Has the employee recently made a complaint or returned from a protected leave? If so, could the firing be construed as retaliation?
2. Performance history
Termination should never come completely out of the blue. By the time you hand someone a termination letter, it should be a mere formality. Employees who are falling short in some way should have been informed of that and given a chance to improve, possibly through a formal performance improvement plan.
Even if someone is fired on the spot for misconduct, you should be able to point to a policy detailing behaviors that are subject to immediate termination. Having written policies that support your company's goals is a cornerstone of strategic human resource (HR) management.
Doing this not only gives employees every chance to succeed, it gives your company a record to fall back on in case of legal challenges.
The Idaho Department of Labor, as an example, advises employers to keep "detailed written records of both offenses and warnings or reprimands, including dates and times" before terminating an employee.
Before making a termination decision, consider:
What policies for performance improvement and termination are outlined in your employee handbook? Do you have a formal disciplinary process? Does this firing comply with your written policies?
What are the performance metrics for the employee's job? Do you have evidence in the employee's file that they weren't met?
Do the employee's performance reviews support your decision?
3. Grounds for dismissal
If you have a clear case for firing, write the reasons down in factual terms. Reference relevant employment policies and specific performance measures to support your decision.
4. Separation agreement
You may want to prepare a separation agreement releasing you from future legal claims in exchange for severance pay or other consideration. Consult with an attorney to ensure that your agreement is legal before offering it.
These agreements are a way to ease the pain of separation, not to stifle legitimate complaints of unfair treatment. If a termination is illegal, the waiver probably won't stand up, anyway.
5. Lessons learned
Losing employees costs money. After a termination, ask yourself what went wrong. Examine your workforce analytics and see if you might need to adjust your talent management strategies to ensure that the right people are being put in the right positions.
HR software like BambooHR can help you assess key HR metrics to uncover areas for improvement such as employee retention and recruitment strategies. They also make it easy to quantify employee performance for workforce planning.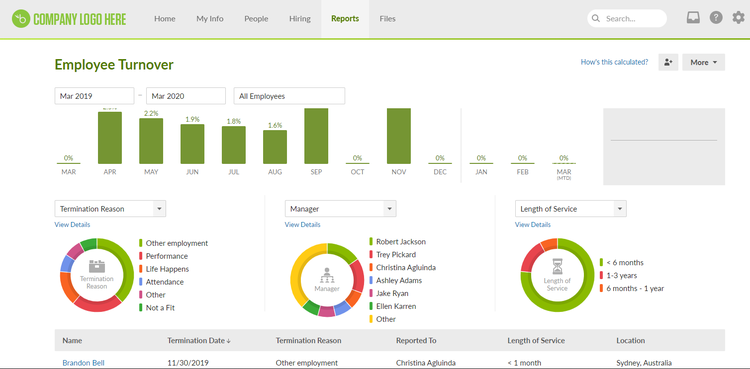 How to write a termination letter
A termination letter should be given to an employee during a face-to-face meeting to document the conversation. It should never be delivered through a termination email. Dealing with terminations sensitively and professionally is important to maintaining a healthy company culture and employee satisfaction.
There's no need to worry about how to write a termination letter. Once you've done the homework, the writing itself is easy. You can use this sample termination letter as a template.
Step 1: Start with basic facts
Begin your letter with the basic facts including:
The employee's name and number, if applicable
Your company's legal name
The date of termination
Step 2: Provide a reason
Provide a brief, factual explanation for the decision. Being specific can help defuse the emotional sting of the termination. For example, being terminated for "three instances of missing work without providing 2 hours of notice" is better, and more defensible, than being terminated for "not showing up" or "always being absent."
Step 3: Explain final pay
Many states require payment of final wages within a certain period, anywhere from immediately to within two weeks. Some employers prepare the last paycheck in advance to promote an amicable parting. Your letter should spell out exactly when and how the employee will receive all remaining pay.
Step 4: Break down leave
Provide a summary of any remaining leave and terms of payment for unused hours. Refer to your company's policies as needed.
Step 5: Explain benefits and rights
Your letter should include employee benefits cancellation dates, such as health and life insurance. It should also advise employees of their rights under the Consolidated Omnibus Budget Reconciliation Plan (COBRA), the Employment Retirement Income Security Act (ERISA), and other applicable benefit laws.
Many states provide resources you can attach to your letter to explain employees' rights.
Step 6: Include severance and waivers if desired
If you are offering severance or asking the employee to sign a waiver, include that in your letter.
Step 7: Cover offboarding tasks
Your letter should include key offboarding instructions such as return of company equipment, clearing out the employee's office, and relinquishing access to company systems.
Step 8: Close with good wishes
You don't want to apologize or backtrack from your decision, or even say anything about the past that could be construed as evidence of satisfactory performance. Instead, close the letter with best wishes for the employee's future endeavors.

Zenefits is powerful HR software that lets you track attendance and other worker activities at a glance.
Sample termination letter
You can use the following as a template for your company's termination letters. Be sure to adapt it to fit your specific circumstances.
Dear [name],
This confirms our discussion today terminating your employment with [company name] effective immediately due to a defect rate of over 50% for four consecutive months.
You will receive your final paycheck via direct deposit on [date]. You will be paid for all of your hours worked through [time, date]. Per our company's paid leave policies, you will not be paid for any unused sick leave. You currently have 8 hours of used but unearned vacation time, which will be deducted from your final paycheck per company policy.
Your health care insurance will automatically expire on [date]. You have the right to pay to continue coverage under the Consolidated Omnibus Budget Reconciliation Plan (COBRA). A description of your rights under COBRA and ERISA are attached to this letter, as well as a statement detailing the status of your benefits.
We have offered you two weeks of severance pay in exchange for a separation agreement waiving future claims against [company name]. If you accept, you will receive the severance payment in a separate paycheck to be mailed upon receipt of the signed agreement.
Please remove your personal belongings from your office following this meeting. [Name of Human Resources manager] will help you gather your things. Please return your key card, laptop computer, and desk keys before leaving.
If you have any questions, please contact [HR manager] at [number]. We wish you the best in your future endeavors.
Kind Regards,
[Supervisor's name]
Make a clean break
A termination letter doesn't exist in a vacuum. It should be part of a conversation that begins with the hiring process, is documented in your written policies, continues through company-wide training, and carries through to performance reviews when employees are falling short.
If you've laid all of that groundwork and given every opportunity for improvement, it will be a lot easier for you to say what you need to say when a job is just not working out. And it will be easier for your employee to hear, too.
We're firm believers in the Golden Rule, which is why editorial opinions are ours alone and have not been previously reviewed, approved, or endorsed by included advertisers. The Ascent does not cover all offers on the market. Editorial content from The Ascent is separate from The Motley Fool editorial content and is created by a different analyst team.
The Motley Fool has no position in any of the stocks mentioned. The Motley Fool has a
disclosure policy
.