A Small Business Guide to Ticketing Systems
Many or all of the products here are from our partners that pay us a commission. It's how we make money. But our editorial integrity ensures our experts' opinions aren't influenced by compensation. Terms may apply to offers listed on this page.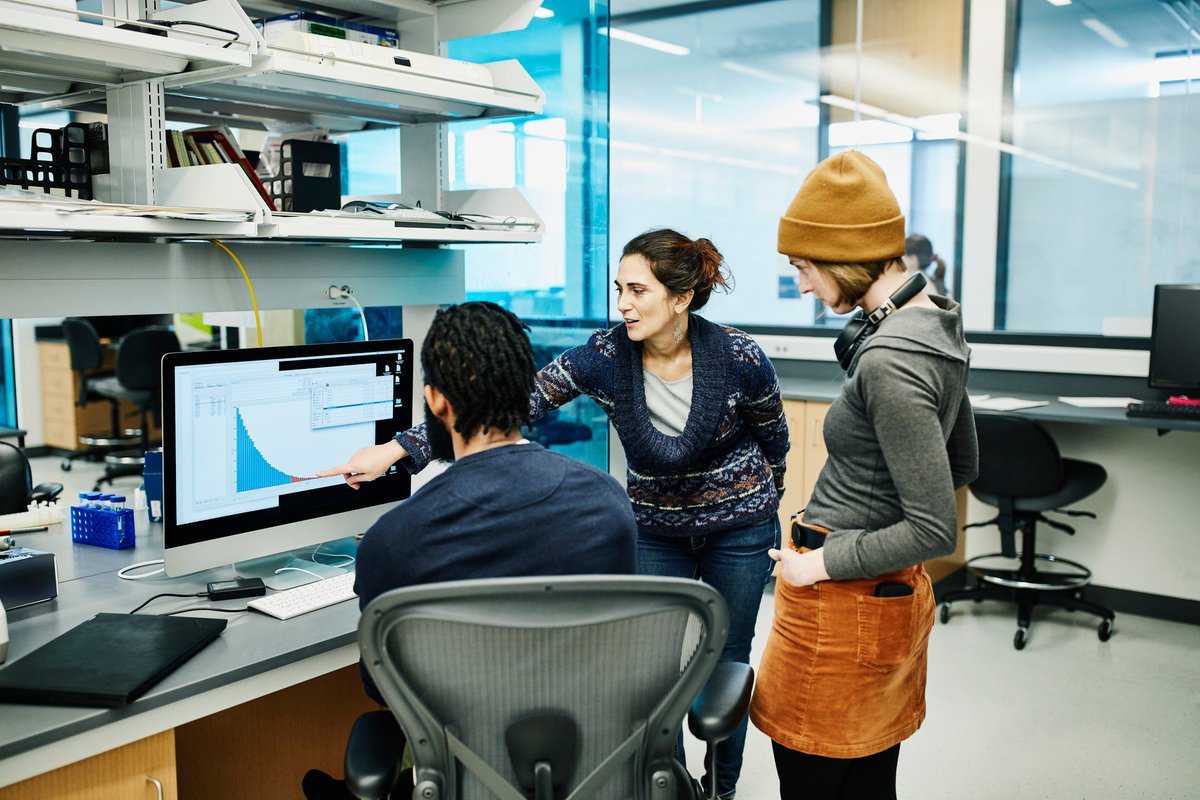 A ticketing system is a key tool for any business with a support team. Learn more about ticketing systems and how your organization can benefit.
Businesses with a service component benefit from ticketing systems to manage the flow of work. Whether you're handling customer inquiries or assisting an employee struggling with a technical issue on their computer, ticketing systems help your business stay on top of customer support.
Sooner or later, customers require help from your business or you may suddenly get a flood of inquiries after you roll out a new offering or change an existing one. This flurry of work can quickly overwhelm customer support teams if you don't have a tool to manage it.
I've seen organizations try to get by using a dedicated email address to funnel these requests. This seldom works well. Emails don't allow you to easily track progress on each inquiry or reassign work when a team member is on vacation.
A support ticket system streamlines this work, improving your team's productivity while boosting customer satisfaction.
Overview: What is a ticketing system?
Ticketing systems are software platforms designed to capture a customer's service request and help your business manage that request to resolution.
Ticketing systems are ideal for a service environment where the ebbs and flows of work are constantly changing. They're commonly adopted by customer service and information technology (IT) teams.
In the IT industry, a ticketing system is most often used with a service desk. The service desk is a component of the Information Technology Infrastructure Library (ITIL), a set of IT best practices.
As part of these ITIL processes, the service desk technicians employ IT management software to improve delivery of IT services to customers.
Many of these platforms are cloud-based help desk software. This model works well, particularly for remote IT management, and reduces costs and complexity.
Who has access to the ticketing system depends on how you define a customer. The request can come from customers outside your organization or from internal staff, depending on the type of service you're offering.
For an IT team, customers are usually employees; external users are only included if your company sells a technology solution that your IT department is responsible for overseeing.

5 benefits of using a ticketing system
Ticketing tools deliver many advantages to a business engaged in customer support. These benefits far outweigh the costs and include the following.
1. Improves the customer experience
A ticketing system boosts customer service and satisfaction. It's a convenient vehicle for customers to request help and for your staff to provide it efficiently and effectively.
When customers run into an issue with your product or service, they demand immediate assistance. A ticketing system grants this by providing an online self-service portal so customers can request help at any time.
The platform automatically delivers a confirmation email outlining the estimated response time. This sets reasonable expectations with customers and reassures them that their needs are being addressed.
Tickets are easily tracked, preventing lost or forgotten requests, and contain the info and communication needed to resolve the issue in a central location. This enables your team to efficiently guide any customer concern to resolution.
Support staff can address high-priority issues faster since you can flag these tickets as such. Team members can then act based on the priority level to resolve the most pressing customer issues first.
The portal usually includes FAQs and other information to handle the most common problems, allowing customers to troubleshoot issues on their own. By giving customers the information to resolve issues promptly, they can get on with their tasks quickly while reducing the amount of work for your support staff.
2. Increases team productivity
Your team unlocks greater productivity with a ticketing system. It centralizes all service request activities and information and makes it easily searchable -- no time lost hunting for this data.
Along with the initial request, the support ticket records every subsequent customer exchange. A team member simply needs to review it to immediately catch up on what's been happening with the request.
A ticketing system also provides automation capabilities to eliminate repetitive tasks. The software automatically routes tickets to the correct department based on the nature of the request and performs other tasks such as generating reports and alerts.
3. Accelerates issue resolution
Your team can resolve customer issues faster with a ticketing system. The ticket affords easy tracking, and if a request is languishing, your ticketing system can send email reminders for staff to follow up.
You can reassign tickets to the people on your team best equipped to remedy an issue. Because the system handles many routine administrative tasks, your team spends more time solving problems, leading to a quicker resolution.
4. Provides better accountability
A ticketing system delivers reporting to help identify opportunities for improvement, such as shortening ticket response times. You can more easily identify process bottlenecks and coach staff more effectively.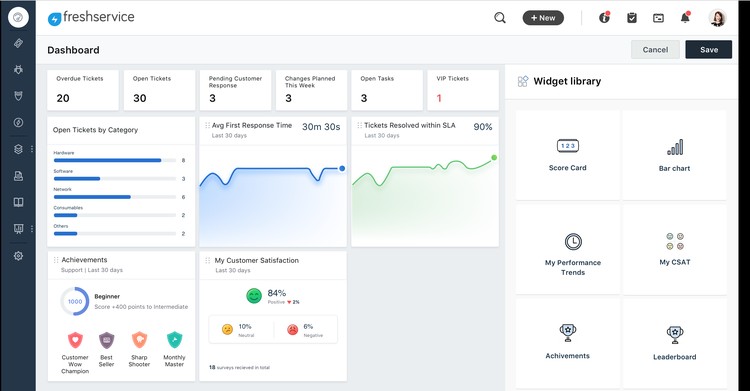 5. Reduces costs and boosts customer retention
What business wouldn't want to decrease costs while boosting customer retention? A ticketing system does both.
When your support team reaps a ticketing system's productivity benefits, it reduces costs. The team gets more done with fewer resources.
We've mentioned some of the ways a ticketing system improves the customer experience. By reducing customer frustration and resolving issues quickly, it leads to higher customer satisfaction, which naturally strengthens customer retention.
5 ticketing system features
A strong ticketing system includes several key capabilities. When considering a ticketing platform, look for these must-have features.
1. Online portal
An online self-service portal is a must. Customers require a way to submit requests at their convenience.
It's not just about getting help when an issue arises with a purchase. Customers want to know what services are available, especially from technical support teams. For this reason, the portal also serves as an IT service catalog.
This portal should include the ability to house information that allows users to troubleshoot issues on their own. An FAQ section is ideal for addressing common problems that may not require intervention by your support team.
To take advantage of an online portal, your company must practice knowledge management techniques. The content needed to populate the portal's help information, such as a network diagram for IT personnel, comes from this source.
2. Centralized communication
A ticketing system facilitates communication between customers and your service team. The ticket centralizes all messages between the customer and your team, allowing any support staff member to read the ticket and immediately become updated on the status and next steps.
The ticket stores information required to effectively troubleshoot a problem, such as screenshots. When an issue is resolved, the platform automatically informs the requester.
Ticketing software should allow customers to submit tickets through multiple channels. The online portal is one means, but customers should have the convenience of sending an email as well.
The ticketing platform converts the email into a service request ticket. This capability bolsters the ease of communicating service requests.
3. Automation
One of the biggest benefits of a ticketing system is its automation features. Automating ticketing workflows is one of the key ways your team enjoys greater productivity.
The ability to automatically route tickets to the appropriate staff, send responses to customers when they submit a request and when that ticket closes, and deliver alerts help make the ticketing process smooth for all involved.
Automation reduces the time your support staff spends on repetitive tasks and eliminates delays in the process. Be sure the ticketing system allows you to configure custom rules so you can apply your company's unique workflow steps to the system.
4. Customization
Automation rules is just one of the areas a ticketing system should allow you to modify. Good ticketing software lets you customize the online portal with your company branding and documentation, such as FAQs.
The ticket form itself should support customization to include fields you need for your organization, such as IT tickets providing a drop-down to note requests for new features or technical issues.
Additional customization options are always welcome. For instance, ServiceDesk Plus lets you easily design your own ticketing workflows using an intuitive interface.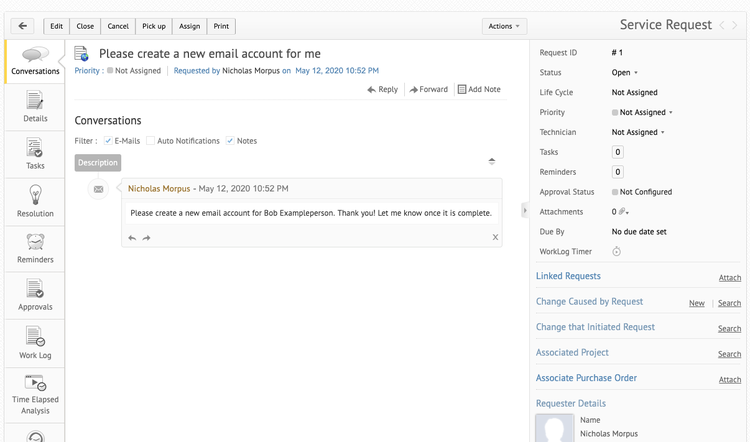 5. Reports and alerting
Reporting capabilities are necessary to help you identify areas for improvement. Reports detailing metrics such as average response time, ticket volume, and average time to resolve requests allow you to optimize your support operations.
The platform should also support alerting. These notifications help your team improve ticket management by notifying them of key events, including the following:
New ticket assignments
Customer replies
Required approvals
Ticket closures
Final advice about ticketing systems
I've used several ticketing systems, including Spiceworks. All the features in the world won't help if your organization doesn't implement some operational best practices around your support model.
Balance the urgency of responding to customer requests with a realistic response time given the bandwidth of support staff. If you don't set customer expectations correctly upfront, no tool can help.
Customers may want resolution immediately, but let's say your business has a small IT help desk. In this case, a 24-hour window for help desk support to take a step toward resolving a request is a more reasonable and acceptable time frame; communicate this to the requester.
Think through how you address customer suggestions versus technical issues and implement a system to prioritize tickets. It's not possible to treat all tickets with equal importance.
After you've established a support model, find the ticketing system that aligns with that model. In this way, the ticketing system will better serve the needs of your organization and customers, allowing you both to benefit.
We're firm believers in the Golden Rule, which is why editorial opinions are ours alone and have not been previously reviewed, approved, or endorsed by included advertisers. The Ascent does not cover all offers on the market. Editorial content from The Ascent is separate from The Motley Fool editorial content and is created by a different analyst team.