Your 6-Step Engagement Marketing Guide
by Jimmy Rodela | Updated Aug. 5, 2022 - First published on May 18, 2022
Many or all of the products here are from our partners that pay us a commission. It's how we make money. But our editorial integrity ensures our experts' opinions aren't influenced by compensation. Terms may apply to offers listed on this page.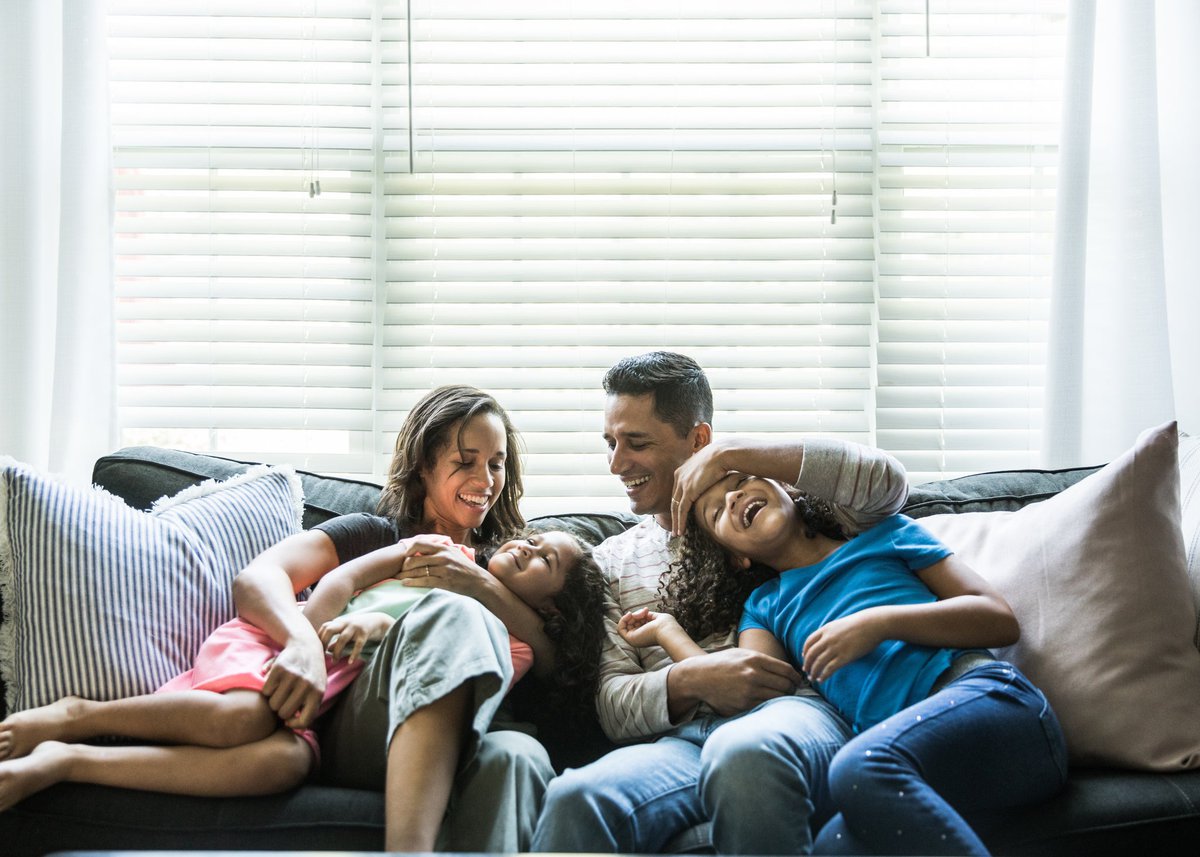 Engagement marketing humanizes your brand and helps it relate to your audience. It can shoot your online sales through the roof.
Traditional interruption marketing is a thing of the past. Companies are no longer gravitating towards one-sided conversations with their audience. They now put a premium on audience engagement.
That is why engagement marketing is one of the best marketing methods companies can use to skyrocket their sales. Not only are customer engagement marketing strategies are perfect for generating leads and sales -- and for building relationships with customers.
You can use a number of digital marketing tips to grow your business. In this guide, we're going to show you how.
Overview: What is engagement marketing?
Engagement marketing (a.k.a., experiential marketing) uses strategic content to engage customers and invite them to interact with the brand.
It sees customers as interactive collaborators instead of just recipients of numerous generalized marketing messages.
Customer engagement employs high-quality, targeted content in a two-way conversation between your business and your audience to create and maintain meaningful interactions.
You can publish thought-provoking tweets that get replies, tell your audience to upload a photo of their funniest moments, create mini-videos, run surveys, and so much more. The key is to encourage your audience to engage with your brand, with you.
How to tackle engagement marketing for your small business
You can run your engagement marketing campaigns in many ways.Use the five steps below as your starting point.
Step 1: Identify Your Audience
Your target audience's identity will influence how you run your engagement marketing. Knowing your ideal buyers' quirks will impact your brand positioning, the features you add to your products, your marketing materials, etc.
Figure out their problems, the things that make them emotional, their dreams, the type of companies they work for, etc.
The more vividly you picture your ideal customer, the more effective your engagement marketing content becomes, since you articulate your audience's concerns and desires so clearly.
Additional tips:
Mine data from your existing customers: You don't have to look far to learn about your customers. Run a quick survey of your existing customers to gain a better understanding of their state of mind, needs, desires, pain points, etc.
Go to review sites: Visit sites that review industry-specific products or services. Read what people love and hate about products or services similar to yours. Look for common issues (likes and dislikes) and note how they are worded. Let them influence your content.
Step 2: Establish your engagement marketing goals
Your engagement marketing campaigns can aim for many goals. Push for increased audience engagement, brand visibility, lead generation, or straight up sales.
This guide focuses on growing your sales through engagement marketing so be mindful of that goal when you create your content.
Additional tips:
Track your numbers: "If you can't measure it, you can't improve it." This saying's been repeated many times in the digital marketing space, and for good reason.
When you track the results from your engagement marketing campaigns, you can tell which methods work. You can also uncover areas that can be improved in your process.
Set mini-goals: Set mini-goals to build your team's momentum. If you're hitting milestones, your marketing campaign will succeed.
A mini-goal might be to produce some amount of content per day, to reach out to X people, etc.
Step 3: Create engaging content
Once your goals are set, and you have a better understanding of who your audience is, create content with the right message to engage your customers.
Since you will publish a lot of content on your website, you need a reliable blogging platform. Using a feature-packed social media management platform can also help, especially when you have pages on a variety of social media sites, each requiring attention and focus.
Your content needs to resonate with your audience, accomplish the goals you set for your engagement marketing campaign, and influence your audience to engage or interact with your brand.
If you think your content angle isn't interesting enough to engage your audience, scrap it or replace it.
Additional tips:
Get Interactive: Publishing interactive content such as polls, surveys, and contests is an effective strategy to integrate into your engagement marketing campaigns.
Interactive content helps improve message retention, which burns the core message of your marketing campaign into the minds of your audience.
Learn from your competitors: Visiting your competitors' social media pages or websites will spark engaging content ideas. For example, if you're in the food niche, get inspiration from what Chipotle's Facebook page.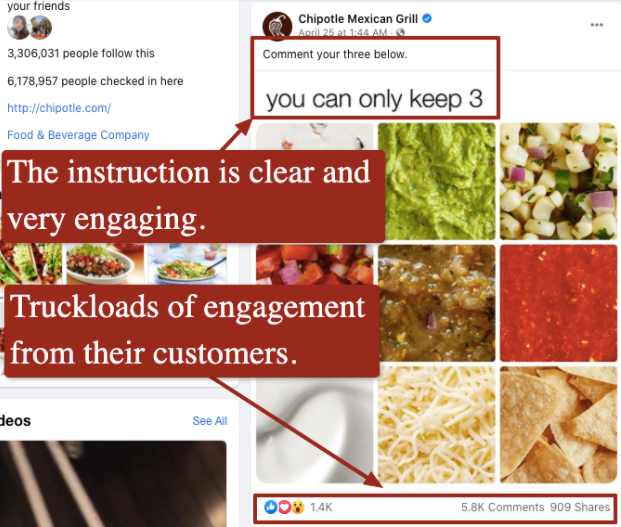 Then come up with your own take on the post or something that's more creative.
Step 4: Join in the conversation
Having implemented steps 1-3 above, you should be getting loads of questions, ideas, or comments from your audience. Don't ignore them.
Interaction between a brand and its customers is a crucial aspect of engagement marketing. Now that you've generated audience engagement through customer responses to your posts, join in the conversation.
Additional tips:
Get more mileage out of your engagements: Everyone who engages with your content has connections.
Take advantage of them. Ask your audience to tag three of their friends in the comments so you can give them more freebies while encouraging them to comment on the post themselves. This will increase your chance of getting more engagement and sales.
Create a dedicated landing page for your campaigns: If you want your campaigns to exude relevance and personalization, create dedicated campaign landing pages.
Align your website marketing with your engagement marketing campaign and other marketing channels you're using.
Direct your web traffic from your engagement marketing campaigns to a dedicated landing page on your website, giving your audience a seamless experience.
Step 5: Optimize your landing pages for sales
Give your landing pages a well-defined purpose. Avoid adding various calls-to-action (CTA) in your landing pages such as shares, newsletter signups, etc. It will only distract and confuse your audience.
You want only one CTA and should only be telling your audience to buy your products now.
Additional tips:
Shorten your checkout process: Don't make your customers perform umpteen steps to make the purchase. Keep the process short. Your customers are busy. Make buying your products too taxing, and they just might click away.
Upsell after they've completed their purchase: When you upsell before they complete their purchase, they might experience analysis paralysis, resulting in an abandoned transaction.
When you upsell after they've made the purchase, you aren't at risk of losing the initial sale since they already bought.
Step 6: Leverage marketing automation tools
Whether website management, appointment setting, or sending emails, you can always find a marketing automation tool to lighten your workload.
The same applies when you're running an engagement marketing campaign. Wendy's used a Facebook chatbot to accommodate the online traffic that visits their Facebook page.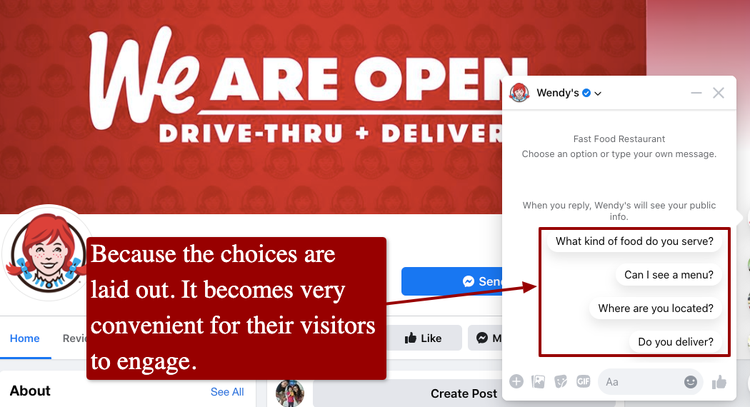 The automation tools you choose will vary depending on the structure of your marketing campaign. You can use chatbots, email autoresponders, social media management tools, etc.
Additional tips:
Outsource your marketing automation setup: Instead of spending hours setting up the automation sequence, hire a freelancer -- someone who specializes in marketing automation. You free up your time to focus on your business, and you know an expert is doing the automation setup.
Go to Upwork to find experienced marketing automation freelancers.
If your budget is limited, you can set Upwork filters to show only freelancers at pay rates you can afford.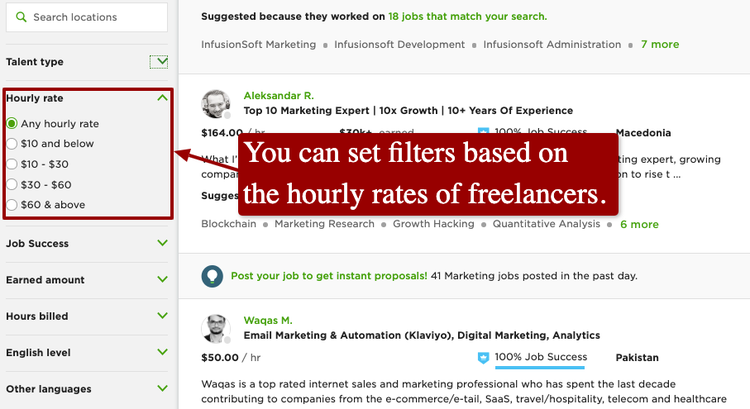 Be mindful of the automation software's updates: Be wary if the automation tool hasn't had updates for a long time. It might have security gaps.
Considering how hackers are constantly looking for security gaps, software companies need to update their systems regularly.
FAQs
Yes. Engagement marketing can be used offline or online. It's quite common to use engagement marketing offline. You can run in-store events or contests, etc.

The more meaningful engagements you have with your audience, the stronger your relationship becomes.

And because they trust you, your sales and marketing campaigns become more effective since your audience is open to dealing with you.

Whether you're running a social media, influencer, or inbound marketing campaign, you can find a way to incorporate (and highlight) audience engagement into your marketing plan.

Reinforce key engagement marketing elements. If you create content that encourages your audience to interact with your brand, you will have engagements.

When you join in the conversation by replying with meaningful comments, rather than replying just for the sake of it, your audience will interact with you more.

Yes and no.

Yes because the more people you interact with, the more chances you have of winning a customer. No because you'll likely encounter spammers and online trolls. It's wise to do whatever you can to remove their posts.
What's next?
Engagement marketing produces far-reaching benefits. They go far beyond lead generation and sales. You will build long-lasting relationships with customers, which will extend their customer lifetime value (CLV).
Now you understand how engagement marketing works, so start developing a marketing campaign.
We're firm believers in the Golden Rule, which is why editorial opinions are ours alone and have not been previously reviewed, approved, or endorsed by included advertisers. The Ascent does not cover all offers on the market. Editorial content from The Ascent is separate from The Motley Fool editorial content and is created by a different analyst team.
The Motley Fool has positions in and recommends Target. The Motley Fool has a
disclosure policy
.