The Complete Guide to Small Business Compensation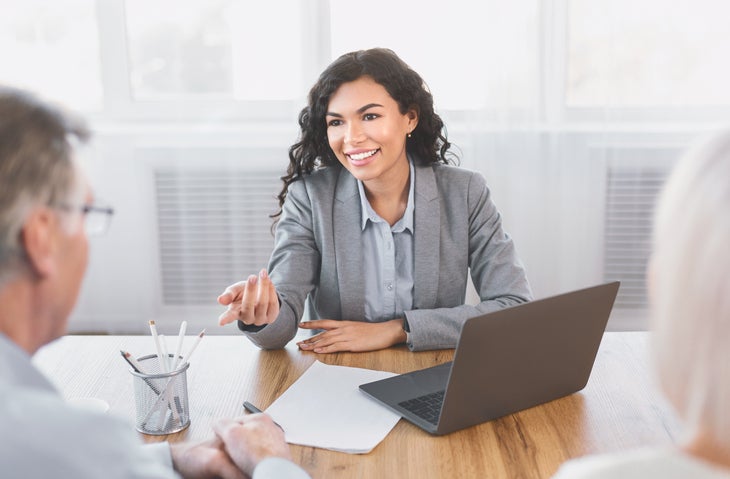 Many or all of the products here are from our partners that compensate us. It's how we make money. But our editorial integrity ensures our experts' opinions aren't influenced by compensation. Terms may apply to offers listed on this page.
Compensation plans are essential to budgeting for labor in your small business. The Ascent guides you through the key points you should have in in your plan.
A key part of your business plan is how you will budget for compensation. What types of incentives and benefits will you pay? How will you promote employees and give raises? How do government-imposed costs factor into the equation?
We'll go over these questions, review the different types of compensation, and show you how to build your compensation plan.
Overview: What is compensation?
Compensation is the total dollars paid to your employees. It includes their base salary, any incentive pay, travel and food allowances, and the cost of all employee benefits, such as insurance and retirement account contribution matching.
Types of compensation
The different types of compensation can be broken down into the following six categories.
1. Base pay
Base pay is an employee's salary or pay per hour. It is the number that shows up as gross pay on paychecks.
Base pay is generally the negotiable amount that is agreed upon in the hiring process. The other forms of compensation are typically uniform across the company.
2. Overtime and other shift differentials
Time and a half pay is required for any hours worked over 40 each week. Other shift differential pay is not required by the government, but is a generally accepted practice in business.
Night shift differential can be paid for hours worked at night. Holiday pay, which is usually the same time and a half amount as overtime, can be paid when work is required on a holiday, such as Christmas or Thanksgiving.
3. Commissions
A commission is a type of incentive pay that is tied to a specific sale. When you buy a car, the salesperson was likely paid a percent of the sale. When you buy a house, your agent and the seller's agent made a commission of around 3% of the sale each.
Commissions most often feature in the compensation packages of salespeople; they are designed to incentivize more sales. But don't be afraid to offer some sort of commission pay to other members of your staff as well.
If you run an appliance repair company and your technicians do well at selling new appliances, pay them a percent of the sale. If you have a retail shop, offer front register people a commission for any big-ticket purchases they handle.
4. Other incentive pay
Here are a few other types of incentive pay:
Bonuses: This is the simplest type. At the end of the year, if the business did well, you pay each employee an extra amount as a show of appreciation.
Merit-based incentives: More structured than bonuses, merit-based incentives are paid based on a metric determined before the year begins. For managers, it can be based on profit margin for their department. For salespeople, it might be sales volume. For vice presidents, it can be return on capital for their area of business. The key is that the metric is set ahead of time and employees can work toward achieving it throughout the year.
Profit-sharing plan: Profit-sharing plans are variable payments to a defined contribution (think 401(k)) plan that allows you to make pre-tax payments to an employee's retirement account when the business has a good year. The contributions are not required each year, so you can set company-wide goals and make the contribution when they are met.
Stock: If your small business is starting to grow into a big business, think about issuing shares of the business as incentives to key employees. There is no better way to align incentives among management than ownership in the business.
5. Benefits & labor burden
Benefits are all the compensation expenses that employees don't see on their paychecks. They include 401(k) matching, the employer portion of health insurance costs, vacation and sick pay, and employer-paid life insurance plans.
Labor burden is the cost of employing people, including the employer portion of FICA taxes, unemployment taxes, and worker's compensation insurance.
6. Allowances
When employees travel for business, you can provide meal and mileage allowances. In 2020, the IRS maximum level for employee mileage reimbursement is 57.5 cents per mile. Check this website to find the max daily per diem (meal allowance) by state.
Base pay vs. total compensation: What's the difference?
Base pay is the agreed-upon salary or wage per hour when employees are hired. When you write $120,000 per year as your salary on a mortgage application, that is your base pay (with the exception of some sales positions).
Total compensation is your cost for each employee. It includes not only base pay but also all of the other types of compensation included above that your payroll software will allocate each period.
How to create a compensation plan for your small business
Creating a compensation plan will help you decide how to do payroll and what compensation philosophy will guide your business decisions. Here are the steps to creating your plan:
Step 1: Set classifications
When your business is still cultivating mass and you have three or four employees total, each employee probably has a lot of different responsibilities in different areas of the business.
As you grow, it becomes more important to divide responsibilities into different positions. You don't want your accountant doing marketing (trust me).
As you get even bigger, you will eventually need to create tiers within departments along which employees are promoted up to different levels.
Take a look at the below graphic for an example of the typical tiers in financial firms. Each position has distinct responsibilities and its own pay scale.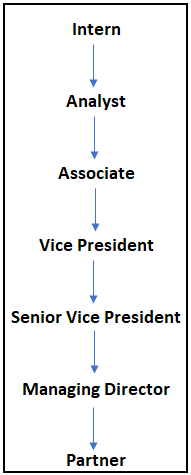 Step 2: Research the market
There aren't a whole lot of original ideas in business. Don't be afraid to investigate what your competitors are doing for compensation. You don't want to be surprised if one of your employees jumps ship for better pay, and you will need to know average compensation amounts when hiring new employees.
Step 3: Set base pay
Following market research, work on a budget for each department and determine the amount of labor each can bear. Use that total to determine how many employees from each tier you will employ for the department and what the base salary or wage per hour will be for each department and tier.
Generally, high-level employees are paid a base salary and lower level, or more trade-based, employees are paid per hour.
Step 4: Determine incentives and benefits
It's important to determine what your incentive plan will be ahead of time. If you're able to pay a bonus one year but not the next, without an explanation, employees will be disgruntled. Work with department heads to determine the best plans for their area of the business and present that to employees.
Some businesses pay commissions with each paycheck, and some pay in lump sums annually. If you choose to pay annually, make sure to set aside cash to make the payments and consider whether you will allow employees to get advances in the form of draws against commissions.
For benefit plans, keep two main things in mind: choice and cost. There is certainly a trade-off between the two, but finding a good plan cost-wise that has plenty of choices for employees is the best way to go.
Step 5: Create an employee evaluation plan
In my experience, annual employee evaluations can easily become a joke if not taken seriously. When I was a loan underwriter, I had a year where I had received the same evaluation and cost-of-living salary increase as an underwriter who had half as many deals close as I did that year.
Needless to say, I was frustrated.
Create an easy-to-understand evaluation report that points toward merit-based pay increases if they are deserved. And make sure your management team takes the report seriously and does not treat it as just another box to check. Many good employees thrive on recognition, and all employees thrive on more pay.
Are there regulations that affect compensation?
Here are some key government regulations to keep in mind when you work on your compensation plan:
Overtime: The federal government mandates time and a half pay for employees working over 40 hours per week. This applies only to employees covered by the Fair Labor Standards Act (FLSA), who are generally hourly employees.
Health insurance: The government does not require you to pay for health insurance for employees. However, if you have more than 50 employees and do not provide it, the government will assess you a fine per employee. Additionally, when you do provide health insurance, the government requires that the business pays at least 50% of the premium cost.
Per diem and mileage reimbursement: Per diem and mileage rates change each year, so make sure to keep up with the most recent amounts when budgeting.
Workers' compensation: Your state may monopolize workers' compensation insurance. If it does, you are required to pay a certain amount to the state each quarter based on compensation for that period. If it does not, reach out to your insurance broker to obtain the insurance privately.
A compensation plan that makes cents
Designing your compensation plan is the first step to developing your whole payroll process. Make sure to set simple procedures and follow up with employees to ensure that they understand and agree with how they are compensated.
Alert: highest cash back card we've seen now has 0% intro APR until 2024
If you're using the wrong credit or debit card, it could be costing you serious money. Our expert loves this top pick, which features a 0% intro APR until 2024, an insane cash back rate of up to 5%, and all somehow for no annual fee. 
In fact, this card is so good that our expert even uses it personally. Click here to read our full review for free and apply in just 2 minutes. 
We're firm believers in the Golden Rule, which is why editorial opinions are ours alone and have not been previously reviewed, approved, or endorsed by included advertisers. The Ascent does not cover all offers on the market. Editorial content from The Ascent is separate from The Motley Fool editorial content and is created by a different analyst team.
Mike Price
has no position in any of the stocks mentioned. The Motley Fool has no position in any of the stocks mentioned. The Motley Fool has a
disclosure policy
.