The 8 Best Agile Tools for Crushing Your Iterative Projects
Many or all of the products here are from our partners that pay us a commission. It's how we make money. But our editorial integrity ensures our experts' opinions aren't influenced by compensation. Terms may apply to offers listed on this page.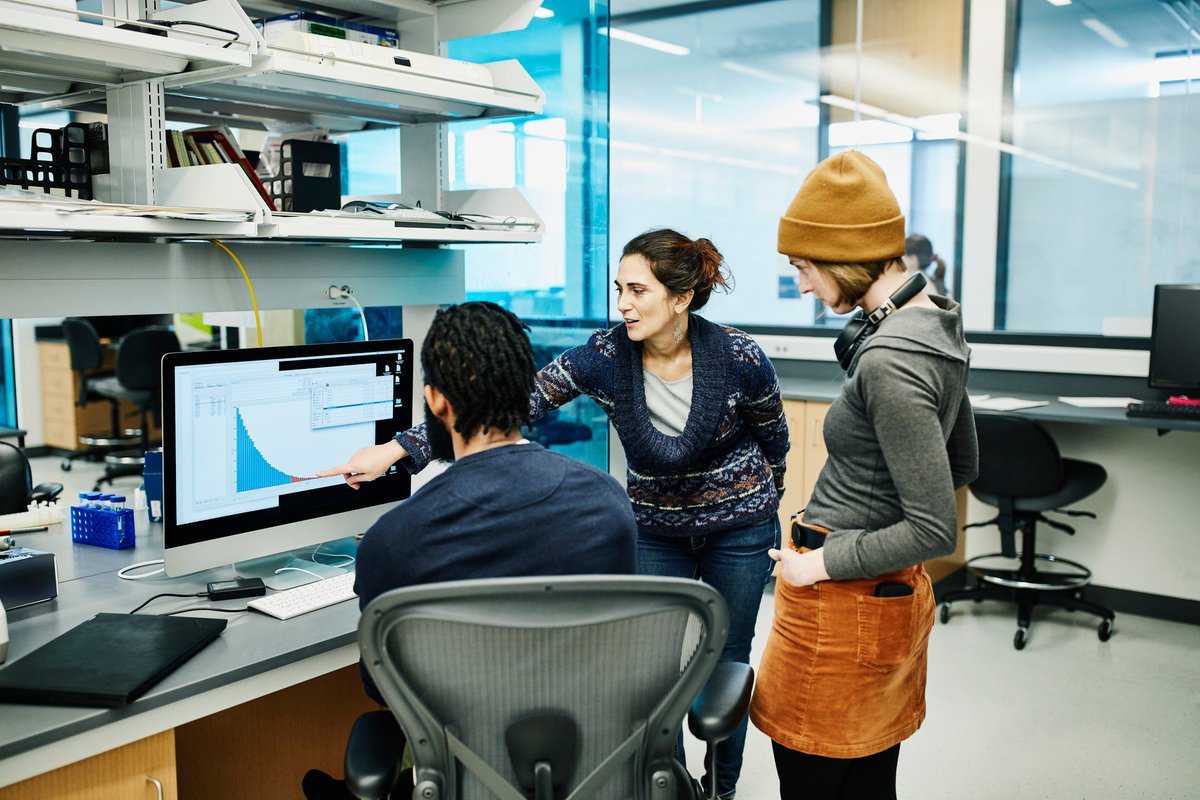 If you're looking to adopt a project management software that'll meet all of your agile needs I've put together a list of the eight best options along with the highlights of each tool.
Agile is one of the most popular project management methodologies these days. Everyone from software developers to marketing teams are implementing agile into their planning and execution processes and therefore are looking for tools to help put it into practice.
Agile is an iterative form of project management that prioritizes frequent assessment and rapid delivery of all project deliverables. Those who implement this methodology are looking for ways to ensure a quick and accurate turnaround of these deliverables that involves the stakeholders in the development process.
This is in juxtaposition to the more traditional waterfall method of project management which entails planning out the entire project ahead of time and executing the plan in a linear fashion.
If you're looking for a project management software that'll meet your needs when executing your agile ceremonies, I've compiled a list of the eight best platforms I've found for all styles and skill levels.
Here's our picks for the top agile project management tools your small business should use:
ClickUp
Wrike
Targetprocess
Jira
Airtable
Trello
Asana
What to look for in a great agile project management tool
With those definitions in mind, there are certain features and offerings that make for a great agile project management tool. While most project management platforms can be appropriated for implementing an iterative workflow, there are certain features or benefits that make a platform better suited for agile, such as:
1. Kanban boards
Kanban project management is meant for tracking the progress of work as well as identifying bottlenecks in the established workflow. These boards are a visual tracking tool that include steps in the form of "lists" along with task cards that are moved along the board as they pass through steps of review and completion.
Kanban boards are flexible and can be adapted to the changing nature or scope of the project.
2. Scrum boards
While scrum boards are sometimes lumped together with kanban boards, they are slightly different in their structure and function. Where kanban boards are flexible based on the needs of the project, scrum boards follow a very specific and rigid methodology.
Under a scrum system, teams will set a certain number of tasks within a defined period of time (sprint). These tasks move along the sprint board which typically includes these four steps:
To Do
In Progress
Test (or review)
Done
While there are those who take sides in the kanban vs scrum debate, there is a time and place for both of these methodologies.
3. Agile reports
Iterative processes work best when you're able to track and improve upon your progress after your team reconvenes each time. That's why it's important to track your metrics using specific reports, such as burndown charts, sprint backlogs, and team capacities.
While these can be tracked manually, it's always best when your project management tool can build these reports for you.
Our top 8 agile tools for successful project management
Now that you understand what features make for a great agile project management software, here is my list of the best tools you can find. Each of these tools offers at least one of these features while most offer all three. I've even included an option for those looking for free agile tools. Happy hunting.
1. monday.com
monday.com is the perfect blend of versatility and usability, making it the number one choice in my list for the best agile tools.
This platform offers its own proprietary "board" system for project planning and management and can be easily customized to become your scrum planning tool, complete with iterative sprints, detailed reports, and project backlogs.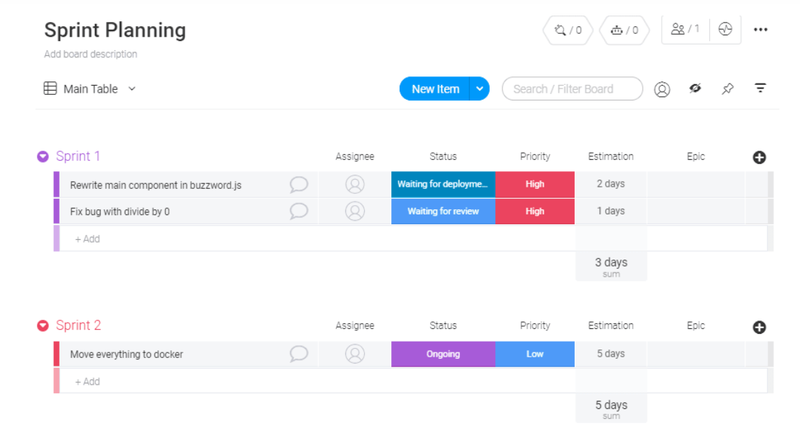 Despite the fact that monday.com uses its own proprietary system, this tool is exceptionally easy to use and even visually appealing to boot. You'll be able to manage all of your sprints, stories, tasks, and even bugs. And it's great for software development and IT project management all in a single board.
Once you've completed your sprints, you'll be able to create streamlined reports that'll help your team improve throughout your iterative process. All of this put together in a visually compelling package makes monday.com one of the best, if not the best, agile project management tool on the market today.
Read The Ascent's full monday.com review
2. ClickUp
Like most options on this list, ClickUp is highly customizable, making it perfect for managing your agile workflows. In fact, ClickUp has even developed a detailed guide for setting up an agile/scrum workflow using custom fields, project goals, and lists.
This way you can manage and track your sprints, including the tasks that are in progress, completed, and have not yet been completed.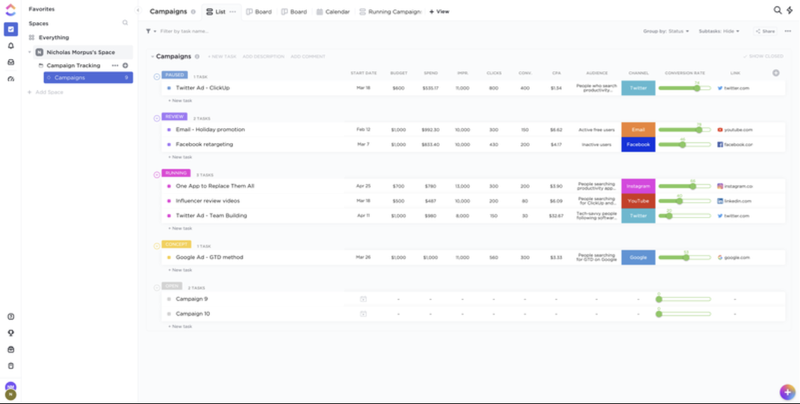 ClickUp is a very impressive agile planning tool that offers lots of functionality, including task lists, kanban boards, project budgeting, file sharing, team communication, and time tracking.
I tested out this platform using its marketing management templates and I was extremely impressed at the level of detail this tool gives you, including conversion rates, ad spending, even clicks.
What I like best about ClickUp are their reporting options, which are very beneficial for agile's iterative processes. These report options include burndown charts, velocity charts, and cumulative flow reports for identifying bottlenecks.
3. Wrike
Wrike is a flexible and scalable project management tool that provides you with plenty of task management and oversight options perfect for implementing agile methodologies. These features include kanban boards, issue tracking, resource management, and detailed project reports.
Using Wrike as a scrum management tool, you can easily plan out your tasks, re-evaluate them if necessary, and measure successful processes using these dashboards and Wrike's reporting features.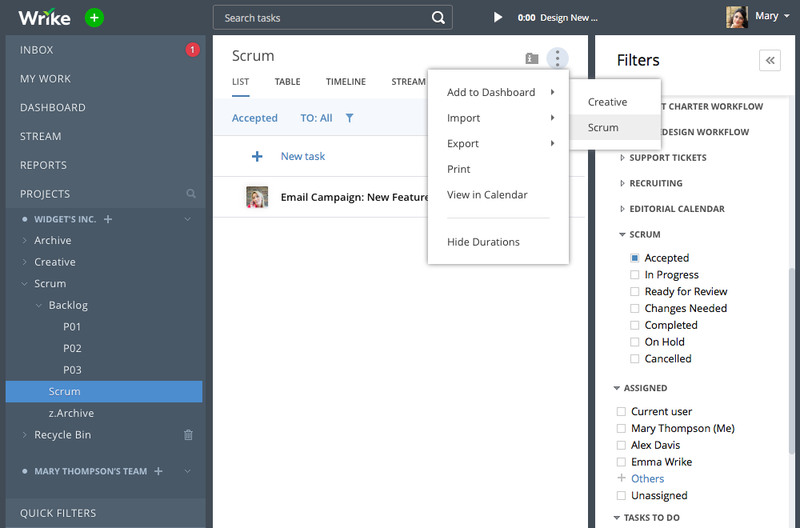 In order to make things even simpler for new users, Wrike has even written up a useful agile guide for creating an iterative scrum workflow using their software. It's a simple four-step process that I was easily able to replicate while testing it out on their free trial.
On top of it all, Wrike has an easy to navigate user interface that anyone can learn to use with the quick tour offered as soon as you sign up.
Read The Ascent's full Wrike review
4. Targetprocess
Targetprocess was built from the ground up with agile methodologies in mind. This platform is impressive considering its long list of features, capabilities, and management styles, including kanban boards, burndown charts, sprint planning, team iterations (perfect for scrum), and custom workflows for building your own agile process.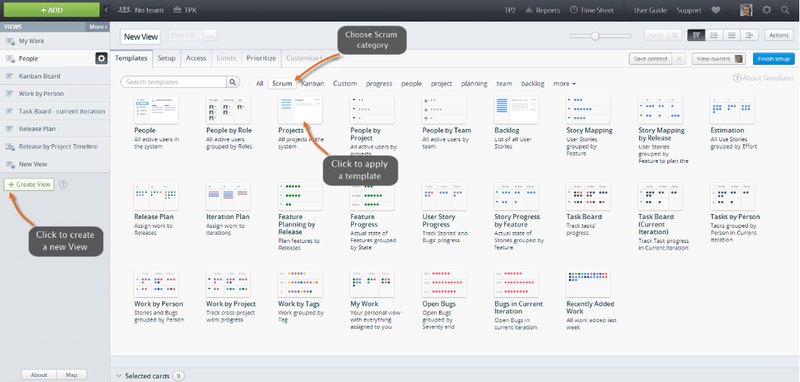 While this tool is very impressive when it comes to capabilities, the one drawback I found was the slightly confusing navigation and user interface. I had to take full advantage of the tours and guides in order to get up to speed using this platform.
That being said, once I understood where everything was and how to use it, I found Targetprocess to be one of the most capable agile software tools on this list.
5. Jira
My favorite part about using Jira is the fantastic startup process. Some project management platforms force you to mold your project to fit their software, whereas Jira does their best to conform to your needs, including agile methodologies.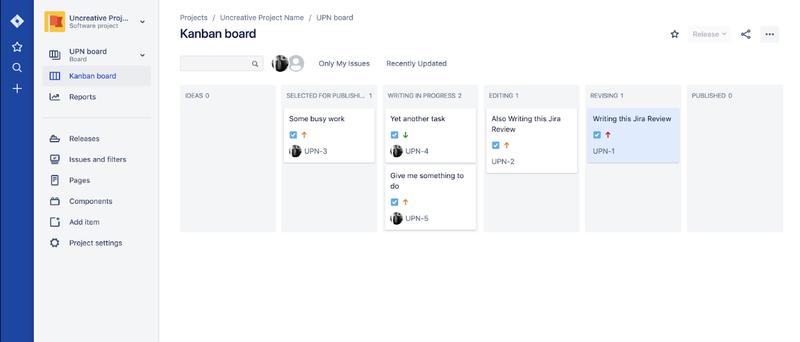 Jira offers scrum, kanban, and other mixed forms of agile that you can develop within the software. This makes Jira great for teams with unique needs. Furthermore, Jira is also a very simple tool to learn and is easy to navigate, which is a big change from the last time I used this platform professionally.
Atlassian has gone above and beyond to ensure a user-friendly experience when managing and tracking your projects in Jira.
Read The Ascent's full Jira review
6. Airtable
What makes so many of these tools great for agile project management is the fact that they are versatile, but few are as customizable as Airtable. If agile is the management style you're looking to execute, Airtable is a great tool for building and managing your workflow.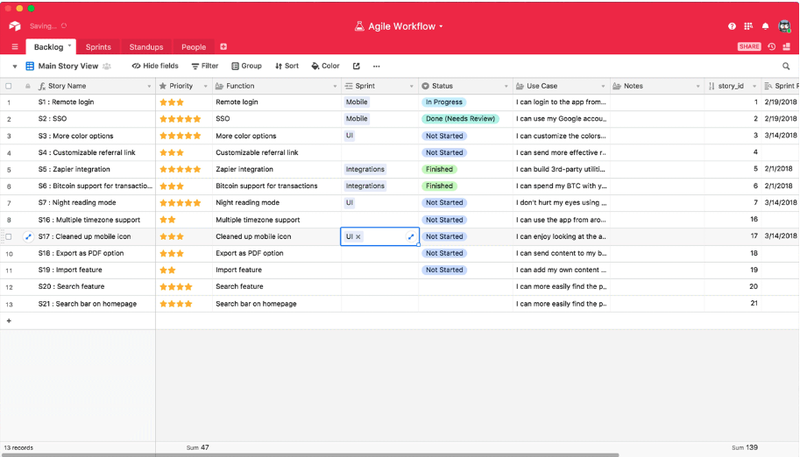 This is especially true if you and your team thrive while using spreadsheets and kanban boards, which Airtable offers in spades. In order to make things easier for the users, Airtable even wrote out a detailed guide for building all kinds of agile workflows in their software which includes images and animations to help you along.
Read The Ascent's full Airtable review
7. Trello
If all you're looking for in your project management software is the ability to manage and track your agile workflow, then Trello is a fantastic option.
Not only is the kanban system visually pleasing and user-friendly, but Trello also provides you with agile specific templates to choose from in order to save you the trouble of building your own from scratch.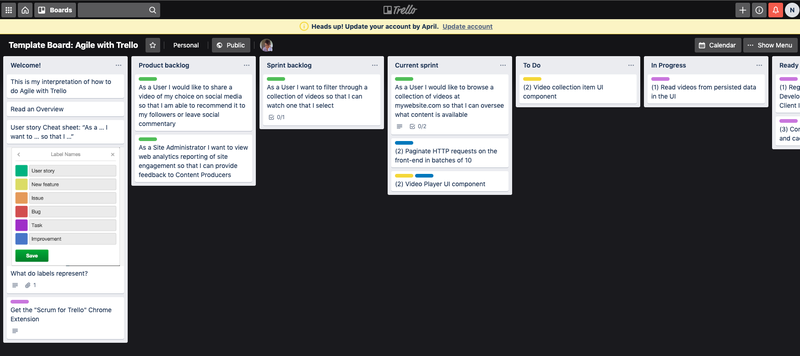 However, while Trello does excel in kanban project management, the lack of other forms of task management limit its ability as an agile tool. Additionally, Trello lacks any native reporting tools which definitely hinders the ability to reflect on team progress during sprint iterations.
That being said, in my opinion, if all you want are kanban boards to track your workflow, then you've found the best platform for this function.
Using Trello for project management is easy enough for anyone at any skill level to learn, and the agile templates provided will provide the necessary framework for an effective iterative workflow.
For those of you out there with slim budgets, Trello also functions well as a free project management software thanks to the generous capabilities offered by the vendor before you ever have to pay a cent.
Read The Ascent's full Trello review
8. Asana
Asana has nearly all of the right ingredients to make for the perfect agile tool. It is a very user-friendly tool, offers kanban boards, functions well as a project tracker, and is customizable enough to plan out your project sprints.
However, Asana suffers from many of the same issues as Trello, such as a lack of reporting functions that are key to making improvements as you transition from sprint to sprint.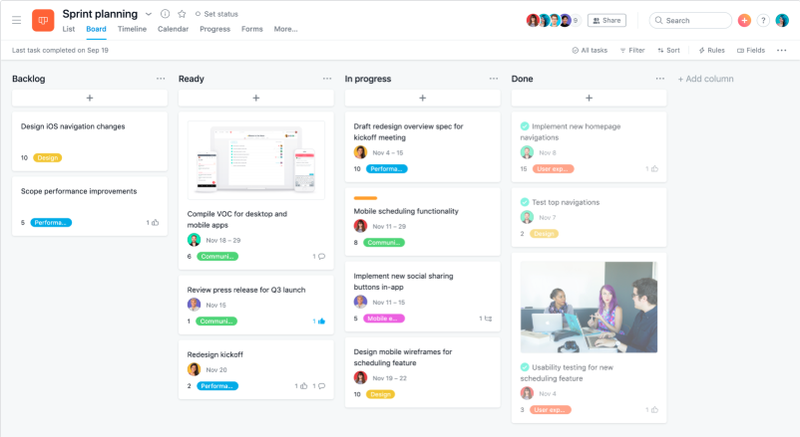 Any reporting you need will have to be conducted by you and your team until Asana decides to add these features to their tool. However, if this isn't an issue for you, Asana is a great tool for project managers looking to improve collaboration during project execution.
This platform has some of the best workload management and communication features that I've seen in a project management tool, making it a worthy contender for this list.
Read The Ascent's full Asana review
The Ascent has everything that you need
Whether you found the right tool on this list or not, we've reviewed plenty of other project management software options complete with detailed insights into their features, pricing, and user-friendliness. Once you've found the software you need, the benefits don't stop there.
We have lots of useful guides and how-tos for all aspects of project management and other business needs so you'll never be left in the dark during your next big assignment. Be sure to check them out.
We're firm believers in the Golden Rule, which is why editorial opinions are ours alone and have not been previously reviewed, approved, or endorsed by included advertisers. The Ascent does not cover all offers on the market. Editorial content from The Ascent is separate from The Motley Fool editorial content and is created by a different analyst team.
The Motley Fool has no position in any of the stocks mentioned. The Motley Fool has a
disclosure policy
.