8 Free Project Management Software Tools to Keep Your Team on Track
Many or all of the products here are from our partners that pay us a commission. It's how we make money. But our editorial integrity ensures our experts' opinions aren't influenced by compensation. Terms may apply to offers listed on this page.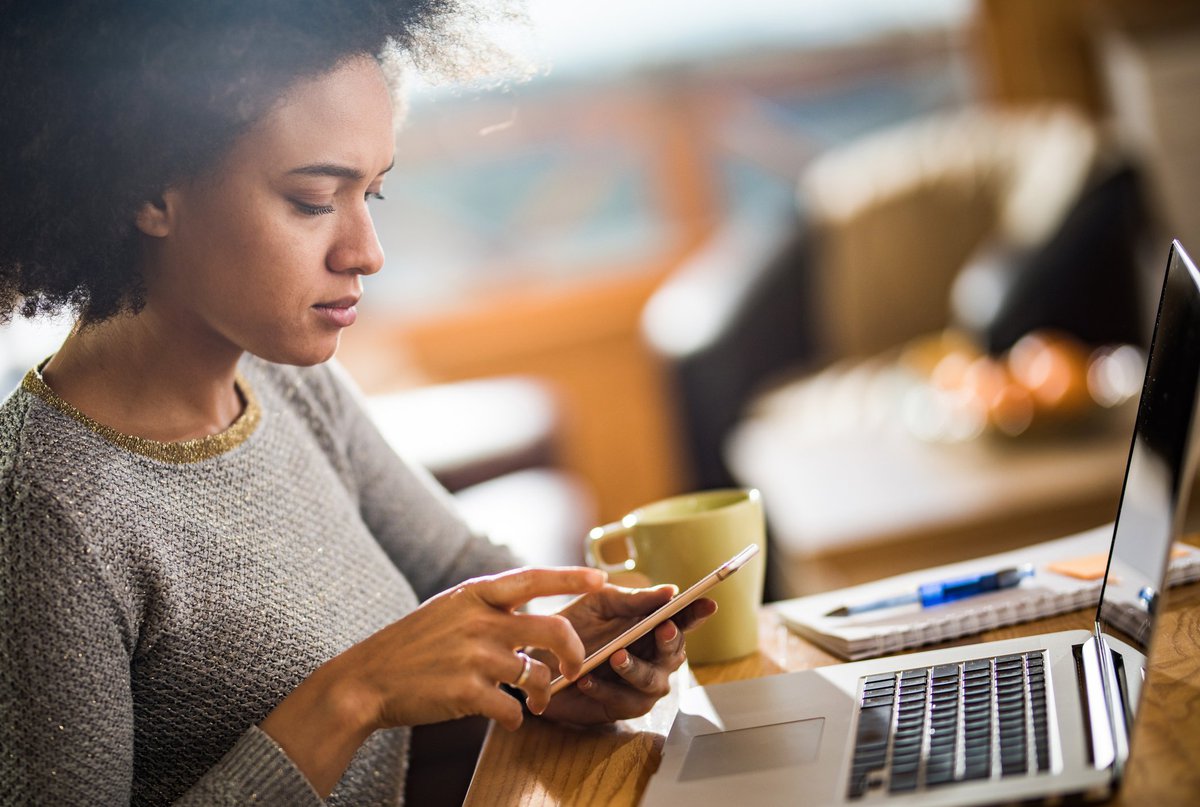 If you're in need of project management software but don't have the money to spend on an expensive platform, here are eight options you should consider.
The best things in life are free, particularly software. Not every company has the luxury of a large project budget, but a lack of funding shouldn't mean you have to leave technology behind. While most project management tools fall on the expensive side, there are plenty of free options out there on the market that'll do nearly everything you need them to do.
That's why I've put together this list of eight free project management tools that appeal to all kinds of project types and team structures. In fact, many of these tools are freemium options, which means if you like the platform you're using you have the option to upgrade to a paid version which comes with additional features and options.
What to look for in a free project management software
Before I get to the list, here are three criteria I've put together that I believe exemplify a quality project management software. All eight of these free project management apps meet at least one of the three characteristics listed below.
1. Core functionality still exists
I've seen some tools hide some of the core functionalities of their software behind a subscription paywall, and in my opinion, that's not the right way to do business. This list I've compiled features free project management software that maintains the structural integrity of what it should do without having to pay a dime.
If you're offering a free software option, users should be able to manage a basic project from start to finish without running into any major holdups due to limitations. In most cases, you should only have to pay for the added conveniences and proprietary functionality that enhances your experience while using the software. Every tool on this list exemplifies this philosophy.
2. Offers at least five free users or more
With the exception of one tool on this list, every single free software option offers access to at least five users. In fact, many of the platforms listed below allow you to add unlimited users to the tool, which is incredibly generous.
3. Doesn't expire after a predetermined period of time
Most project management software options offer some sort of free trial before you decide to take the plunge and purchase their product. That is not what we are looking at here today. A true free software doesn't expire after two weeks, a month, or one year, but is available indefinitely to users who stick within the confines of the free feature limitations.
Our 8 free project management software picks
While writing up this list, I didn't take my individual review scores on The Ascent into consideration because those were based on the products as a whole rather than just their free options. These rankings were made based on the amount of functionality, user friendliness, and the limits, or lack thereof, placed on these free versions.
1. Freedcamp
When it comes to free project management software, Freedcamp has so much to offer its users. While this platform isn't completely free, meaning there are other paid pricing tiers, what it does offer with its free option is a generous combination of unlimited users, projects, file storage, and tasks.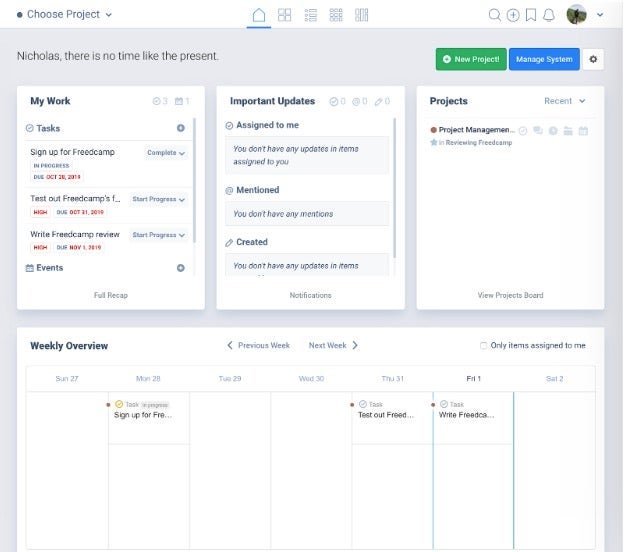 The name truly fits the package when it comes to Freedcamp. All of the standard project management features are included, such as task lists, shared team calendars, time tracking, and team communication capabilities.
If you decide to venture into the paid options for Freedcamp you'll gain access to lots of extras like software integrations, issue tracking, invoicing, and even CRM capabilities.
2. ClickUp
I was about ready to give ClickUp the top spot for this list since they offer unlimited users and tasks with their free tier on top of a superior and attractive user interface when compared with Freedcamp. However, ClickUp falls behind Freedcamp in one very important area and that's file storage space, which is limited to 100MB, which is not a lot.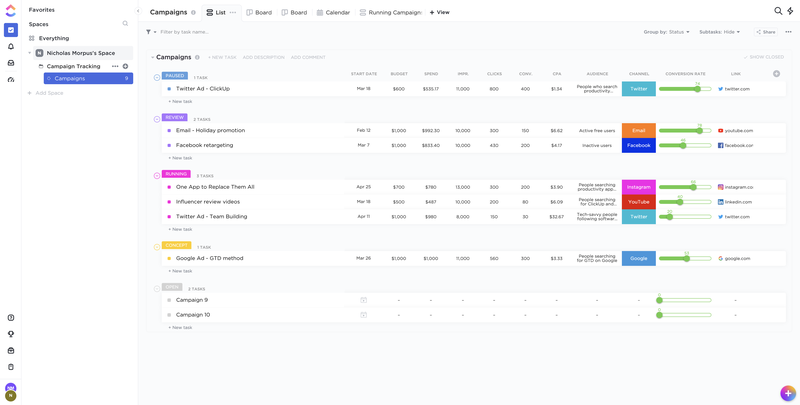 That being said, ClickUp is a very impressive platform that offers lots of functionality with its free option, including task lists, kanban boards, project budgeting, file sharing, team communication, and time tracking. I tested out this platform using its marketing management templates and I was extremely impressed at the level of detail this tool will give you, including conversion rates, ad spending, even clicks.
If you're looking for additional functionality such as Gantt charts, reporting, unlimited file storage, or guest permissions, you'll have to upgrade to one of their paid tiers.
3. Trello
I've made no mystery of my love for Trello. It's a fantastic platform for users looking for a streamlined and simple kanban experience.
In fact, I believe it's the best kanban project management software on the market today due to the fact that Trello knows exactly what it can do and what it cannot do.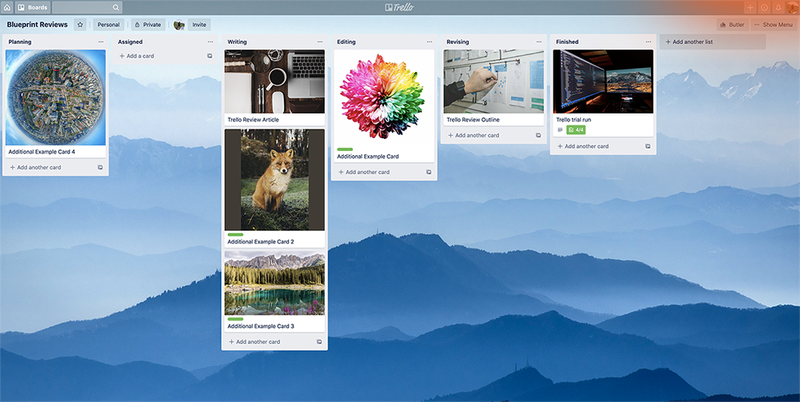 What I mean by that is Trello doesn't bill itself as a do-it-all project management software, unlike other tools I've seen that don't quite meet expectations.
Trello focuses on what it does best, which is offer a simple workflow system that anyone can learn in ten minutes and get down to business managing their tasks and monitoring project progress. So long as you understand the limitations of a kanban-only platform, using Trello for project management isn't an issue.
The free version gives users unlimited personal kanban boards, unlimited cards, unlimited lists, a 10MB file attachment limit, 50 automated commands per month (for repeatable tasks), and even two-factor authentication for security purposes. That's a lot to offer in a free software package.
4. Airtable
Airtable also happens to be a member of the "unlimited users included in its free option" club. I believe this criterion is significant considering the fact that many project management software options out there charge sometimes hefty "per user" fees with their subscriptions, including Airtable.
Offering unlimited users with your free version tells me that you are confident in your user experience and features list that you know customers will want more and will eventually pay for the privilege. In the case of Airtable, they're right.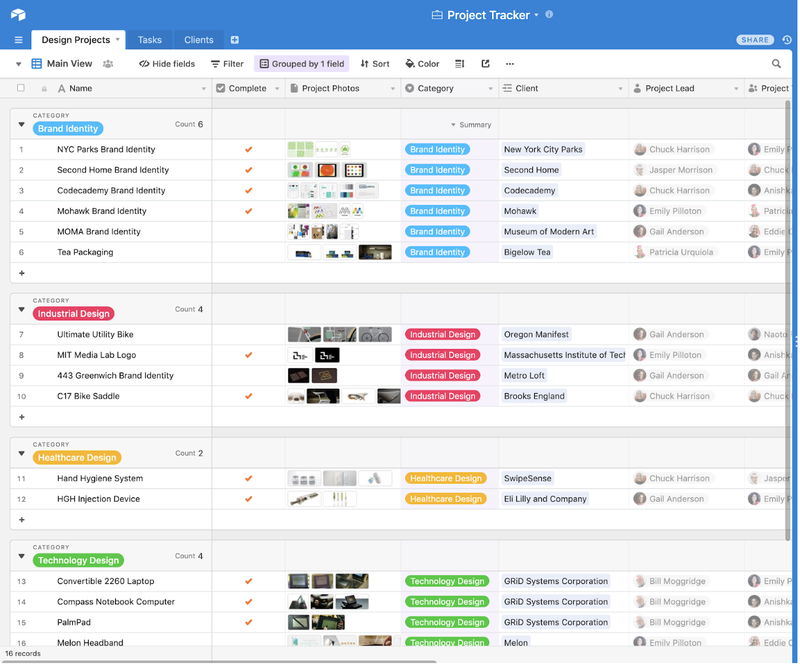 Airtable is for the creatively bent project manager who also appreciates the versatility of a spreadsheet. This platform simultaneously offers visually pleasing task management options such as task galleries and kanban boards, while giving users the customizability of spreadsheet views for creating detailed task lists and even budgets.
On top of unlimited users, Airtable also offers unlimited projects, a 1,200 record limit per project, a 2GB attachment limit per project, and even email support with their free tier.
5. Basecamp
Basecamp has just recently stepped into the free online project management software world. Before this development, their tool was only available for free to nonprofit organizations and teachers. This new free version named "Basecamp Personal" is available to anyone but they emphasize that it is perfect for freelancers, students, families, and other personal project needs.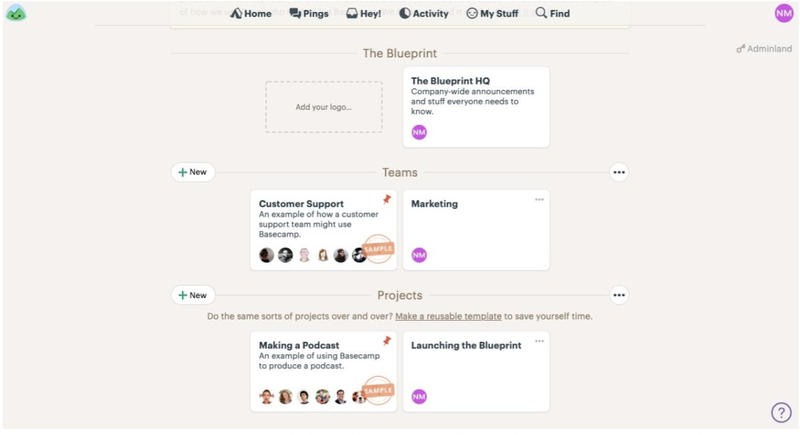 What this means is that you get access to all of the straightforward simplicity of Basecamp's no-frills platform with only small limitations, such as a 20 user limit, three simultaneous projects at a time, and a 1GB storage space limit.
Everything else is available to free users, such as task lists, project schedules, and discussion boards. It's the perfect entry-level offering before users take the plunge to purchase the full $99/month platform.
6. Asana
We're down to the wire on our last three options on this list, but they are certainly not least. If I had one sentence to describe Asana it would be: "It's the near perfect balancing act between user experience and functionality."
I consider user experience and functionality to be a spectrum. Some tools lean very hard on user experience, but sacrifice functionality, while others do the opposite. Asana does a great job of meeting in the middle by giving users easy project management software that can't do everything, but it'll do almost everything you need to complete your tasks minus some reporting and financial management features.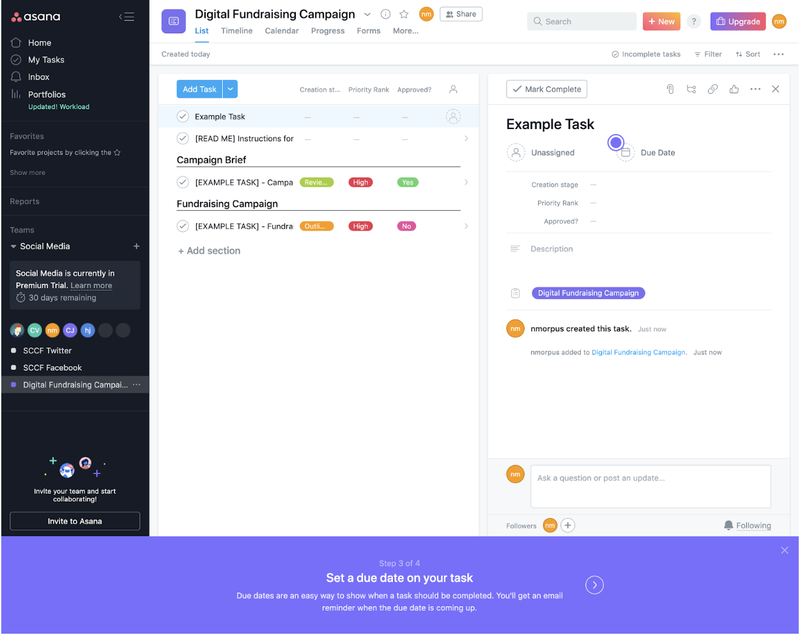 This is just as true with Asana's free version as it is with its paid options. Without paying a dime, you get access to Trello's task lists, kanban boards, shared calendars, app integrations, and a 15-user limit.
Sure, you're leaving behind some of the special features like workload management and priority support, but if you're looking for a free tool, you're obviously OK with making some concessions.
7. Podio
Podio is a bit more limited in its free option than many others on this list, but not exactly in the way you'd expect. While it does put a stringent five-user limit on its free version, where the real limitations come into play is the lack of a user-friendly interface.
The truth is, Podio is extremely capable and versatile as a project management tool, but it does come with a somewhat steep learning curve and that impacts its overall effectiveness as a free platform.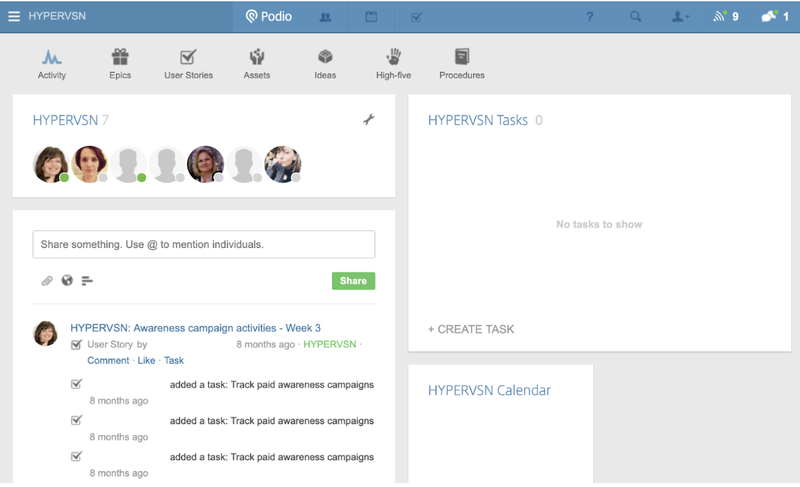 While some users might give Podio's free version a try in order to test out what they have to offer before purchasing a paid version, most people looking to use a free software with only a five-user limit are more likely to be less experienced project managers looking to save money.
If you fall into the "testing" category, Podio offers most of its core features with their free version, including task management, budgeting, file sharing, time tracking, team communication, and a shared team calendar. If you're not very experienced, I'd recommend considering the other seven simple project management software options on this list.
8. Microsoft To Do
I debated including Microsoft To Do since it isn't full-fledged project management software, but I figure that personal projects need a little love on this list. Good thing Microsoft To Do fills that role in spades, and I can say that from plenty of personal experience.
Microsoft To Do is completely free and because of this, I've abandoned Todoist as my personal free project tracking software in favor of this application. I even used this tool to track my entire move last year from Washington D.C. to Portland, Oregon.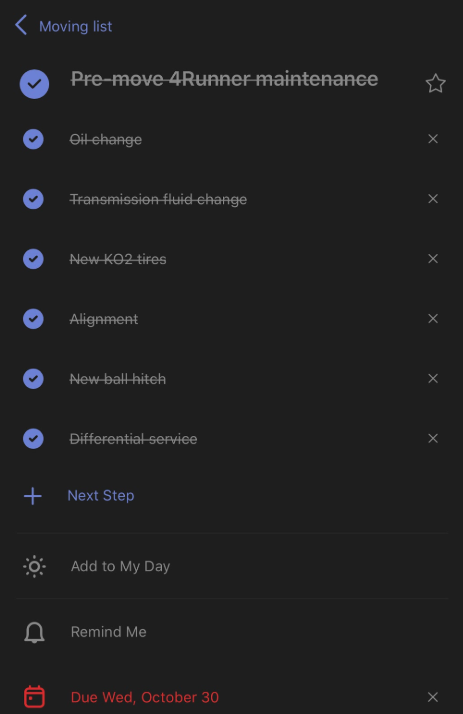 What makes Microsoft To Do so fantastic as a free project planner is the fact that it covers all of your core task tracking needs coupled with an attractive user interface. You can manage your tasks, store any relevant files, share these files with other app users, set task reminders, and create task checklists.
This is definitely an exceptional product in Microsoft's lineup and that's saying something considering everything that massive company has to offer. Sometimes it's the simple things that stand out.
The Ascent has what you are looking for
If you haven't found the right solution in this list, don't worry, there are lots of other easy project management software options and organization apps that we've reviewed here on The Ascent.
Whether you're looking for marketing project management software, software alternatives, or project management how-to guides, we're the perfect resource for project managers of all experience levels.
We're firm believers in the Golden Rule, which is why editorial opinions are ours alone and have not been previously reviewed, approved, or endorsed by included advertisers. The Ascent does not cover all offers on the market. Editorial content from The Ascent is separate from The Motley Fool editorial content and is created by a different analyst team.
The Motley Fool has positions in and recommends Microsoft. The Motley Fool has a
disclosure policy
.