The 6 Steps for Creating the Perfect Implementation Plan
by Nicholas Morpus | Updated Aug. 5, 2022 - First published on May 18, 2022
Many or all of the products here are from our partners that pay us a commission. It's how we make money. But our editorial integrity ensures our experts' opinions aren't influenced by compensation. Terms may apply to offers listed on this page.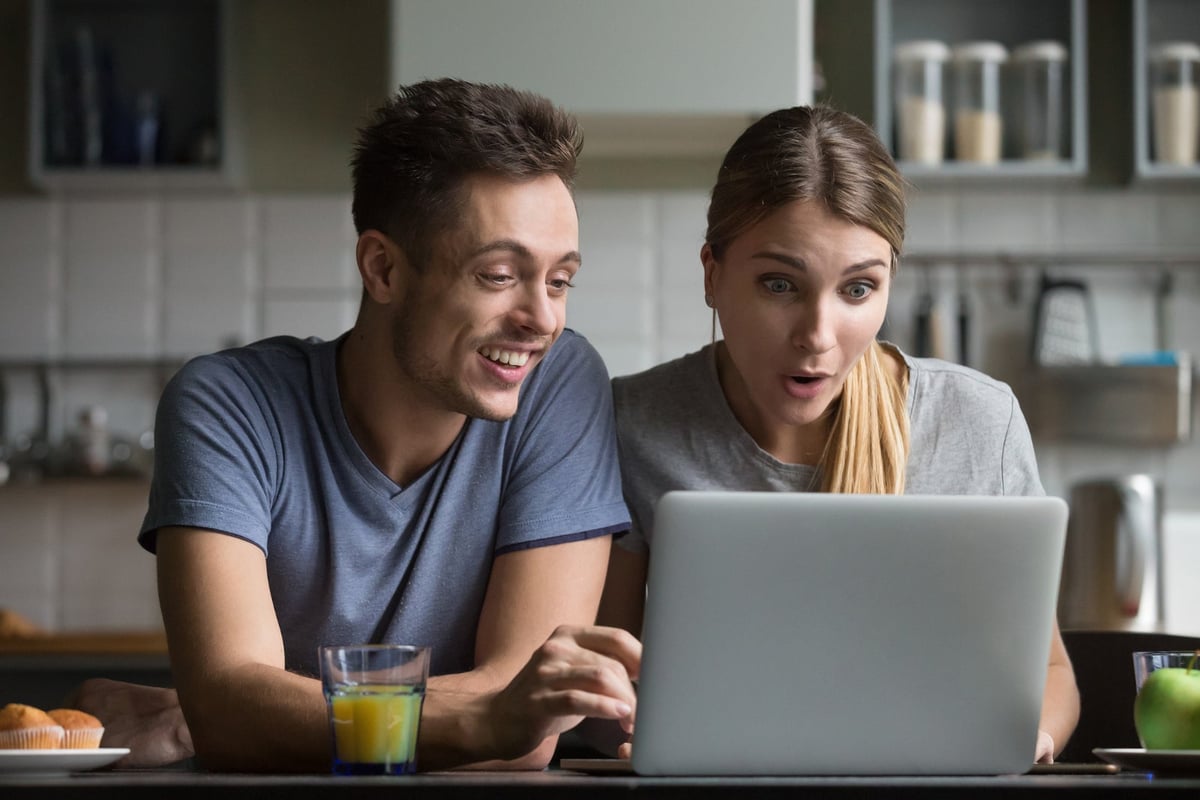 Every business decision needs a solid strategy to guide the execution and evaluation necessary for success. These are the six steps you'll need to follow in order to create your implementation plan.
Whether you're starting a new business, creating a new team, or trying out a new marketing strategy, you can't dive right in and throw money at the first solution you stumble upon.
Strategic project planning is the cornerstone of a successful venture, just like every other business decision you make. You need an implementation plan to help you navigate the treacherous waters of undertaking a new strategic decision.
Overview: What is an implementation plan?
An implementation plan supports a strategic action plan process for all kinds of business operations and practices, whether you're executing a new marketing plan or introducing a new software platform to your organization.
The implementation plan dictates the actions and methods you'll use to turn your strategy into reality.
How to create an implementation plan
Building your strategic implementation plan may seem daunting the first time but don't worry, I've laid out the six implementation plan steps.
Step 1: Brainstorm your desired outcomes
The first step is envisioning and determining what the final outcomes will be. Whether it's the adoption of a new software tool or a change in your team management strategy. Start with the endgame in mind.
Here are a few questions you need to answer about these outcomes:
Who stands to benefit from this change or addition?
How will they benefit?
What metrics will measure success?
Keep in mind the answers to these questions may shift as your implementation progresses. Just think of your answers as a springboard for the process.
Tips for brainstorming your desired outcomes
To help the process along, I've come up with a couple of tips to help you structure your outcomes.
Set goals: Base the goals of your implementation on the best possible scenarios, including launch dates, secured clients, improved productivity numbers, etc.
List contingencies: Implementing anything into your business strategy is a long process, prone to change. That's why it's important to brainstorm contingent scenarios. The risk assessment you conduct later in this process will help clarify these scenarios and contingencies.
Step 2: Assign implementation responsibility to an owner
While it's too early to start delegating individual responsibilities, it's important to establish an overall owner for this implementation process. This owner will take charge of tracking team productivity, assign individual tasks, and steer the implementation when the team veers off course.
Tips for assigning the implementation to an owner
One of the hardest decisions you'll make during this entire process is choosing someone to lead the planning and execution of your implementation strategy. Here are a few tips to help you make that choice.
Look for a great communicator: Everything about an implementation strategy or project is dependent on great communication, especially from those responsible for its success. Make sure the owner you choose has a long history of quality and timely communication with their teammates and superiors.
Look for an innovative thinker: The best leaders operate well under pressure and find innovative ways to solve unique problems. Your implementation will hit a few bumps along the way, so it's best to have someone competent behind the wheel.
Step 3: Conduct a risk assessment
It's time to ensure you understand all of the pitfalls before you proceed with your implementation plan. You don't want to work halfway through the process before you realize you didn't plan out buffer days to handle scope creep or additional panic funding in the budget.
This is why it's crucial to conduct a risk assessment before committing to this implementation.
Tips for conducting a risk assessment
Developing your risk assessment is your best defense against issues that might derail your entire implementation strategy. Here are a couple of tips for identifying and mitigating those risks.
Make your risk assessment a group effort: It's not possible for your implementation owner to know every issue the team might face. It's crucial to bring the team together for brainstorming sessions to gather all types of perspectives for risk and solution identification.
Evaluate case studies similar to your own implementation strategy: Nothing beats learning about the risks facing your project than studying those who've executed similar strategies to yours. Find out what worked and what didn't from the primary sources rather than only relying on hypothetical speculation.
Step 4: Establish a budget
Budgeting. Everybody's favorite project pastime (except mine). The key to a helpful implementation plan budget is to make all items and expenditures easy to measure and track.
Keep everything organized using spreadsheets or interactive budget tools offered by many project management platforms, such as Mavenlink or monday.com.
The two most pressing questions of this phase are:
What will it take to make this implementation plan a success?
How much are you willing to spend to make it a success?
Tips for creating a budget
Creating a budget is intimidating, but with the help of a few tips, you'll be filling out your line items with ease.
Take your risks into account: Risks pose a threat to any budget, whether those risks lead to longer execution windows, additional teammates, or the need for supplementary resources. Make sure you build buffers into your budget to make room for these issues.
Use similar implementation examples as a baseline: Like creating a risk register, it's always best to use similar scenarios to inform the decisions you make with your current implementation plan.
Step 5: Create and delegate your implementation plan tasks
Your implementation has an owner, and so should every task in the process. These owners are responsible for executing said tasks in your plan and reporting back progress to the overall manager. These owners are also responsible for handling the respective risks associated with these tasks.
Tips for delegating your tasks
Your tasks are specific to the type of implementation plan you put together, so I will leave that to you. Instead, I want to focus on giving you a couple of pointers for delegating your tasks.
Communicate your reasons to each team member: It's one thing to hand out roles, and it's another to explain the reason for each choice. Explaining the rationale behind each choice will provide purpose and motivation for each team member to succeed in their tasks.
Set clear expectations: While the line "impress me" has its place in movies and TV shows, it isn't a very effective mindset to use on your employees. Instead of leaving the end product up to your team, make sure you set clear expectations of what you want to see in your project deliverables. Clear expectations produce clear results.
Step 6: Develop your implementation plan schedule
You've gathered foundational information and now it's time to take that and construct your plan. Like any well-crafted narrative, your implementation project schedule will include a beginning, middle, and end.
The beginning includes all of your initiation actions (setup, delegation, etc.), the middle consists of all your execution actions and progress tracking, and the finale includes all of your assessments and last-minute quality control.
You'll want to make sure the scheduling decisions you make lead to the quickest and most cost-effective implementation without sacrificing quality. Use tools and strategies such as the work breakdown structure and critical path method to plan out the most efficient handling of tasks.
Tips for developing your schedule
This may be your first time putting together an implementation plan. If so, these tips will help you map out your process.
Break tasks into milestones: Milestones provide your team with motivation and an ability to measure progress through grouped task signoffs.
Create schedule buffers: Your implementation schedule is where you take the possibility of scope creep into account. Make sure you plan out scheduling buffers to account for inflated process times.
The best project management tools for creating an implementation plan
You don't have to create your implementation plan all by yourself in spreadsheets and Word documents. You'll find lots of project management software options out there well-suited to help you plan, manage, execute, and evaluate your implementation strategy.
To make it easy for you, I've listed three options that'll cover all of your needs.
1. Mavenlink
Mavenlink is the perfect "do everything" project management software for enterprise-level users. It's a simple, powerful tool that'll provide you with every function you need to plan and carry out strategy implementation and project steps, from task dependencies to budget reports.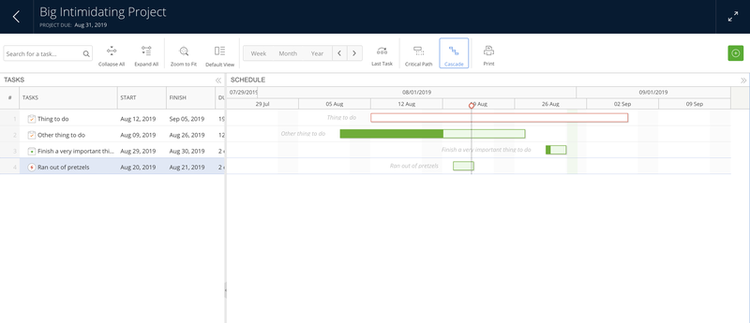 Mavenlink is far better suited to enterprise-level users due to its pricing but if you can afford this platform, it is well worth the money. I'd especially recommend this software option to users looking for an experience that'll show them the ropes of project management software.
2. Scoro
Scoro is fantastic for many reasons. It's easy to navigate (although learning some functions involves a learning curve), it offers nearly every project management feature you could ask for, and the report selection is extensive.
I want to focus on that last benefit because Scoro gives you some of the best reporting options I've ever seen.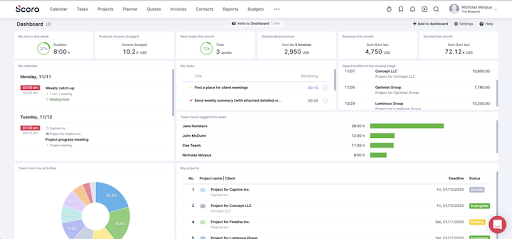 While the execution actions of your implementation strategy are important, tracking your progress is the key to ensuring and showing that success. Scoro gives you all kinds of report options that'll help you measure activity, budgets, and even the "success rates" of tasks.
I'd recommend Scoro to users who are dealing with complicated implementation plans with many moving parts that require consistent attention.
3. monday.com
When it comes to a combination of ease of use and versatility, monday.com is second to none. It is one of the easiest project management tools I've ever used and I would recommend this platform for nearly any user of any experience level.
Unlike the other two options, monday.com relies on its customizability to provide you with all kinds of features you'd use to plan out your implementation strategy.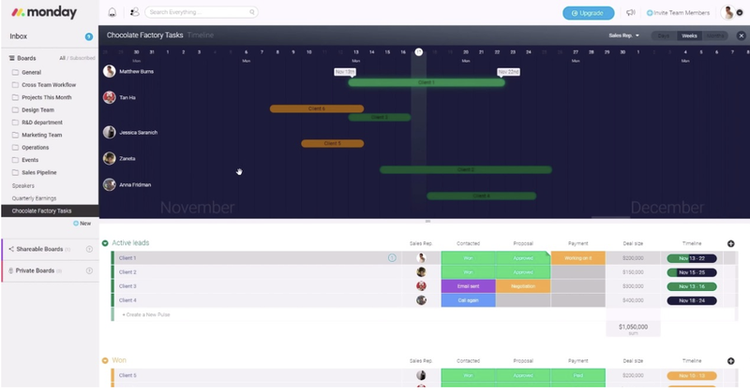 Using what it calls a "board" system, you are able to track your implementation plan tasks, delegate responsibilities, create dependencies, measure success through reports, and even create budgets.
This is the perfect tool for anyone looking to step away from the traditional project software experience and try something new.
The Ascent has your back beyond the implementation plan
Project management and business strategy are about more than planning. Growing your business requires solid execution and thorough after-the-fact evaluation.
That's why we at The Ascent want to help you every step of the way with countless guides, from project management basics and best practices to detailed software reviews and alternatives pieces.
We regularly post and update our content to reflect the constant changes you'll face while completing projects (even when dealing with the current COVID-19 pandemic), so be sure to stay up to date on everything we have to offer.
We're firm believers in the Golden Rule, which is why editorial opinions are ours alone and have not been previously reviewed, approved, or endorsed by included advertisers. The Ascent does not cover all offers on the market. Editorial content from The Ascent is separate from The Motley Fool editorial content and is created by a different analyst team.
The Motley Fool has no position in any of the stocks mentioned. The Motley Fool has a
disclosure policy
.