The 9 Best Project Management Tools Your Team Should Use
Many or all of the products here are from our partners that compensate us. It's how we make money. But our editorial integrity ensures our experts' opinions aren't influenced by compensation. Terms may apply to offers listed on this page.
Project management tools are often used by project managers to plan and manage projects effectively. These tools can be either free or purchased with a subscription that you paid monthly or yearly. Most project management tools include options to chat with your team, create charts and reports, allocate resources, and share documents.
Although project managers commonly use these tools, project management software is not just for project managers. Individuals and teams of all sizes often purchase these tools to assign tasks, record milestones, communicate, and track progress.
There are hundreds of project management tools and project planning software options out there, so I can't blame anyone for feeling a little overwhelmed when they have to pick one for their business.
Even experts feel intimidated at times when pressured to pick one as their absolute favorite, because each one of them is constantly updating with new functions, features, and user interface.
Now that I've finished my Miss America software speech, here are my selections for the nine best tools for project managers on the market today.
At a glance: The best tools to use for managing your projects
Podio
Wrike
Mavenlink
TeamGantt
Airtable
Asana
Basecamp
Jira
What to look for in a great project management tool
How did I choose these nine project tools?
Well, they're all extremely popular, they come highly recommended by other project management experts I've spoken to, and each one of them has these three key qualities that any quality project management system ought to offer:
1. Reliable user experience
At first, I wanted to call this one "ease of use," but after thinking about it, not all great project management tools are easy to use, at least not at first. Some are more complicated, but they have to be to meet the demands of their user base.
That's why I believe a reliable user experience is far more important. You can train someone to use complicated software, but you can't train them to deal with a platform that is full of bugs. As I've said many times before, you don't want your software to become the project.
If you're constantly reaching out to customer support to fix issue after issue, crash after crash, and bug after bug, your project management software has already failed you.
2. Emphasis on team collaboration
Cohesive teamwork is a project management best practice, and the best project management software out there make collaboration their number one focus when it comes to functionality.
All nine of my options below make collaboration a high priority because at the end of the day, it doesn't matter how many pretty Gantt charts you have; what matters is how your team came together to complete the tasks at hand.
3. Integration with other applications and software
Your project management software won't be the only tool you use to complete your day-to-day tasks, and considering the wide range of business tools out there, it's important that your platform will play well with many, if not most, of those tools.
Every one of the options below offers lots of different integrations ranging from email marketing software to time tracking tools.
The best project management tools for any team
You may notice that I left one tool off of this list that makes an appearance on The Ascent project software reviews page.
I excluded Microsoft Project from this list because it is severely lacking in features and, in my opinion, can't really stand on its own merits without the rest of the Microsoft ecosystem to fill in the gaps. I'm not here to recommend the entire Microsoft ecosystem and therefore I didn't feel as though Microsoft Projects belonged on this list.
That being said, these nine project planning tools all vary in ease of use, price, and function. What they all have in common is that in one way or another, these tools could fit any project team.
So, let's get started!
1. monday.com
monday.com is the most user-friendly and convenient project management software I've ever used (at least so far). However, notice how I didn't say this was the easiest project management software I've ever used.
There are simpler project management tools, but monday.com is the easiest project management tool that offers this many features. This software takes many of the concepts you've seen in other project management tools and just does them way better.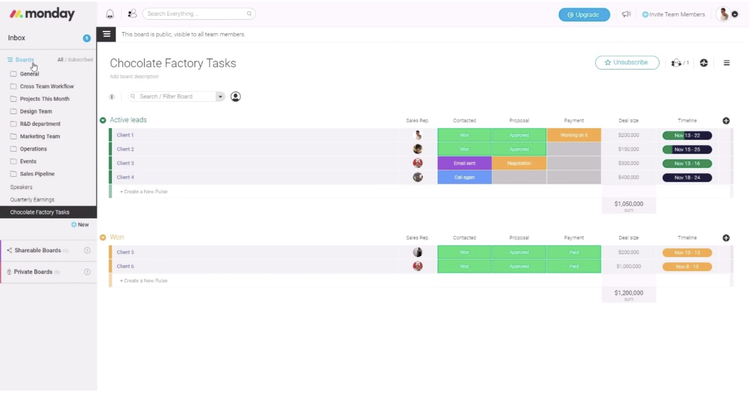 The customization is phenomenal and navigating throughout monday.com is a breeze.
However, keep in mind that monday.com is not cheap, which makes this tool better for teams with larger project budgets. That being said, considering the simple learning curve, extensive list of features, and multiple types of task tracking styles, monday.com is perfect for most, if not all, kinds of projects and teams.
Tips for using monday.com
Take full advantage of the board system. The versatility of monday.com's board system cannot be overstated. You can even use its board system to develop custom budget formulas for tracking. Follow its guides and use its pre-made formulas to track profit margins, budget rollovers, and expense reports.
Pay attention to monday.com's specific pricing. monday.com's pricing isn't cheap, but it is awfully specific, which makes it very easy to build out an extremely customized version for your team. Its pricing is broken down into four categories (basic, standard, pro, and enterprise) and by eight separate user counts (two, five, 15, 25, 50, 100, 200, and 200+).
2. Podio
Podio is the perfect tool for project managers with some experience with software, but who are looking for loads of functionality on a slim budget.
And when I say slim, I mean it. Podio has some of the best pricing options I've ever seen when it comes to paid project management software (including a free version) with its most expensive option topping out at $24/month! That's total, not a per-month, per-user structure.
How can you beat that?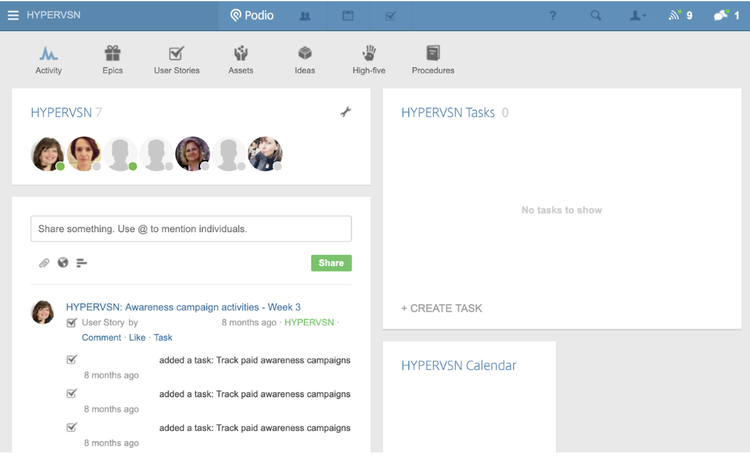 However, I have to stress that this is not the project management tool for beginners. The learning curve is significantly steeper than products like monday.com or Basecamp, but once you figure out how to use it, there are a lot of great features, such as task management, budget reporting, and team communication.
Tips for using Podio
Take advantage of Podio's support options. I can't stress enough that you should keep the Podio support team and its tutorials close at hand when starting out. Podio is a little cumbersome in the beginning and learning everything it has to offer will take some time.
Build custom applications in Podio. Learn how to use Podio's custom application function. Although complicated at first, the custom application builder provides users with nearly limitless functionality that is rarely found in other project management tools.
3. Wrike
Wrike offers users pretty much everything you would come to expect from a project management software. You can manage projects via Kanban boards, Gantt charts, project folders, time tracking, team communication, and file sharing. It's even relatively easy to learn.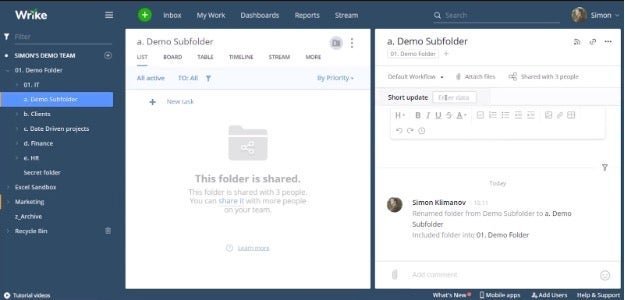 I look at Wrike as a jack of all trades, master of none type of software. There is nothing Wrike specializes in that gives it a niche market, which makes it perfect for pretty much any type of project or team. It has the flexibility to act as a marketing project management software or manage sprints for development teams. Even the pricing is fairly reasonable.
All in all, Wrike is one of the most okay-ist products in this software list, and that's not a bad thing. Wrike gives users the opportunity to explore a software product without a heavy-handed focus on one type of market, use case, or specialization. Wrike becomes whatever you make it out to be, and to me, that makes it great for anyone new to project management software.
Tips for using Wrike
Streamline task creation by connecting to your email. You can turn emails into tasks in Wrike by forwarding specific emails to [email protected]. All you have to do is set up a designated folder in your software for these emails to end up in, making them easier to find.
Closely track tasks using the subtask function. Create subtasks within your main tasks on Wrike in order to track small details in the execution process. All you have to do is select a task, then click on "add subtask" within the selected task window.
4. Mavenlink
Remember how I said Wrike offers pretty much everything one would expect from a project management software? Well, Mavenlink offers all of that and more! Mavenlink can actually do it all, from task management to client invoicing.
Any kind of project, whether you're tracking products and services that you deliver to clients (a la marketing or architectural firms) or you're managing a software development process, Mavenlink can handle it.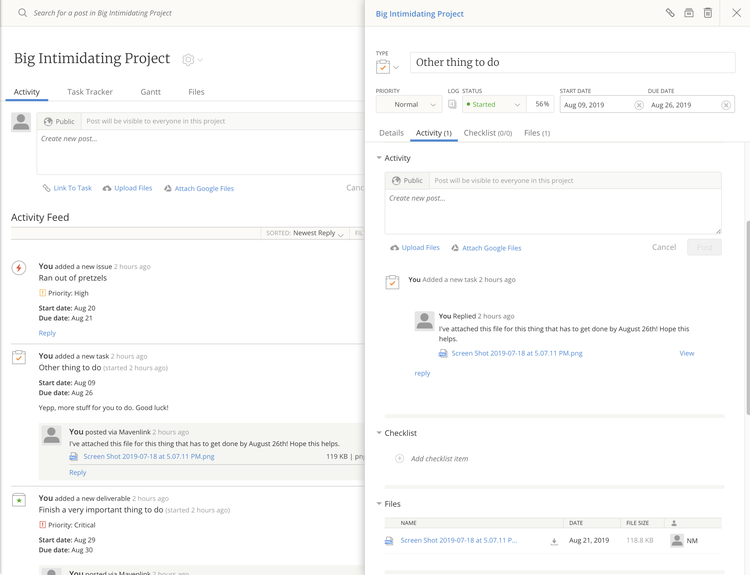 If it weren't for the higher price tag, I would recommend Mavenlink for pretty much anyone. It's easy to use, comprehensive, and even has an extremely responsive customer support team that can help you through any of your problems.
Unfortunately, as I mentioned before, Mavenlink is quite expensive with its Professional payment tier sitting at $39/month per user. Therefore, I can only recommend this tool for businesses that have larger budgets and plan on sticking with this tool for quite some time.
Tips for using Mavenlink
Tip #1: Don't use Mavenlink's percentage completion function. Mavenlink measures task completion with either percentages or log statuses (not started, started, needs info, completed). My advice is to skip over measuring your task completion with percentages and stick with the log statuses for the sake of simplicity.
Tip #2: Don't forget the mobile app. Download Mavenlink's mobile app for managing your projects on the go. Aside from creating Gantt charts, you can manage and track practically every aspect of your projects through the app.
5. TeamGantt
Despite the name, TeamGantt is not just a timeline software; it also offers standard task lists, shared team calendars, time tracking, team communication, file sharing, and resource management to help you create an executable project management plan in a timely manner.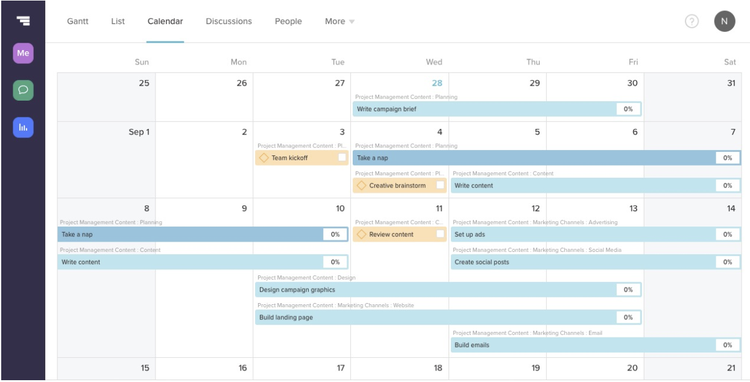 I say timely because learning how to use TeamGantt took no time at all to learn, making it perfect for beginner teams looking for a nearly comprehensive project management software. The only thing TeamGantt is seriously lacking is financial management features, such as budget reports and client invoicing.
However, when it comes to pricing, TeamGantt is not for teams that are pinching pennies. There is a free option for up to three users, which is great for small personal projects, but once you move into the Standard tier, you're looking at a starting price of $49.75 with an increase of nearly $10 for each additional user once you pass five.
Tips for using TeamGantt
Ignore the percentage completion system. TeamGantt also suffers from the percentage method of measuring task completion, which is arbitrarily determined by those responsible for the tasks. Instead, skip using the percentage meter and communicate your progress using the in-task commenting system.
Don't forget TeamGantt's pre-made templates. TeamGantt keeps things simple by eschewing the complications of a fully customizable platform and instead provides you with tons of plug-and-play templates to choose from. Browse through their templates before making the choice to start a project from scratch.
6. Airtable
Airtable is the most fun I've ever had using project management software. It easily has the most visually pleasing user interface I've seen thus far with all of its colors and image-based task tracking systems. Everything about Airtable is designed to prevent you from scratching your eyes out at the end of the day, which can be the result of working with some other boring project management tools.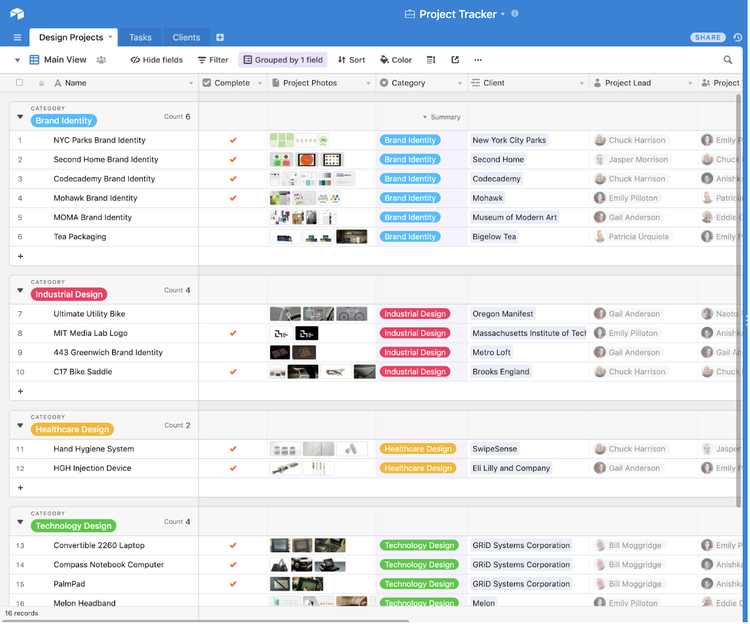 The task lists and Kanban board systems are extremely customizable, which allows you to shape Airtable to your project, rather than shaping your project to fit within the confines of this tool.
The one major task management style that I couldn't find while using Airtable were Gantt timeline charts, and if it weren't for its unique gallery-style task management option, I might've missed having that feature.
The only serious drawback I found regarding functionality is the somewhat confusing setup, which is unsurprising considering its unique presentation. It isn't like any other project management tool on the market, so don't expect it to function like most others.
Luckily, there is a free option for Airtable, with some limitations of course. However, its pricing is somewhat restrictive for the target market I believe it is gunning for (creatives). Once you graduate into paid options, the cheapest tier is offered for $10/month per user. It doesn't cost a fortune, but it's not cheap either.
Tips for using Airtable
Tip #1: Don't ignore Airtable's onboarding content. No matter what you think you know about project management software, leave these preconceptions at the door when using Airtable. Take full advantage of all of its guides, tutorials, and customer service when onboarding onto this software.
Tip #2: Use your Excel spreadsheets knowledge on Airtable. Believe it or not, this software is great for those with lots of spreadsheet experience. While not as robust as Microsoft Excel, Airtable has lots of programmable functions you can enter into its fields, allowing you to customize almost everything about this software.
7. Asana
Asana takes much of what Wrike has and makes the functions even simpler to use and understand (with the exception of financial tracking and reports, because Asana doesn't have those features).
Asana is what I like to think of as a well-intentioned project management software that has so much potential, and with a few more features, it would leap to one of my top three choices. Until then, Asana is gonna have to settle for my top 10 list, which is still quite an accomplishment.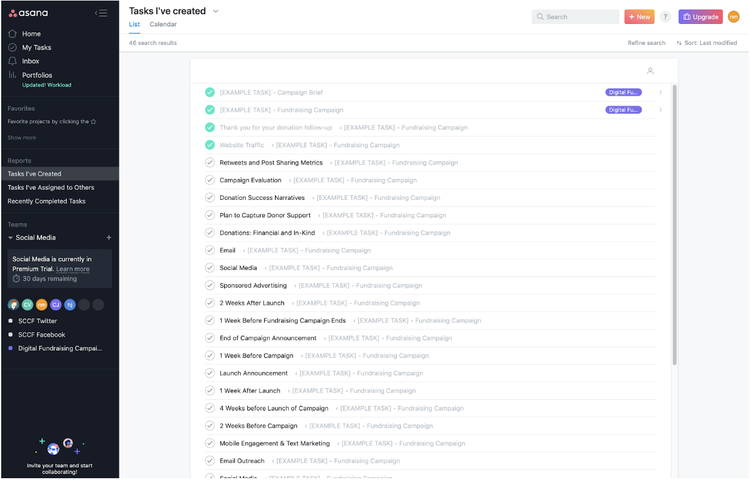 Everything about Asana is geared towards giving power to the entire team, not just the project managers. The task lists, shared team calendar, Kanban boards, Gantt timeline charts, and team communication are all easy to learn and understand within minutes of picking up this tool. Asana even encourages team members to stay on top of their task lists and track time so that they can communicate accurate workloads to their managers in order to avoid burnouts.
If the developers at Asana decide to add in other crucial features like project reports and budgets, it could blow its competition out of the water. Until then, this tool is best suited for internal project teams without any financial management needs or in-depth reporting.
As for pricing, Asana strikes a similar tone as Airtable with a free option available and a Premium tier that starts at $9.99/month per user. Not cheap, but also not ridiculously expensive.
Tips for using Asana
Take advantage of Asana's long list of integrations. If you require budget management but still want to use Asana, be sure to take advantage of its dozens upon dozens of outside app integrations that cover everything from email tracking to timesheets.
Asana has plenty of templates for you to use. Be sure to try out Asana's many templates that'll help you explore all of the features that this software has to offer, including product roadmaps, digital marketing campaign blueprints, and editorial calendars.
8. Basecamp
Remember earlier how I said that there were easier project management tools than monday.com? Basecamp is exactly what I had in mind when I wrote that. In fact, Basecamp is the easiest task management software that I've ever used, especially when handling the project management basics.
Part of this is because when it comes to its features list, Basecamp keeps it short and simple. There are no Gantt charts, Kanban boards, budget reports, or strange gimmicks. Basecamp is all about creating projects, project tasks, sharing task files, communicating with team members, and storing project resources. It's a straightforward, no-frills tool.
It's the midsize sedan of project collaboration tools -- you simply can't break it.
Basecamp even keeps it simple when it comes to its pricing model, with one flat price of $99 per month. Now that may sound expensive right off that bat, but if you really think about it, it's pretty cheap if you only need those few features and you have tons of users you need to add. No matter how many projects you create, files you upload, or users you onboard, the price stays the same.
Tips for using Basecamp
Utilize Basecamp's mobile app. Don't forget to download Basecamp's mobile app, which is nearly identical in style and function to its desktop counterpart.
Quickly jump to projects and tasks in Basecamp. Use the jump menu to quickly access different projects and teams in Basecamp. All you have to do is hit Command-J (Mac) or Ctrl-J (Windows) and search for the project or team you are looking for.
9. Jira
Finally, we've made it to the final tool, Jira. Out of all the tools I've listed here, Jira has my favorite onboarding process. Once you've signed up to use it, Jira walks you through a setup process that takes all of your needs, goals, and management styles into account in order to shape your experience to your project. Once you've set it up, Jira is an extremely easy project collaboration tool to use.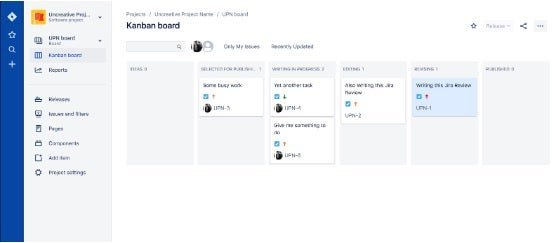 I say collaboration tool because this software offers everything you'd expect from a project management software except the financial management features (budget reports and client invoicing) that would make it a comprehensive tool. It's perfect for tracking your tasks, communicating with your team, sharing project materials, and reporting on project progress. Speaking of which, Jira also has one of the most convenient reporting systems I've ever used. Jira has several pre-made report types already setup for you; all you have to do is select the one you need and its generated for you instantaneously.
As for pricing, Jira only offers two pricing tiers to choose from. The first is its Standard tier for $10/month for up to 10 users, but once you cross that threshold, you're looking at their Premium level for $14/month per user. That difference is stark, since the latter model adds up very quickly. That being said, Jira is perfect for small teams looking to save some money while using a feature-loaded tool.
Tips for using Jira
Create keyboard shortcuts for faster navigation. Jira allows you to create keyboard shortcuts that'll help streamline your use and navigation of the software. Take advantage of this feature and save yourself the time of clicking through menus and dashboards to get to the information you want.
Try out task bulk changes. Looking to make multiple changes to different issues or tasks? Jira has a bulk-change feature located in the right-click drop down menu once you've selected all of the relevant tasks.
What's next?
Now that you know more about the best project management software you can buy, why not find out how these tools stack up head-to-head?
I've written a few comparison articles that'll give you a better idea about what each tool offers and how they compare with some of their competitors here on The Ascent:
Alert: highest cash back card we've seen now has 0% intro APR until nearly 2025
If you're using the wrong credit or debit card, it could be costing you serious money. Our experts love this top pick, which features a 0% intro APR for 15 months, an insane cash back rate of up to 5%, and all somehow for no annual fee. 
In fact, this card is so good that our experts even use it personally. Click here to read our full review for free and apply in just 2 minutes. 
We're firm believers in the Golden Rule, which is why editorial opinions are ours alone and have not been previously reviewed, approved, or endorsed by included advertisers. The Ascent does not cover all offers on the market. Editorial content from The Ascent is separate from The Motley Fool editorial content and is created by a different analyst team.
The Motley Fool has positions in and recommends Microsoft and Target. The Motley Fool has a
disclosure policy
.
The Ascent is a Motley Fool service that rates and reviews essential products for your everyday money matters.
Copyright © 2018 - 2023 The Ascent. All rights reserved.