Your Complete Guide to Proof of Concept
by Jimmy Rodela | Updated Aug. 5, 2022 - First published on May 18, 2022
Many or all of the products here are from our partners that pay us a commission. It's how we make money. But our editorial integrity ensures our experts' opinions aren't influenced by compensation. Terms may apply to offers listed on this page.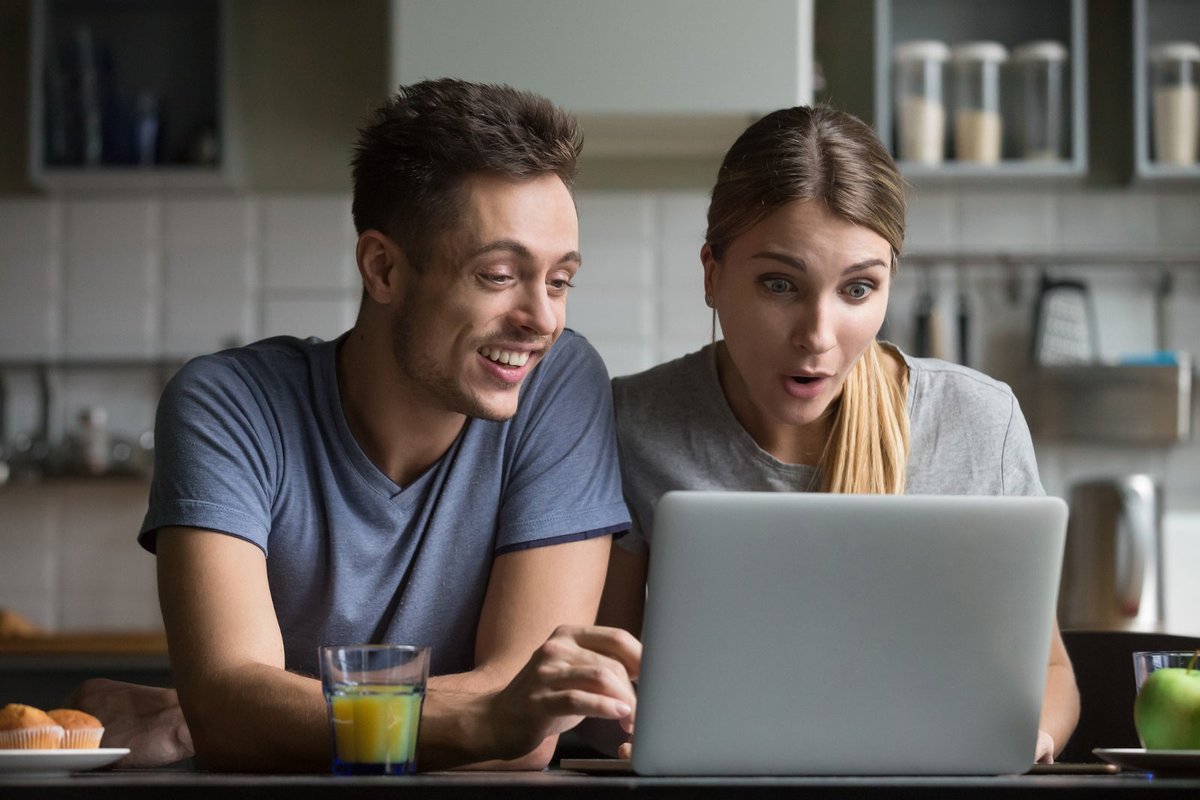 Before project teams can build new business solutions, they should have a proof of concept, or POC, that shows the viability of their proposal and gets investors' buy-in.
Coming up with fresh, brilliant ideas for the next best solution can be an exciting venture for project teams.
However, before they start building and distributing their ideas, it's crucial for them to pace their developmental process. They need to have a comprehensive project quality management plan, a clear understanding of what problems they're solving, etc.
That way, regardless of the stage they're in, they can avoid overlooking critical aspects about their project that would cause them to fail.
Moreover, if they want their clients and investors to accept their ideas and development proposals, project teams need to prove first that their ideas are truly practical, useful, commercially viable, and worth spending on.
How can they do that?
The answer is through a proof of concept (POC).
A POC is crucial for project managers and teams wanting to propose developing their business ideas into real-life solutions. In this guide, we will elaborate on what a POC is, why it's important for businesses, and how project teams can effectively develop their proposal.
Overview: What is proof of concept (POC)?
A POC is a presentation of the proposed product and its potential viability.
POCs describe the idea and proposed functionality of the product, including its general design or specific features, and how achievable they are. This presentation serves as a prerequisite before companies produce a sample or the final version and release it for wide scale implementation or sales.
A POC typically involves a small-scale visualization exercise to verify the potential real-life application of an idea. It's not yet about delivering that concept, but showing its feasibility.
Through the POC, project managers can prove that building the proposed solution, program, product, feature, or method is achievable. POCs further allow decision-makers to explore the potential of the idea, giving them a glimpse of the bigger picture or the situation once the company launches the product.
This is why developing POCs should stem from the organization's strategic goals, which should also come from the vision statement.
In this way, project managers can ensure their solution supports not only the customers' needs but also the overall objectives and mission of the organization. Now, depending on their niche, various industries can have different POC example projects or use cases.
For example, let's say a startup that sells homemade chocolate bars came up with a new flavor.
For the owner to know the viability of the new flavor, they can launch a survey asking their customers if the new recipe they came up with sounds delicious and if they're willing to taste and buy one, etc.
Software as a service (SaaS) companies, for their part, can create a POC software that tests if specific features can complete their required tasks or if two separate systems can work harmoniously, and some other important features.
POC vs. prototype: What's the difference?
People often misunderstand or use POCs and prototypes interchangeably. These two ideas, however, are not the same. A POC shows whether a product can be built or not, while a prototype physically presents its basic functions and how it will be developed.
When project managers can demonstrate that the solution could be built and stakeholders agree and approve the proposal, they can proceed to making a prototype, or sample version, of the product.
While POCs aim to test the idea or assumption, prototyping lets the innovator bring the concept to life by creating an interactive working model of the proposed solution.
The prototype has the design, appearance, functions, navigation, layout, and other components of the product theoretically visualized in the POC project.
This model serves as a step further to prove the usability of the proposed product, although it doesn't have to be perfect yet, just like the idea in the POC. Prototyping is also an attempt at developing and testing the critical components of the product, demonstrating physically how these will work as described in the POC.
| Proof of Concept | Prototyping |
| --- | --- |
| It addresses the question: Can a product be built or not? | It addresses the question: How can a product be developed? |
| It aims to test an idea or assumption for real-life application. | It brings concept to life through a working interactive model. |
| It describes the idea, functionality, and feasability of a product. | It is designed to serve the functions as visualized in the POC. |
| It is a theoretical demo that the solution is achievable. | It is a physical demo or sample of how the product will operate. |
To demonstrate further, let's look at this example.
Suppose a project team is proposing a new mobile game app as its POC application. Here, the team can explain how the game is played, the rules, the characters, each level and criteria, and they also illustrate the setting and interface.
The prototype would then be the demo game app that stakeholders can try and test.
##promo-body-ecap##
Why is having a proof of concept important for small businesses?
POCs are critical in helping businesses, especially small ones, launch their new or refined product ideas and begin their project management process. Here are three specific reasons why:
1. Project managers can pinpoint potential risks and obstacles
Developing a POC helps project managers pinpoint risks and obstacles they may face in implementing the proposed product.
Rather than uncovering those obstacles during or after the product launch, managers can foresee them and plan their projects accordingly while still in the development phase. Examples of these risks and obstacles are contracted parties' failure to fulfill their deliverables, disputes during project implementation, and many more.
It's worth noting that while the POC doesn't guarantee smooth implementation of project management basics, it can increase the likelihood of the product's success.
For instance, once POCs unveil the potential obstacles, project leaders can then record them in the risk register, also considered one of the best project management practices, for appropriate planning, budget coverage, and other actions.
Project leaders can also find ways to eliminate, mitigate, and address the risks and assure their investors about the project's success.
2. Project leaders can determine the chances for scalability
When project managers propose creating a product, they and their stakeholders likely expect it to be scaled.
That's why, through POCs, project leaders can verify not only the feasibility of the idea but also its scalability, whether immediately or over time.
POCs can help managers and stakeholders see how to go about growing and mass-producing the product in terms of systems architecture, human resources, and workflow standardization, among others.
In this way, companies can determine their capacity for working with additional production. POCs can even help project managers address scope creep while they're still in the proposal phase.
Scope creep refers to how a product's requirement realistically tends to multiply or escalate over the project life cycle.
For instance, a proposed product that begins with five essential components can then have 10 as the company scales it. Another is when managers need to spend on sudden product changes that can go beyond the project budget.
If project managers can prove the company's ability to handle scope creep during scalability, they can note it in their project management tools, as well as present their proposal to stakeholders more convincingly.
3. Stakeholders need proof before investing
Before project managers can request resources for their proposal, they should show their stakeholders that the investment will be worth it.
POCs give project managers that opportunity. Through POCs, they can illustrate the usability and profitability of the idea. They can show the product idea in detail with illustrations and visuals to provide the presentation with sufficient data.
They can thoroughly explain the advantages of the proposed product to the company's operations, brand image, customer relations, and more.
By doing so, project leaders can better convince the enterprise to commit the needed resources to develop the idea. POCs also allow stakeholders to assess the idea giving them a varied form of win-loss or cost-benefit analysis.
If the concept doesn't prove to become as practicable or profitable as formerly assumed, and the losses outweigh the potential returns, stakeholders can decide not to invest. Building a new product, after all, isn't cheap. If the proposed venture fails, tons of resources could go to waste that could have been invested in more productive initiatives.
If project managers can prove that they have an airtight idea and the right measures to mitigate possible losses, they can better compel stakeholders to accept their proposal.
How to write a proof of concept
The POC process has five basic steps that project teams can follow, from developing the idea to firming it up and presenting it to the investors.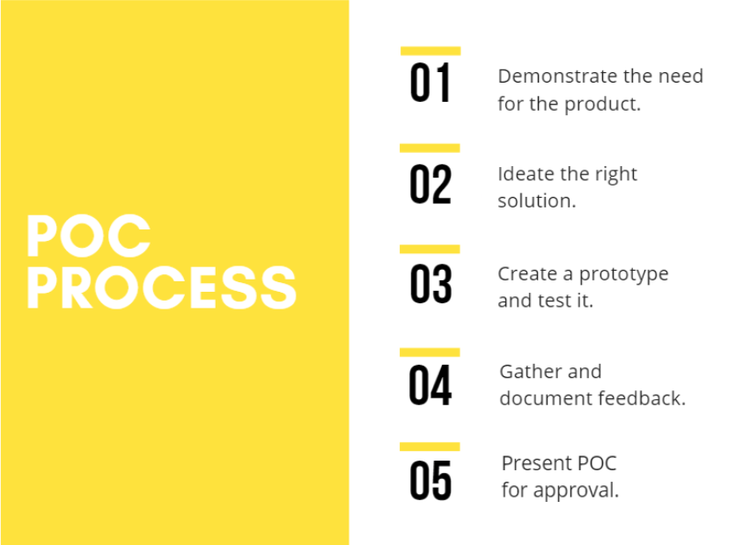 Step 1: Demonstrate the need for the product
When presenting their POC, project leaders must establish the need for the product by mentioning who the target market is and what their pain points are. In narrating the customers' pain points, however, project managers must not merely assume what these are. They need to get actual and verified answers.
Project leaders can acquire these responses by interviewing a representative sample of customers. They should ask in-depth questions about the clients' frustrations, what they want a product to do to alleviate their inconvenience, their desired user experience, and more.
Doing that allows project leaders to grasp their customers' feelings and perspectives clearly, as well as acquire a list of specific needs and targets for their POC.
Pro tip: Interview a sample group of customers to understand and verify their pain points.
Step 2: Ideate the right solution
From the sample group's answers, project managers can now start brainstorming with their team for the right solutions to the customers' pain points, keeping in mind that they should also be feasible and within the company's capacities.
The team should then assess each brainstormed solution according to the likely costs, timeline, technologies needed, required operational capacities, competition, resources, and other factors.
They can even narrow down the list of ideas to the most feasible ones and finalize their proposed product.
Additionally, to firm up the proposal, the team should discuss how their solution can support the fulfillment of the organization's or stakeholders' goals.
Pro tip: Welcome half-baked ideas. You don't need to be a perfectionist when ideating, at least, in the initial stages. You'll be surprised how half-baked ideas can lead you to the best solutions.
Step 3: Create a prototype and test it
Once the team has arrived at a feasible idea, they should create a prototype based on the decided requirements, features, and solutions.
The project team must let the individuals in their sample group try and test the completed prototype. This is so they can quickly determine whether the product truly addressed the pain points shared by the group.
Testing it with the same group enables the team to document their feedback more easily, which is essential to the next step.
Pro tip: Prototyping isn't the end in and of itself, it is just the means. Don't get so caught up at building the perfect prototype. While you need to exercise caution and vigilance, don't be stuck in this phase longer than you should be.
Step 4: Gather and document feedback
During the prototype testing, the project team must gather and document the sample group's feedback about their experience, their reactions, and any other valuable details, including what they think of the user interface.
The gathered feedback lets the project team initially verify the usability and feasibility of the solution. It also informs the team of any needed improvements to the proposed product and gives significant insight for other relevant actions moving forward.
For the team's quick reference to the collected responses, they can record the feedback in their project management software.
Pro tip: Use a cloud-based platform to obtain feedback. In that way, it's easier for your project team or even your sample group to participate and collaborate.
Step 5: Present POC for approval
With the concept tested and improved based on the feedback, the project team can now prepare their presentation to the stakeholders.
They must present, among other things, the pain points that the product solves, features that address those problems, and technologies integrated to demonstrate the value of the idea.
They should elaborate on the product development and project management components, which they should also note in their project tracker.
These include clearly defined success criteria or project management metrics, evaluation measures, timelines, next project management plans (should it be approved), resources needed, and other aspects discussed earlier.
Once the team successfully presents the idea and persuades the stakeholders to approve and invest, they can begin to implement it.
Pro tip: Put more emphasis on the benefits that your product brings, instead of its features.
Final words on POC
A POC helps businesses see if a proposed idea is practical and attractive for the target market and achievable for the company.
Through the POC, project teams can explore the planned components and functionalities of the ideated product, along with the costs, resources, and capacities required to make it work.
From these details, companies can better assess the readiness of the newly developed solutions for adoption on a wider scale, approve of the idea, and decide to invest in its implementation.
We're firm believers in the Golden Rule, which is why editorial opinions are ours alone and have not been previously reviewed, approved, or endorsed by included advertisers. The Ascent does not cover all offers on the market. Editorial content from The Ascent is separate from The Motley Fool editorial content and is created by a different analyst team.
The Motley Fool has positions in and recommends Target. The Motley Fool has a
disclosure policy
.