4 Types of Risk Categories in Project Risk Management
Many or all of the products here are from our partners that pay us a commission. It's how we make money. But our editorial integrity ensures our experts' opinions aren't influenced by compensation. Terms may apply to offers listed on this page.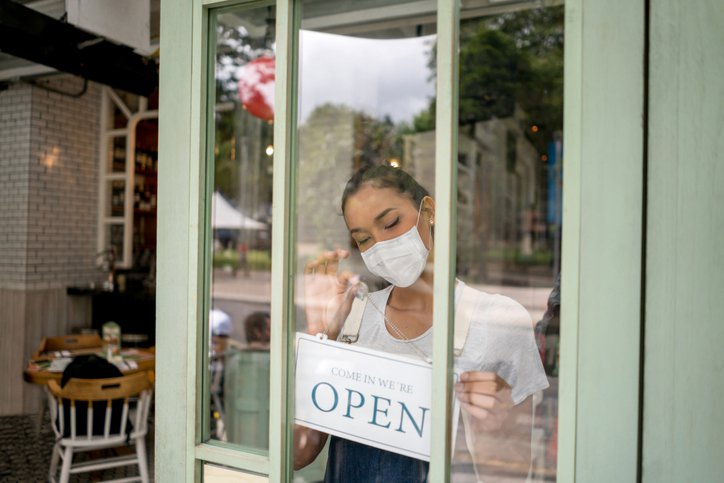 Risk categories help project managers understand and plan for what parts of a project could go wrong. Learn best practices for identifying and managing risk in your project.
In her book, Comfortable with Uncertainty: 108 Teachings on Cultivating Fearlessness and Compassion, Buddhist nun Pema Chödrön writes, "The root of suffering is resisting the certainty that no matter what the circumstances, uncertainty is all we truly have."
Project risk management is a process that acknowledges things will go wrong. By establishing project risk categories, your team can mitigate unnecessary pain points by accepting the inherent uncertainties of project management and having plans in place to pivot as needed. Instead of pretending like everything will go exactly as planned, risk categories help you find out how you'll cope when they don't.
Learn about risk categorization and best practices for managing these risks to get closer to the realization that all is uncertain.
Overview: What are risk categories?
Categories of risk are specific elements within a project or its operational environment that could go wrong during the planning, implementation, or follow-up phases of an activity. These risk categories consider things such as costs, timeline, available staff, public reception, and available inventory. They look at the details that go into making a successful project and consider what would happen if one or more of those details veered off course.
4 types of project risks
A risk breakdown structure outlines the various potential risks within a project. There are four main types of project risks: technical, external, organizational, and project management. Within those four types are several more specific examples of risk.
1. Technical risks
Technical risks refer to anything that could go wrong with your software, hardware, or any manuals or other process documents related to your project.
When listing your technical risks, consider whether you have enough computers, tablets, or other devices for everyone on your team. Ask if you have experts on your staff to resolve any software glitches that may arise or if you have access to external vendors who could help. Also, review whether you've created user-friendly reference guides for your project's implementation.
2. External risks
External risks are things that could impact your project that are outside of your organization's direct control.
When listing your external risks, analyze the current state of your market. Consider what problems might occur with your subcontractors or suppliers. Review related local, state, and federal regulations that impact your company's field. Ask if your customers might change over time and how that would affect your project.
3. Organizational risks
Organizational risks refer to aspects of your company's overall resources and culture which could impact your project's implementation.
When listing your organizational risks, see if you have enough staff available to cover the time and effort it will take to complete your project. Review whether your financial processes are functioning well enough to pay subcontractors in a timely fashion.
Ask whether you have the budget available to implement your project as intended. Consider whether you have policies in place to know who will make decisions on critical project issues.
4. Project management risks
Project management risks involve how the team directly working on your project operates and what internal aspects of your team could impact your project's success.
When listing your project management risks, take a look at the culture and morale of your team and whether interpersonal issues could impact results. Review whether you have clear communication channels established between team members and if people know whom to turn to for specific issues.
Consider whether you have included everyone you need to in the planning phase of your project or if there are other voices you need to consult.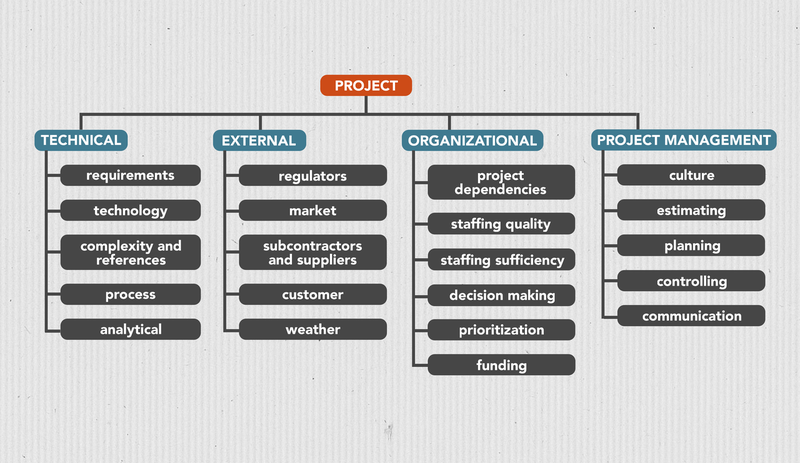 How to manage risk categories
Every successful project management plan should include steps for managing risk categories. There are three key steps to doing so.
1. Consult a wide audience to identify risks
Identifying risks is the first, and possibly most important, step in a risk management plan. For the smoothest implementation possible, you want to have a solid understanding of where your project is likely to get bumpy.
No single person on your team can create a comprehensive list of potential risks. Everyone involved has a different perspective and specific expertise that can inform the risks that may require the most planning.
When identifying your project's risks, consult a wide audience. Ask your IT team members for their thoughts. Consult a focus group of your customers. Listen to your entry-level staff and gauge their attitude. The more feedback you can get from diverse voices within your project, the better prepared you'll be for the risks you couldn't see on your own.
2. Assign a lead to each risk
Once you've identified your risks, assign a person who will be responsible for each one. You can put this information into a project tracker so your full team can know whom to turn to if anyone needs help on a particular risk.
When assigning leads for risks, consider who on your team has the capacity to take on that role and their expertise. This can be a good way to let more people feel like they have real ownership in the project, which can boost staff morale.
3. Track and prioritize your risks
Using project management software, you can then track and prioritize your risks. You'll want to include notes and measurements on the likelihood of the risk occurring and the financial and reputational impact of the risk if it occurred.
When tracking your risks, include any decisions made on what steps your team will take if it happens. If so, keep track of when mitigation plans started, where they're at in their implementation, who has taken what steps, and what the current results have been.
Best practices when categorizing risks for your project
When building risk category levels, there are a few best practices to follow to make the most out of the risk management process for both your current project and your organization's growth.
Look for common areas of risk
Risk categories in project management can show you where you may have recurring risks. For example, you might notice that the majority fall under the organizational risk type. Seeing this can help your team find longer-term solutions for those risks rather than determining patches to put on them for each new project.
As you identify and prioritize your risks, organize the information into a risk register, which will help your team better spot common categories. The Project Management Institute (PMI) notes that this tool can be one of the most important for project managers. You can review PMI's risk register examples to get an idea of a format that might work for your project.

Make risk management part of internal learning
Addressing risks doesn't need to be a stressful or rigid process. People grow and learn from mistakes and challenges. You can make risk management an accepted -- maybe even fun! -- aspect of your team's culture by incorporating it as part of your organization's vicarious learning strategy.
Have team members present on how they overcame a particular risk scenario. Share risk trackers and other process management tools with each other. Award your staff for coming up with creative solutions for problems that arise.
In general, let risk be an openly acknowledged, natural piece of the project management process. View risk not as a problem but as a chance for effective team communication, internal learning, and shared staff compassion.
Quantify your risks to inform prioritization
It can feel daunting at first to have a long list of risks and not know which to focus on first. A good way to start to prioritize your risks is to quantify them. Wherever possible, think through how much that risk would cost from a financial perspective if it occurred.
Quantifying risks from a financial perspective includes topics such as a loss in revenue, unexpected additional expenses, costs of additional staff time or staff turnover, and any other expenditures that would occur only if that risk played out.
Identify and manage risk categories to limit suffering by accepting uncertainty
Project management shouldn't be about controlling a situation but accepting that every task comes with inherent risks your team will need to learn how to move through. By identifying risk categories, your team can accept the groundlessness of reality and relax into the ever-changing flow of technical, external, organizational, and project management risks as they arise.
We're firm believers in the Golden Rule, which is why editorial opinions are ours alone and have not been previously reviewed, approved, or endorsed by included advertisers. The Ascent does not cover all offers on the market. Editorial content from The Ascent is separate from The Motley Fool editorial content and is created by a different analyst team.
The Motley Fool has no position in any of the stocks mentioned. The Motley Fool has a
disclosure policy
.