A Guide to Writing a Statement of Work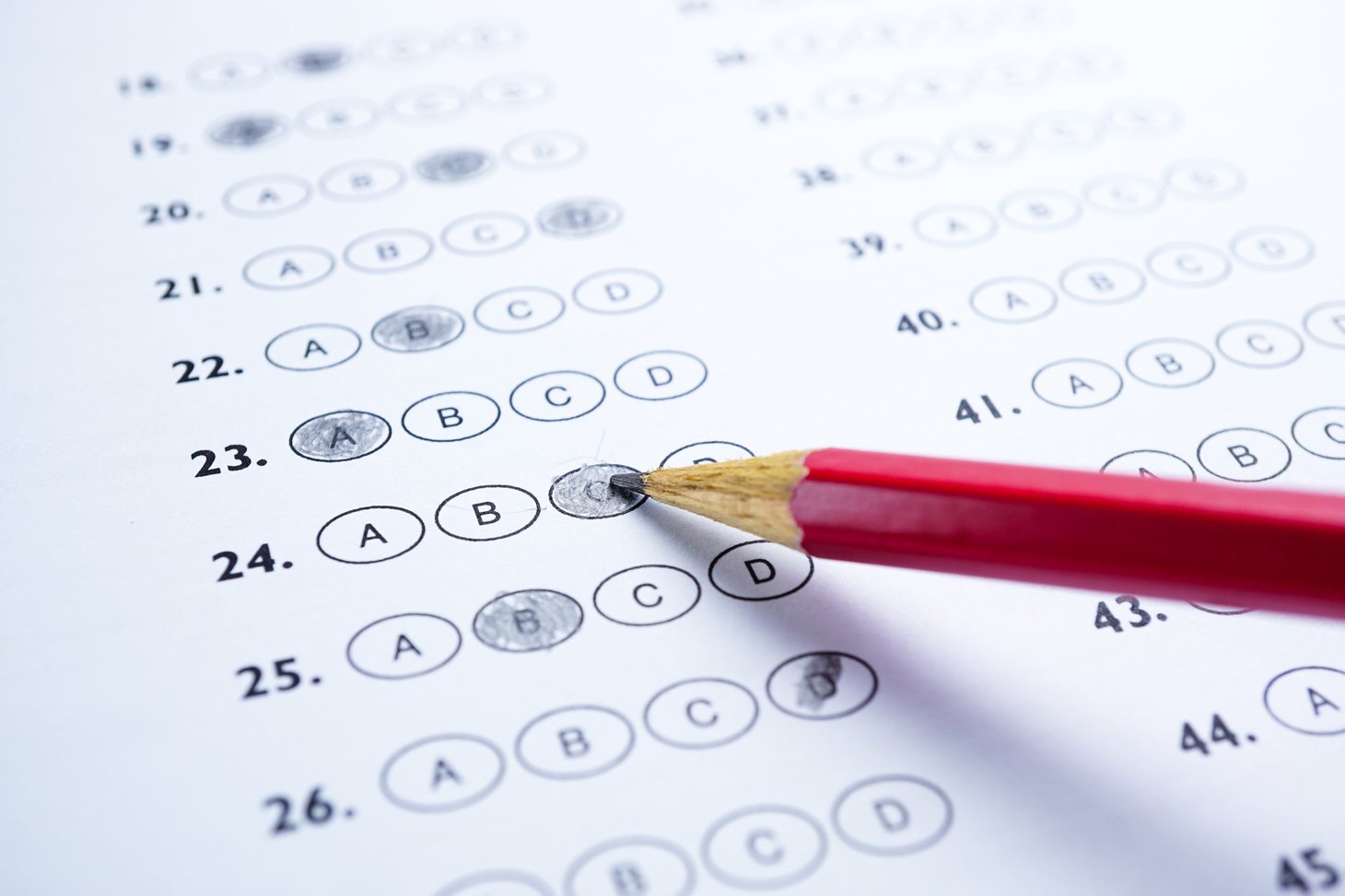 Many or all of the products here are from our partners that compensate us. It's how we make money. But our editorial integrity ensures our experts' opinions aren't influenced by compensation. Terms may apply to offers listed on this page.
They say a journey of a thousand miles begins with a single step. In project management, that first step usually involves the statement of work. It's an essential document detailing everything that goes into a project.
Getting it right is necessary for project success.
What is a statement of work?
A statement of work (shortened as SOW, SoW, or sow) is an essential component of a client-vendor contract. It ensures the project follows expectations and agreed-upon guidelines. It also summarizes what's within and out of scope to mitigate scope creep, and what the project cost covers, among other things.
The SOW is a required project planning document and must include details such as expected results, work schedules, invoicing schedules, work process, and so on.
Once approved, the SOW must be communicated to all stakeholders to prevent any disputes or ambiguities in terms of timelines, budgets, success criteria, and deliverable requirements.
Perhaps the simplest definition of a statement of work is that it sets, aligns, manages, and documents the project's expectations. Nailing the SOW will save you a lot of headaches down the line.
What makes up a statement of work?
Every project, whether as small as a one-page website or as complicated as a multistory structure, will benefit from a well-crafted SOW. There is no one way to create a statement of work, as different organizations may approach the process differently.
The SOW can contain all sorts of details pertaining to the work involved, but most have the following elements:
Objectives
This is where you define the objectives or purpose of the project. You can also discuss the project's expected results in this section. Objectives must be realistic, reasonable, and measurable. For example:
To increase data security by replacing obsolete software systems
To design a modern e-commerce website that engages users, increases brand visibility, and generates more sales
To design and implement a benefits package that will reduce employee attrition rate by 35%
Scope
The scope section describes the project's boundaries, what's within and out of scope, and what's necessary to achieve the project's objectives. Details can include:
A high-level outline of the project management process
A brief overview of the process steps
A high-level description of the methodology to be employed
A description of the work location, tools, equipment, software and hardware systems, as well as skills and manpower needed to get things done
Tasks
Tasks are the activities that produce the deliverables. Under each task, the processes, deliverables, or milestones can be outlined. This section should also define which side (client or service provider) is responsible for performing a certain task.
Deliverables
Your deliverables section should list everything the project is expected to produce and when they'll be produced. Include relevant details, such as quantity, color, size, and so on. For example:
Website design: Two concept drafts within three weeks of receiving the design brief
Writing and translation: Two translated essays no later than February 4, 2021
Manufacturing: Packaging prototype for a hygiene product one week after the artwork is approved
Schedule
This section provides an overview of what the project schedule may look like, with details such as when tasks, milestones, and deliverables will be completed (due dates). Depending on the project, start dates may be optional.
Cost and payments
This is where you describe the associated costs for each task: labor (hourly versus flat rate), travel, supplies, and other fees. The section also provides information on how payments will be made and when, such as once a milestone or deliverable has been completed or according to a set schedule.
Acceptance criteria
Here, you describe the features and attributes that make a deliverable acceptable, including how deliverables are submitted, reviewed, or evaluated, and who will accept and sign off on them.
Signatures
This section signifies that all parties agree to the stipulations of the statement of work.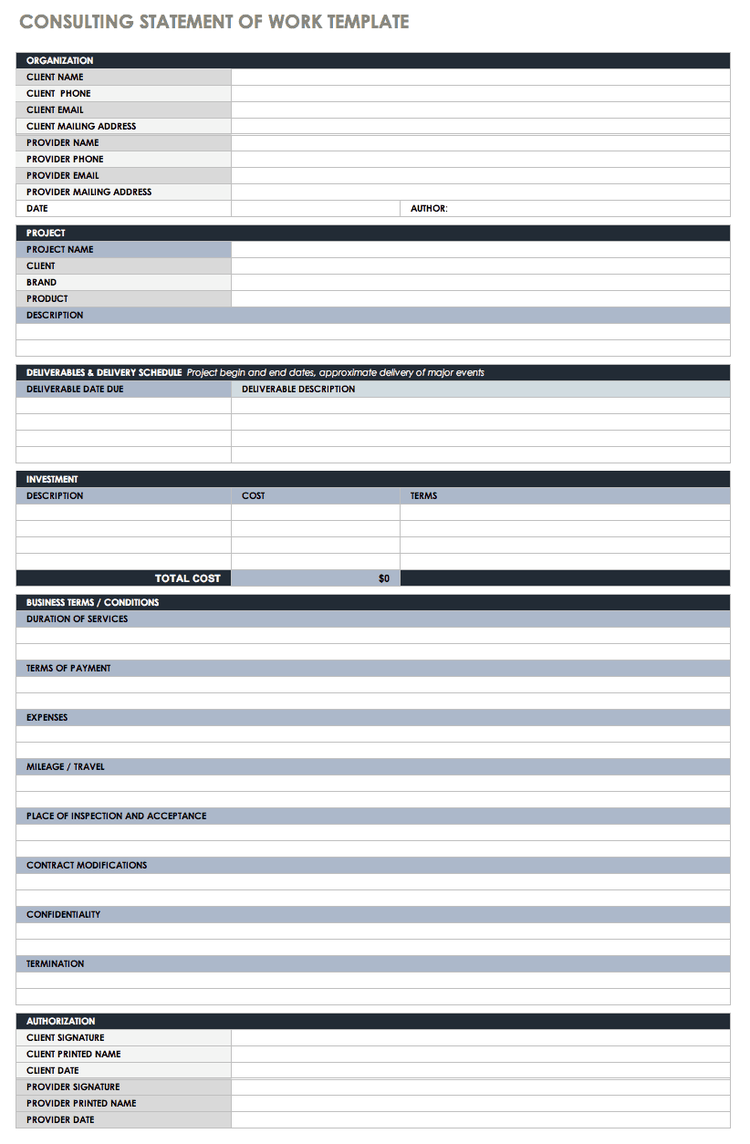 How much detail is too much?
The statement of work can contain different types of details, but how much detail should you include?
Too little detail for the sake of getting the SOW approved quickly can be problematic, as that would leave your document open to various interpretations.
Conversely, too much detail and you might get stuck in a process that's inflexible, leaving you no room to maneuver when the project calls for it.
As such, there has to be a balance. You want the SOW approved as soon as possible. At the same time, you want all the bases covered to ensure no disputes, disagreements, or misunderstandings arise.
Statement of work vs. scope of work vs. project charter
The terms "scope of work" and "statement of work" are often used interchangeably. However, there are differences. The scope of work covers the project's outcomes and the work required to achieve those outcomes. And as you may have seen in a previous section, it's just one component of the statement of work.
The project charter, on the other hand, is a formal document that authorizes the project, identifies the project manager, and grants that person permission to spend the project's budget. The SOW is a requirement when creating a project charter.
How to write a statement of work
How you tackle the process of creating a statement of work will depend on your industry and the elements you want included in the document. Here are some actionable tips for when it's time to sit down and write your SOW.
Tip 1: Be specific
The reason you're preparing a statement of work is for everyone to be on the same page.
Therefore, leave no room for guesswork, and be as precise as you can when describing the project's requirements, scope, goals, etc.
What being specific looks like
Write the SOW only when you know the deliverables: There's not much to go on when you only have a vague idea of what to create or produce.
Use language that everyone understands: The finance and legal teams will also want to know the particulars of the project. So aside from keeping your SOW as jargon-free as possible, refrain from using ambiguous language such as "within a reasonable time frame." Instead, say something along the lines of, "This particular task should be completed within two days."
Outline what's expected of both parties: When outlining the tasks to be performed, specify which side is performing which task. Be clear on what you're responsible for, as well as what you expect from the client.
Tip 2: Define what success is
The statement of work should clarify what success looks like. What constitutes an acceptable deliverable? When can a project be considered a failure?
What success definition looks like
Outline the project's success criteria: Define in clear terms what the deliverable is, including the characteristics and functionalities it must possess to be deemed complete and successful. For example, a successful software implementation can be defined in terms of the number of people adopting the software.
Specify who determines success: You don't want just anyone evaluating your work once it's done. You want someone with the authority to actually inspect it, and your SOW must clearly state who that person is.
Tip 3: Be clear on costs and pricing
The budget is an integral part of the statement of work. This means spelling out costs and being clear about the payment terms.
What clear costs and pricing looks like
Check your numbers for errors: Check for fees that may not have been adequately explained. Review your work for errors, and ensure that all tables and graphs you include as supplemental information are there to clarify rather than confuse.
Specify when payments should be made and how: If a down payment is required for work to commence, say so. If additional payments are required for additional work, the SOW should have that detail, too. Specify when final payments must be made, how they should be made (e.g., PayPal or check), and the name and address of the company that will receive the invoice.
Tip 4: Be ready to revise
When changes happen mid-delivery, promptly update the statement of work to reflect the changes. All agreements, verbal or otherwise, should be formally documented in the SOW. This way, there's only one reference point to go back to in case of confusion.
What revising your SOW looks like
Document versioning: With Google Doc's document versioning capability, you see all the changes made to a document, and who made them. As long as you have the necessary permissions, you can even restore a previous version. Similarly, version-controlling your SOW helps you pinpoint the most recent version with ease. Plus, you have a history of all the changes made.
Run your SOW past the experts: Have your legal team check the document before signing. You don't want to run into trouble or regret something you signed. Project managers are also understandably not an expert in certain fields, such as the HVAC side of a construction project, for example. They may have to consult with experts to get the technical details of the deliverables right.
How project management software can help with your statement of work
Below are some of the reasons why project management software tools are essential for crafting necessary project management documents like the SOW. We included a few software examples you can check out, too.
Centralized storage
You want all files, research reports, and other supporting documents in one central location that authorized users can access on demand no matter what device they're using.
When everything's in one place and easily searchable using relevant keywords, no more time will be wasted looking for much-needed documentation in various files and folders.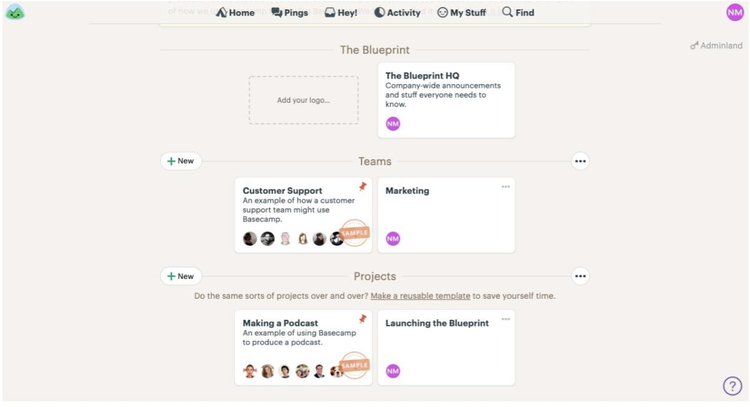 You can create a dedicated workspace for each of your projects, where you can store and share documents, images, and other project files.
Project management tools in one place
Aside from a central storage system, you can benefit from a platform that allows you to carry out your project manager responsibilities more efficiently, as well as helps your team get things done without the need for multiple discrete systems.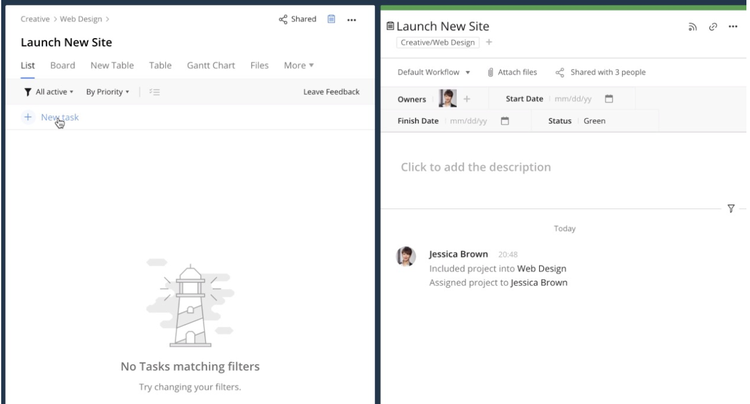 Wrike provides a host of essential project management tools, all on the same user-friendly platform. These tools are responsible for task creation and management, resource management, time tracking, shared team calendars, document and file storage, and so much more.
Plus, Wrike can integrate with third-party apps like Slack, Gmail, and Microsoft Office.
Communication and collaboration
Writing the SOW will involve input from stakeholders, particularly your project team. As such, your project management platform should support team communication and collaboration through various project management communication tools such as notifications, @mentions, comments on updates, file sharing, one-on-one and group chats, and more.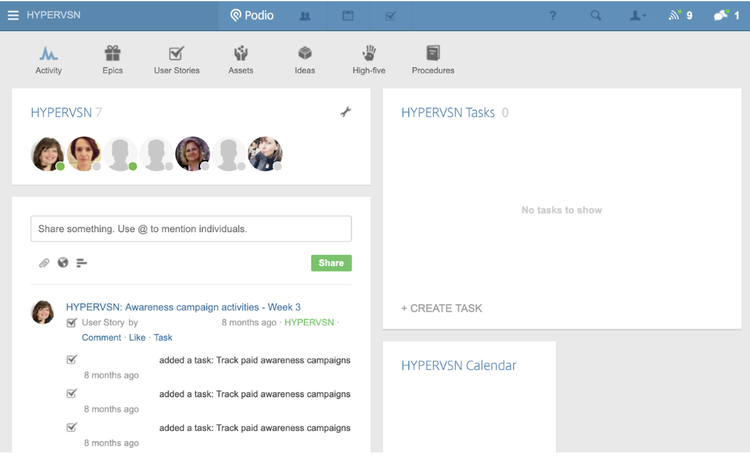 Podio is a feature-packed but extremely customizable project management tool that offers Facebook-like task monitoring and activity updates.
It also has a meeting scheduling feature, integrated chat, a connected CRM, and personal dashboards you can customize so that the data presented on any of your various workspaces (e.g., homepage, employee network, or individual projects) is the data you need.
Task management
With project management software, you can set up notifications for upcoming deadlines and milestones, tasks that have recently been completed, tasks that are overdue, and so on. This way, you're always on top of things.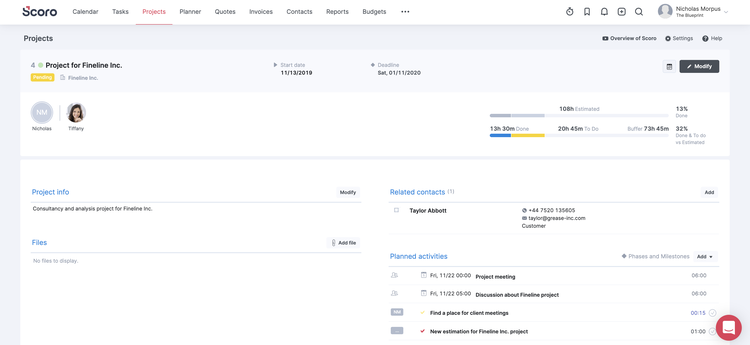 Scoro comes with a range of nifty project management features such as a calendar, task planner, invoices, budgets, a news feed, file storage, project workspaces, dashboards, a media library, reports, and more.
On the task management side of things, Scoro lets you add a task, assign it to multiple people, schedule it in the team calendar, log events under a certain task, track time per task, bundle tasks together, and so on.
Getting your statement of work right
Whether the project requires you to conduct a feasibility study or develop a bespoke application, when creating the statement of work, getting the details right -- an important management principle is an absolute necessity.
At the end of the project, stakeholders will refer back to the statement of work to determine if the agreed-upon conditions have been met and whether your company will be compensated fully or incur penalties.
Alert: highest cash back card we've seen now has 0% intro APR until 2024
If you're using the wrong credit or debit card, it could be costing you serious money. Our experts love this top pick, which features a 0% intro APR until 2024, an insane cash back rate of up to 5%, and all somehow for no annual fee. 
In fact, this card is so good that our experts even use it personally. Click here to read our full review for free and apply in just 2 minutes. 
We're firm believers in the Golden Rule, which is why editorial opinions are ours alone and have not been previously reviewed, approved, or endorsed by included advertisers. The Ascent does not cover all offers on the market. Editorial content from The Ascent is separate from The Motley Fool editorial content and is created by a different analyst team.
Suzanne Frey, an executive at Alphabet, is a member of The Motley Fool's board of directors. The Motley Fool has positions in and recommends Alphabet (A shares), Alphabet (C shares), Microsoft, and PayPal Holdings. The Motley Fool has a
disclosure policy
.