How to Advertise on Facebook Through a Business Page
by Anders Hjorth | Updated Aug. 5, 2022 - First published on May 18, 2022
Many or all of the products here are from our partners that pay us a commission. It's how we make money. But our editorial integrity ensures our experts' opinions aren't influenced by compensation. Terms may apply to offers listed on this page.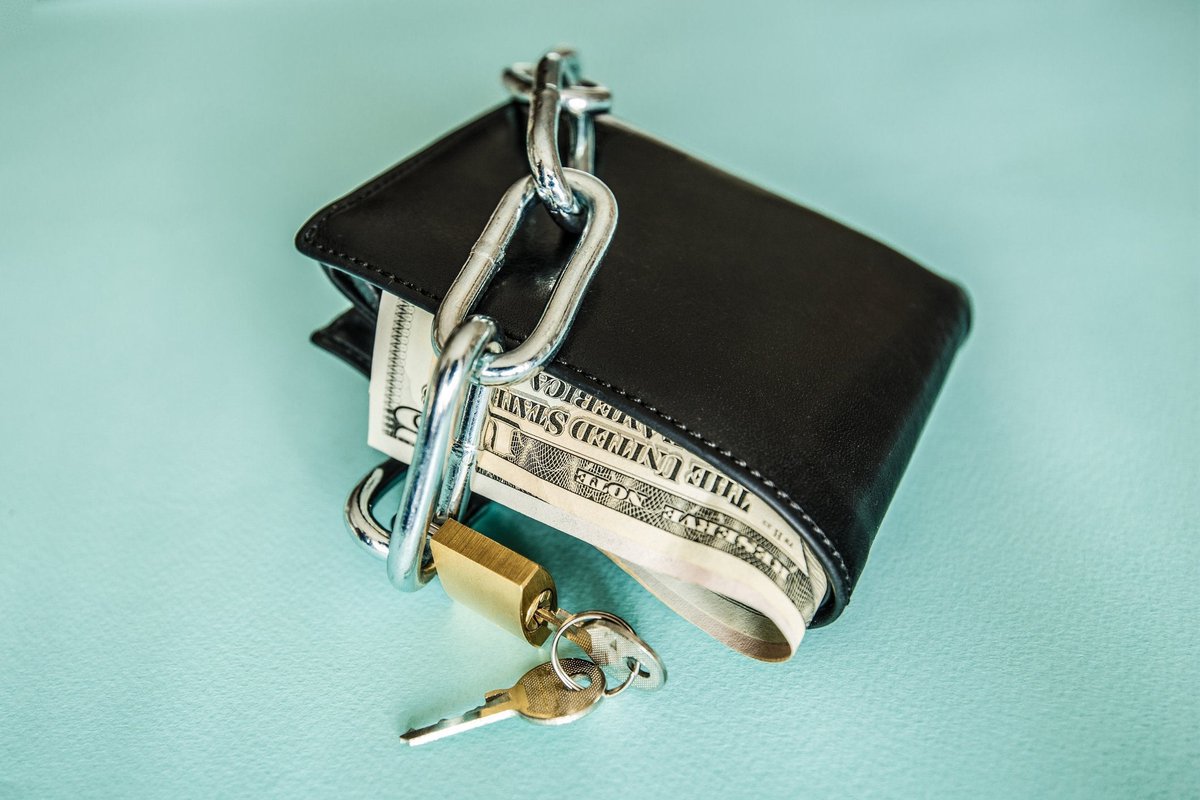 As a business with a Facebook page, you have easy access to a powerful advertising engine. Learn to advertise by following these simple steps.
If you are serious about sales and marketing on Facebook, then you probably already have a page, like most of the around 140 million businesses who were doing so in 2019. If not, you first need to learn how to make a Facebook business page.
Another option is to create a Public Profile page, if your objective is to build your personal brand. This Facebook ads guide applies to both.
While business pages are free to create and manage, their real value is as the centerpiece for an advertising strategy. Facebook is eager to help you unlock that potential and has set up an entire learning center for that purpose. But Facebook can't figure out the best way to advertise your business for you.
So, should you call an agency to do the job for you? Chances are you shouldn't, because an agency will only play an effective role for you, once you have scaled your business to generate additional value.
If you are a smaller company, an agency will be too expensive. As you grow, an agency's experience can bring significant value via efficiency, innovation and sometimes additional tools.
So, should you let Facebook do it for you with Automated Ads? You could, of course, but perhaps you will learn more and win in the long run, if you set up the campaigns yourself. It is quite easy, as you will see in the steps below.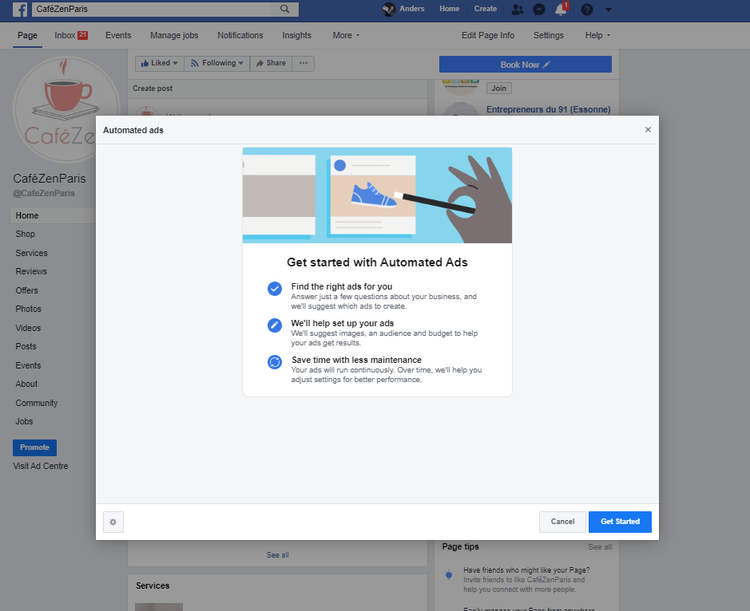 Overview: What are Facebook ads?
Facebook ads are composed of images, text and call to action buttons and can appear in various places on Facebook, Instagram and Messenger.
Facebook ads integrate the format of each ad into the placement where the ad is shown: the Facebook desktop feed or right column, the mobile feed, the Instagram feed or stories, and the Messenger inbox.
The format of the ad is specifically adapted to fit each of the placements by a recomposition of the ad using the assets you provide. Ads can be run as individual campaigns which is a great way to start, but you may also set up a more advanced campaign structure with multiple ads interplaying to execute a social media strategy.
One of Facebook's strengths is its tools which enable you to target the right audience in the most effective manner, as well as to provide you with real social media metrics to report on your activity on reach and impressions as well as engagement.
How to advertise your business on Facebook
There are many inroads into Facebook advertising. If you have already posted to your business page, you will have received notifications and internal ads in your Facebook interface.
Some of the notifications are opportunity-based and generated from data to suggest, for example, to boost a page which carries successful engagement metrics.
There are also various buttons and menu items that can bring you to the advertising app. Additionally, if you are using social media management tools, you might have seen options to manage your advertising via their interface.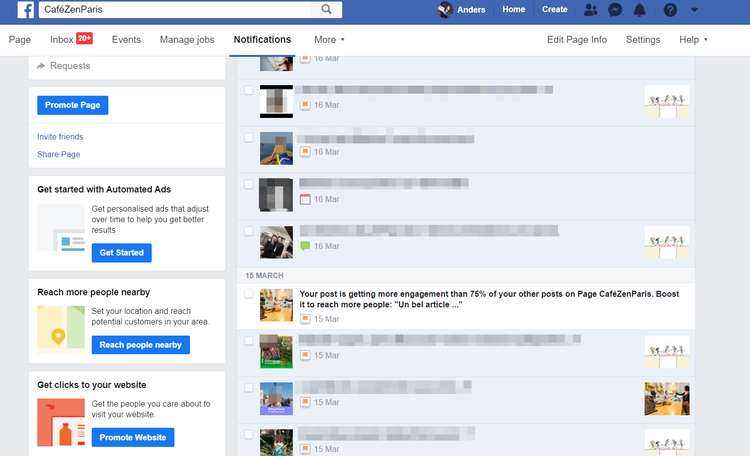 There is an important distinction between the notion of advertising from your page and the use of the Ads Manager, which is a more complex advertising interface allowing you to manage multiple pages and to unlock all of Facebook's ad features and tools.
It is something to explore when you start feeling the limitations of advertising directly from the page, but let's stick to the simple approach of advertising directly from your business page for now.
Your first step will be to click the Promote button, then you will choose your type of objective, select the images, text and call-to action, define your target audience, and finally set the budget and duration of your ad. Let's take a look at each step in detail.
Step 1: Click the blue Promote button to begin advertising
As mentioned, there are various ways to access advertising on Facebook, but if it is your first time, you should use the Promote button which is on the business page itself. It is clearly the easiest way to create a Facebook ad.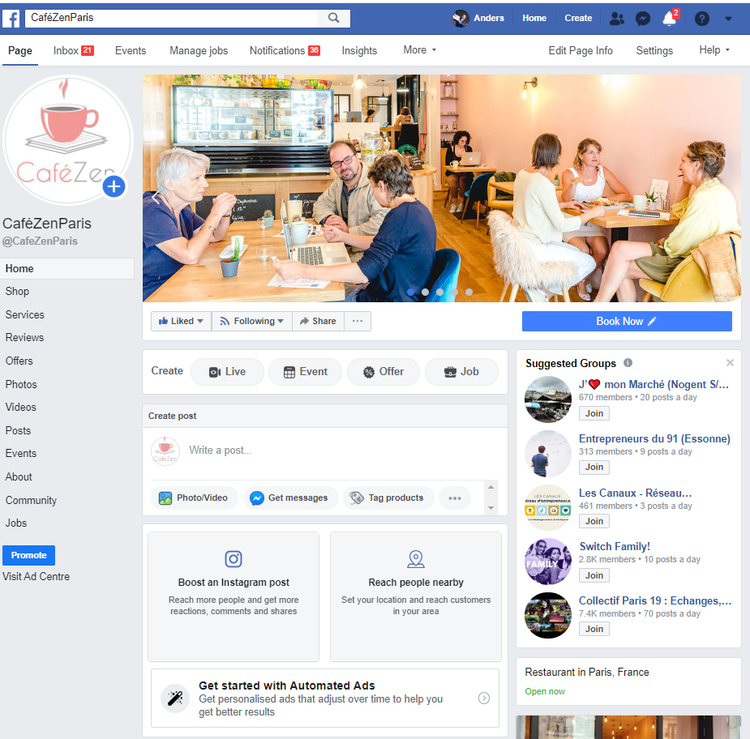 Tips for starting to advertise on Facebook
You will find the Promote button below the navigation bar. In some cases you will even see individual objectives lined up below it, but clicking that button will ensure that we go through the steps in an organized manner.
Brand assets: We are starting to promote your business. You will need to have your brand asset readily available: logo, baseline and descriptive texts and images. Of course they must be in a digital format.
Strategy and audience: Do you have a formal social media strategy outline and have you built personas or segmented your users? Have these elements handy when you move to the following steps.
Step 2: Define your campaign objective
There are many ways of advertising on Facebook and they are made to fit specific purposes. You therefore start out by defining what it is you want to achieve with your campaign, and the attributes that Facebook makes available correspond to that objective.
If your business does social commerce, your main objective is to sell a product or a service.
If your Facebook page is part of an inbound marketing plan, your objective is probably to generate leads with your ad. And if your page promotes a cafe in Paris, your objective will be to make people near your cafe aware of what is served right now, whether that be the brunch offer on weekends, or what is served for lunch the same day.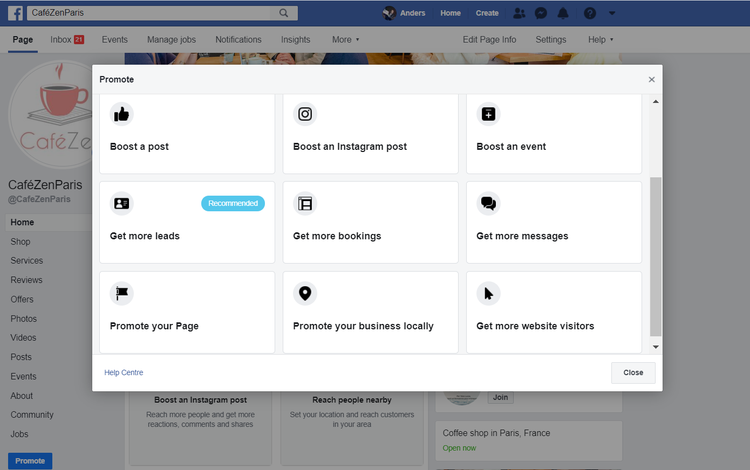 Tips for defining objectives
Facebook lays out the objectives for your ad, and in many cases these depend on the characteristics of your page. You won't have the Boost an event objective available if you haven't put any events in the page calendar. On the flip side, one option that will always be available is to Boost a post.
This is a great advertising feature, as it allows you to use an existing post as an ad. The post will simply be boosted to reach a much wider audience, which you define in the next step. There will also be the option to promote the page to get more followers, to promote your business locally, and to generate website visitors.
It is essential that you choose the right objective for your campaign at this stage because you won't be able to change it afterwards. Give it some thought before you select the objective, well knowing that you can create other ad campaigns with other objectives in parallel by going through the process again.
Marketing plan: Perhaps your objectives were laid out in your social media marketing plan, or in the overall marketing plan for your business. Try to make them correspond with the objectives you choose in this step.
Business page readiness: Before doing any advertising, make sure your page is complete, and you have entered all the business information, including page categories, opening hours, services offered, and events planned. Never advertise on a shaky foundation, as it will be a waste of money.
Step 3: Line up your ad assets
You've set your objective, and you now need to create your ads. Facebook has evolved the advertising paradigm with its modular and dynamic ad platform. Creating Facebook ads is not a linear process with a static output that you can print on a piece of paper.
A Facebook ad is dynamically composed, and you can simulate its various shapes and forms on the basis of the assets you supplied. The basic input for an ad is an image and some text. If you have performed a social media audit on your own or competitors' activity, you will have a good feeling for how those elements play together.
And if you have performed a brand audit, you will know exactly what assets you need to use for your ads. Other than an image, you can also use video, create a slideshow, and some types of ads use a call to action.
In the preview, you can select the on-page placement of your ad, giving you a good idea of how it will appear when it's live.
In many cases, you can use an existing post or elements from your page for the ad. You can also plan ahead for a future ad campaign by selecting the timing and the content from your social media content calendar.
Tips for lining up ad assets
In a well-structured social media campaign, you will have a central repository for all your images, texts, and other assets. After you have selected the objective in the last step, you will now see what elements you need for the ad type you are creating.
You can vary and play around with the elements, and see how the assets will look in the preview. Then move on to the next step when you are satisfied with the content.
Start small: For the price of a cup of coffee and a muffin, you can run an ad campaign that reaches thousands of people. So start small and only invest significant budgets when you have learned to extract value from your advertising setup.
Test and learn: Digital advertising is an ongoing learning experience, and the best way to learn is by doing systematic testing and documenting results. Test what images and what calls to action work the best and reuse those approaches later.
Step 4: Define your target audience
Hopefully, you already had your target audience in mind when you selected the campaign type and assets for it. We have now come to the audience definition in Facebook terms. You can target on the basis of location, age, gender and interests.
Or you can target based on conditions such as being a follower, or the friend of a follower. Much more complex audience targeting is available for large scale campaigns, but what we have at this stage is sufficient for the needs of your new campaign.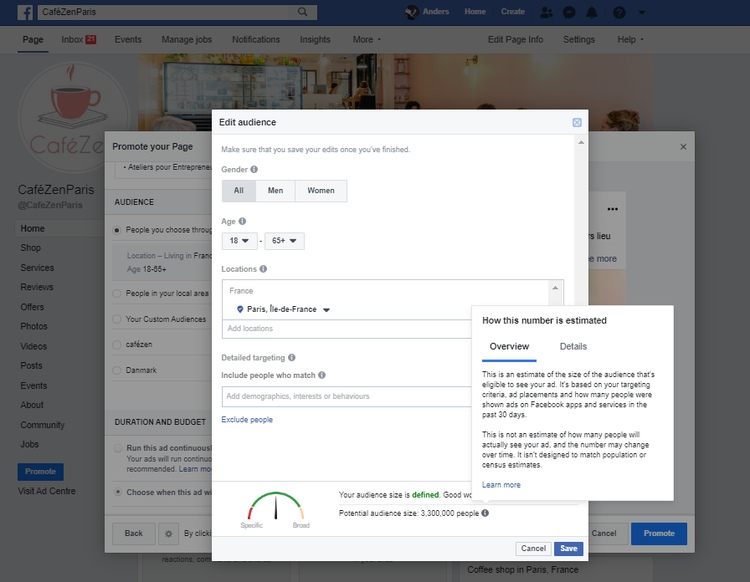 Tips for defining your target audience
First choose the location of your target. If your business has a physical address then the local targeting might make sense. You can target quite precisely, and see the size of your target audience every time you change a parameter.
Define gender and age group to narrow your target. To further qualify your audiences, define what they are likely to be interested in.
Don't overdo it: You can sometimes narrow your target down to a very small group, but this won't necessarily be effective, because the audience criteria can be somewhat approximative. Start out a little bigger and then narrow your target as you learn what works best for you.
Explore interests: Spend some time exploring the interest targeting which is available. And take notes. There are many variables, and you can easily forget what parameters you entered in your campaign.
Save an audience: You can create an audience and save it for use in future campaigns.
Step 5: Set your budget
The last step before the campaign can go live is setting the budget and payment option. You can choose to let a campaign run continuously on a daily budget, but for starters, you should put a time limit, and a precise budget for it.
You can start really low and then choose to prolong a campaign, or you can let it run for some days, and then look at your social media analytics results before you create a new campaign to improve on the first one.
Tips for setting budget
When you enter a daily budget, you immediately see an estimate for the outcome of the campaign. It is in no way contractual and can vary a lot from reality, but it is a good planning tool to set your budget right.
Set a daily budget, set your campaign to run for maybe a week, and provide a payment solution before you press the blue Promote button at the bottom right side of the screen.
Pay with a credit card: For small amounts, there is no need to set up payment conditions and credit limits. A credit card is great for starting up.
Billing statements: When your credit card is charged, the contact email for the account will receive billing statements. They can also be found in the ad center.
Step 6: Review, publication and modifications
You have submitted your campaign, and it is now up for review by Facebook, before it goes live. For a straightforward campaign, review can be lightning-fast, but in some cases, a word in your copy, or an image feature could trigger a flag in relation with Facebook's advertising policies, in which case review will be longer.
Tips for publication and modifications
Once your campaign goes live, it will run until you pause it. You can modify the budget if you want to prolong the campaign or increase or decrease the daily budget.
Keep an eye on your stats: You won't know exactly when the campaign goes live, so stay alert to any signs of its impact. Then visit your reporting interface to see how you are doing.
Check the comments: Comments and likes will improve the outcome of your campaign, but they can also reveal signs of wrong targeting or negative feedback. In this case, the campaign has gone off track and should be paused immediately.
Seek advice: Community managers who run social media campaigns are open and helpful people. Join a community, ask questions, find ideas to test and listen to other digital marketer's tips.
Do you feel the power already?
We have walked through how to create Facebook ads directly from a business page. If your business page ad campaign has gone live, you should be able to feel the power already.
Facebook advertising can empower your business, and once you have found the right type of campaign for your business, you can unleash that power to drive business results.
We're firm believers in the Golden Rule, which is why editorial opinions are ours alone and have not been previously reviewed, approved, or endorsed by included advertisers. The Ascent does not cover all offers on the market. Editorial content from The Ascent is separate from The Motley Fool editorial content and is created by a different analyst team.
The Motley Fool has positions in and recommends Target. The Motley Fool has a
disclosure policy
.