Reach vs Impressions: Which is the Better Social Media Metric?
by Anders Hjorth | Updated Aug. 5, 2022 - First published on May 18, 2022
Many or all of the products here are from our partners that pay us a commission. It's how we make money. But our editorial integrity ensures our experts' opinions aren't influenced by compensation. Terms may apply to offers listed on this page.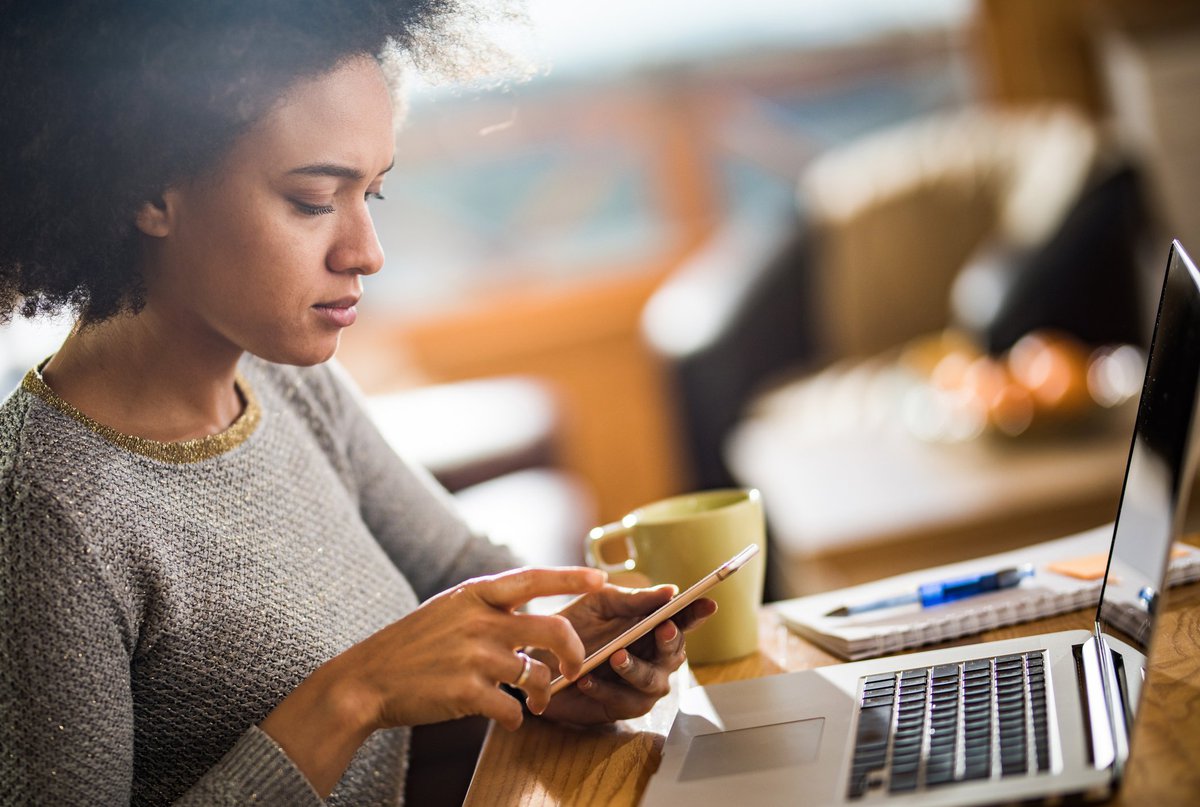 Reach and Impressions are different metrics for the distribution of an ad or a piece of content on digital media. We will look at the advantages and differences as well as the tools to monitor them.
Perhaps the physical and the virtual worlds will not be significantly different in the lives of upcoming generations. But for present-day business owners, the learning curve for understanding the metrics for online activity is quite steep.
Why consider reach or impressions when all that really matters to you is engaging in meaningful conversations with real people who could perhaps become your customers or ambassadors for your brand one day? Let's look at how reach and impressions play a role with regards to engagement.
What is reach?
In marketing analytics, reach is the number of unique persons who will have seen a piece of content or an ad over a given time span. These people may see your brand, your content, or your ad several times but they're only counted once each.
To make it simple, reach is people. But you may have to choose between impressions or reach as one or the other may not be readily available. Reach may be what you are interested in, but for your marketing analytics, social impressions will be an easier metric to retrieve.
What are impressions?
In marketing analytics, impressions are the number of times a piece of content or an ad has been shown. The name is inspired by the printing press. An impression is when the content or the ad has been printed once. Think of impressions as the number of flyers you print for distribution. For simplicity, impressions are impact.
In recent years, we have seen scandals surrounding the metrics for impressions in advertising, as not all impressions are actually seen by real people. The guy who was supposed to deliver your flyers to individual people threw a bunch in a dumpster.
In advertising, the notion of viewed impressions is measuring how many impressions were viewable to users, thus removing false impressions from the equation.
Reach vs impressions: What's the difference?
When you publish a piece of content and it generates its first social impressions, it will have reached a certain number of people. At this early stage, social media reach equals social media impressions. The difference between reach and impressions resides in repetitions and in the time span.
As soon as the content is seen more times by the same person, or when the same person will see a different content related to your brand the next day, the number of total impressions of your content will be higher than the reach.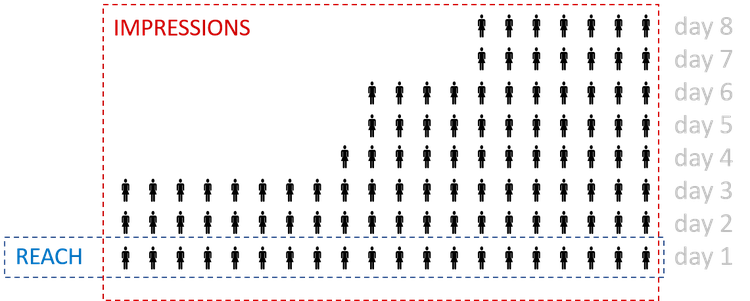 Remember that your online profiles are owned by the social media platforms you use, not by you. Social media owners will give you the statistics they find suitable, and will label them in whatever way they prefer. Reach and impressions can, therefore, be a little mixed up.
Furthermore, whereas impressions can always be counted, to calculate reach, you need to deduplicate multiple views from the same person.
This becomes difficult when you span a wider time period, and it becomes challenging when you are active in various marketing channels and don't have a central data repository.
And it becomes impossible if event marketing or earned media -- the press or other indirect coverage of your content -- is part of the scope you aim to report on.
You will only be able to do an approximative measurement of the media reach and impressions of earned media, and even the most advanced tools will be practically incapable of measuring total reach reliably.
Here are a few examples of how different social media platforms display information around reach and impressions.
Facebook reach vs. impressions
In personal profiles, Facebook does not provide any data on reach; all you have is likes. However, when you have a Facebook page, the Insights section of the profile will provide you with data on Reach and Engagement for posts.
And only when you run a marketing campaign, and actually spend on an advertising budget, will you be presented with data for both reach and impressions.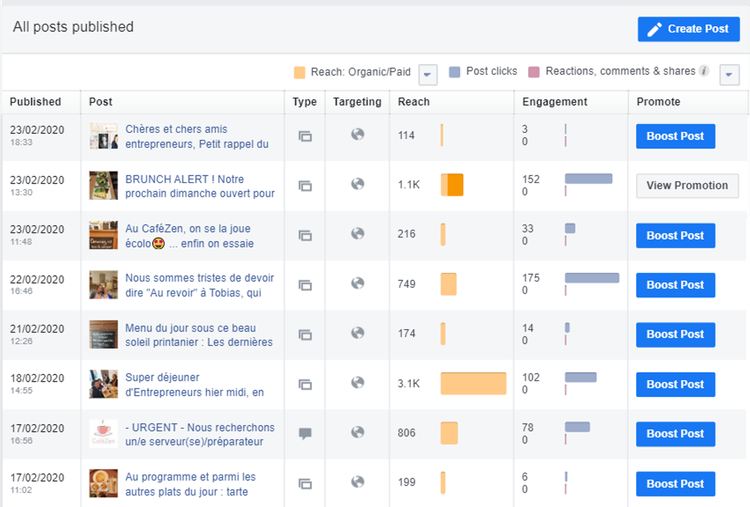 Instagram reach vs. impressions
Instagram recently decided to stop showing the likes on posts within the application. The idea was to stop some of the hysteria surrounding social media metrics. Before that, Instagram was already known for not really giving away a lot of stats to profile owners.
Iconosquare used to be the only tool capable of measuring activity in Instagram, but others have now followed suit.
As soon as you start doing advertising campaigns, however, you get access to statistics. Since Instagram is owned by Facebook, it is actually the powerful Facebook advertising engine that takes over. This also means that reach and impressions are defined the same way as they are on Facebook.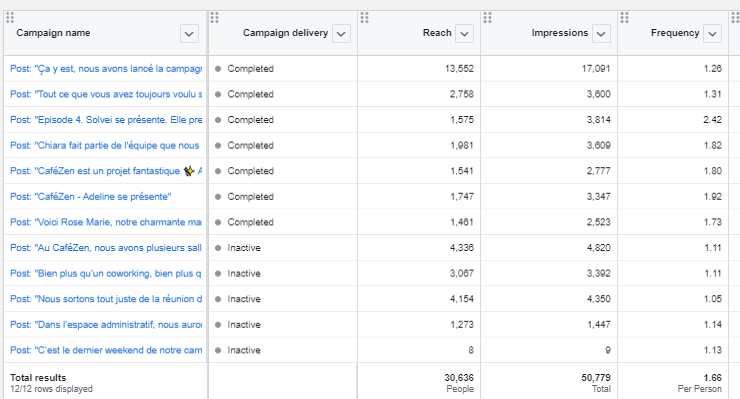 Twitter reach vs. impressions
Whereas the Facebook Insights page will only give you reach, Twitter Analytics will only give you impressions; this is also the focus for its advertising platform. You should also consider that impressions on Twitter are not equal to impressions in other channels.
This is due to the difference between social media interfaces. Twitter seems to count impressions as users scroll past messages, even if they're not stopping to read your content. Typically, this will generate less engagement and be reflected in lower CPM (cost per mille) for advertising.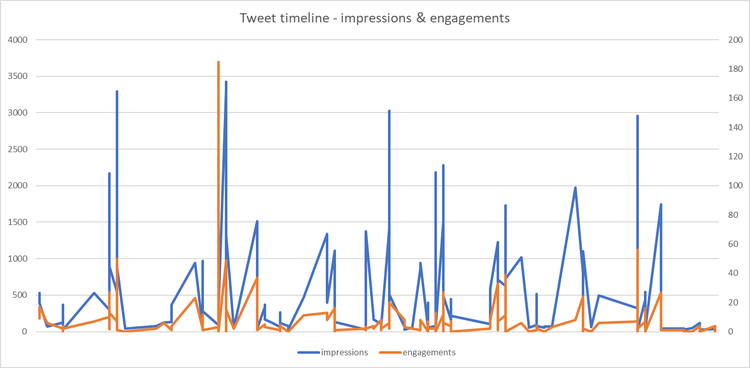 Should your small business focus on reach or impressions?
What will be the most important to monitor, reach or impressions? In your marketing plan, you may have to work with both.
Your business is probably more interested in reaching people rather than just generating impressions. However, what social media and online media, in general, will deliver are impressions.
Data for the reach you have generated is difficult to get, and as soon as you are using marketing tactics involving several channels for marketing, your reach becomes unreliable, whereas your number of impressions will still be a reliable statistic.
For building one's social media connections, the best measure for the impact of the social media calendar is reach. Digital marketing tips will often cover ways to build more reach. But for managing and measuring a social media campaign or advertising, go for impressions.
And for your own dashboards, consider both as marketing KPIs.
The best social media management software for tracking reach and impressions
While many different tools will provide reach or impression statistics for your social media communications, they use different angles. The best social media management tools will directly provide you with an analytics solution that gathers the metrics for all the social channels they manage.
They may also expand the coverage to include impression data from advertising. A different angle is used by social listening tools, which will aim to give a broader view of communication reach and compare your results with that of your competitors.
This can be particularly useful when you are making a social media proposal because you will get a view of a brand's reach as compared to its market without being the owner of the social media profiles.
Let's look at some of the numerous options present in the market:
1. Iconosquare for Instagram
Iconosquare is known for its strong handling of Instagram data, which was unavailable for most web-based analytics tools when Instagram was exclusively an app. Iconosquare is a monitoring and analytics tool that has now expanded to Instagram management and also covers Facebook data.
Very much to the point, Iconosquare works well on a smartphone.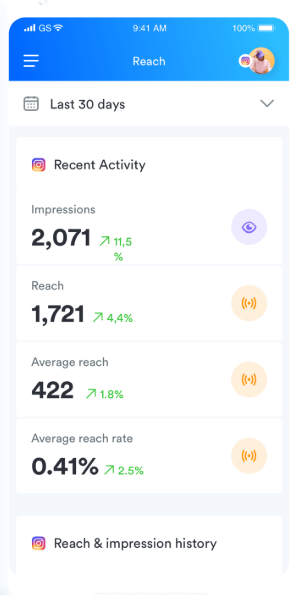 2. Sotrender
Sotrender is another monitoring tool capable of covering Instagram and Facebook data, but it also expands to Twitter and Youtube. It is not a management tool, but it provides data-driven recommendations for each channel.
Recommendations are based on data analysis and the sharing of best practice from across the monitored data sets.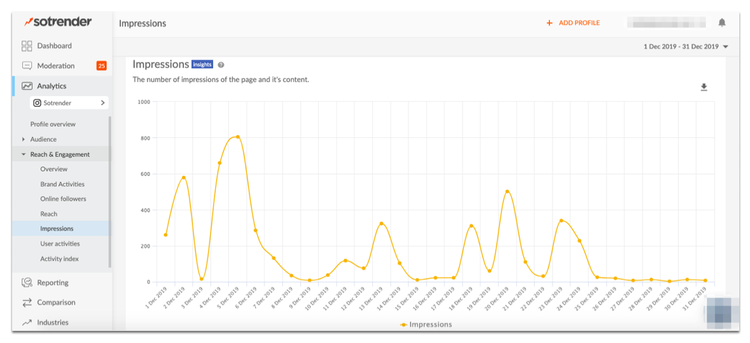 3. Sprout Social
Sprout Social is one of the social media management tools that integrates the analytics features into the software. It provides a good illustration of what to expect from a tool you are working with for managing your social media.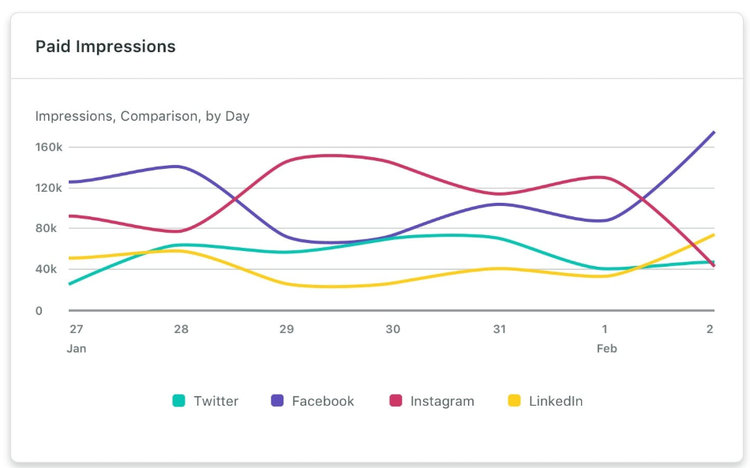 4. Supermetrics
Supermetrics is an example of an analytics tool that allows you to integrate with your social media ad accounts to extract the metrics for display in a dashboard.
The tool integrates with Facebook Ads, Twitter Ads, and Instagram Insights, and is a great tool for making dashboards and monitoring impressions of your ad campaigns.
Your dashboards can be built in any tool you prefer: a Google or Excel spreadsheet, Google Data Studio, or an API.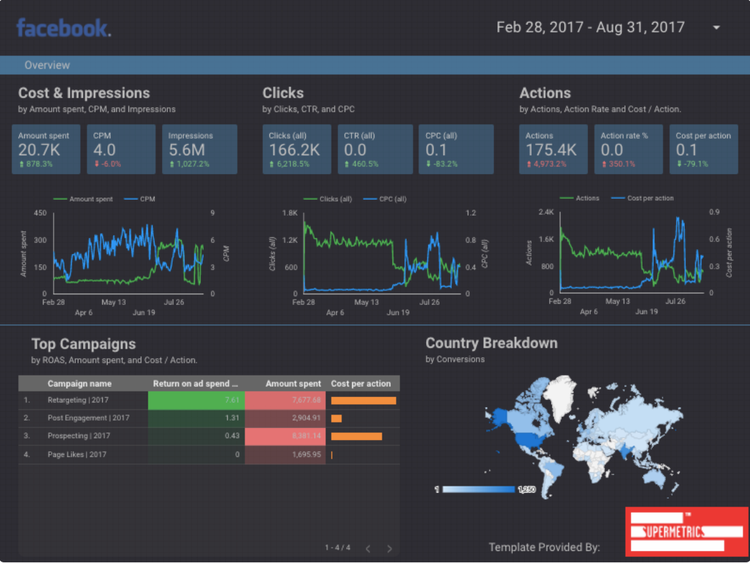 Reach people and impress them repeatedly
Reach and impressions are interconnected metrics. Whereas the basic metric for advertising delivery is impressions, reach will be a key supporting metric in a paid media context.
When it comes to organically growing your online following and your number of connections for your social profiles, reach is much more important than the number of impressions. But you will also focus on reach when trying to evaluate earned media and its contribution to your brand visibility.
Build your reach to touch more people, and generate repeated impressions to create an impact.
We're firm believers in the Golden Rule, which is why editorial opinions are ours alone and have not been previously reviewed, approved, or endorsed by included advertisers. The Ascent does not cover all offers on the market. Editorial content from The Ascent is separate from The Motley Fool editorial content and is created by a different analyst team.
Suzanne Frey, an executive at Alphabet, is a member of The Motley Fool's board of directors. The Motley Fool has positions in and recommends Alphabet (A shares) and Alphabet (C shares). The Motley Fool has a
disclosure policy
.