How to Schedule Instagram Posts for Your Small Business
by Anders Hjorth | Updated Aug. 5, 2022 - First published on May 18, 2022
Many or all of the products here are from our partners that pay us a commission. It's how we make money. But our editorial integrity ensures our experts' opinions aren't influenced by compensation. Terms may apply to offers listed on this page.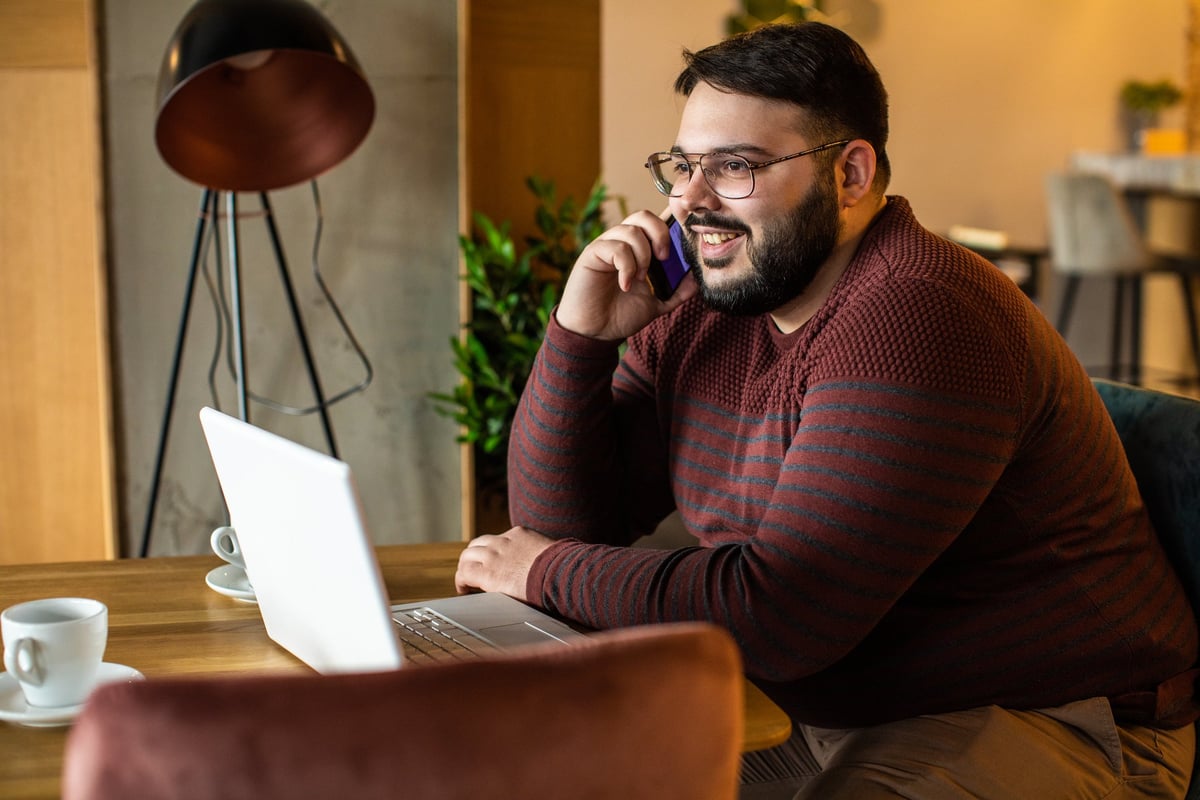 Scheduling posts on Instagram is a way to efficiently prepare and organize your publications. We will look at some compelling reasons for it, current best practices, and useful tools.
Instagram is the social media app that celebrates the instant. Right here, right now. Its filters allow you to add emotion, content, and personality to the moment. But how then are planning and scheduling posts on Instagram compatible with the philosophy of the social network?
Whereas the #latergram hashtag can be used when you are not posting in real-time, when you are using the social network for business purposes, you will find that your most successful posts are the ones that have been carefully prepared and planned in advance.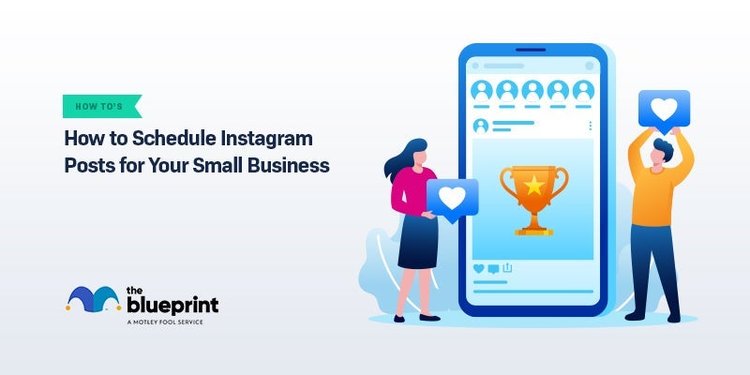 Preparation is essential to be able to catch the instant successfully.
A great illustration of this is in local marketing, where you need to reach people at the moment they are physically moving past your business. For restaurant marketing, you need to reach people when they are close to your location, and it's time for lunch.
You need to entice them with an attractive dish before you have even started preparing it.
Should you schedule Instagram posts for your small business?
Social media is fast-moving. If you are serious about it, one of your marketing metrics should be your publication activity. But if social media is not your core business, it will be almost impossible for you to spend the necessary time to manually maintain a dynamic and growing Instagram account.
Automating social media management tasks becomes essential. And one of the most obvious tasks to automate is publication of your posts. But there are other good reasons to schedule your Instagram posts.

1. Synchronize with your audience
Marketing 101 tells you to listen to and understand your audience. You can schedule Instagram posts at times that synchronize with your audience's viewing habits. You could also aim to synchronize with the times when your own teams are on social media during work time.
This can have a positive impact on your social media communication, as your coworkers engage with and enhance your message.
2. Maintain your posting frequency
From a small business marketing perspective, it can feel overwhelming to be posting several times per day. Posting frequency is one of the most challenging objectives in social media management. However, automation and scheduling are solutions that will make it possible for you to reach your marketing kpis.
3. Free up time for catching that quality moment
If you want to catch the moment and engage with users at key times, you need to be both prepared and available.
If you schedule Instagram posts, you can make that happen. You can view this as a marketing tactic similar to newsjacking which is quite popular on Twitter, but you need to reserve time for catching real-time content and publishing it manually. If you manage this exercise, your social media engagement metrics will surely improve.
4. Maintain a coherent brand and hashtag strategy
Building an Instagram profile is much like building a brand and managing your publications is much like creating and maintaining your brand positioning.
Your social media content calendar will help you create that guiding line, and the scheduling of posts will allow you to use hashtags coherently, to reinforce your brand values as you post.
How you can schedule Instagram posts for your small business marketing
Scheduling your posts on Instagram is straightforward. You build a content calendar, prepare the content to publish, and finally, configure a tool to post at scheduled times.

Step No. 1: Build your content calendar for your Instagram posts
Your marketing plan will define your social media objectives. This will in turn translate into the publishing volume for your communication plan. You will enter these into your social media content calendar, which is an essential planning element in social media communications.
A content calendar is simply a calendar view of the content you will be communicating about in your various marketing channels. Its primary function is to define the time, date, theme, and social network for each publication.
Visualization: A content calendar can be created in many different formats. Prioritize the format and the tool which provides you the best visual overview.
Integration: Some tools allow you to visualize your content calendar, hold your content, and schedule your posts.
Step No. 2: Prepare your Instagram content
The quality of your content determines engagement. If your content calendar already defines your publishing themes, you should build out content to form a story over time. You may need to perform a social media audit to assess what types of content and hashtags perform well.
In this step, you'll need to imagine the content for a future publication with the right image, text, and hashtag for each post.
Image formats: Make sure you natively prepare your images for publication, so they appear optimally once published on Instagram.
Social listening: Social listening will allow you to identify the hashtags that are relevant to your communication.
Step No. 3: Schedule posts with a social media management tool
Once your calendar and your individual content pieces are ready, you will need to configure the tool which actually publishes them. It may have a calendar visualization, and in some cases even incorporates the content.
An Instagram scheduler can also help you connect your publishing activity with your marketing analytics via its reporting interface.
In our three-step process, scheduling is critical, and you mustn't make mistakes.
Time zones: Before anything else, make sure your scheduling tool, your Instagram account and your computer time are synchronized.
Refresh credentials: A scheduling tool will use your credentials to access Instagram. Credentials can expire and block publication, so check and refresh them regularly.
Can you schedule Instagram posts with each account type?
Automatic scheduling is available for business accounts since early 2018, but it is not possible for personal accounts. However, there is a workaround for scheduling Instagram posts on your personal profile, via the use of push notifications from a content calendar.
You can still plan all the posts for your personal branding ahead of time, you simply have to do the actual posting manually at the scheduled time.
The best social media management tools to schedule Instagram posts
Most social media management tools allow you to manage Instagram publication scheduling. They conveniently organize your content calendar, hold your content, schedule publication, and finally aggregate reporting for the activity as well. Here are a few of the tools available for scheduling your Instagram posts:
1. Later
Later was originally launched under the name of Latergramme and scheduling Instagram posts via push notifications was its main focus. This was before automatic post scheduling was possible for business accounts.
Its functionality has now expanded to cover automatic scheduling, and expanded to Facebook, Pinterest, and Twitter.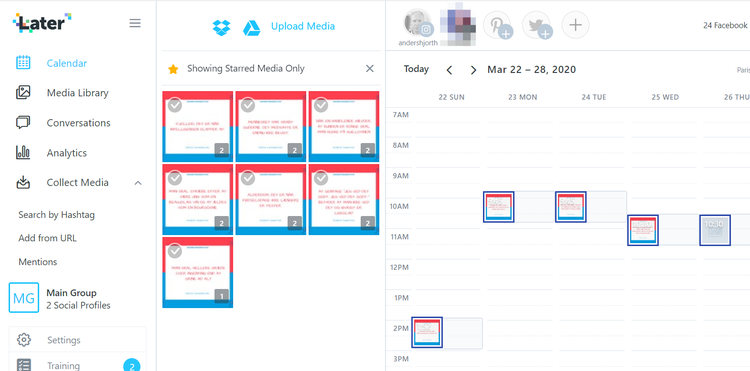 2. Iconosquare
Iconosquare was one of the first analytics tools dedicated to Instagram. It provides an Instagram scheduler and now also provides social media management for Instagram and Facebook.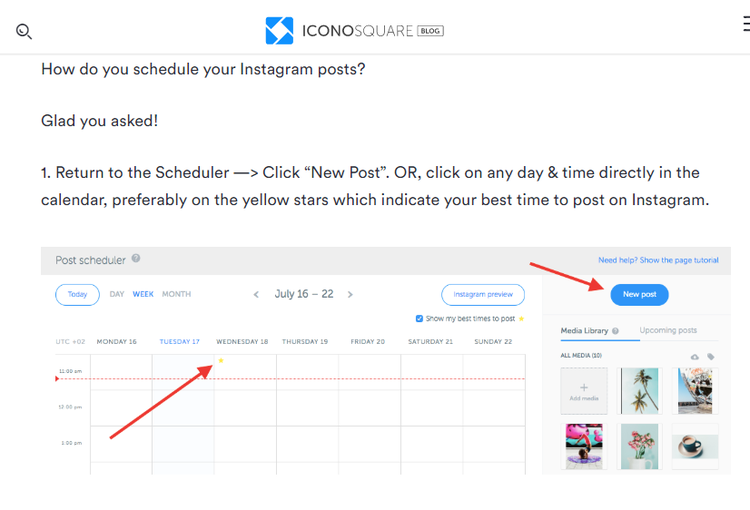 3. Buffer
Buffer is an easy to use social media management tool which provides a visually pleasing content calendar overview. It provides scheduling and automatic posting to a range of social networks including Instagram.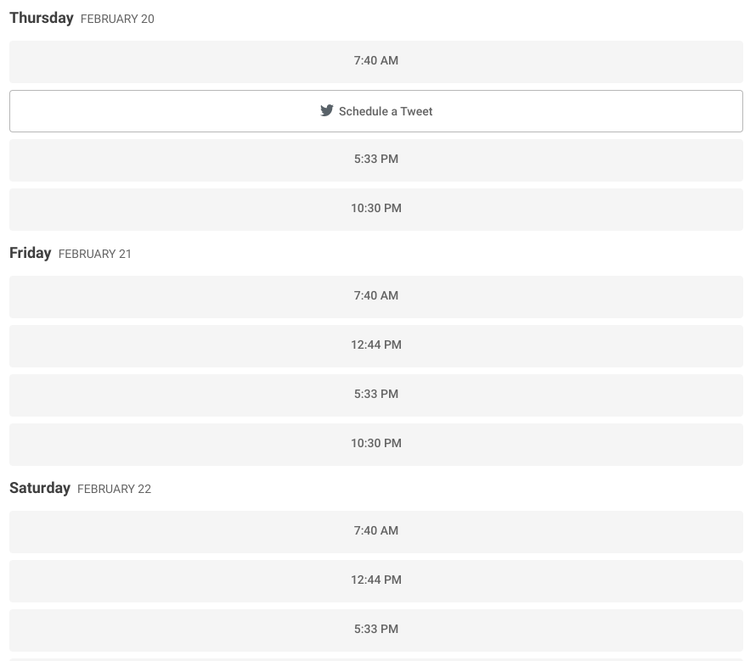 Schedule and forget, right?
Quality content is key to success on social media, but unless you automate publication and tracking of that content, it is hard to reach your marketing goals. Scheduling is probably the first activity to automate on your social media accounts.
Doing so will switch your communication to auto-pilot: the flight plan has been laid out, the course is clear, the scheduling system is set, and you can now concentrate on making sure your passengers are at ease.
But there could be storms and turbulence ahead, so you need to be ready to take manual control at any time. Check your notifications at all times, and enjoy your flight.
We're firm believers in the Golden Rule, which is why editorial opinions are ours alone and have not been previously reviewed, approved, or endorsed by included advertisers. The Ascent does not cover all offers on the market. Editorial content from The Ascent is separate from The Motley Fool editorial content and is created by a different analyst team.
The Motley Fool has no position in any of the stocks mentioned. The Motley Fool has a
disclosure policy
.