6 Social Media Campaigns That Will Inspire Any Business
by Clark Boyd | Updated Aug. 5, 2022 - First published on May 18, 2022
Many or all of the products here are from our partners that pay us a commission. It's how we make money. But our editorial integrity ensures our experts' opinions aren't influenced by compensation. Terms may apply to offers listed on this page.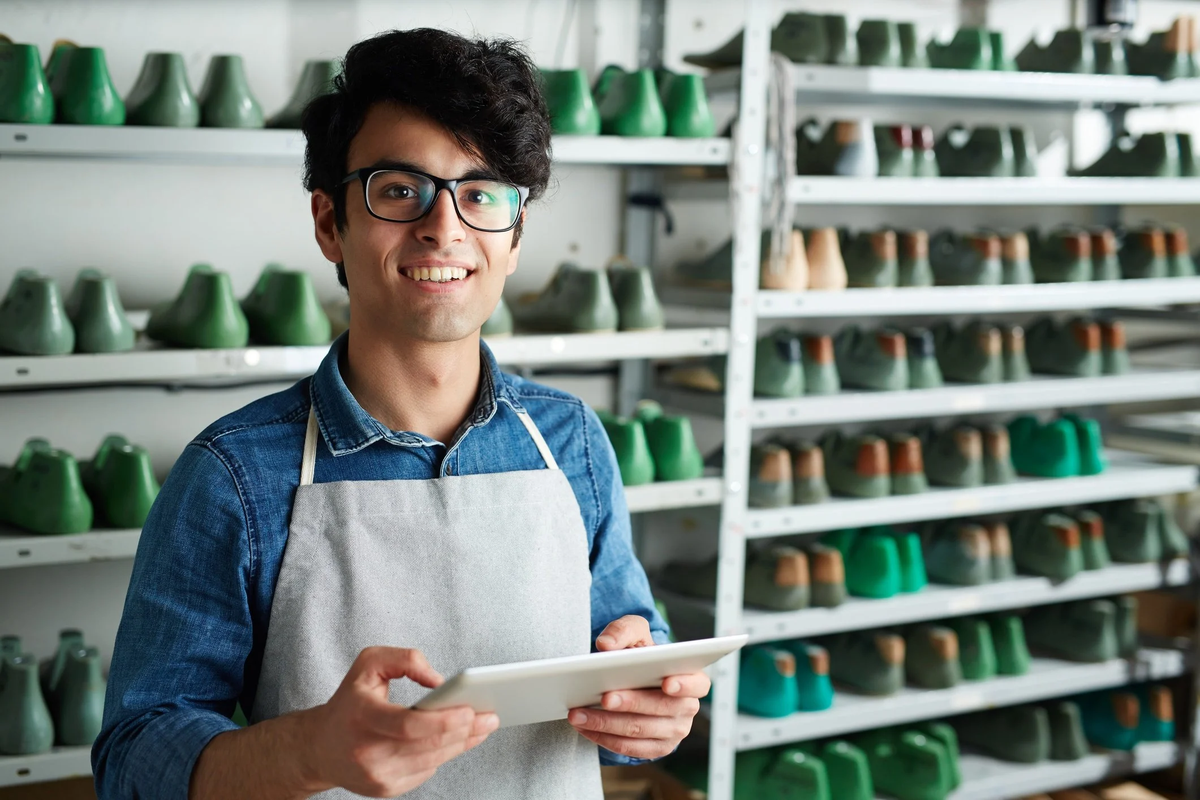 The best social media campaigns demonstrate a deep understanding of what makes their audience tick. In this article, we share examples of great social media campaigns.
Businesses of all sizes have spent the past decade trying to create viral social media campaigns. After all, the promise of social media is that anyone can reach a huge audience, if their content taps into a universal emotion or pop culture moment.
Social media can, therefore, be an inexpensive way to get a company's name out there, but it is also a competitive world. As most companies will know, social media today is much more expensive than it used to be.
The idea of going viral for free is all but consigned to history, as most social networks move to a pay-to-play model.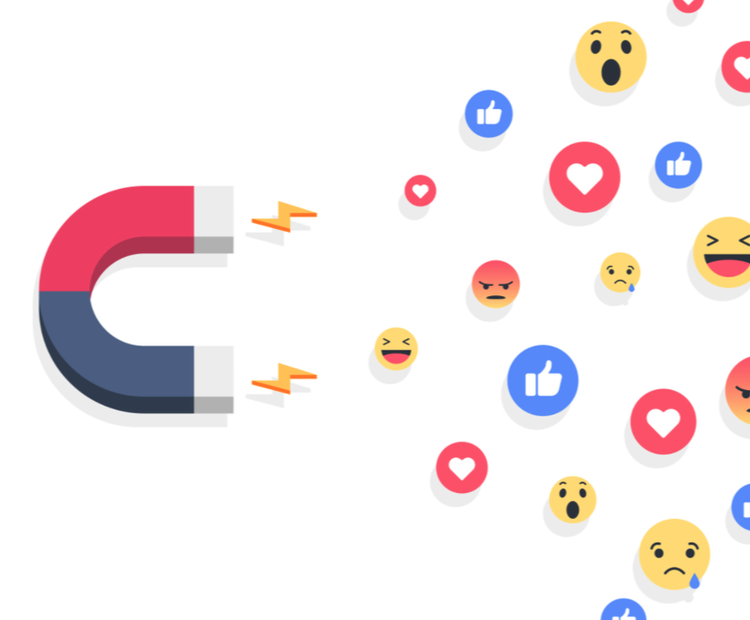 In the process, the industry has shifted to a more nuanced interpretation of success.
Is attention really the name of the game on social media? Surely, as marketers, we should be focused on encouraging behaviors and actions, rather than just the fleeting awareness a funny meme can bring.
Below, we have highlighted social media campaigns that are not only popular, but also effective for the company in question. Moreover, they can each tell us something instructive about how to use social media for business purposes.
Overview: What is a social media campaign?
A social media marketing campaign is an advertising initiative that focuses on a core creative idea or strategy that will deliver on business objectives through social networks. A social media campaign typically consists of a planning phase, followed by implementation, testing, and measurement against marketing kpis.
These activities are often managed from within social media management software and they require consistent effort from multiple stakeholders.
What all examples of successful social media campaigns have in common
The best social media campaign examples share some key features. Instead of focusing on their own products or services, they place strategic emphasis on the mechanics of social media interaction. What exactly is it that leads someone to comment on, share, or like a corporate social media post?
That question is more difficult to answer than it seems at first glance.
The best campaigns also deliver on a business or marketing goal, demonstrating why social media campaigns are a central component of any marketing plan today.
1. Established social media campaign goals
Social media is a formless medium, upon which we can apply any structure we want. To do so, we need to know what our objectives are. Otherwise, we end up looking at meaningless metrics to measure awareness or broad interaction.
The best campaigns are dictated by a combination of marketing analytics, intuition, and classic creativity.
You should run a social media audit of your past campaigns and those of your competitors to gain a sense of what works. Then, consider your business goals and how these might translate into social media actions.
If you don't know what you want your audience to do, they are very unlikely to do it.
2. Precise audience targeting
Speaking of your audience, it also helps to know which specific people you want to target with your campaign. This comes from deep knowledge of your customer base, but we should not overlook the importance of data here.
Businesses should begin their campaign with a defined strategy for who they are targeting, when they want to reach their target audience, and which social networks they want to use for each campaign objective.
3. Creative content
Social media is a highly visual medium that requires eye-catching content if a brand wishes to stand out. The best campaigns use data in a sophisticated manner, yet they don't lose sight of the importance of their content.
It's great to reach exactly the right audience segment, but only if you know what you want to say when you get their attention.
Effective social media campaigns manage to convey the company's brand positioning, without stumbling into the arena of overly corporate messaging.
6 great social media campaign examples your small business can learn from
These creative social media campaigns follow social media best practices and often break with tradition to engage with their audience in innovative ways.
Although most of the examples are drawn from large businesses, these marketing tactics all hold lessons for companies of any size.
1. Unhashtag Vienna
The tourist board for the Austrian capital city, Vienna, decided to take a stance against our addiction to snapping Instagram-friendly photos while on vacation.
Unhastag Vienna was a humorous jab at how the digital world takes over our real-life experiences, using slogans such as See Klimt. Not #Klimt to make a rather fair point.
Fittingly, the campaign found a natural home on social media, with its striking imagery and succinct messages.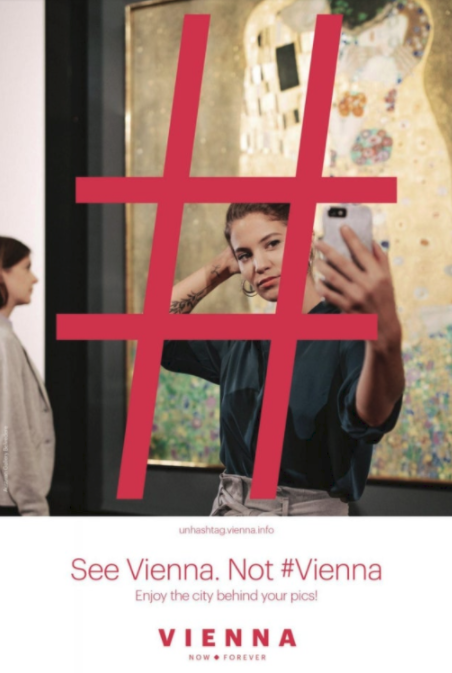 What you can take from Unhashtag Vienna:
We can all learn a thing or two from this social media campaign, which encouraged all of us to interact with our physical surroundings a little more.
Humor is a powerful weapon: This campaign used real pictures from tourists, but was friendly in its tone rather than downright mocking. It takes a common trope and turns it on its head, with satisfying results.
Clever text is still a winner: Our culture is visual and Vienna wants to promote precisely this reality, but the text is the most appealing part of the campaign. The slogan encourages us not to talk about them on social media, yet that's what many people did. In the process, we engage with the campaign on multiple levels.
2. National Geographic Your Shot
National Geographic's Your Shot campaign is a triumph of user-generated content.
Fans submit their own pictures and the company picks their 12 favorites each week, then displays them on the image-friendly medium of Instagram.
The images can be animals, nature, or man-made structures. Though they differ in subject, they are united by their instant visual appeal.
What you can take from National Geographic:
Small and large businesses can:
Invite users to collaborate: With such a strategy, there is always a risk that the audience will simply not take up the invitation. National Geographic is not bombastic in its calls for content; instead, they communicate with their followers in a friendly but still authoritative tone. There are no hints of desperation, just an opportunity to share photos with a large audience.
Curate your feed: National Geographic knows how it wants this account to look, even though it makes no aesthetic demands of its prospective photographers. The brand assesses and approves a small number of photos each week to maintain that consistency.
Stick with your campaign: It doesn't need to be an overnight success, and it takes time for people to engage so directly with a brand. If you believe it is the right strategy, hold your nerve and continue to promote the campaign for a little longer. Even National Geographic needed time to get the word out about its Your Shot campaign.
3. ASOS: The Dress
The British clothing retailer ASOS taught us all a lesson in reactive social media marketing in 2019.
A customer posted a picture of herself on Twitter wearing an ASOS dress, along with a screenshot containing the less than gentlemanly comments she received from a Tinder connection.
ASOS picked up on this, and within 24 hours, added the customer's photo to the product page for the dress, instantly turning her into a model. They even included a fitting reference to Tinder in the announcement on Twitter, in the screenshot below.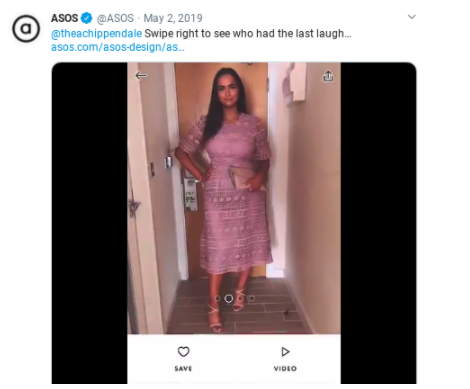 Most social media campaigns are the result of months of discussion and planning, but this is an example of a social media team that lives the company's values and can act independently.
The customer did not use the brand's name or tag them in the post. ASOS still became aware of the picture through their social media monitoring and took decisive action that improved the company's reputation -- and sold some dresses.
What you can take from ASOS:
This campaign demonstrates some key points when it comes to reactive social media marketing.
Monitor trends: Customers are constantly sharing their lives and their interaction with a brand doesn't only relate to a direct purchase. If you set up alerts for spikes in activity around specific topics or themes, you can identify these opportunities.
Act quickly and decisively: On social media, the window of opportunity shuts quickly. Businesses need to take a risk sometimes, if they are to capture the audience's attention.
4. Dettol India: #HandWashChallenge
TikTok has become a core consideration for businesses, although many are still figuring out how the video sharing app can be used for marketing.
Dettol India took a novel approach to TikTok, by sharing a hand washing challenge to help people combat the spread of COVID-19. The company sells disinfectant wipes and hand sanitizers, so it is perfectly placed to discuss such a serious topic.
The campaign features an original song and Dettol created a video filter with their brand name and hand washing instructions at the top, so the audience can add their own dance routines.
This campaign has been so successful that it received over nine billion impressions in its first week after launch.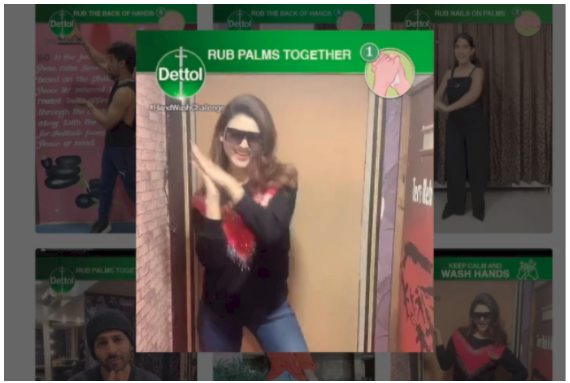 What you can take from Dettol:
This cam shows us more than just how to wash our hands properly.
Take on important causes: Dettol's serious message is not diluted by the humorous approach to social media. On the contrary, it helps to get the brand's name out there among a larger audience, while promoting a worthy cause.
Brands can go multimedia: The Dettol song is not very good, by any classic measure of musical quality. It is catchy, nonetheless, and it is fit for TikTok. Brands should not shy away from creating their own music and videos, and if Dettol can do it, then anyone can.
5. World Wildlife Fund #EndangeredEmoji
The World Wildlife Fund had a social media epiphany when they looked at the available emoji characters. They saw that 17 of the emojis represented endangered species, ranging from whales to pandas.
The premise is simple: Tweet your chosen character with the campaign hashtag and the World Wildlife Fund takes a donation of ten cents from the user.
Over one million people used the campaign hashtag and the charity added over 200,000 new followers in just a couple of months, and it is easy to see why.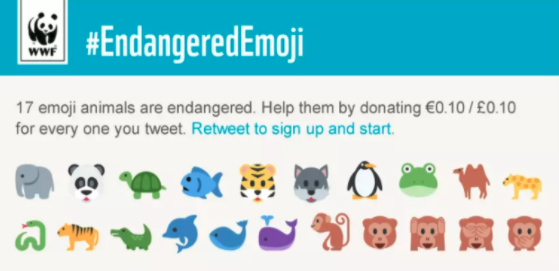 What you can take from World Wildlife Fund:
This heartwarming campaign can teach us all a thing or two about social media campaigns.
Make it easy to get involved: Too many companies ask too much of their audience on social media, with no clear incentive for their customer. The World Wildlife Fund made the donations small and the campaign fun, to encourage people to share their message.
Use a meaningful hashtag: We have all seen brand hashtags that make little sense for anyone to share, outside of the company's offices. This campaign's hashtag is consistent with the charity's purpose, while still retaining a lighthearted tone.
6. DSW: Pinterest 100
Pinterest has slowly developed into a social media powerhouse, attracting a number of brands to the platform along the way.
As part of this expansion, Pinterest has started to offer free access to its user trends data in the Pinterest 100.
Fashion footwear retailer DSW took advantage of this data source to pinpoint upcoming peaks in demand. From this insight, the company could develop content and boards that aligned directly with popular search queries on Pinterest.

The company found that Pins featuring trending products received a 25% higher click-through rate than those featuring other products.
What you can take from DSW:
There are some tips we should all bear in mind when focusing on a data source such as Pinterest 100.
Use free data sources: The major social networks offer free insights into audience trends, which you can use to plan ahead.
Test your creative: DSW assumed its trending products would perform better than other products, but it is impossible to know this for sure without testing. This helped to refine the strategy and continue improving after launch.
The making of a successful social media campaign
As these examples so clearly demonstrate, there is no such thing as a blueprint for social media success. In fact, following the course set by others will lead to boring campaigns that the audience can easily scroll through.
However, there are still some best practices we should all follow. Through the combination of data analysis, consumer insight, and creative content, we can develop a strategy that resonates with the audience.
Whatever our definition of social media marketing success happens to be, these components will always contribute to achieving our company's goals.
We're firm believers in the Golden Rule, which is why editorial opinions are ours alone and have not been previously reviewed, approved, or endorsed by included advertisers. The Ascent does not cover all offers on the market. Editorial content from The Ascent is separate from The Motley Fool editorial content and is created by a different analyst team.
The Motley Fool has positions in and recommends Intuit and Target. The Motley Fool has a
disclosure policy
.