How to Use a Social Media Content Calendar for Your Brand Strategy
Many or all of the products here are from our partners that pay us a commission. It's how we make money. But our editorial integrity ensures our experts' opinions aren't influenced by compensation. Terms may apply to offers listed on this page.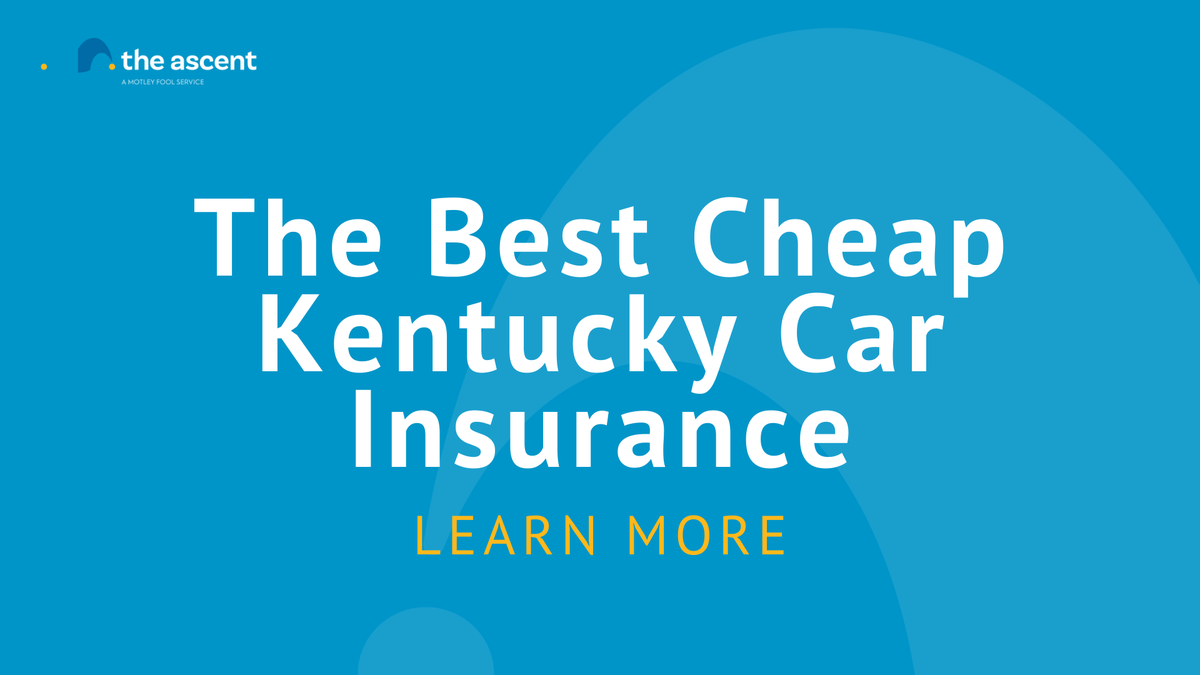 A social media content calendar is an overview of your social media channels and their planned publications. Learn the best practices for creating and planning your own social calendar.
Have you ever been in awe when looking at one of your favorite brand's mastery of social media strategy?
One of the most important challenges of social media management is keeping up the pace of publication while forming a coherent story with your posts. The frequency at which some brands post on social media makes you wonder how large their social media team might be and how they've still kept their communication coherent.
The answer to that question is, of course, organization. And one of the best ways to organize social media communications is by using a social media content calendar.
Benefits of creating a social media content calendar
Setting up a content calendar helps organize and automate parts of the social media management process. This frees up time so the social media team can concentrate on more valuable tasks like user engagement, trend detection, and ideation.
Some will even go so far as to fully automate publications from a content calendar, which puts their baseline social media communications on autopilot.
Some of the benefits of using a content calendar are:
1. Help you keep the pace
Maintaining an optimal publication frequency on social networks can be challenging. While you feel you are publishing as much as you can, perhaps the ideal frequency is actually higher. The frequency should be based on audience needs and objectives rather than available resources. Automation and planning will help bridge the gap.
2. Build and balance your brand story
One of the most common pitfalls in social media management is to publish only promotional content. This backfires quite quickly, or rather it doesn't "fire" at all: Your following doesn't increase, users don't engage, and your reach is disappointingly low.
The opposite is also true: A second social media pitfall is to publish no promotional or commercial content whatsoever, and as such, build a lot of engagement and visibility, but generate no revenue.
The social media calendar helps you find the balance between promotional content, news, and affinity content. It is also your storytelling tool, allowing you to use multiple posts in time to help unfold the story your brand is telling.The content calendar is the only way to manage the time dimension of your brand story.
3. Synchronize communication calendars with SEO, PR, events, and advertising
Synchronizing communication and marketing tactics across the various communication channels can be a real challenge. PR and event marketing initiatives can be included in the calendar, and when marketing campaigns are running, their commercial or promotional content can be considered in the communication mix.
The social media editorial calendar will be the place to coordinate this, and via these synchronization mechanisms, social media becomes an integral plan of the marketing plan.
4. Efficiently use your resources
Whether you are planning the resources of a social media team or trying to juggle your time between marketing, sales, and communication, you will necessarily have time and resource constraints. Creating a social media content plan helps identify the workload ahead of time, set aside both time and resources for content creation, and avoid destructive, last minute panic maneuvers.
Did you think social media was spontaneous and catching the gist of the moment? It can be, but only when time has been set aside for spontaneity, because all the running tasks were planned and freed up the time you dedicate to the moment at hand.
5. Track and measure impact
When a content calendar is built around topics, themes, and hashtags, its design reflects your objectives. This makes setting up tracking and reporting on impact much easier. The content calendar itself will reflect the structure of your reporting goals.
How to make a social media calendar
Any social media content strategy should result in a social media content calendar. But how do you make it? Grab a tool and fill in the blanks? Not quite.
First, you will need to understand your audience, identify your topics and messaging, find existing content, and create what is missing. Then you need to connect these elements with the nature and constraints of the social media platform you are targeting.
Was your social media content strategy already clear when you started the process? If not, this is the time to make it concrete and tangible, and also set up workflows and integrate with publication tools. Creating a social media calendar is the backbone of your social media strategy.
Step 1: Define your audience
Defining your audience is likely something you have already done. If not, you will need to figure out your target audience in order to perform some of the subsequent steps of selecting social networks and defining themes and topics.
For social media, the best way to define your audience is to build personas. These are stereotypical representations of key segments of your audiences that depict their pain points, their desires, their preferred communication channels and media consumption, and their demographic profile.
Tips for defining your audience:
There are at least three sources for defining your audiences: the target client you defined in your marketing plan, the data you have on your existing clients and prospects, and the data you can obtain from online media platforms.
Explore your audiences in "analytics": If you have Google Analytics installed on your website, you may have activated audience segmentation. It's worth noting that this could have implications for your cookie settings, your privacy policy, and your compliance with the General Data Protection Regulation (GDPR). If activated, this data will give you details on what your website's audience characteristics are.
Social media audience insights: Social media platforms like Facebook and Twitter give you access to audience insights regarding your fans and followers as compared to the general audience on these sites.
Audience discovery: Certain advertising platforms will allow you to collect data from your website by inserting a tag for a limited period of time to profile users of your website. Again, be careful with legal implications and cookie consent if going this route.
Step 2: Identify your topics and hashtags
Once you know who your audience is, you need to define what topics they are interested in, and what topics you are interested in sharing with them. The more interesting your content is to your audience, the better your social media communications will perform.
Identifying the right hashtags that go with the topics will allow you to reach audiences beyond your immediate circles of influence, and thus expand reach with a guaranteed high affinity with your topics.
Tips for identifying topics and hashtags:
If you define your audience via personas, you will have already identified some of the topics they are interested in. When searching for the corresponding hashtags, you can expand your topical coverage by looking at associated hashtags.
Build your list of hashtags: When building out your topics, spend some time researching the reach of your hashtags. This will be useful on Twitter, Instagram, and Pinterest and increasingly on LinkedIn and Facebook also.
The dichotomy of hashtags: When choosing hashtags, there are two things to keep in mind. First, the hashtag you are including should be closely associated with your content and have an explanatory function when a user reads your post. Secondly, the hashtag should open the door to affinity audiences that follow or use the hashtag in significant numbers. You can look up hashtags and see to what extent they are used.
Step 3: Select your social media channels
Perhaps your audience research shows you directly what channel your audience is using. This will be an important piece of information for building strength in that channel.
When selecting your social media channels, you should aim to define your primary and secondary social media channels, as well as those you may not be focusing on in the short term. Select these channels by evaluating how present and engaged your audience is on each social network.
Tips for selecting social media channels:
Selecting the right social media channel for your communications is a strategic choice. You will need to select the primary channel, which allows you to reach the largest possible part of your target audience.
Facebook is not just friends and family: Facebook is probably the largest social media communication channel, and it would be a mistake to consider it for personal matters only. Both B2C and B2B companies can obtain great results from their communication on Facebook.
Some formats fit some channels: Whereas Facebook can have many functions, there is some specialization in social networks. LinkedIn is more professional, Snapchat is younger, Twitter is more real-time, and Instagram is real-time and very visual.
Step 4: Audit your content and find content gaps
Content auditing sounds complex but it can sometimes take the form of brainstorming. Gather a few people around a table and ask yourselves: What content do we have? The objective of the content audit is to identify the available contents and formats.
Tips for content auditing:
With a content audit, you will build a repository or an overview of all the content available. It will subsequently allow you to identify content gaps you need to fill. Organizing the content in a repository will allow you to easily link to the content in the content calendar.
Look in your Dropbox: A good starting point is your Dropbox or Google Drive or even the structure of libraries on your hard disk.
Content is not just text and images: Content can have many forms and origins. Data and process documentation can both be content.
Be creative: Open your mind and be creative. If you are missing content, perhaps users can generate valuable content to include in your plan.
Step 5: Define publication frequencies to reach your goals
One of the less obvious yet essential steps in building a content calendar is defining publication frequencies. Ideally, these should allow you to reach the marketing key performance indicators (KPIs) you set to track in your marketing analytics.
However, at the outset, the required frequency may be difficult to estimate. It will be important in this step to focus on what is right for the audience and what makes sense on the social networks you're using, instead of basing your estimates on what resources are available.
Tips for publication frequencies:
Often, the right frequency for posting is higher than you would expect. While posts may have a longer lifespan on Instagram and Pinterest, they practically disappear shortly after publication on Facebook and Twitter.
Look at the competition: It is always a good idea to check out your competition, as long as you don't become blinded by it. Figuring out their publication frequency can be an interesting piece of evidence for defining your own.
Estimate reach: On the basis of your historical reach of publication, it should be fairly easy to calculate how many publications would be necessary to reach your goal.
Step 6: Fill in the calendar a month ahead
Lastly, it's time to fill in the actual social media content planner. You can start with a piece of paper for each social network -- an overview of the week -- and then insert the hashtags for each topic, theme, or event.
Quite quickly, you should move from this paper version into an online tool for managing the calendar, and try to build the outline for the month to come. For each publication spot, you will find the content that corresponds to the theme, give it a title, and link to existing resources or to a task list for content creation.
Tips for filling the content calendar:
Once your frequencies are established, actually filling in the calendar will require a bit of analysis on the best time to post to social media. If you already have a publication history, consult your analytics data and social media statistics. If not, you need to consult your customer personas and imagine what their days look like, and when they will be receptive to your messages.
Differentiate: Did you discover that your competitor publishes at set times? Maybe you should consider publishing before them, or at times well apart from their schedule.
Establish habits: Perhaps you can create a weekly habit. Have you heard of Crawling Mondays, Tracking Tuesdays, or Want-to-know-Wednesdays? This is a good way to make an audience loyal to content and aware of a frequency.
The best social media management software for creating a content calendar
The most important function a social media calendar provides is an overview of your strategy.
Social media management software can offer additional functionality for your calendar: direct publication, integrated content repository, integrated tracking and reporting, and even content creation workflow management. Software suites for managing this whole spectrum are well suited for enterprise-level social media teams.
There are also other tools will allow you to cover the calendar function itself. You already use a few of them, such as Microsoft Excel and perhaps Google Calendar! You can easily search online to find free templates for social media calendars that can be set up in these tools.
A lot of content calendar tools allow you to integrate your social media posting schedule directly with your social media profiles. In this manner, the calendar becomes an execution tool. If this is not the case, the function of the calendar should be to organize the work, and provide all the necessary information for the social media executive to do their job.
Here are some of the best social media management software solutions for managing a content calendar.
1. ContentCal
The baseline approach for ContentCal is "Plan and create and then sit back and relax as ContentCal posts to your social networks." The calendar is the central element in this tool, which also has a neat functionality called the Pinboard, where you can draft content and drag-and-drop it to your calendar.
The tool can publish directly to a limited range of social media profiles, including Facebook, Instagram, Twitter, and LinkedIn, but a tool like Zapier allows for more integration.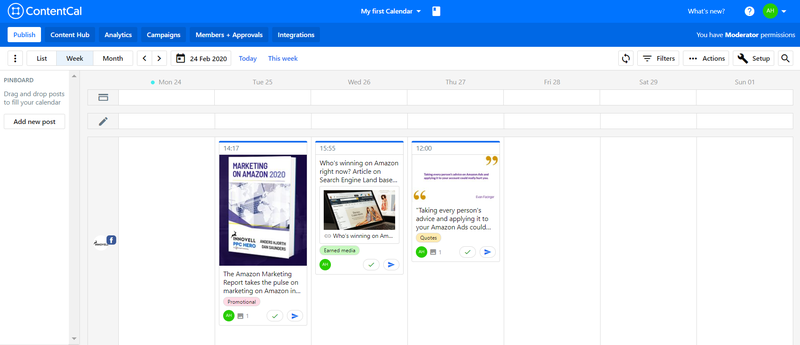 The individual account on ContentCal is among the least expensive tools on the market. ContentCal provides a 14-day free trial and charges $17 per month for an individual account.
2. Buffer
There is a lot to like about Buffer. It is a fantastic social media publishing tool with an intelligible dashboard and simple set-up process. It also has a good-looking social media calendar overview, where posts can be entered and scheduled for publication.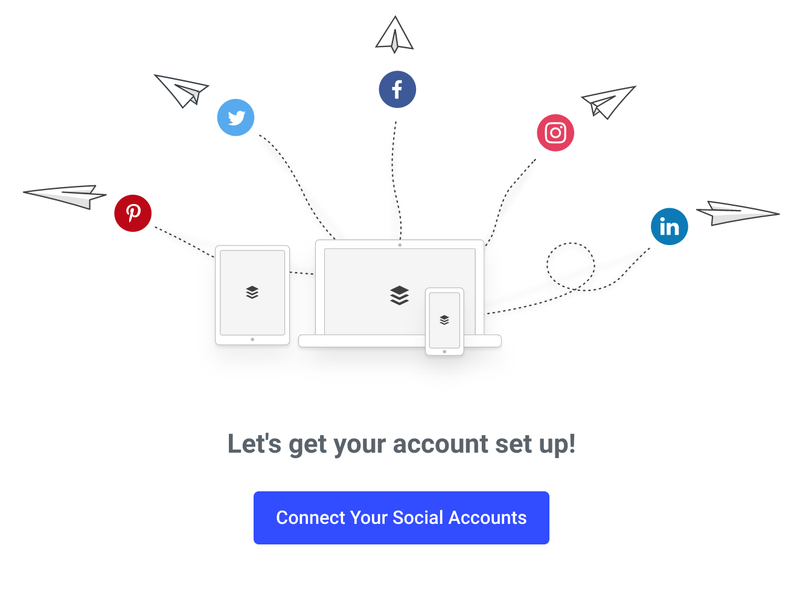 There is a free version of Buffer that allows you to connect up to three social networks and schedule a limited number of posts; it's a great place to start. The Pro account, at $12 per month for one user, connects to eight social media accounts, which should be plenty for solo users and small businesses.
3. Hootsuite
Hootsuite is a great all-round option for social media management and it even offers a free account level for limited usage. It sets the pace for social media management tools. The central screen for Hootsuite shows the streams of posts on the various social networks, while the calendar view is more closely connected to the publication schedule.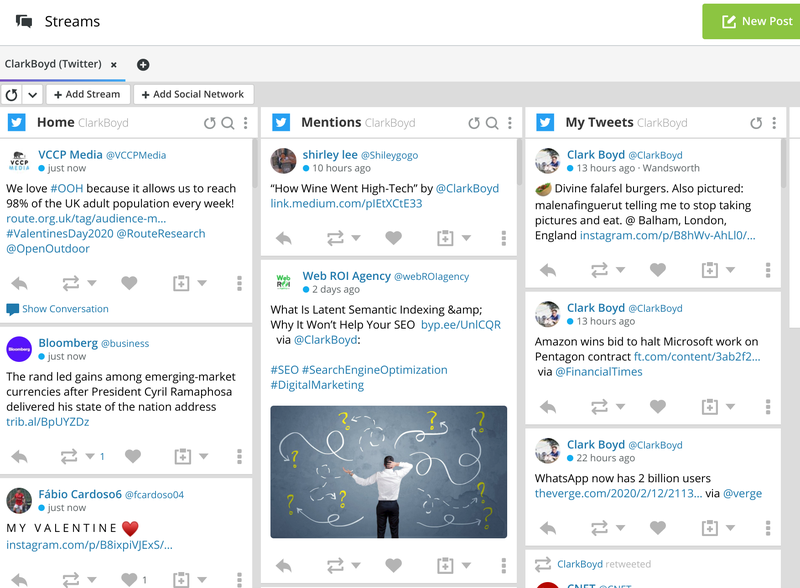 There is a free account option, which connects to three social networks and allows 30 scheduled posts a month. The Professional account is $29 per month, allowing you to connect to 10 social profiles.
Your content calendar is now ready to make you shine on social media
Once your social media content calendar is in place, you will have concentrated all your planning work as a monthly task built in advance. Managing it will require a bit of monitoring, especially of notifications to detect anomalies quickly and take corrective actions. Publications will additionally generate data and engagement.
An excellent social media team will learn from the data to improve the next months' content plan and will continuously engage with users to win hearts and boost reach.
The time you won by organizing and planning can now be used to focus on trending topics and real-time communication to create the sense that your social media team is omnipresent and always available.
We're firm believers in the Golden Rule, which is why editorial opinions are ours alone and have not been previously reviewed, approved, or endorsed by included advertisers. The Ascent does not cover all offers on the market. Editorial content from The Ascent is separate from The Motley Fool editorial content and is created by a different analyst team.
Discover Financial Services is an advertising partner of The Ascent, a Motley Fool company. Randi Zuckerberg, a former director of market development and spokeswoman for Facebook and sister to Meta Platforms CEO Mark Zuckerberg, is a member of The Motley Fool's board of directors. Suzanne Frey, an executive at Alphabet, is a member of The Motley Fool's board of directors. The Motley Fool has positions in and recommends Alphabet (A shares), Alphabet (C shares), Meta Platforms, Inc., and Microsoft. The Motley Fool recommends Discover Financial Services. The Motley Fool has a
disclosure policy
.