How to Create a Social Media Content Strategy to Make Your Business Stand Out
by Anders Hjorth | Updated Aug. 5, 2022 - First published on May 18, 2022
Many or all of the products here are from our partners that pay us a commission. It's how we make money. But our editorial integrity ensures our experts' opinions aren't influenced by compensation. Terms may apply to offers listed on this page.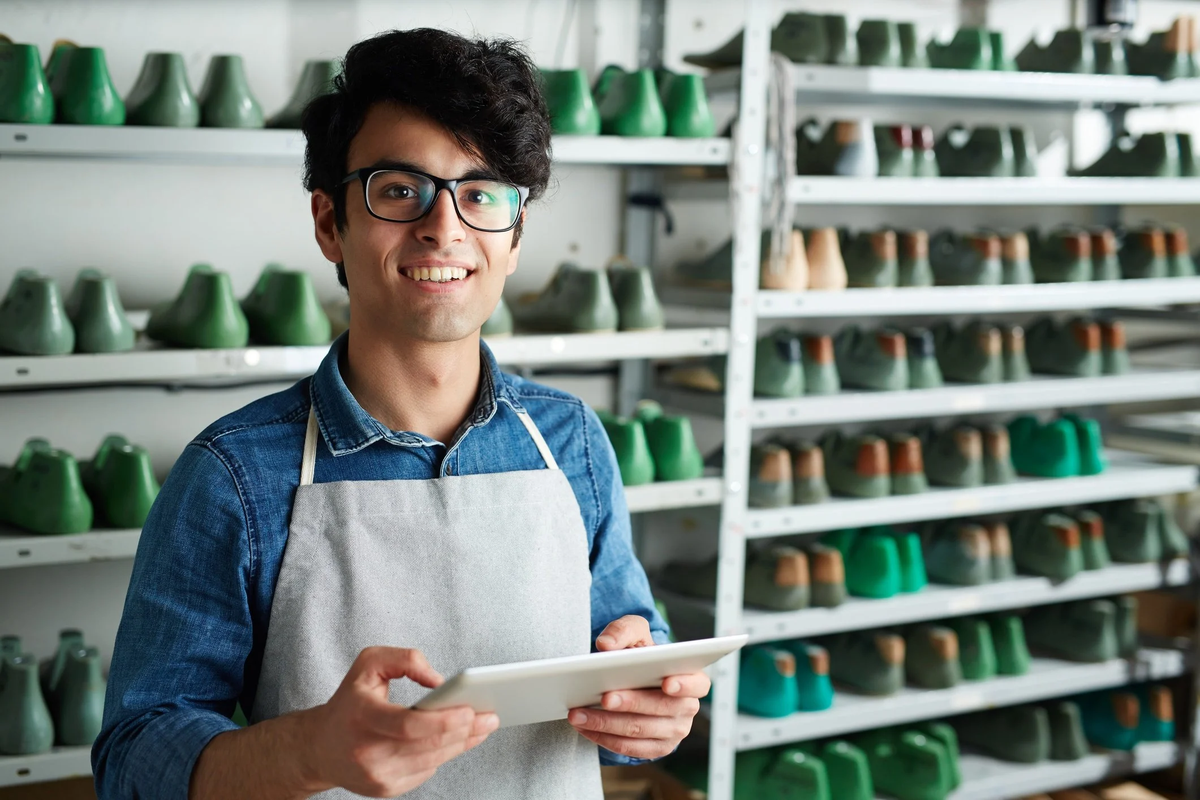 To make your content king on social media, you need a strategy. These are the steps required to create it.
Content is at the heart of social media. "Content is king," they say, and it takes many forms: text, images, photos, videos, and emojis 😉💪🔥🙏🥇. But it's not the individual components that give content a royal stance, it's the story it tells and the emotions it generates in its audience.
That's why you need a content strategy to define your brand's storyline and ensure you fully reap the benefits of social media.
When building your social content strategy, remember that engagement is an integral part of how social media platforms work: The more your content resonates with your audience, the further it will be distributed on the social platform to be seen by more people -- and if you're lucky, it might even go viral.
There's never a guarantee your content will go viral, but a structured approach to building your strategy will increase your chances.
Let's look at the steps for defining a social media content strategy.
Here are 7 steps to develop a social media content strategy:
Define your audience
Audit your content
Define your themes and topics
Map out your hashtags
Create the story and the content mix
Set publication frequencies and goals
Build your social media content calendar
How to create a social media content strategy for your small business
To make your strategy successful, you should tell a story with your social media content, be ambitious, use automation as your invisible friend and creativity as your magic wand. And above all, maintain your rhythm and consistency throughout the entire process.
Step 1: Define your audience
Before we look at the content itself, we need to consider who it's for. Your social media audience should correspond to your target market, but it doesn't have to be limited to just individuals in that market.
Adjacent audiences, or those who can exert an influence on your target market, can serve as an entry point to your audience and shouldn't be overlooked.
A great way to define your target audience for social media is by using personas. Personas are a simplified representation of your target audience with a name as well as geographic, demographic, psychographic, and behavioral characteristics.
A persona is like a sketch of a segment of your audience that you can improve over time.
Make sure to include motivations, interests, fears, and pain points in your persona definitions, and keep your persona(s) in mind every time you shape new content.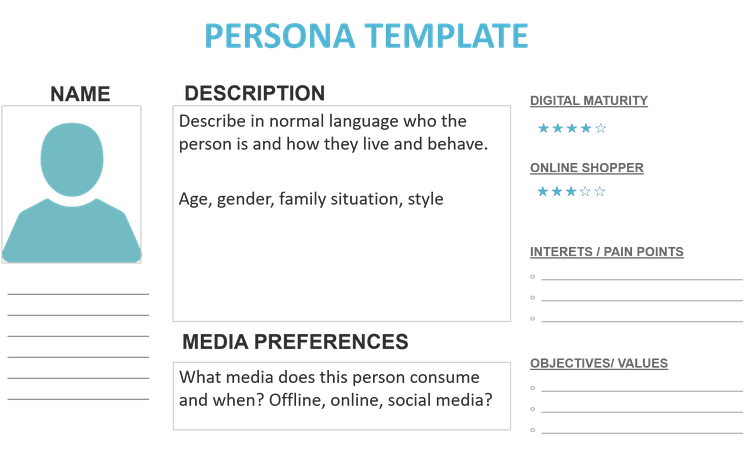 Tips for defining your audience:
Use Facebook Audience Insights: Via your Facebook business page, you'll have access to free audience insights from Facebook. This tool can help you further define and quantity your target audience.
Try Sparktoro: By querying Sparktoro with some of the key elements from your persona overview, the tool will identify audience characteristics such as what sites they visit or what influencers they follow.
Step 2: Audit your existing content
Keeping your audience in mind, it's time to look at your existing content. This can be quite a challenging and time-consuming process as it involves identifying all of the articles on your blog, any historical publications on social media, and even content you've created for using offline.
If you plan to reuse some of this content, it would be a great idea to organize the content in a repository or a digital asset management tool.
Here are some ways to find your content:
Find popular content on your blog with Google Analytics: In Google Analytics, go to Behavior > All pages and select a long time frame (for example, one year back) to see the most popular pages on your website. Ignore the homepage and all the static pages on your site, and copy the list of all the popular articles on your website.
Find popular posts on your Facebook page: Go to Facebook Insights and select Posts to see a list of your posts organized chronologically. You can scroll to see pieces of historical content and extract the most successful posts if you haven't already identified them elsewhere. (An easier way to do this is by using a social media management tool to extract and organize your posts on various social networks. We'll look at those options in more detail below.)
Crawl your website from the outside: Content audits are often performed in relation with Search Engine Optimization (SEO), and there are a number of tools available to help you with this. For a small website, the Screaming Frog site crawler is free to use (up to 500 URLs). It will allow you to extract all of the URLs your content represents so you can add the list to your content repository. Perhaps you've already done an SEO audit to gather some recommendations about your content that you can use as well.
Now you should be able to start identifying your highest-quality content, as the most popular content will be prioritized in the searches you do. However, you shouldn't assume that your most popular content is also the best representation of your brand.
Keep in mind your audience personas as well as the values of your brand. Perhaps you've performed a brand audit or detailed the values of your brand in your social media marketing plan or your business plan. Look them up, and qualify your best-performing content against those criteria.
There's also a fun way to audit your existing content: Let artificial intelligence (AI) have a look at your existing articles: "What does Walt think?" Analyzing your content with AI can help you understand how credible it is.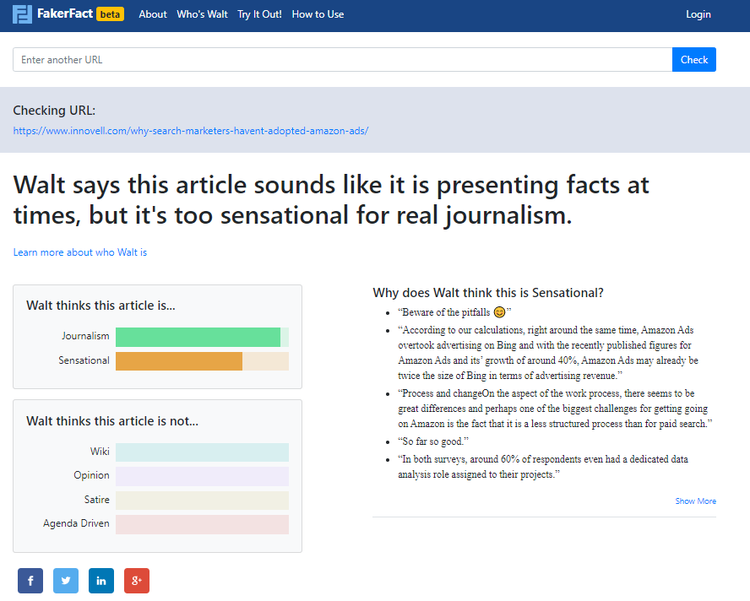 The ideal outcome of your content audit should be a complete overview of your existing usable content, which we will categorize in the next step.
Step 3: Define your content themes, topics, and channels
While auditing your content, you may have realized that most of it fell into natural categories corresponding to the themes you most often communicate about. In this step, take the time to define the full range of themes you want to cover.
Keep an open mind; you may discover content gaps between what you have and what you need, which will help you in the process of developing content.
You also need to define what social media channels you want to use in your content strategy and what their function will be. Define your primary social media channel as well as a few secondary channels, too, that can piggyback on your primary channel to increase the reach of your communications.
Don't forget to define the role of your website in your social media content strategy, and create an overview of the themes and topics your content needs to address.
Step 4: Map out your hashtags
With your themes in mind, do some hashtags research. Hashtags are an essential component of social media navigation on Twitter and Instagram, and they have a secondary role on most other social media networks, too.
The four roles of hashtags:
Drive discovery. When hashtags are used to drive discovery, as it is the case on Instagram, Twitter, and increasingly, LinkedIn, it's important to choose related hashtags that are already being used by other social media profiles, as these hashtags can start to trend. If your post has used a trending hashtag, it can appear when new users are looking for content by navigating via that hashtag. It's a great way to participate in different social media trends.
Give context to a message. Hashtags are also used more generally to provide context for a message and thereby use fewer words. The hashtag gives context to the other words in the post: "How are we all doing today? #coronavirus" means something totally different than "How are we all doing today? #brexit."
Create an anchor. Hashtags can also be used for creating an anchor. If, for example, you've created a report about marketing on Amazon, and you post extracts and content from the report to drive awareness about it, you could use the hashtag #AmazonMarketingReport in all of your posts to create a way to anchor the different posts together as well as create a concept that spans multiple social media platforms.
Reference events. Finally, don't forget events hashtags. These can be used for yearly recurring events, such as #MayThe4thBeWithYou and #BlackFriday, or they can be associated with specific events such as a conference, like #sxsw2019.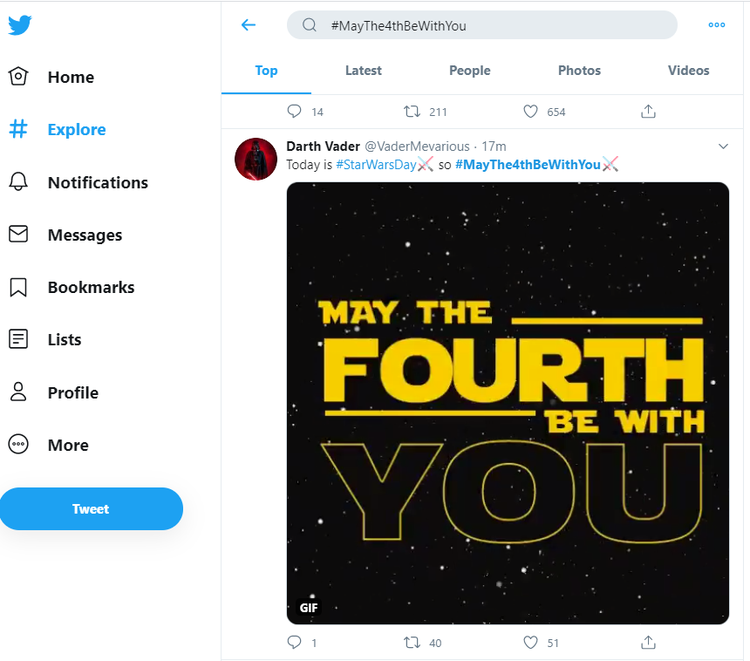 The next step is to associate various hashtags to each of the themes you identified in the last step. Focus on the ones that can drive discovery, and analyze the reach and consistency of each of them. You should end up with a prioritized list of hashtags you should be using for new posts on each topic.
To check the consistency of a hashtag, simply search for it and look at the results. Would a post from your brand belong in the search results? To check the volume of searches for various hashtags, here are a couple of free tools that can help analyze the amount of traffic on hashtags:
The social media management tool you're using might be also able to provide this functionality. Keep a number of hashtags on your list so you can vary the audiences you target from time to time.
Use restraint with hashtags, though: A good limit to respect is 3-5 hashtags per post, allowing you to use events or discovery, context, and an anchor.
Step 5: Create the story and the content mix
Now that you know your personas, have identified your existing content, and have defined the themes that should be present in your social media marketing strategy, it's time to take a step back and look at the big picture.
What's the story for your brand in that context?
Perhaps you need some inspiration for outstanding content?
Use your newly defined content themes and hashtags to look at content that has stood out for the theme in the past using BuzzSumo, which is a database of articles that appear on blogs and social media sorted by popularity. What outstanding creative content do you need your story to wind itself around?
Next, consider content types. YouTube put the Hero, Hub, Hygiene framework forward in 2014, which defines three functions for the pieces in your content strategy.
Hero: The main piece is the "hero" content that's the driving element of your storyline.
Hub: Around the storyline, you build "hub" content that can be curated from other sources and keeps your audience engaged with your main themes.
Hygiene: Finally, the "hygiene" content -- renamed to "help" by Google -- consists of more practical information about your products, services, or offerings.
The creativity of your hero content can strongly influence the success of your content strategy. It is the "Don Draper" of your content strategy: Don Draper is the main character of the Mad Men TV series, depicting the advertising industry in the 1960s.
He spends his time looking for outstanding yet simple concepts that will connect end users with brands.
Take some time to build the concept for your hero content, and consider it the most important content element in your mix. Next, consider all the elements that can support the main hero content and how they can prepare and expand the main story element.
When building up the storyline itself, consider learning from Pixar in this online course. The framework won't be directly applicable to your social media strategy, but it should inspire you to apply some of the same storytelling principles in your communications.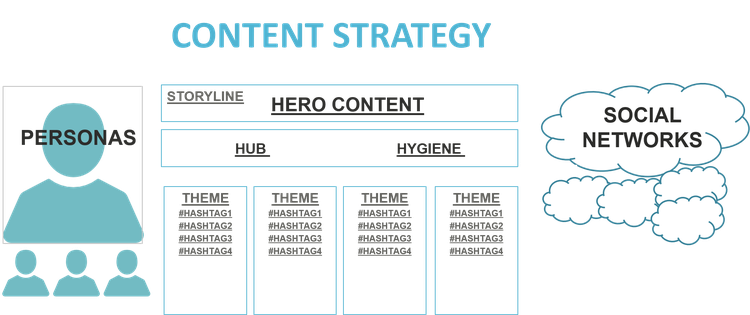 Step 6: Define publication frequencies and goals
To make it all come together, you need to define a more detailed plan. Identify a top storyline and a list of themes to cover in your communications. Also, be sure to insert the calls-to-actions and promotional elements required for this strategy to serve your marketing plan as well.
The next step will be to define your publication frequencies.
What will your personas expect of you?
What is the natural frequency of news related to your hero content?
How can you fill the gap in a natural way?
A good way to define publication frequencies is to look at the strategy from the viewpoint of social media metrics: Calculate your reach on social networks, and compare this to your communication goals.
Your ideal publication frequency will derive from this comparison as you will need to reach your entire audience many times per month -- and maybe several times per day -- to meet your goals.
If you can't reach your goals via a higher publication frequency, you'll need to activate social media advertising campaigns to close the gap. You should, however, look into as many alternative digital marketing ideas you can find before investing in paid media.
Step 7: Outline your social media content calendar
You've now put all of the components of your content strategy together. In order to further materialize it, consider building a detailed content calendar of individual posts, themes, hashtags, and publication dates.
A content calendar helps you organize when and where each of your posts will publish, allowing you to optimize your content as well as each social media platform you use.
A content calendar is one of the best social media content strategy tools you have at your disposal, and one way to organize it is by using a social media management tool.
The best social media management tools to execute your content strategy
Your new social media content strategy is ready, and you may feel a little overwhelmed with the objectives you've set for yourself and your team. If not, go back and revise your objectives upwards: Social media objectives should be daring!
Beyond the strategy, you now need to address the execution of your strategy, and for this, a number of tools in the market can help you automate a wide range of the activities you need to undertake, including automatic scheduling, competitive analysis, and reporting.
We've looked at some of the best tools for social media management below.
1. Later.com
If your primary social media channel is Instagram, then Later might be your preferred tool. Its strongest functionality is the preparation of a social media calendar from an image repository and the automatic publication of posts.
In addition to Instagram, the tool also allows you to manage your Facebook, Twitter, and Pinterest activity.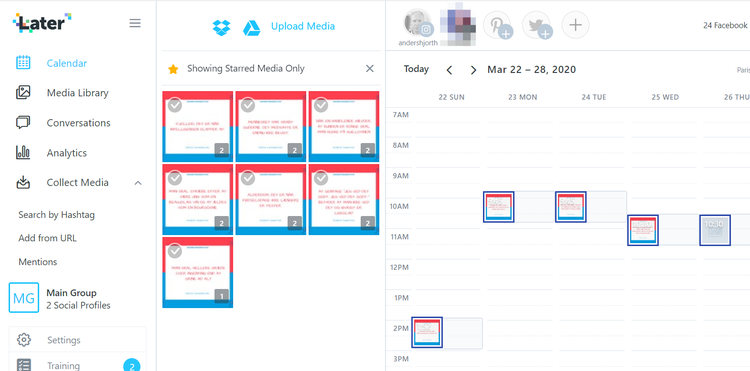 2. Hootsuite
Hootsuite is a longstanding leader in the area of social media management. With Hootsuite, you can cover four key aspects of your social media management: post scheduling, social listening, content curation, and analytics.
There is a further integration of direct management of advertising in Facebook and LinkedIn as well as project management for your social media team.
The basic Hootsuite plan is free for a limited number of social networks and posts per month.
3. Sprout Social
At the high end of the social media management tools spectrum, we find Sprout Social. The basic functionalities covered include social listening, post scheduling via a content calendar, centralized engagement management across various social networks, and analytics.
Sprout claims additional access to consumer research and influencer identification as some of its strengths. These more advanced features can be helpful in some of the stages of the content strategy process.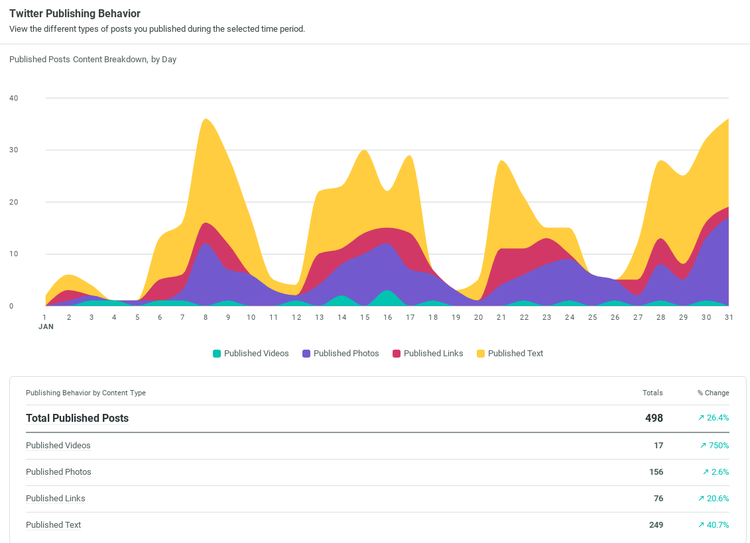 Content does not become king all by itself
The myth of viral content that suddenly becomes a worldwide phenomenon simply because it was outstanding has endured for many years. In reality, though, it is preparation that allows for great social media success.
Social media teams who have their finger on the pulse, who abound with creativity, who detect every competitor move, and who constantly optimize their presence on the various platforms are the most likely to generate success.
And at the very foundation of a social media presence lies a well-researched and documented content strategy, which will guarantee that your content resonates with its target audience so you can meet your business objectives.
We're firm believers in the Golden Rule, which is why editorial opinions are ours alone and have not been previously reviewed, approved, or endorsed by included advertisers. The Ascent does not cover all offers on the market. Editorial content from The Ascent is separate from The Motley Fool editorial content and is created by a different analyst team.
John Mackey, CEO of Whole Foods Market, an Amazon subsidiary, is a member of The Motley Fool's board of directors. Suzanne Frey, an executive at Alphabet, is a member of The Motley Fool's board of directors. Discover Financial Services is an advertising partner of The Ascent, a Motley Fool company. The Motley Fool has positions in and recommends Alphabet (A shares), Alphabet (C shares), Amazon, and Target. The Motley Fool recommends Discover Financial Services. The Motley Fool has a
disclosure policy
.