Ever get excited when you enter an exhibit area at a tradeshow or conference and see the rows of booths? You hear the buzz from other attendees channeling their nervous energy into networking and scanning the floor for connections. As you glance around, you see smiles on the exhibitors' faces as they make eye contact and lure you in to watch a demo where you get a firsthand look at the latest and greatest.
Afterward, you make your way through the crowd toward the presentation rooms and find your first session. Then you spot the speaker prepping to go live, catch the title of their keynote on the screen, and feel a rush of anticipation to hear what they're going to say.
Such experiences can make it exciting to attend physical events such as trade shows, conferences, and even internal corporate events. While the emotional intensity may only be felt through an in-person setting, 6Connex is a virtual events platform that will bring attendees closer to those feelings through its immersive virtual environments.
---
Who is 6Connex for?
6Connex is a secure, cloud-based virtual event software solution that focuses on marketing, sales, recruitment, training, and HR-focused events (although it could work for any type of conference or summit — or even as a virtual job fair platform). It creates robust virtual experiences and offers other learning tools, such as webinars, downloadable resources, and networking opportunities.
Based on the platform's investment and features, 6Connex is best for companies and enterprises seeking a way to host all types of virtual events with about 10 rooms, for up to 2,000 attendees, and with a total of 50 sponsors. However, other options are available for those needing a higher capacity or seeking other custom requirements.
---
6Connex features
6Connex is very focused on the experience. The platform offers an immersive experience for attendees in terms of the visual layout and graphic design. It also focuses on the backend data to help organizers achieve a positive return on investment.
Immersive experience
One feature 6Connex offers is the ability to transform a virtual space into an "environment" that closely matches the desired physical location for the event. For example, if an organizer wanted to host an event in Paris, the platform could be customized so the look and feel would match the decor and ambiance of a meeting space in that city.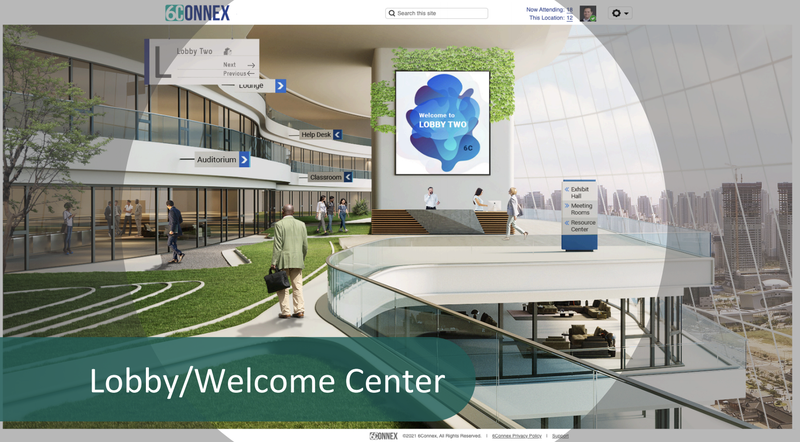 An event organizer can use one of the many templates and customize the design to change the look and feel. If the organizer wants a more customized experience for the design, with an upgraded license the 6Connex team can create a unique space that matches that vision.
From the moment attendees access an event, they're greeted with an interactive interface. The main entrance features a welcome with a visual display of the event schedule and a lower screen with an easy-to-navigate menu bar. Event organizers have the choice to feature a welcome video message from the event organizer or the company CEO (or anyone else) that will play when an attendee arrives.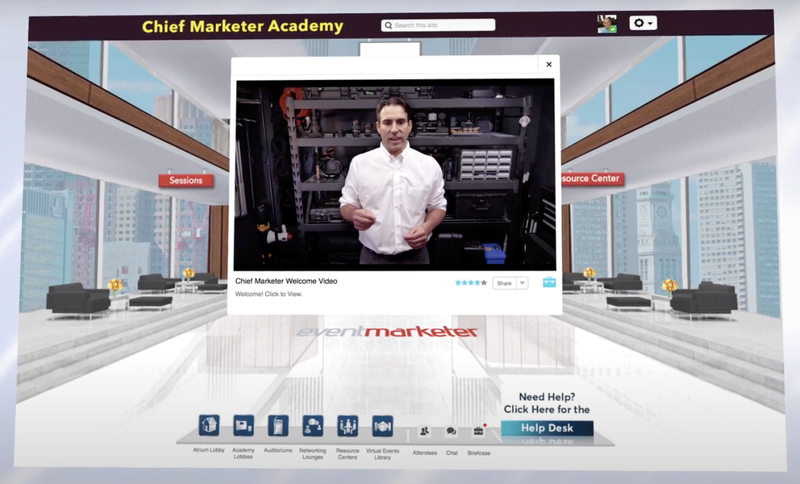 This video introduction offers a personal touch and an element of human interaction to set the tone. Attendees feel more like they're enjoying a real-life experience instead of just hopping on to a video conference.
Security and scalability
For event organizers who may be hosting internal corporate events or conferences, they can rest assured the 6Connex platform offers top-tier security.
Its enterprise-level security features include:
Blacklisting
Complex passwords
Secure cookies handling
SAML integration
The platform is also scalable and flexible enough to accommodate any size event. Some options offer integrations for organizers to use their preferred video streaming platforms and other ways to integrate technologies they're already using. The self-service feature has some limitations, but an upgraded platform license provides extra flexibility. The 6Connex team will customize the platform to suit any volume of speakers, vendors, and attendees.
Engagement
With a leaderboard and gamification, 6Connex offers various activities event organizers can use to entice attendees to engage with event content, exhibitors, and other pages within the virtual environment. The platform provides one-on-one chats with sponsors in exhibitor booths and interactive informational kiosks attendees can visit, download, or save the information.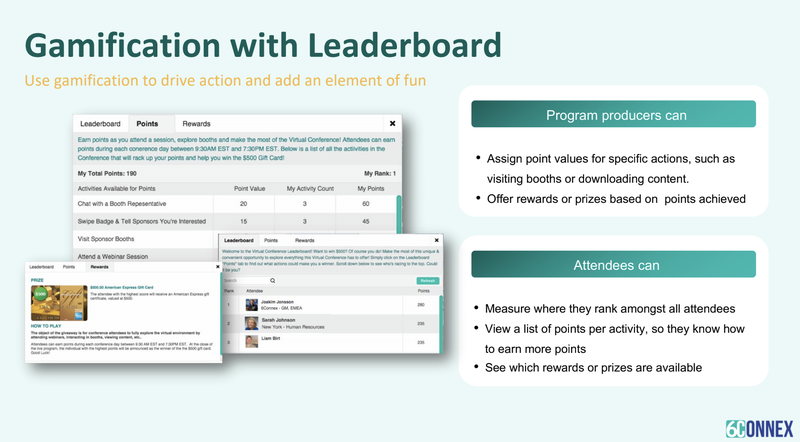 There's also a networking lounge for attendees. It creates a safe space for attendee interactions and offers live text chat with real-time language translation services (available with the upgraded license). The networking lounge also offers breakouts for attendees to have one-on-one virtual conversations or interact in small groups.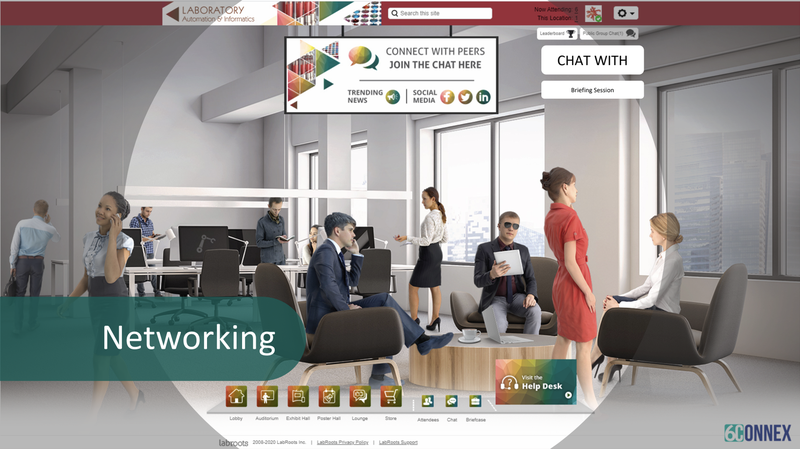 Live Q&A
What if you have a speaker presenting a session at 9 a.m. EST, but there are West Coasters who are not excited to wake up in the wee hours to catch the live presentation? Not to worry, because 6Connex has you covered.
6Connex allows a speaker to host a presentation and record the content for later use. When the session opens up on the West Coast, the virtual session room can stream the pre-recorded version. However, to maintain interactivity, the session can also include a live Q&A that can be moderated by the speaker or someone else on the team.
Ultimately, this means speakers don't have to present their material multiple times. Instead, a speaker can present once and then play the session recording as often as needed and still offer live interactions during the session through the chat and the live Q&A.
Language translation services
A unique and helpful feature of 6Connnex is a selling point for companies hosting international events or events with attendees who speak different languages. As one of the few platforms that offer language services, 6Connex provides instant, real-time language translation services within the text chats.
During live Q&A sessions, networking conversations, or chats during presentations, 6Connex allows users to translate the text into 50 different languages. This enables attendees to follow the conversation and not miss any educational content or a single interaction.
---
6Connex ease of use
From an attendee standpoint, the 6Connex platform is simple to navigate. The event can be accessed from a laptop, tablet, or mobile device (although navigation gets a little complicated on a smaller screen). The menu items are defined and sections are marked, allowing users to find sessions, exhibitors, and additional resources.
A feature that helps an attendee to get the most out of the event is the briefcase. When an attendee comes across information they want to download or save, they can add it to their briefcase and essentially bookmark it to revisit later. This function allows attendees to continue to navigate and enjoy the event in real time without missing out on information that might be beneficial.
From the backend, an event organizer can use the clean interface to navigate the platform's capabilities. This makes it simple to customize the event's appearance, add or edit content in real time, and communicate with attendees and sponsors. It also offers basic analytics for the event organizer that can be viewed from the dashboard and exported as needed.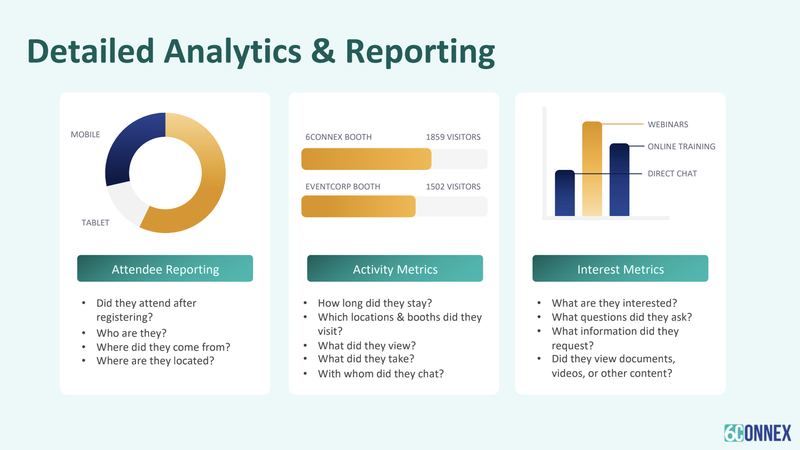 And, if an event organizer needs assistance, the 6Connex support team is ready to help.
---
6Connex pricing
While the pricing is not readily available on the website, 6Connex does offer some general pricing information after answering some basic questions.
Pricing is based on obtaining a 12-month license, choosing project management services, and selecting presentation options. The estimated pricing structure is as follows:
Standard License: $16,000/year, including up to 10 rooms, 2,000 attendees, and 50 sponsors per event.
Upgraded License: $40,000/year, which offers webcasting, additional customer service, full features, customizations, and a custom limit for the number of rooms, attendees, and sponsors.
For more specific information about pricing, contact the 6Connex team.
---
6Connex support
The 6Connex team strives to offer high-quality service to all customers and guarantees they will always be reachable when you need them. While the white glove customer service option is available with an upgraded license, the team is still accessible to any customer via live chat, email, and phone.
The site also offers a full resource center featuring videos, webinars, e-books, blog posts, and case studies to help conceptualize the event, activate key features, or troubleshoot specific issues.
The support team also offers other support options, including event training, live event day support for organizers, and live event day support for attendees.
---
Benefits of 6Connex
The main feature of 6Connex is the immersive experience created through the detailed design and ability to mirror an expo center, event hall, and other physical event spaces. The platform is fully customizable and user-friendly.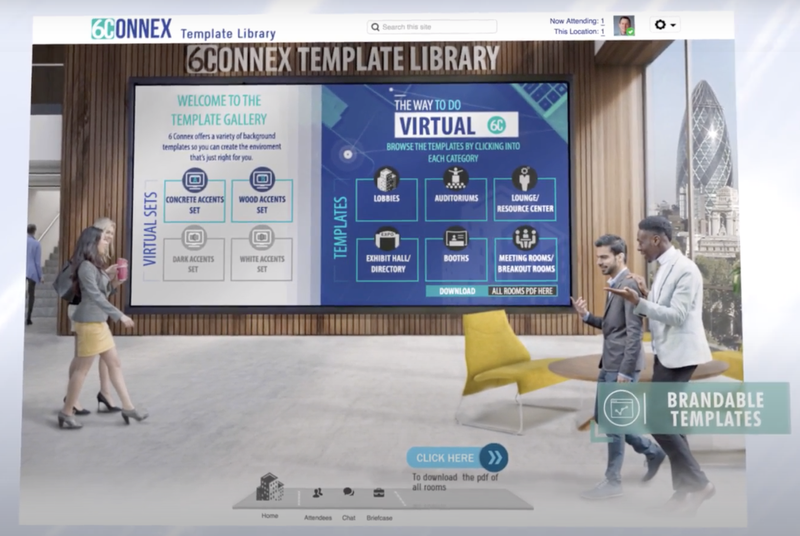 With the optional language translation services and networking lounge, engagement is encouraged. Communication is simplified so attendees can connect with each other, even during international events when language barriers could pose a challenge. This invites attendees to expand their networks and for companies to reach a broader audience.
Security is essential and definitely a selling point for companies presenting sensitive information. The ability to record sessions and play them for audiences, alongside an interactive chat or Q&A, ensures events can always feature an element of interactivity — a valuable asset to both event organizers and attendees.
---
When you want to bring the event to attendees
With such a visually immersive and engaging design, the three-dimensional feel of the 6Connex platform is an exceptional choice for event organizers who want to bring their event to attendees. When in-person events are not possible, or when a larger, international audience can benefit from a virtual experience, 6Connex is an optimal choice if the budget is available.
---
Frequently Asked Questions for 6Connex
Does 6Connex host live or pre-recorded events?
The 6Connex platform supports live events and pre-recorded sessions with or without the live Q&A option.
Does 6Connex require a license for use?
Yes. To use the platform, you must purchase a 12-month user license. Other capabilities and customizations are offered at various price points, so it's best to discuss needs and requirements with a support team member to understand the options.
Does 6Connex offer options for attendee networking?
Yes. Attendees can enjoy networking during virtual events in the networking lounge. Attendees can also break out into one-on-one conversations or small groups to continue their discussions and make more meaningful connections.

To find out more about 6Connex and determine if the platform is best for your event, reach out to the company for a complimentary demonstration and to discuss capabilities and requirements. They are helpful, knowledgeable, and passionate about providing a great virtual experience for any type of event.
To find out more about 6Connex and determine if the platform is best for your event, reach out to the company for a complimentary demonstration and to discuss capabilities and requirements. They are helpful, knowledgeable, and passionate about providing a great virtual experience for any type of event.
The Motley Fool has a Disclosure Policy. The Author and/or The Motley Fool may have an interest in companies mentioned.