---
Who is 7shifts for?
7shifts is a time clock tool specifically for restaurants and businesses in the food service industry. If you're a restaurant manager or owner looking for a tool that will help streamline your scheduling process, 7shifts is worth trying out.
---
7shifts' key features
The free plan includes basic scheduling capabilities, mobile apps, basic reporting and employee clock-in / clock-out functionality. I'll talk more about the cost of 7shifts later, and you'll see you'll need to pay if you want to go beyond the basics. But in general, a team with one location and 10 or fewer employees could use the no-cost plan to accomplish their basic scheduling goals.
Scheduling
Scheduling is the backbone of the 7shifts package. In addition to putting your team's shifts on the calendar, you can also create special events (like catering meals or birthday party reservations) so your team is prepared for necessary changes or adjustments to the schedule.

Managers can create notes on the backend and incorporate time off requests from the employee self-service app, making it easy to manage employee availability. Employees can also use the portal to request shift trades or claim any open shifts.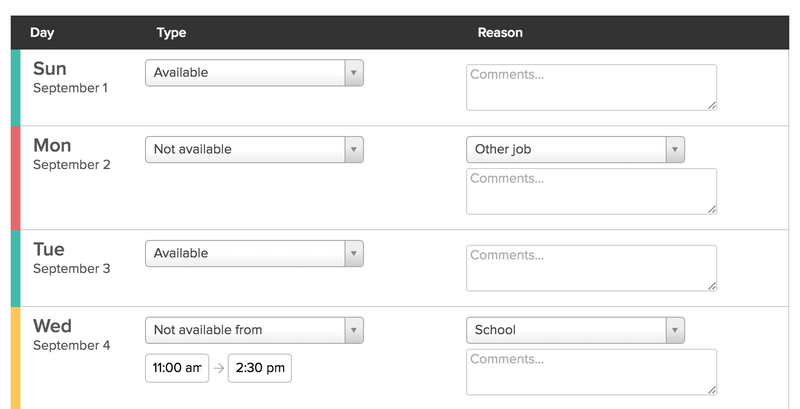 Accountability
Employees can clock in and out through 7punches, a separate (free) time clock app that they can access from time clock-enabled devices, like iPads or from a time clock workstation, such as a desktop computer, that you set up on location.
Since 7shifts caters to the restaurant industry, you can also customize the time clock to prompt employees to declare tips when they clock out. You can also choose to prevent clock-ins from unscheduled employees and plan for and track employee breaks.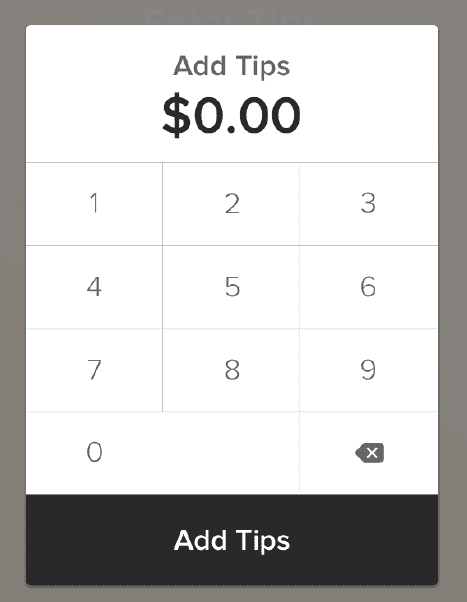 As a manager, you can access reports to see who's clocking in on time, who's showing up for their shifts, and who's requested time off.

Budgeting
The labor budgeting and payroll integration and export functions are included in 7shifts' paid "Entrée" plan. However, the convenience of having both these tools as part of your scheduling app might make it worth the cost. It's especially handy for shift planning, as you can see your labor costs as part of the schedule, and so keep cost-effectiveness in mind when you plan shifts.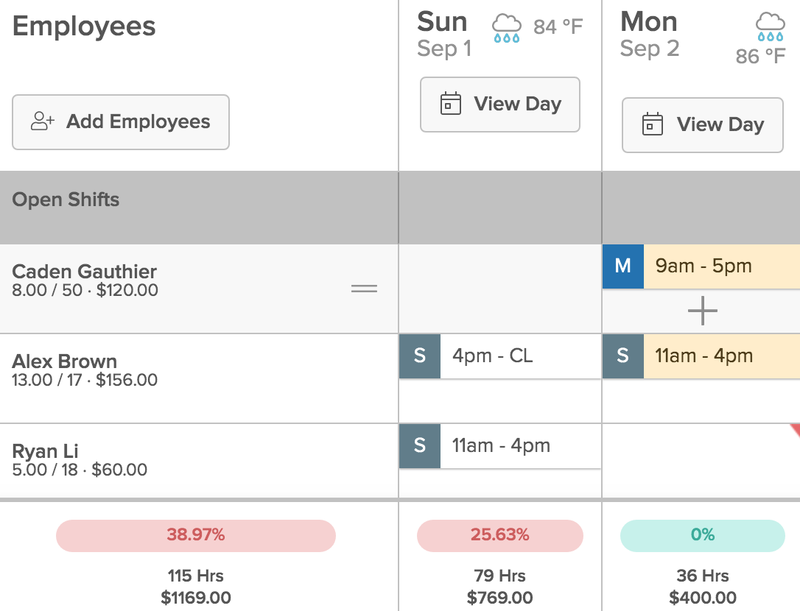 To help you measure labor costs against sales revenues, their paid plans integrate with several common payroll providers, as well as common POS systems, such as TouchBistro and Toast. ("Appetizer" includes POS integration, while "Entrée" includes both POS and payroll.)
Teamwork and collaboration
Both the free and paid plans allow you to schedule notifications and updates using the mobile apps. You'll have to upgrade to a paid plan if you need to communicate with your employees via SMS. However, as long as your employees have internet access, they can see their schedules, request time off and shift trades, and receive updates via the Android or iOS mobile app.
Another paid feature is the Manager Log Book for better note-taking and communication between managers. This feature enables you to use one dashboard to keep track of sales revenue and labor costs, as well as creating and maintaining records about different shifts, maintenance needs, and employee issues.
---
Benefits of using 7shifts
7shifts offers streamlined scheduling specifically for restaurants. Since they only focus on the food service industry, they have a deeper understanding of what will save restaurant teams time and money. Especially when it comes to more advanced (paid) features, every tool in 7shifts is designed to make back-office work easier and less time-consuming. With its free plan for smaller teams and straightforward setup, 7shifts is a low-risk — potentially high-reward — scheduling option for your restaurant.
---
7shifts pricing
7shifts has several packages that depend on staff size, number of locations, and additional features required by users.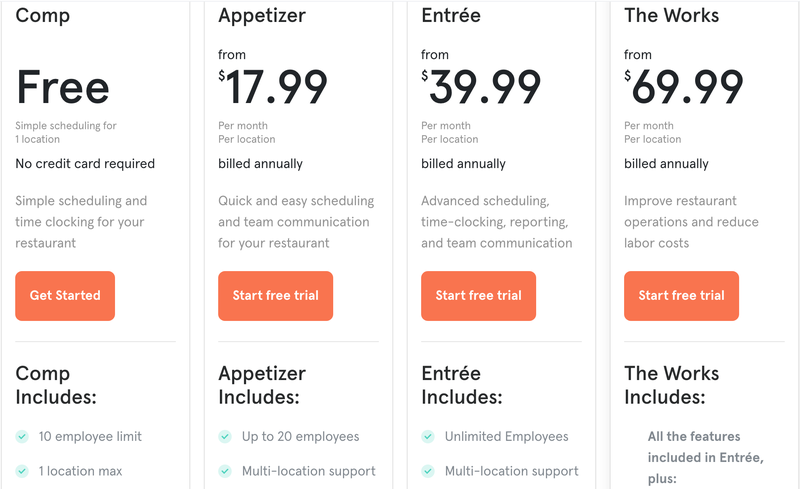 There's a free time clock solution for teams of 10 or fewer employees who work out of one restaurant location and only need access to basic scheduling tools. Larger teams or businesses with multiple locations will need to pull out the company credit card and subscribe to a paid 7shifts plan. However, the paid solutions are reasonably priced and about on par with similar time clock solutions on the market.
---
7shifts' ease of use
7shifts is extremely straightforward to use and get started with. Its main focus is on its scheduling capabilities, and building a schedule is extremely intuitive. Your scheduling calendar shows each employee's availability through color-coded tags, making it easy to see who can come in and who can't.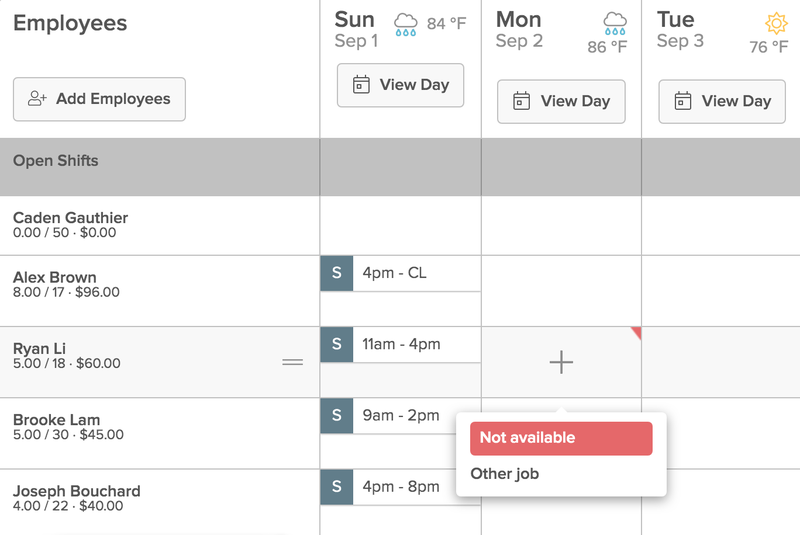 Getting started
To set up 7shifts, you should first create different teams or departments and add roles, such as manager or server. You can add employees from the system settings menu or directly from the scheduling tool when you build your first schedule.
All these system sections are clearly labeled, but 7shifts also has a setup wizard to help you if you're unsure of where to go next. In addition, they have live chat support options (available Monday-Friday during business hours), the option to schedule a phone call with the support team, and an extensive self-help library.
---
Frequently Asked Questions
How much does 7shifts cost outside of the free plan?
7shifts offers an "Appetizer" plan for teams of 20 employees or fewer for about $18 per location, per month. This upgraded plan also includes access to more advanced features, such as POS integration. For larger teams or businesses that need more in-depth labor costing tools and reports, upgraded 7shifts plans start at $40 per location, per month.
Can I use 7shifts if I'm not in the food service industry?
Aside from traditional restaurants, 7shifts also caters to organizations such as cafés, bars, and catering businesses. The free 7shifts plan that only includes access to basic scheduling tools could work for most industries. However, if you upgrade to the more advanced features, you might find that the system doesn't tailor as closely to the needs of other industries as you might like.
Does 7shifts have tools that will help me follow labor compliance laws?
7shifts does offer tools to help restaurants in New York and California adhere to local labor laws, but these are only available in "The Works" paid plan. Otherwise, you can create your own rules in your scheduling settings to track overtime and prevent back-to-back closing and opening shifts.

Look into 7shifts for a scheduling and time clock tool that is totally focused on serving the restaurant industry.
Look into 7shifts for a scheduling and time clock tool that is totally focused on serving the restaurant industry.
The Motley Fool has a Disclosure Policy. The Author and/or The Motley Fool may have an interest in companies mentioned.