Last year, the shopping cart abandonment rate worldwide reached 69.57%.
This striking figure is a dead giveaway of the plague cart abandonments are for businesses.
Depending on the products you're selling, a 69.57% cart abandonment rate can translate to thousands of dollars' worth of lost sales — an amount businesses can't afford to lose.
To prevent your sales from leaking out, your small business email marketing campaigns need to be spot on.
You need to use the best cart abandonment email templates. Send your email reminders at the right time. And ensure your email content has the psychological triggers needed to compel your audience to push through with their purchases.
To improve your e-commerce email marketing campaigns, we will study how other online store owners are creating their abandoned cart emails.
The best 10 abandoned cart email examples you can use right now:
Hello Merch
Bearsville Soaps Company
Forever 21
Amazon
Jack Wills
BlackMilk Clothing
Dollar Shave Club
Tinte Cosmetics
Hello Nomad
---
Overview: What are abandoned cart emails?
First, let's define what an "abandoned cart" is.
Essentially, abandoned carts are virtual shopping carts with items in them left by online shoppers without completing their purchases.
It's considered "abandoned" because the shoppers already added items to their virtual carts, but they ultimately exited the site without buying.
Abandoned cart emails are the email messages online store owners send to those who abandoned their virtual carts, enticing them to come back to the site to complete the purchase.
You have many ways to address your abandoned cart issues, but seasoned marketers use multivariate tests. With this strategy alone, some companies reported a conversion rate of 60% on their cart abandonment landing page.
E-commerce companies also use email automation, discounts, freebies, etc.
---
10 best abandoned cart email examples
To prevent your shoppers from deserting their purchases, send them a high-conversion cart abandonment email. The emails below are some of the best to get inspiration from.
1. Hello Merch
Hello Merch went with a minimalist approach. Their email doesn't have any images, fancy font styles, or varying text sizes.
They send a simple email reminding their users about the items they left on their cart.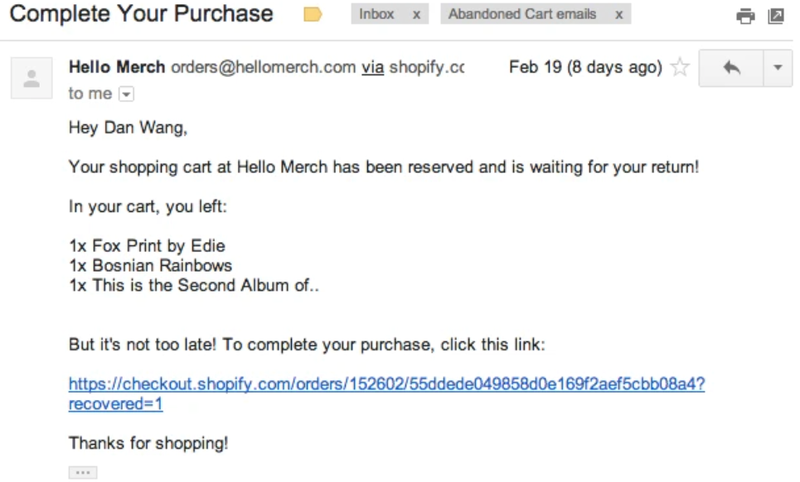 Sometimes, that's all you need to push your web traffic further into your conversion funnels.
Good points about Hello Merch's cart abandonment email:
A clear and simple abandoned cart email subject line.
No fluff.
The reader's attention is drawn toward the URL since it's the only element in the email using color.
2. Bearsville Soap Company
Add a huge image to catch the attention of your audience.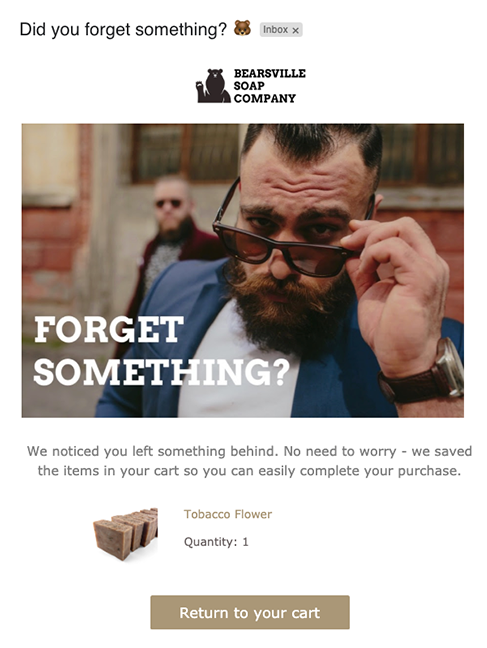 Chances are your customers have hundreds of things on their minds. Their work, household responsibilities, bills, etc. It's hard to catch their attention when their mind is all over the place.
By adding a catchy image, you direct their attention to the photo, increasing their focus on your email message. The strategy is perfect for email retargeting, abandoned cart emails, or even your monthly newsletters.
Good points about Bearsville Soap's cart abandonment email:
The large and catchy image.
The question on the image is effective for engaging readers.
3. Forever 21
The fear of missing out (FOMO) is real. Established brands use it all the time to grow their sales.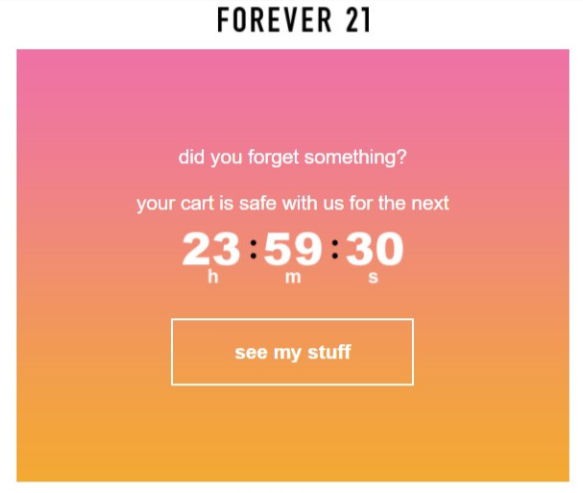 You see companies offering limited discounts, e-commerce stores showing their available remaining stocks, and, yes, they also add countdown timers, similar to the one Forever 21 uses here.
The countdown timer compels recipients to complete their purchases without delay.
Good points about Forever 21's cart abandonment email:
Their use of FOMO.
The email is clutter free.
4. Amazon
Your shoppers may have already added products to their carts, but that doesn't mean they're unwilling to buy some more.
That's why Amazon added links to their "Today's Deals" and "Recommendations" page, among other relevant pages.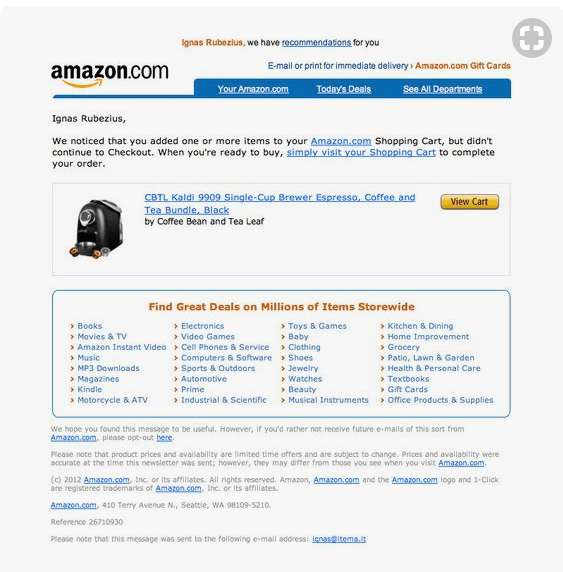 Be expectant when dealing with your customers. Instead of aiming for the bare minimum, which is for them to buy what's in their abandoned cart, shoot for the stars, and offer more products. You'll never know if they want to buy more.
Good points about Amazon's cart abandonment email:
They add the recipient's name.
The product image pops.
They add relevant links to other enticing offers.
5. The 5th
The 5th's FOMO strategy didn't feature a countdown timer, but, instead, they added the phrase "Time is: Running Out!" It still injects the fear of potentially missing out on the opportunity they have at hand to enjoy a product.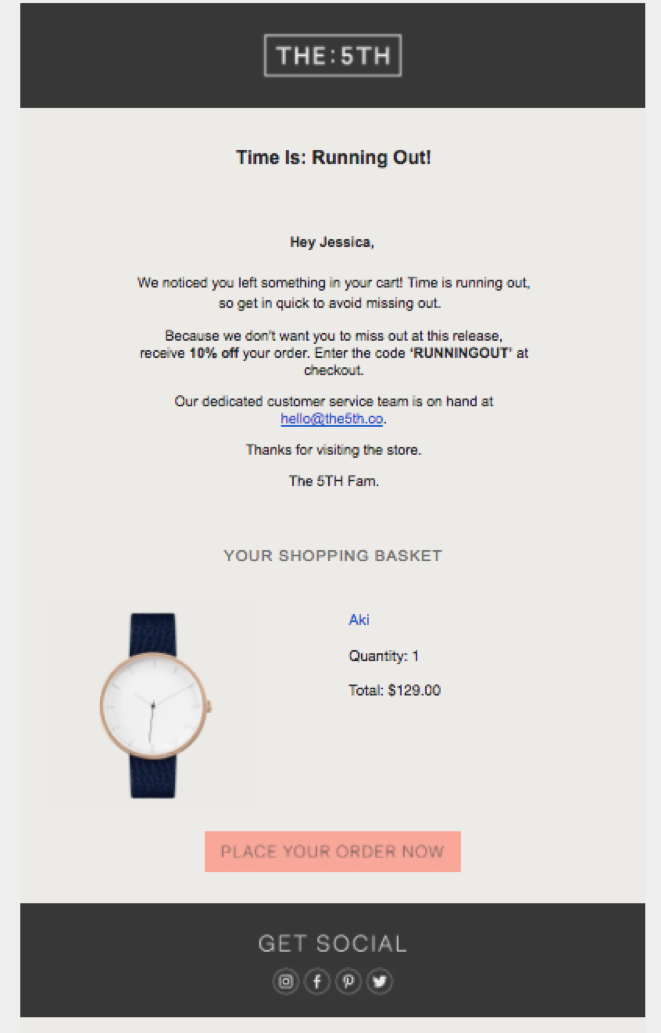 Even their promo code says "RUNNINGOUT," further reinforcing their FOMO strategy.
Good points about The 5th's cart abandonment email:
They use FOMO.
They offer a discount.
A professional-looking product image.
6. Jack Wills
"Worry" is an eye-catching power word that evokes emotion, even on the subconscious level.

Having seen the word "worry" in the email introduction, the readers are reminded of it and start to feel the emotional impact of the word.
That momentary spike in emotion, even if it's undetectable, can cause your readers to focus on the material in front of them.
Good points about Jack Wills' cart abandonment email:
The product images have models, making it easier for shoppers to imagine themselves wearing the product.
The massive banner that says, "Sale up to 50% OFF," also encourages your audience to buy more.
7. BlackMilk Clothing
Just as the feeling of fear impacts your audience, so does showing them something cute.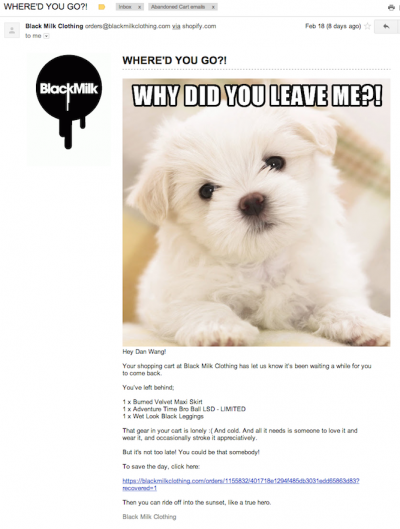 Seeing a cute puppy on BlackMilk's cart abandonment email adds all sorts of warm and gooey feelings.
Since we all have an aversion to painful things and welcome happy, delightful, and positive experiences, the email with a cute puppy does wonders for drawing in your audiences' attention.
Good points about BlackMilk's cart abandonment email:
It has an eye-catching image.
It has a friendly feel to it.
8. Dollar Shave Club
While most companies only talk about the products their shoppers leave in their virtual carts, the Dollar Shave Club takes things to the next level by talking about their product features.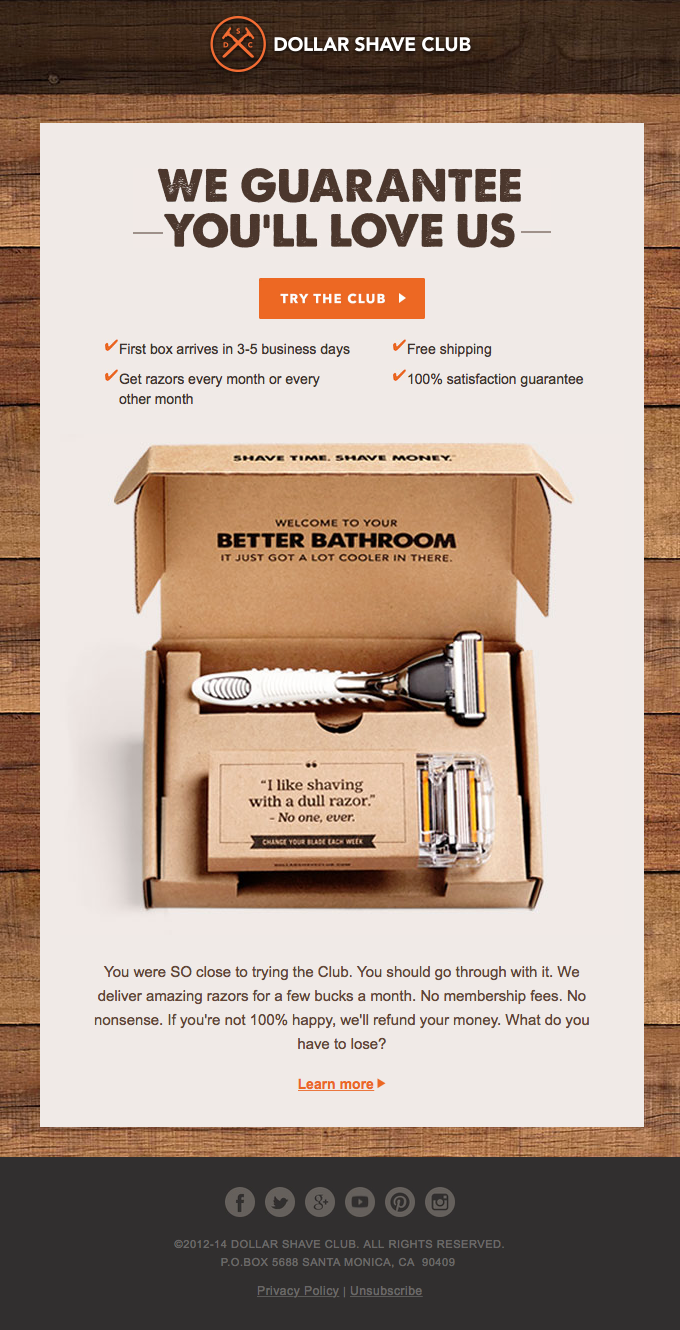 Highlighting your product features reminds your audience of what they're missing out if they don't proceed with their purchase.
Sometimes, simply adding your product features is enough to retain your customers.
Good points about Dollar Shave Club's cart abandonment email:
They use power words.
They highlight their product features.
The email has a stunning product photo.
9. Tinte Cosmetics
Make your CTA buttons pop whether you're sending a regular newsletter to your email list or you're sending an abandoned cart email.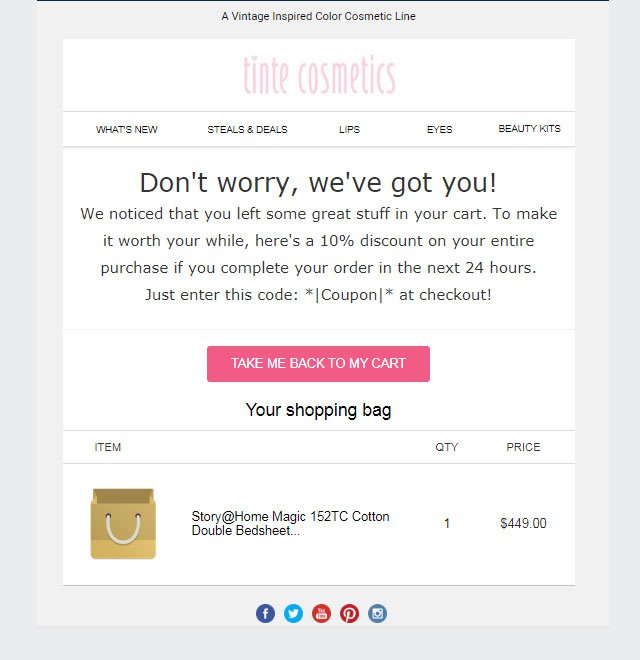 Your audiences' attention is then directed to that one CTA instead of getting overwhelmed with other elements, such as images, social sharing buttons, etc.
Good points about Tinte Cosmetics' cart abandonment email:
Their CTA button pops.
The email has a discount offer.
It adds a sense of urgency.
10. Hello Nomad
Using the best e-commerce platform and installing loads of feature-packed plug-ins can help you acquire new customers. Sometimes, however, using a plain cart abandonment email can do the trick.
Hello Nomad's email doesn't have fancy images or countdown timers. Still, it does a great job of immediately directing their audience's attention to four things: the two products, their discount code, and how much the shopper can save.
By following suit and directing your shoppers' attention to the crucial parts of your email, you reduce your abandoned cart email frequency.
Good points about Hello Nomad's cart abandonment email:
No fluff.
Discount coupon.
Sense of urgency.
Free shipping.
Satisfaction guaranteed.
---
Decrease your cart abandonments now
Avoid losing sales by improving your cart abandonment emails.
Just because many e-commerce stores miss loads of sales due to cart abandonment doesn't mean you need to follow suit.
Create a high-converting cart abandonment email by taking inspiration from the effective and beautifully crafted emails above.