Absorb is a mobile, cloud-based learning management system (LMS) built for business training. It comes ready to cover all the basics for employee training and development, educating customers and partners, and selling your courses online.
Absorb lets you create multiple learning portals with customized branding for different user groups. It supports live training sessions and on-demand courses on any mobile device, so you can engage users wherever and whenever they're ready to learn.
---
Who is Absorb LMS for?
Absorb LMS is a good fit for businesses that want a tailored, appealing interface for their training programs. It is also good for companies that want to provide a mix of internal and external courses or to monetize their training.
Absorb features well-designed interfaces for learners, instructors, and administrators. It is easy to set up and use, so it's a good fit if you want to plug in and go. Unfortunately, Absorb LMS's pricing is available only by quotation, so you will have to consult a sales rep to see if it's a financial fit.
Let's take a look at Absorb's features and capabilities to see if it is a good choice for your business.
---
Absorb LMS's features
It takes a broad feature set to tackle everything from employee training to e-commerce. Here are some highlights of what Absorb has to offer.
Customizable user interfaces
Absorb's interface is clean and intuitive, with a spare left menu and a right sidebar showing secondary menu items. Administrators can customize dashboards and assign them to different user groups for a truly tailored user experience across the platform.
On first sign-on, admins are invited to customize their experience.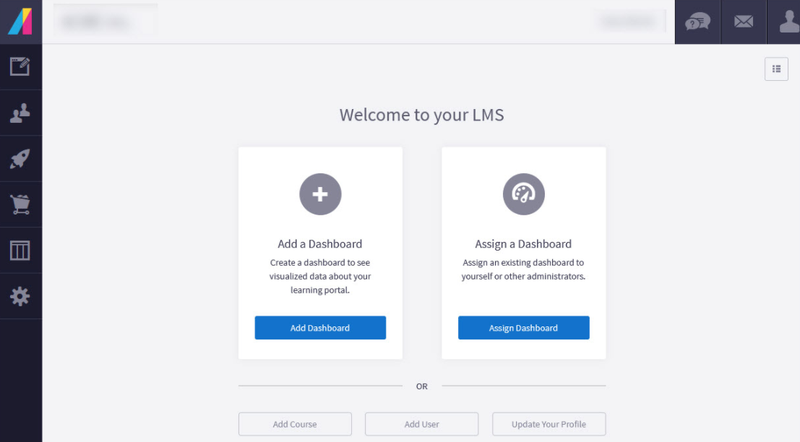 With a click, you can choose a template with areas for images, messages, progress charts, badges, activity feeds, analytics, and courses. The dashboard creator works much like a drag-and-drop website builder such as Wix. Drag and drop some widgets and you can configure an admin dashboard like this: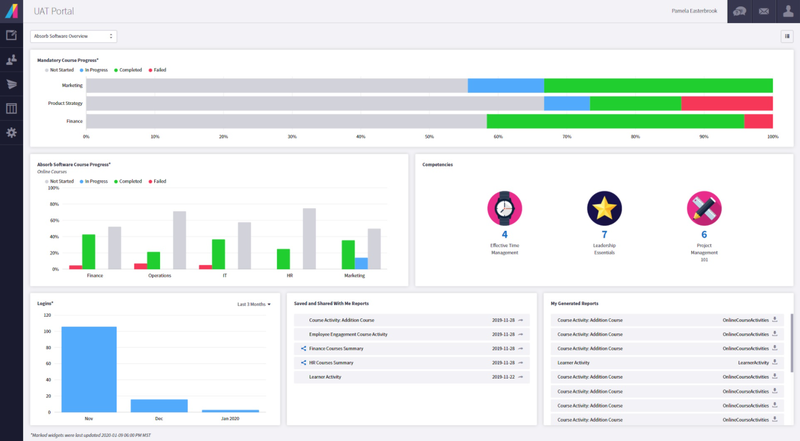 Admins can create an equally inviting LMS for teachers and students, with options for welcome messages or billboards with sliding images, progress charts, course feeds, and more.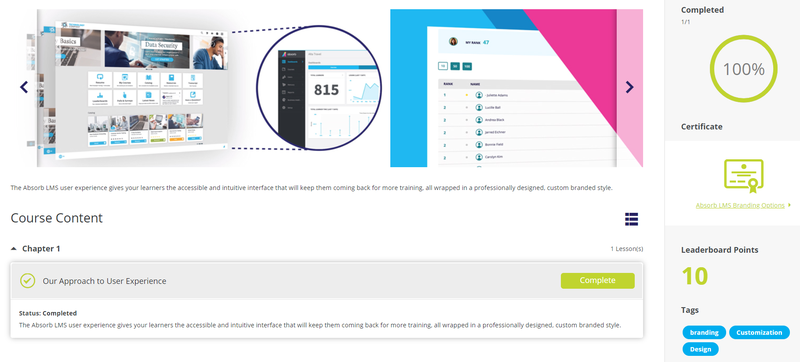 User management
Absorb divides users into departments and groups. Departments are basically organizations that form your LMS infrastructure. They can be arranged into hierarchies and assigned individual learning portals. Separate URLs are available for an extra charge. An example of useful departments would be employees versus customers.
Groups are fluid collections of users for performing bulk actions such as enrollment. For example, employees might be sorted into groups based on division, location, or team. Customers might be sorted into groups based on course topics.
Admins can assign roles to users including admin, business intelligence reviewer, instructor, reporter, and system administrator. Admins can be assigned to multiple user groups, but only to one department.
You can also create custom roles in Absorb, but the platform's rules for departments and groups can't be changed. It's therefore important to set up department hierarchies carefully.
Learners can be automatically sorted into groups and enrolled in courses based on logic established by the administrator. For example, new employees could be launched into onboarding paths. Absorb also comes fully loaded with automatic notifications.
One really nice feature in Absorb is the ability to create and share enrollment keys. These can be given to users to allow them to self-enroll in courses.
Course building
Absorb lets you build courses by uploading learning objects or entire course materials. These can be videos, tasks, tests, Shareable Content Object Reference Model (SCORM), Tin Can, documents, and other uploaded content. You can also link to external materials through the Objects option.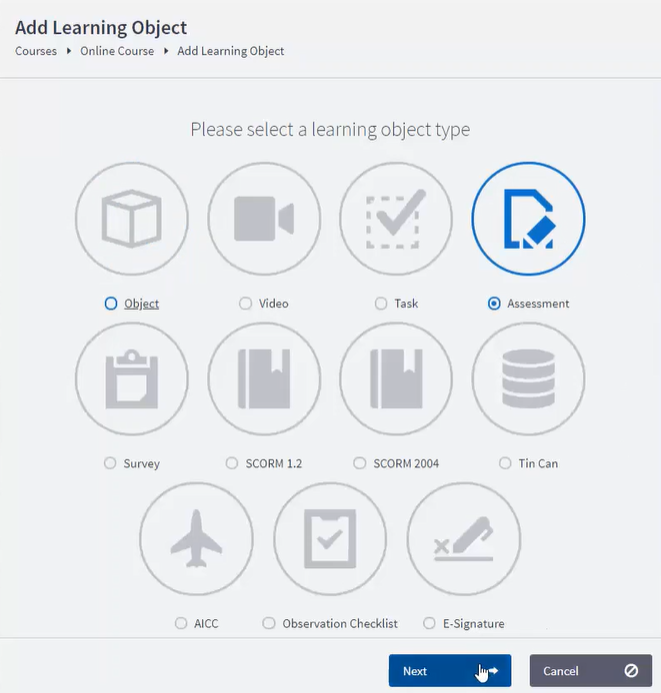 Tasks and checklists can also be added, a nice feature for onboarding and employee development. You can also require e-signatures to verify completion, which can be useful for certifications.
Courses can be connected to a learning path through a syllabus. These must be completed in order according to rules set by the creator. Courses can also be tagged with keywords for search and reporting purposes, connected to competencies, and sorted into bundles. Bundles are simply course collections. They don't have built-in sequences or rules.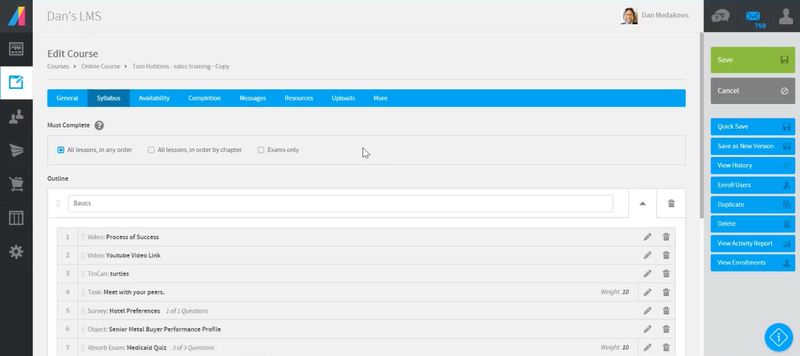 Instructors can control course availability, send messages, copy courses, and view activity reports for courses and syllabi.
Videos can be embedded in the experience or viewed through pop-ups. Absorb recently introduced a tool, Pinpoint, that automatically transcribes videos so they can be searched. That's an unusual feature that could be really useful if you use a lot of media.
While Absorb covers the bases with its course builder, its tools are pretty basic. For example, assessments support only two question types, multiple choice and text. Advanced course building tools are available in Absorb's Koantic course authoring package, priced separately.
Badges and certifications
Absorb lets you assign tasks, courses, or assessments to competencies. The software includes basic gamification features such as badges, progress bars, and certificates for achieving learning milestones.
I completed a course and I must admit, it was satisfying to see the meter tick up on my LMS dashboard. I also had a notice that I'd earned a certificate, which was nice.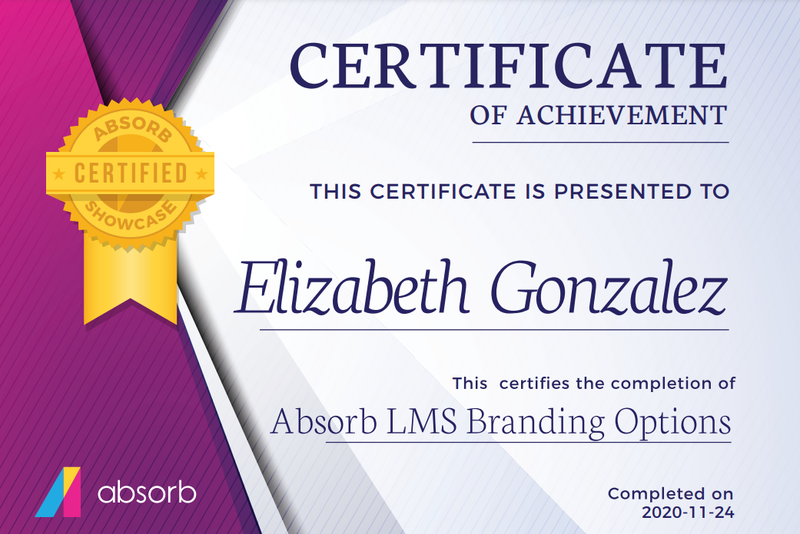 Gamification features always make an LMS stand out from the pack. Absorb offers deeper gamification features in its Engage package for an additional charge.
Live training
It's easy to schedule live training sessions in person and via video conferencing in Absorb. Absorb has a built-in integration with Zoom so you can create standing meeting rooms for groups or individual users. You just need a Zoom account to connect.
You can also easily schedule training with any video conferencing platform that creates meeting links, such as GoToMeeting, Microsoft Teams, and Webex.
E-commerce
Absorb comes ready for creating an online course academy and charging registration fees. It features a built-in shopping cart open to the payment gateway and processor of your choice.
Absorb's enrollment keys are great for selling courses in bulk. Purchasers can simply pay for courses, share the keys, and let users self-enroll in their courses.
Another outstanding feature built into Absorb is smart pricing, which lets you offer preferential pricing to certain groups. You can also enable discounted course bundles and promotional codes. Absorb is fully compliant with Payment Card Industry (PCI) security standards.
Reports
You can run numerous standard reports in Absorb and incorporate your data into user dashboards. Reports can be automatically assigned and distributed to groups and departments based on rules and schedules set by the administrator.
You can pull almost any data point from Absorb — such as system activity or course completions — and filter it by users or groups. You can then share your reports via email or save the parameters to run again in the future.
You can also download data into spreadsheets for further reporting, or access Absorb's advanced reporting features through the optional Absorb Inform package.
Integrations
As a business-first LMS, Absorb integrates with many of the systems you use every day. Its turnkey integrations include:
You can also build integrations with single sign-on (SSO) software such as Okta and OneLogin, Google Workspace and Google Analytics, more than 70 payment solutions, and many other platforms.
Salesforce and ADP integrations are up-charged options. You can also connect applications via RESTful applied programming interface (API), but this is also an add-on feature. Full Absorb LMS API integration is available through the Absorb Infuse package.
---
Absorb LMS's ease of use
Absorb LMS is easy to access, customize, and use. The user interfaces are appealing and easy enough to navigate without Absorb training or support.
Some features, such as permissions between departments and groups, are more complex, and Absorb isn't as flexible in this area as more developed LMS training systems, such as Blackboard or Canvas. Still, Absorb is easy and even pleasant to use, and includes nice gamification touches to keep users engaged.
---
Absorb LMS's pricing
Absorb LMS shares details of pricing only through individual quotation. To determine your costs, you will need to talk to a sales representative about your goals and potential users.
---
Absorb LMS's support
Absorb offers generous 24/7 phone support, plus email and web ticket support to all customers as part of its default Premium Support plan. You can buy additional support through an Elite plan, which adds a customer success manager, and an Enterprise plan, which adds white-glove services such as on-site training and onboarding support.
---
Benefits of Absorb LMS
Absorb is a great all-around e-learning solution suited for businesses looking to onboard and develop employees, educate customers and partners, and sell training online. Its customization features are outstanding, so it's an excellent choice for businesses that want a lot of control over the design and branding of their learning portals.
When it comes to features, Absorb goes wide but not deep. It includes deluxe elements such as custom badges and e-commerce, yet goes light on fundamentals such as course building, assessments, and reporting. Deeper feature sets are available through integrations or one of Absorb's many add-on packages, but those costs add up.
As a user-friendly, business-focused LMS, Absorb deserves your consideration for business training and course selling. But I would carefully compare those core functionalities and the total costs of ownership when deciding on an LMS.
---
Absorb more
Absorb is a user-friendly, brandable LMS well suited for onboarding and training employees. It is also a great choice for educating your partners and clients and monetizing your training efforts through an online academy.
You can take a brief tour of the company's learner interface through a no-obligation free trial. Why not take it for a spin and decide if it's the ideal solution for your training needs?
---
Frequently Asked Questions for Absorb LMS
Absorb LMS is owned by Absorb Software, a learning software provider based in Calgary, Alberta, Canada. Absorb was founded in 2002.
What is the difference between LMS and e-learning?
A learning management system, or LMS, is the software used to provide online learning, or e-learning, experiences. LMSes generally include features for creating, managing, and delivering courses as well as tracking their results.
Some LMSes are created expressly for business training, while others are designed for academic markets. To determine the best LMS for your needs, you'll want to consider what kinds of courses you want to provide.
For example, do you plan to provide training in person, via video, or online? Will you cover one topic or many? What audiences will you be training: employees, partners, customers, or the public? Do you want to sell courses online?
If you're creating training programs for business, consider our top LMS picks for business.

Absorb LMS is designed for delivering learning experiences to employees and customers and selling online courses. Will it work for your training plans?
Absorb LMS is designed for delivering learning experiences to employees and customers and selling online courses. Will it work for your training plans?
The Motley Fool has a Disclosure Policy. The Author and/or The Motley Fool may have an interest in companies mentioned.