A great event organizer will always find value in solutions that can do double duty. The easier it is to streamline the customer experience, the better it is for the event organizer who is juggling multiple deadlines, logistical challenges, and content concerns at once.
So while all events are created differently and carry various requirements, a virtual event software platform that can handle registrations, a multitrack agenda, and sponsors, all while encouraging attendee engagement is just as valuable as gold. With that said, Accelevents is a self-service platform that can check most of those boxes and may eventually reach that coveted gold status as it adds to its functionality.
---
Who is Accelevents for?
From live festivals to professional conferences and online fundraisers, Accelevents is an intuitive and versatile self-service online event platform. The platform events are diverse and overall, it excels in offering a full range of event types and opportunities to encourage attendees' engagement, including a beta gamification function.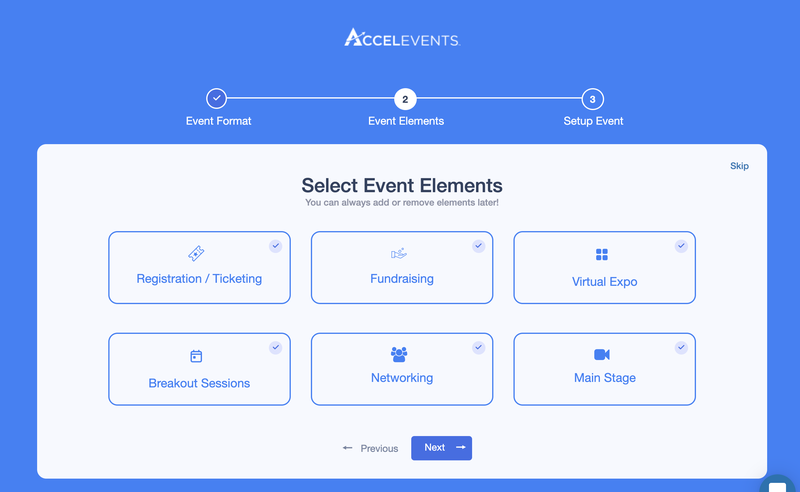 Organizers planning virtual festivals, fundraisers, corporate events, and other virtual events of any size can benefit from everything Accelevents offers. The platform is as easy to use as it is versatile, and the setup takes less than 15 minutes. With registration integration, an analytics dashboard, and its own live video streaming option, the Accelevents platform really is a full-service solution for almost any type of virtual event.
---
Accelevents' features
The Accelevents developers thought of almost every aspect of an event as it relates to function and communication. While some of the essential functions are as simple as an automated email to speakers when their sessions are published, other parts are more complex software integrations. There are few features left out of the platform functionality, but they are outweighed by features that really stand out.
Platform flexibility
Most virtual event platforms are best suited for one specific type or category of events. With a lot of options on the market, there are quite a few virtual conferencing platforms that are specifically for summits while others can really only handle webinars.
Accelevents, however, seems to be one of the few versatile platforms that can look professional and serve a corporate audience while also putting the "fun" in fundraising and offering an effective platform for managing festivals.
During the setup process, configuration prompts ask a few simple questions about the type of event and required elements. Based on the answers, the platform creates the event site and uses the most appropriate template and set of actions on the checklist. However, if an event launches and requires a function not included in the initial customization, it can be added later.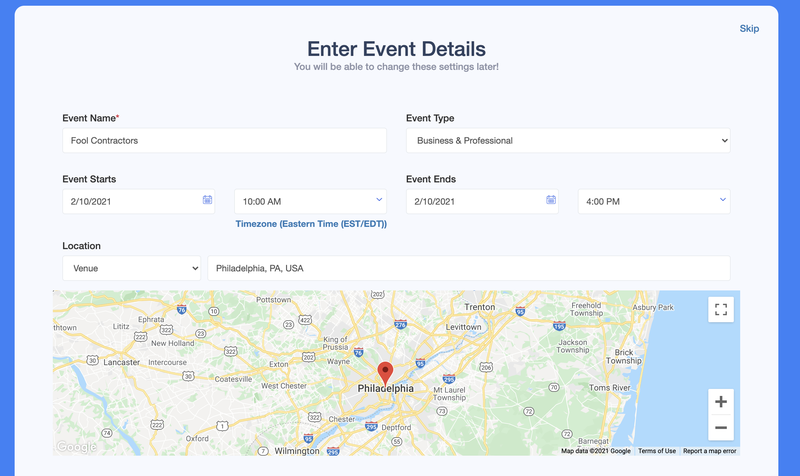 For example, when a new event is created, the backend dashboard makes a checklist of actions to prepare for launch. If an event requires payment for registration, the dashboard checklist will include an action item to set up payment processing. For this specific function, Accelevents offers payment processing integrations with Stripe and Square. And setting up the integration takes less than five clicks.
Also, Accelevents issues same-day quick payouts (and a guaranteed deposit within 48 hours) for all sales, so there is less wait time to receive compensation for the payments processed.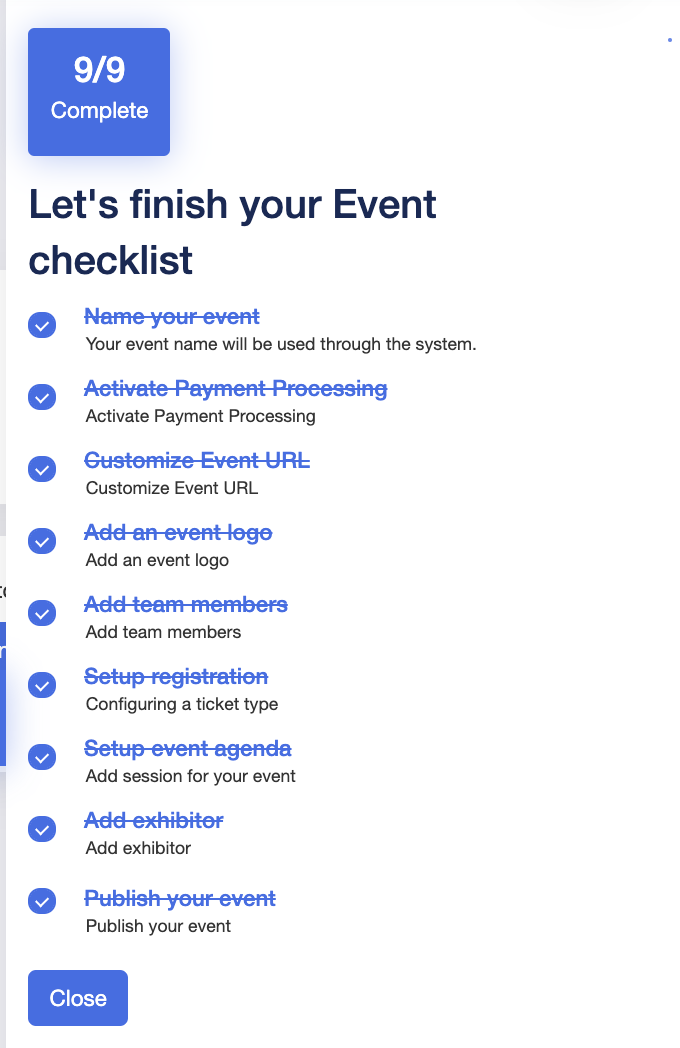 The flexibility is, by far, one of the best features of the platform since it can be used across an organization and for a variety of events.
Fundraising event capability
Fundraising events can be challenging, especially managing all the moving parts of in-person or hybrid events. However, Accelevents offers a unique fundraising solution with mobile capabilities and a seamless experience for donors.
Fundraising options can integrate with the ticketing system for in-person or hybrid events. Attendees can purchase event tickets and donate at checkout or just get involved in the fundraising efforts. For completely virtual events, the platform can host digital fundraising efforts such as raffles and silent auctions.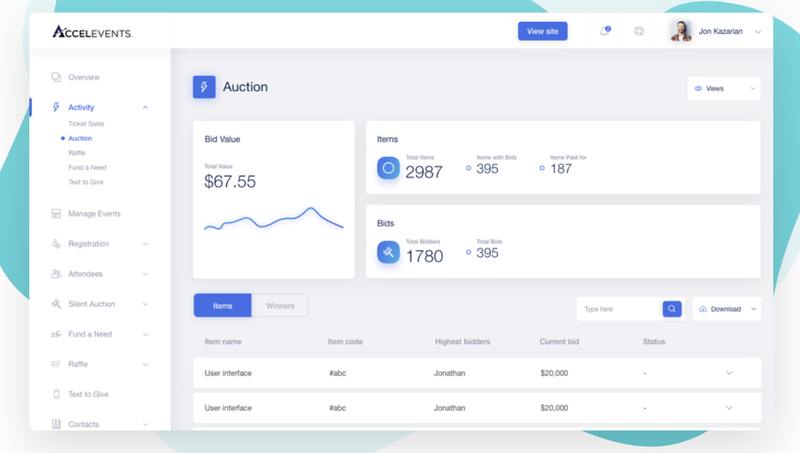 The optional fundraising functions on the platform include:
Donations at checkout
Raffle participation
Silent auction bids
Text-to-give
These options and the flexibility can add an entirely new set of opportunities for nonprofit fundraising that offers a more enticing approach, a streamlined process, and a wider reach.
Carefully curated engagement
Accelevents uses artificial intelligence to pair attendees who join cocktail parties and networking sessions. These sessions offer attendees a chance to "match" with each other and prompt interactions to spark new, mutually beneficial professional relationships and partnerships.
There is also a gamification function that invites the event organizer to set up challenges (there can be more than one throughout the event) to encourage attendees to participate and take action.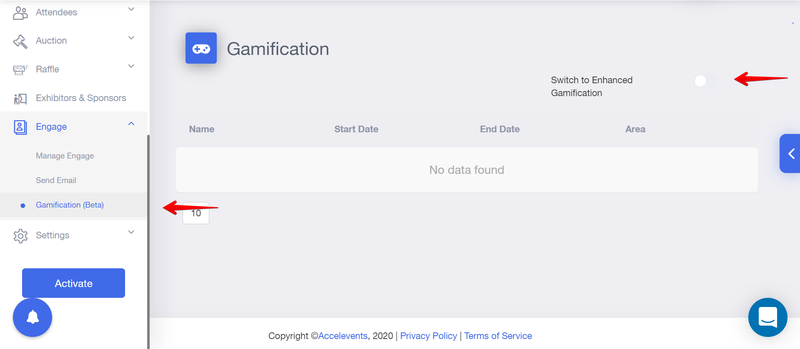 For example, an organizer can create a 10-Point Checklist, and each attendee who chooses to participate must complete 10 actions to finish the challenge. Actions might include checking out an exhibitor booth for more than one minute. The event organizer can offer incentives, prizes, or rewards for those who join the challenge.
The challenge engagement is tracked automatically, and the organizer will see participant data in the backend analytics dashboard.
Real-time analytics
For event organizers, real-time analytics paints a picture of the event. The data offers insight into event interests, how attendees interact with event pages, and if the exhibitors and sponsors are getting value through visits and meetings. As with any great virtual meeting platform, Accelevents offers a slew of analytics tools on the backend, and the data is updated in real-time.
Analytics provided by the platform include:
Registration and attendance
Total sales numbers for all revenue streams
Sponsor data, including clicks to booths
Exhibitor data, including leads generated and meetings scheduled
Session attendance and duration
Gamification data
These analytics are easily accessed through the organizer's dashboard and exported to share with team members and other stakeholders.
Registration and livestream included
Unlike some other platforms, Accelevents really is an end-to-end solution. The platform creates an event registration page that can be customized and configured to accept payments using Stripe or Square. However, an event organizer can also use their own registration software and either integrate the data through an API or upload the exported data into the platform.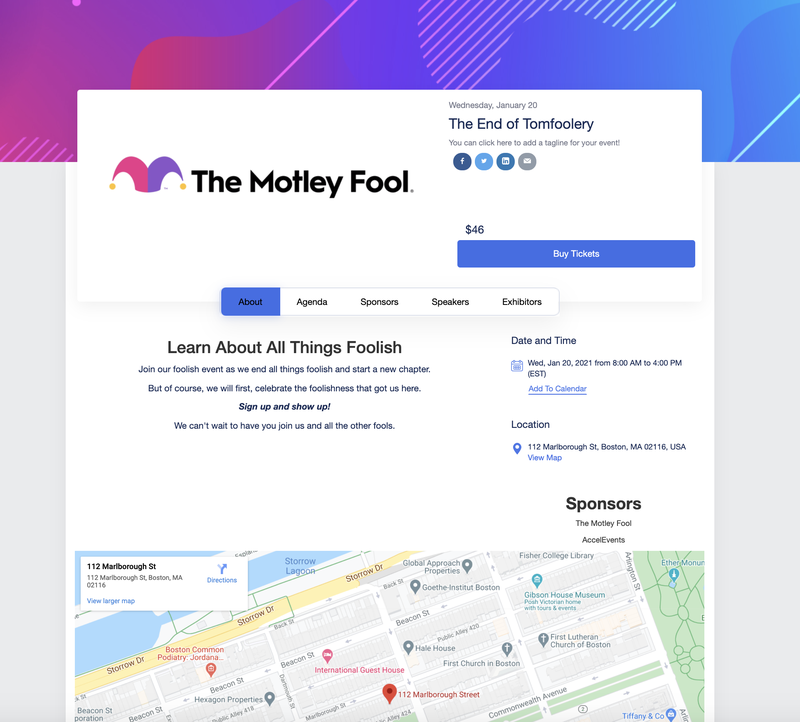 Accelevents also offers its own livestream function for live video presentations. The function will automatically generate links for sessions, so the organizer does not need to configure those settings.
However, if the event organizer prefers to use a different platform, the stage and breakout rooms are compatible with Zoom, Facebook Live, and other livestreaming applications. Event organizers can choose their preferred video conferencing platform based on their comfort level and what they anticipate will best support the event content.
---
Accelevents' ease of use
Accelevents offers a free trial and does not require payment or a credit card. Once the trial is activated, an event can be configured right away. In general, it takes less than 15 minutes to get the event registration page and hub set up and ready to go live.
Simple requirements such as uploading a logo, adding an event description, and adding speakers are enough to launch. Other details that may not be available right away or may change can be added before or after page launch.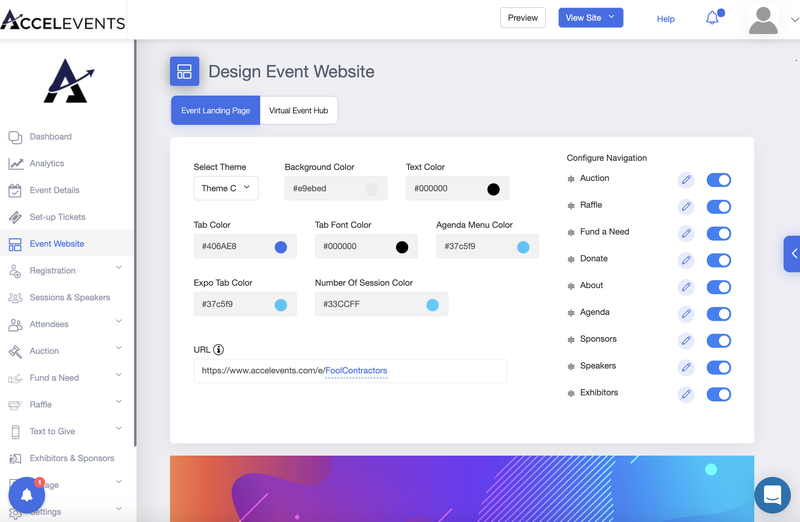 Integrations for payment processing for registration and fundraising are simple. Payments are collected using Stripe or Square, and the Accelevents payout promises that funds will be transferred within 48 hours.
Other integrations such as MailChimp, Gmail, and Salesforce are easy to set up and simplify communications and relationship management. It is also easy to add streaming platforms to host sessions and breakouts if the event organizer chooses to use a platform outside of what Accelevents offers.
---
Accelevents' pricing
The pricing model is not entirely transparent in terms of offering exact numbers for the tiered pricing structure. However, that is due to the customizations available, and the website explains that there are no upfront costs or platform fees to get started.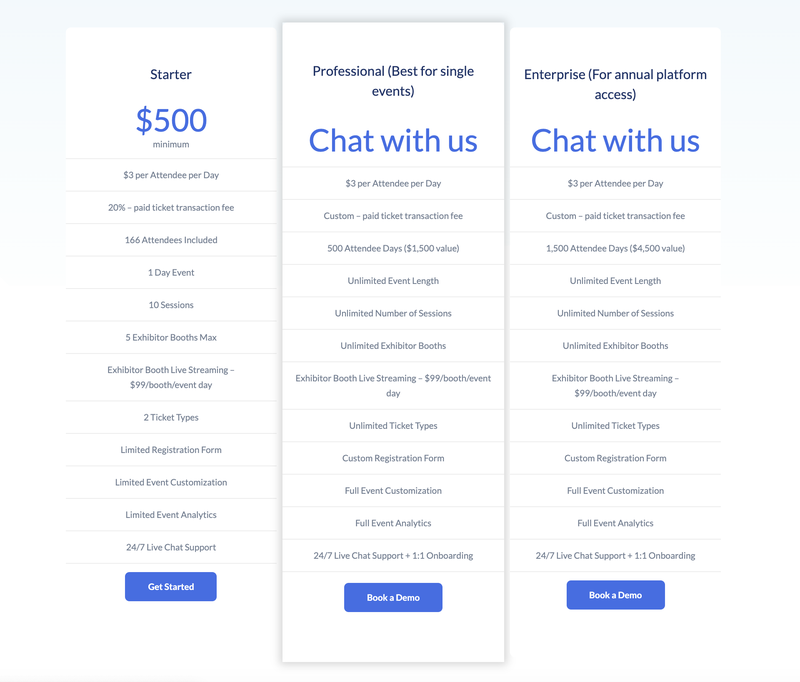 The cost starts at a minimum of $500 for an event, which is the price listed for the Starter option.
This cost includes:
One-day event
Two ticket types
Up to 166 attendees
Maximum of 10 sessions
Five exhibitor booths
Additional attendees cost $3 per person, and there is a 20 percent ticket transaction fee. The registration form, customization, and analytics are available but have limitations.
The next tiered option is the Professional package promoted as the best choice for single events. This option offers an unlimited number of sessions, booths, and ticket types.
It also includes:
Full event customization
Unlimited event length
Complete analytics for the event organizer
1:1 onboarding to get started
The price for this option is customized, and a representative can offer the details.
The top tier is the Enterprise level, which provides annual access to the platform, full customization, and no limits on sessions, booths, ticket types, and analytics. This is also available for a custom price, which is available from an Accelevents sales rep.
---
Accelevents' support
Accelevents offers 24/7 live customer support through the website chat. There is also event-day support for $250/hour with a minimum two-hour commitment. They also provide onboarding training webinars each week to help with the initial setup and event customization.
---
Benefits of Accelevents
In general, Accelevents is an excellent self-service platform for single events or an annual license for multiple events that may vary in type and purpose. With multitrack capabilities, integrated registration, and a livestream function, Accelevents offers a genuinely robust solution for virtual events.
The one area where improvement would uplevel this platform is support. While the live, real person 24/7 chat is helpful, sometimes a phone call can be quicker, simpler, and create a more human connection.
---
Versatile enough for everything from fundraisers to festivals
Accelevents is a versatile, flexible virtual event platform that can work for almost any event type with any number of attendees. The ability to customize the event pages, collect registrations, and offer analytics to sponsors and exhibitors means that the platform checks all of the basic boxes.
From fundraisers to festivals, the function of Accelevents makes it worth a try for any event organizer that wants to leverage the power of virtual event platforms.
---
Frequently Asked Questions for Accelevents
What size event is ideal for the Accelevents platform?
There really is no ideal size. Accelevents aims to enhance the experience and increase the profitability of any event, regardless of size. The pricing is scalable, and the technology can handle any volume of attendees and event capabilities.
Does the Accelevents team help manage the event?
In general, the platform is a self-service tool. Accelevents offers the platform and guidance for setup and execution, but the event is customized and managed by the event organizer. However, the Accelevents team always includes live chat support, and event-day support is available for an additional cost.
Is there a free trial or demo available?
Yes. There is both an Accelevents free trial and a complimentary demo with a sales representative. The free trial offers full functionality and the ability to set up a live event without any charges or commitment.

If you seek a virtual events platform for multitrack conferences or fundraisers with silent auctions, raffles, or direct donations, give Accelevents a test drive. The customization is easy enough for most professionals with very basic content management knowledge to configure. The interface is clean, and the user experience is seamless.
If you seek a virtual events platform for multitrack conferences or fundraisers with silent auctions, raffles, or direct donations, give Accelevents a test drive. The customization is easy enough for most professionals with very basic content management knowledge to configure. The interface is clean, and the user experience is seamless.