One of the biggest challenges small business owners face is finding the right accounting or bookkeeping software. Like everything else, personal likes and dislikes play a large role in finding that perfect system.
To complicate your search, you may be looking for a particular feature, such as inventory management if you're selling products, or an easy-to-use application if you're a sole proprietor with little time to spend entering accounting or bookkeeping transactions.
Here are our top picks for the best accounting systems for small businesses:
---
What to consider when choosing an accounting system
Any of these small business accounting platforms would be a great choice for small business owners, but you may not know that each of these applications does at least one thing better than the competition.
For example, AccountEdge Pro is by far the best option for growing businesses, offering scalability, on-premise and cloud accessibility, offering a version suitable for a sole proprietor as well as one designed to work with enterprise-level organizations.
On the other hand, Zoho Books is by far the best accounting software application for the novice bookkeeper or accountant, guiding users step by step through the entire application, taking the time to explain not only how to do something, but why it's important as well.
When you're looking for an accounting program, it's best to make a list of features you absolutely must have, and then add the features you'd like to have.
For instance, many small business owners prefer the convenience of cloud-based accounting software, while others don't care. The important thing is to find the application that offers those must-haves. If you don't, you'll only end up dissatisfied, no matter which application you purchase.
When purchasing any kind of software product, be sure to look ahead. Think about where you see your business in five years, and purchase the product that will work for you now as well as five years from now.
1. Ease of use
We all have a different opinion about what makes a software product easy to use. But if you're going to be the primary user, then your opinion is the one that matters.
Before purchasing any application, be sure you're happy with the interface, that you can find things easily, and that you're comfortable using it every day. Handling the accounting for your business may be scary, but using accounting software shouldn't be.
2. Scalability
If you're a sole proprietor or freelancer, and intend to remain one, scalability is probably not high on your list of importance. But if you're planning on growing your business, scalability may be one of the most important things to look for in a software application.
No one wants to outgrow software after a year or two, so if you're planning on growing, look for an application that will grow along with you.
3. Features you need
If the majority of your time is spent invoicing clients, look for an application that simplifies the invoicing process. If you bill clients on retainer, look for an application that offers a retainers option.
If you sell products, make sure you purchase software that can manage inventory. Look for what's important for your business, find the applications that offer it, and make your choice from there. Accounting software should make your life easier and allow you to spend more time on your business.
---
Five best accounting systems for small business
There are numerous small business accounting software applications on the market today, with most of them able to do many, if not all, of the things you'd like them to do. What's different about these top five applications is that each of them is best at something, which is what makes this list so useful.
1. AccountEdge Pro
AccountEdge Pro is a scalable accounting software application suitable for sole proprietors and larger businesses alike. Available as an on-premise application or on the cloud, AccountEdge Pro offers a level of flexibility frequently missing in small business accounting software applications.
AccountEdge Pro offers the following features:
Accounting and accounts maintenance
Banking
Sales
Time billing
Purchases
Payroll
Inventory
Customer portal
Card file
In addition, AccountEdge Pro offers excellent general ledger account management, with more than 100 chart of accounts templates available to choose from.
You can import your entire bank statement into the application for easy reconciliation, create a custom invoice, track time spent on a project, manage your inventory, and keep track of customers and vendors using the card file.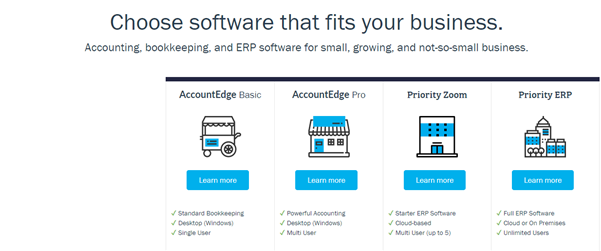 AccountEdge Pro offers a good selection of reports with the option to customize reports or export any report to Microsoft Excel.
Scalability is the biggest benefit of using AccountEdge Pro. With on-premise and cloud-accessible plans offered, AccountEdge Pro will easily grow along with your business, making it an important part of your operation for the long term.
AccountEdge offers two on-premise plans: Basic, with a one-time fee of $149; and Pro, with a one-time fee of $399, with an option to have either plan hosted remotely.
In addition, there are two cloud plans available: Priority Zoom, which runs $50/month; and Priority ERP, with pricing available directly from AccountEdge.
Read The Blueprint's full AccountEdge Pro review
2. FreshBooks
If you're self-employed and looking for easy online bookkeeping capability, FreshBooks is designed exactly for you.
While FreshBooks offers a ton of features such as expense management, time tracking, payment recording, and bank connectivity, FreshBooks shines in the areas most needed by self-employed individuals:
Retainers
Project management
Client estimates
While all of these are great features for any business, they are imperative for sole proprietors and freelancers, who can spend an inordinate amount of time preparing retainer agreements, client estimates, and custom invoices.
That an easy-to-use application such as FreshBooks offers all of these features makes it too good to pass up.
Reports in FreshBooks are limited to just 12, though complete financial statements are available, and you can export any report to Excel for customization.
The biggest benefit to using FreshBooks is its ability to manage your entire business operation — from initial proposal to time tracking to custom invoicing. You'll also appreciate the fact that you won't need to spend hours entering a ton of transactions in FreshBooks, as the application is designed for simplicity.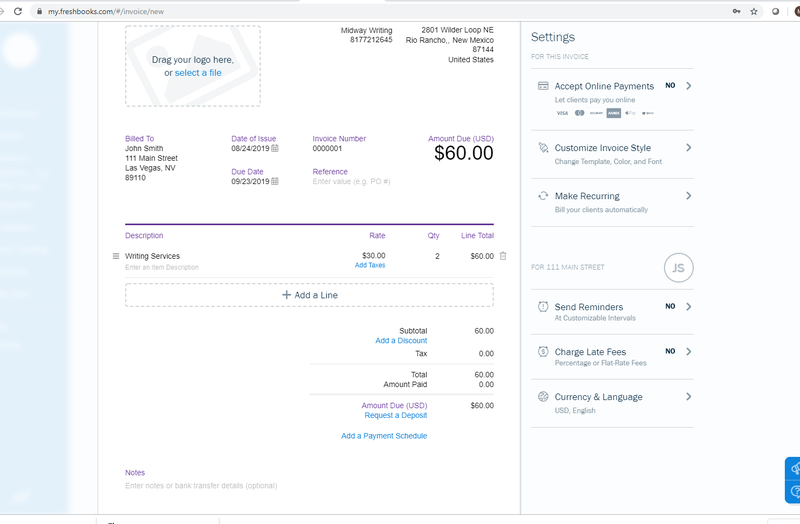 FreshBooks offers four plans: The Lite plan is $15/month and is great for those just starting out, while the Plus plan at $25/month and the Premium plan at $50/month are better suited for those with an established business or who are looking to add team members to the plan.
FreshBooks Select is also available for those looking for a custom plan, with pricing available directly from FreshBooks.
Read The Blueprint's full FreshBooks review
3. Sage 50cloud Accounting
It's imperative that any business is able to prepare financial statements. But what if you want more reporting options? What if you want a long list of standard reports to choose from along with the ability to create custom analytic reports quickly and easily?
Sounds like a lot to ask for, but Sage 50cloud Accounting can provide you with all of the reporting options you're looking for.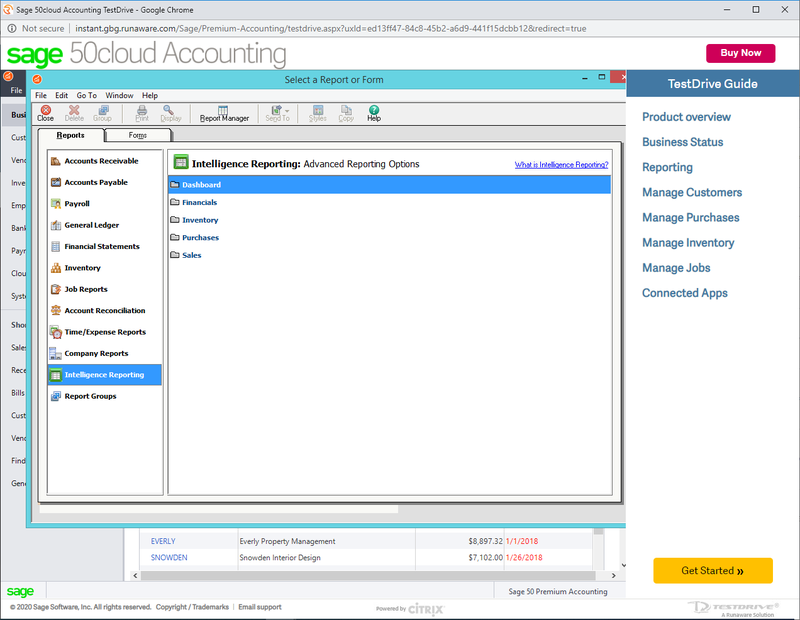 Along with standard features such as customer management, sales tracking, invoicing and payment acceptance, and automatic bank feeds, Sage 50cloud Accounting offers the reporting choices you're looking for.
Sage 50cloud Accounting offers more than 100 standard reports, all fully customizable, along with access to Sage 50 Intelligence Reporting, which integrates with your core accounting software application to create fully customizable business reports using Microsoft Excel.
Sage 50 Intelligence Reporting includes pre-formatted templates that can be used to create a quick report, or you can opt to create a report from scratch using the drag-and-drop interface.
You'll reap the biggest benefit from using Sage 50cloud Accounting if your business is an S corporation or partnership, or if you're looking to bring in investors.
Sage 50cloud Accounting offers three plans: Pro, which is a single-user system and runs $299.95 annually; Premium, which supports up to five users and runs $465.95 annually; and Quantum, reserved for larger businesses with up to 40 users.
Quantum pricing is available directly from Sage, with all pricing good for the first year.
Read The Blueprint's full Sage 50cloud Accounting review
4. QuickBooks Desktop
QuickBooks Desktop offers all of the accounting features your small business could possibly need, including invoicing, bill management and accounts payable, and income and expense tracking.
Though offered as a desktop solution, you can have QuickBooks Desktop hosted on a remote server if online accounting is important to you.
Along with the standard features, there are two things that make QuickBooks Desktop stand out from the competition: the inventory module and the availability of industry-specific editions.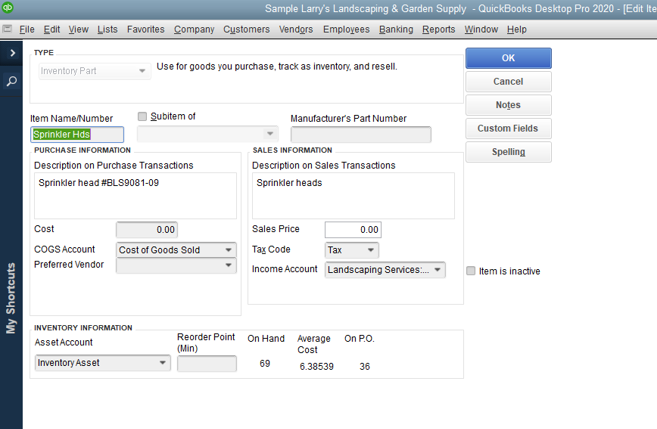 All QuickBooks Desktop editions offer excellent real-time inventory management capability, including calculating cost of goods sold.
The application also provides you with low-stock alerts, which let you know when product levels drop below a certain number, and when they do drop, QuickBooks Desktop creates an automatic purchase order to replenish stock.
For more advanced inventory options, check out the Enterprise edition of QuickBooks Desktop, which includes advanced inventory features like the inventory dashboard, where you can manage all inventory activity along with the ability to track inventory by location, serial number, or lot number.
You can also use your mobile phone as a bar code reader to quickly scan inventory or transfer data.
Aside from inventory, another benefit of using QuickBooks Desktop is the top-notch reporting available, with QuickBooks Pro offering more than 100 standard reports, while the Premier and Enterprise editions offer more than 150 reports, many of which are industry specific.
QuickBooks Desktop offers three plans: Pro, which supports up to three users and is $299.95 annually; Premier, which supports up to five users and is $499.95 annually; and Enterprise, which supports up to 30 users and is $1,091.70 annually.
Read The Blueprint's full QuickBooks Desktop review
5. Zoho Books
You've just opened your own business, and you're excited. And terrified. Terrified because you'll also have to double as the bookkeeper/accountant for your business. If you don't know what debits and credits are and have never heard of double-entry accounting, Zoho Books is for you.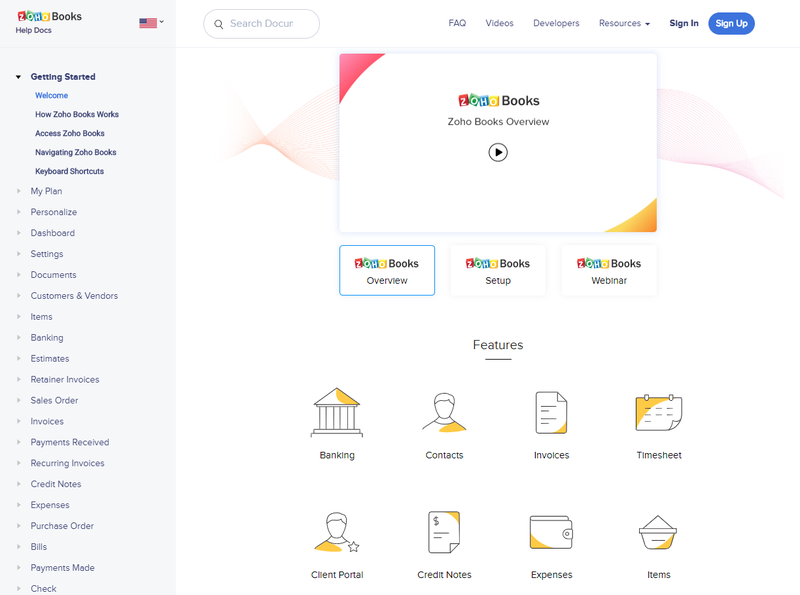 Zoho Books includes features such as bank connectivity and reconciliation, custom invoices, expense tracking, project management, timesheets, sales, and recurring transactions, with a customer portal and inventory management also available.
Reporting options are also good in Zoho Books, with reports easily customized as well as the option to export any report to Excel for further customization
While the features in Zoho Books are on par with those found in the competition, even more important is the level of help and support you get when you purchase Zoho Books.
Investing even an hour or two watching videos and reading the included step-by-step instructions will give you the knowledge and confidence to tackle bookkeeping for your business, along with the reassurance that if you run into a problem, there's an answer readily available from Zoho Books.
More importantly, Zoho Books not only explains how to complete a task, it explains why you need to complete the task.
Zoho Books offers three plans that are all affordably priced, including Basic, which supports up to two users and is $9/month; Standard, which supports up to three users and is $19/month; and Professional, which supports up to 10 users and is $29/month.
Read The Blueprint's full Zoho Books review
---
Always try before buying
Every single accounting software application in this article offers a demo — take advantage of that. There's nothing like actually navigating through an application to help you decide whether or not you're comfortable with the software.
If you're happy with product performance, make sure it has the features that are important to you.
Finally, be sure the price point is comfortable. If so, congratulations: You've just picked your new accounting software application.