---
Who is Wave for?
If you're a freelancer wondering why an accounting software hasn't been created just for you, you can stop looking now.
Ideal for micro-businesses or freelancers who work independently, Wave accounting features are completely free, so you'll only have to pay if you choose to accept payments online using Wave Payments or sign up for Wave Payroll.
If you're self-employed, you probably won't need Wave Payroll, but Wave Payments can help you get paid a lot faster, since it allows your customers to pay you directly from the invoice that you email them. Wave Payments also accepts all major credit cards.
But a word of caution: If your business is growing, or you have plans to add employees, you'd be better off starting with a product such as QuickBooks Online, which can grow along with your business and offers better payroll functionality.
---
Wave's features
Wave offers a ton of features, all designed with small business owners in mind. These features include the addition of Wave Plus, a service provided by Wave that will do your monthly small business bookkeeping, provide tax services, or assign a personal coach to you.
While the idea is good, the pricing seems out of line for their core audience. I don't know of one freelancer who has budgeted $149 a month for bookkeeping services.
The other downside to Wave is their payroll service. Full-service payroll is only available in eight states: California, Florida, Illinois, New York, North Carolina, Texas, Virginia, and Washington, meaning that if you utilize payroll services in any of the other 42 states, you'll be responsible for making all payroll and tax payments and filing all the required tax forms with the appropriate agencies.
However, most people already use a payroll software so that they don't have to worry about filing reports and making payments and deposits, so this may not be an issue for you.
This QuickBooks alternative currently integrates with apps such as Etsy, Shopify, and PayPal, while offering additional integrations through Zapier, including payment, appointment scheduling, CRM, and e-commerce apps.
Wave's accounting functions are completely free and contain a lot of features, including:
Sales
Purchases
Accounting
Banking
Reports
Sales
The Sales feature allows you to perform a variety of functions, including preparing an estimate for a customer. If the customer accepts the estimate, it can be easily converted to an invoice.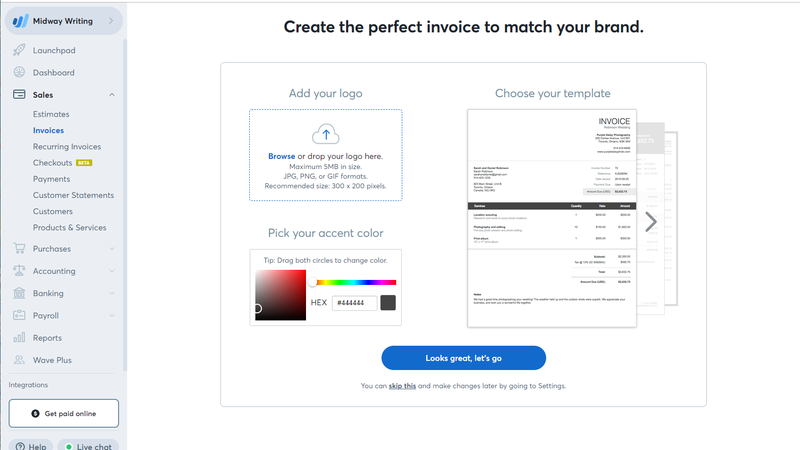 Wave includes custom invoice creation, (shown above) so you can add your business logo and accent colors to any invoice. There are also a variety of invoice templates you can choose from when creating an invoice, and you can easily add your invoice preferences during setup, eliminating the need to pick an invoice template each time you invoice.
There is also an option to add notes to any invoice. The recurring invoice option can be a real time-saver, since it allows you to automatically charge your customer's credit card each month, eliminating the need to wait for payment. A new feature, currently in beta testing, will allow you to accept payments for products directly from your website, making Wave a good option for online sellers.
You can also sign up for Wave Payments to get paid from an invoice. Unfortunately, Wave is not geared towards accepting a check as payment, so there are some extra steps involved when recording a payment that is not made by credit card.
You can manage customers in Wave, but there is limited opportunity to add additional information such as credit limits or appropriate tax rates. Wave has also stated that customer statements will soon be added to a future Wave release, which will allow you to automatically remind your customers when their payment is late.
Finally, you can add a product or a service to Wave, but there really isn't a way to manage inventory, making Wave a much better option if you provide services. If you're tracking sales tax, you'll have to enter each appropriate rate in the Sales Tax screen in order to apply it to an invoice.
Because Wave is primarily designed for single users who typically accept payments by credit card, the process to record a payment received by check seems to be unnecessarily complicated, so if you're interested in using Wave, you should probably encourage your customers to pay by credit card.
Purchases
You can easily add a vendor bill to Wave and choose the currency that you wish to pay it in. Wave also automatically processes uploaded receipts to Purchases, so you can snap a photo of your lunch receipt and upload it to be properly expensed. It's simple to add a vendor in Wave, but the application only tracks basic information for each vendor entered.
The Add a Product or Service option (shown below) is where you would enter any products or services.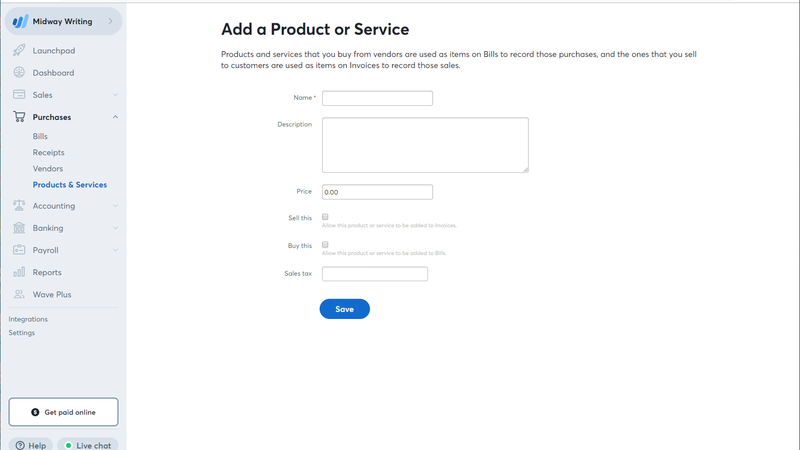 Accounting
You can connect your bank account to Wave, which will automatically import and match your banking transactions with your recorded income and expenses. There is also an option to manually upload a bank statement into the application or add manual transactions, which is a nice feature if you're not comfortable connecting your bank or credit card information.
A reconciliation feature is also included in Wave, with a brief tutorial provided. Your chart of accounts is also easily accessible, so you can add a new account, change the name of any account, or edit the default chart of accounts.
Banking
The banking feature lets you manage all of your connected accounts, add a new account, or verify your identity to increase payment time, which is done using Wave Payments. Wave has also added an insurance option, which allows you to obtain a quote for business insurance through Next Insurance. While this is a nice idea, it seems like the insurance option would be more at home under Integrations or Resources.
Reports
Wave includes 12 reports that have limited customization capability, though they can be exported to a CSV file. You can also save any report as a PDF if you wish. Financial statements, a sales tax report, customer report, and an aged receivables report are also available, as is an aged payables report and account balances report.
Support
Wave product support is available by submitting a support request from the Wave website. You can also access support from within Wave. For new Wave users, chat support is available for 60 days after purchase to help with any product setup issues. After the 60 days, chat support is only available for Payments and Payroll customers.
You can also visit Wave's Help Center to browse through a variety of application categories, ask a question, or access one of the Wave Guides. A user community is also available to join.
As previously mentioned, Wave offers an optional Payroll app that provides integrated payroll services to customers in eight states (CA, FL, IL, NY, NC, TX, VA, and WA). For these eight states, Wave will transfer the appropriate tax payments and file all tax forms.
For the other 42 unfortunate states, you're on your own, though Wave does promise to guide you through the process. But as I stated earlier, if you're paying folks, you should be probably be using another accounting application anyway.
---
Benefits of using Wave
One of the biggest benefits of using Wave is that it offers a lot of functionality at no cost. The other benefit is utilization of Wave Payments, which allows you to accept online payments from your customers. And, as stated earlier, a new payment option is in beta testing right now that allows you to accept payments directly from your website, opening the door to online selling.
---
Wave's pricing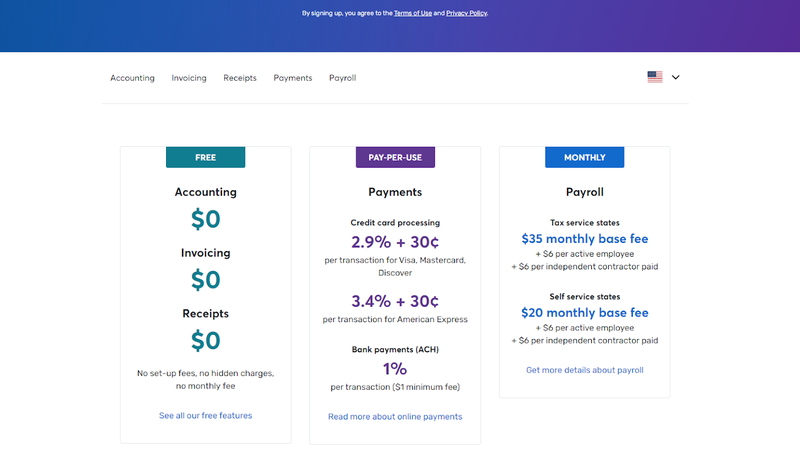 As mentioned earlier, Wave accounting features are free, but you'll pay a fee if you use Wave Payments or Wave Payroll. Wave Payments lets your customers make a payment directly from their invoice, and accepts all major credit cards. Payroll fees vary, with supported states paying a $35 monthly fee, while the other states are charged $20 per month. There is also an additional $4 per employee charge assessed each month.
---
Wave's ease of use
Wave currently supports four web browsers; Desktop Chrome versions 65+, Desktop Firefox versions 63+, Desktop Safari versions 11.1+, and Desktop Edge versions 17+. Mobile apps are available for both iOS 11 and later as well as Android 5 and later, with both designed to be used exclusively with mobile phones.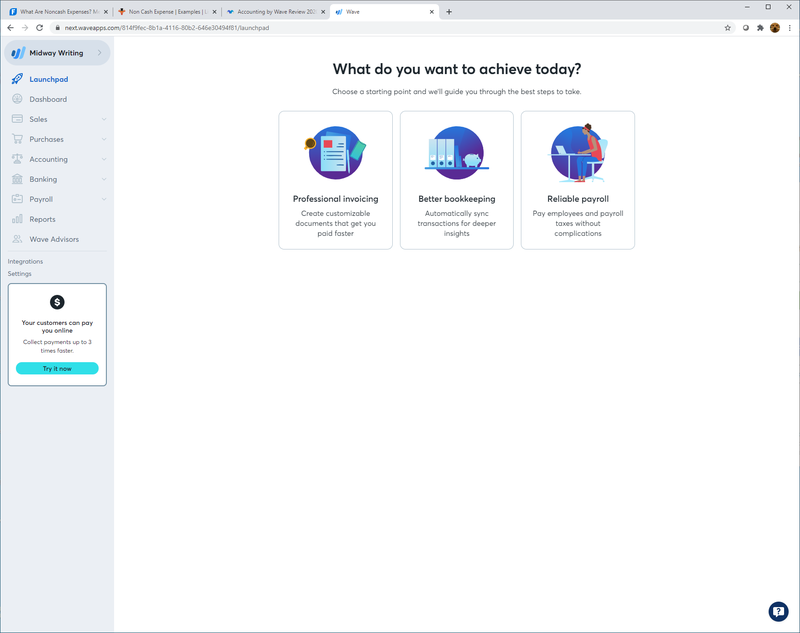 The Wave Launchpad (shown above) is a nice starting point for new users. Just choose one of the options — Professional Invoicing, Better Bookkeeping, or Reliable Payroll — and Wave will guide you through the entire setup and creation process.
Like all product dashboards, the Wave dashboard gives you a good overview of business performance, along with options to connect a bank account or credit card. The Cash Flow graph provides a nice view of money coming in and going out for the last year, and there's also a bar graph that breaks down expenses nicely, so you can see exactly where your money's going.
You can access any of Wave's features from the vertical menu bar on the left side of the screen. Just click on the arrow to display all of the options available for that particular feature. Help is also available from the menu bar, as is the live chat option. One of the more helpful options is the Integrations tab, which allows you to easily connect with various apps that integrate with Wave.
---
Need to compare software solutions?
---
Frequently Asked Questions for Wave Accounting
Is Wave a real accounting program?
Yes. All accounting features in Wave are free, but if you wish to accept online payments through Wave Payments or use Wave Payroll, you will be assessed a monthly fee.
Does Wave integrate with other apps?
Wave offers integration with a few apps such as Etsy and PayPal, but more than a thousand apps can be accessed through Zapier.
---
Which accounting software is right for you?

For sole proprietors and freelancers who want an easy-to-use accounting application, Wave's free service can certainly fit the bill.
For sole proprietors and freelancers who want an easy-to-use accounting application, Wave's free service can certainly fit the bill.
The Motley Fool has a Disclosure Policy. The Author and/or The Motley Fool may have an interest in companies mentioned.