If you're in business, you likely have bills to pay. The accounts payable process is part of any business that is using the accrual accounting method.
Accounts payable is not used in the cash accounting method, since expenses are recognized when money changes hands. However, if you use the accrual accounting method and you purchase products, supplies, or services on credit, you will have accounts payable that will need to be managed.
Though there are several accounts payable apps on the market, the best way for you or your bookkeeper to manage accounts payable is by using accounting software.
Using accounting software provides you with the means to properly manage the entire accounts payable process from bill receipt to vendor payment.
While it sounds like an easy process, and in most cases it is, mismanaging your accounts payable can have some serious repercussions, including unfavorable payment terms from your vendor or supplier, late charges assessed, and even a drop in your business's creditworthiness.
It pays to have good accounts payable processing software to manage the process properly.
Here are our top picks for the best accounts payable software for small businesses:
---
Factors to consider when choosing accounts payable software
There are a variety of things to keep in mind when comparing accounts payable software packages. It helps to first determine how you want to pay your bills. For example, are you comfortable paying them electronically and then just posting the payment into your software?
Would you rather pay bills the old-fashioned way by running checks and mailing the payment? Perhaps you'd rather enter them in the system and then pay them by ACH transfer when they're due?
In accounts payable, as in everything, it's always nice to have options. Maybe you have no idea how you want to pay your bills; you just want to make sure they're paid. In that case, here are a few things to look for.
1. Vendor tracking
Vendor tracking is a big part of the accounts payable process. This includes details like managing contact information, such as a valid mailing address and email address.
It can also include banking information for electronic payment, a list of payments for the year, and a tax ID or Social Security number for 1099 processing. Good vendor tracking will be able to manage all this information and more.
2. 1099 processing
Any vendor you pay that is not incorporated should receive a 1099 at the end of the year. If you frequently pay a large number of contractors and consultants, it can be extremely helpful to have a system in place for processing 1099s at year-end.
3. Multiple ways to pay vendors
While some businesses are reluctant to move away from the traditional method of paying vendors by check, others are willing to embrace newer payment options, such as ACH payments or even payment by credit card.
Whichever method you choose to pay your vendors, it's always nice to have several alternatives available.
---
Five best accounts payable software for small business
Our top five picks for best accounts payable software have a couple of things in common: double-entry accounting capability and an easy way to manage your accounts payable. Here are our picks.
---
1. AccountEdge Pro
A good choice for both small and growing businesses, AccountEdge Pro offers multiple plans that make it easy to scale up to a more powerful version should your business grow.
All AccountEdge Pro plans offer good accounting capability, including complete accounts payable processing. The Purchases module in AccountEdge Pro is where you would manage all your purchases as well as your accounts payable transactions.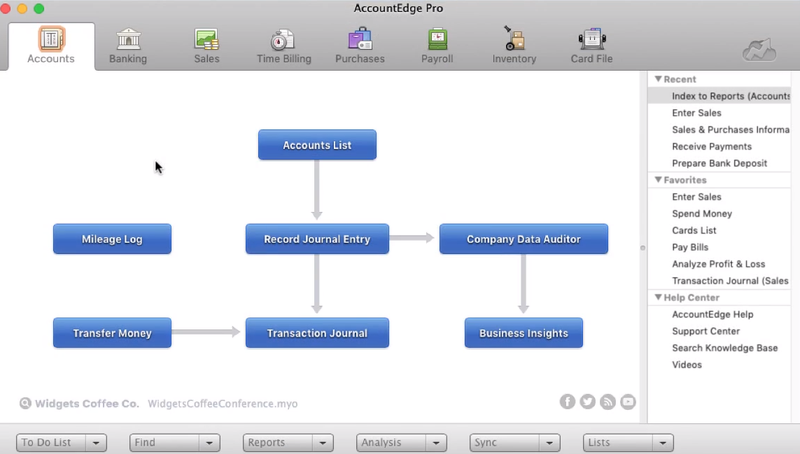 AccountEdge Pro makes it easy to create a purchase order, convert a bill to an order, and enter and manage all your vendors, and it includes an option to pay vendors and suppliers electronically or by check.
Other accounts payable features include a vendor payment retention option, which is great for those in the building and construction industry, allowing you to withhold a portion of any payment due until a job is complete.
An early payment discount option is included in the application, and you can also create a vendor credit for any overpayments made.
Another handy feature is the accounts payable reconciliation option, which ensures that your accounts payable balance always agrees with the accounts payable balance on your balance sheet. AccountEdge Pro also manages all vendor payments throughout the year and processes 1099s at year-end.
Along with standard reports, AccountEdge Pro also includes a good selection of accounts payable reports, including a vendor report, an aging report, an exceptions report, an accounts payable list, and an accounts payable reconciliation report.
AccountEdge offers two on-premise plans: Basic, which has a one-time fee of $149; and Pro, which has a one-time fee of $399. Two cloud plans are also available: Priority Zoom, which runs $50/month; and Priority ERP, with pricing available directly from AccountEdge.
Pro plan users can also purchase a subscription to AccountEdge Connect, which lets you perform a variety of system functions remotely, with a subscription running $25/month.
Read The Blueprint's full AccountEdge Pro review
---
2. QuickBooks Desktop
Whether you're a sole proprietor or own a growing business, QuickBooks Desktop will work for you. Three different editions of QuickBooks Desktop are available, along with an Accountants version designed for CPAs and other accounting professionals.
QuickBooks Desktop offers excellent accounts payable capability, with the inclusion of the Vendor Center, which allows you to easily manage all your vendor information from one central location.
The Vendor Center lets you view all vendor transactions, add contacts, create a to-do list, add notes to the file, and even send an email directly within the application.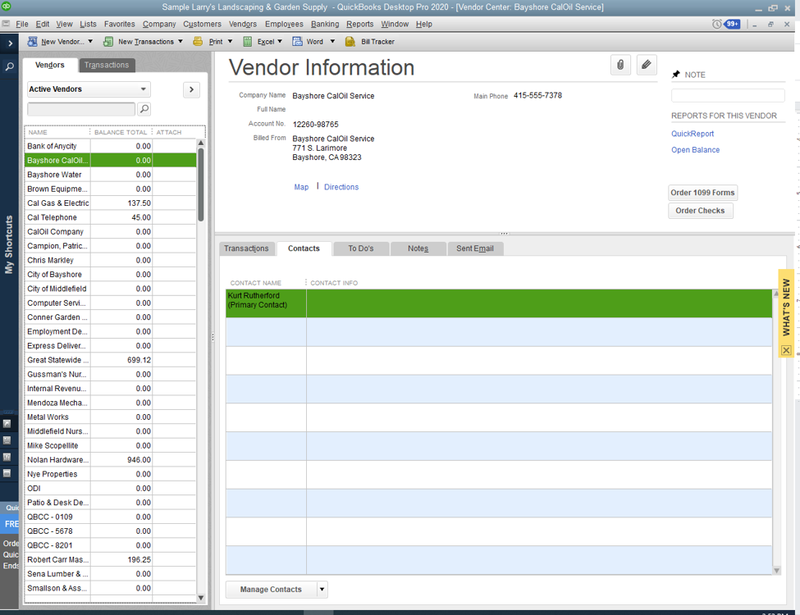 QuickBooks Desktop includes a bill tracker that provides a summary of all purchase orders created, open bills, and a list of overdue bills (which you shouldn't have).
The application also provides a list of all recently paid bills. The Pay Bill feature makes it easy for you to choose the bills you wish to pay and includes several different payment choices including a check printing option, credit card payment, or ACH transfer. The application also includes year-end 1099 processing.
QuickBooks Desktop offers excellent reporting options, including accounts payable reports such as a detailed accounts payable aging report, an unapplied cash payment report, a current accounts payable report, and a vendor report, with report templates available as well.
QuickBooks currently offers three plans:
Pro: The Pro plan, best suited for smaller businesses, supports up to 3 users and currently runs $299.95 annually.
Premier: Better suited for businesses looking for industry-specific accounting software, the Premier plan offers solutions for general business, general contractors, manufacturing and wholesale businesses, and nonprofits. The Premier edition is $499.95 annually and supports up to 5 users.
Enterprise: Best for growing businesses, QuickBooks Enterprise offers more customization capability, and supports up to 30 users. The Enterprise plan currently runs $849.10 annually.
Read The Blueprint's full QuickBooks Desktop review
---
3. Sage 50cloud Accounting
A good choice for small and growing businesses, Sage 50cloud Accounting offers all the functionality typically found in a desktop application along with easy cloud accessibility to key program features.
Sage 50cloud Accounting processes accounts payable through the Vendors and Purchases Center, where all company purchases and vendor details are managed. You can also manage 1099 details in the center as well, eliminating the need to scramble at year-end to obtain necessary vendor information.
If you're looking for different ways to pay your vendors, Sage 50cloud Accounting has you covered, offering up to 10 payment methods including PayPal, electronic payments, credit card payments, and traditional check runs.
Sage 50cloud Accounting's accounts payable activity is all completed from the Vendors and Purchases Center as well, including entering bills for payment, bill payment, entering vendor credits, and running checks. The center also displays a list of aged payables onscreen for you to review.
Reporting options in Sage 50cloud Accounting are good and are made even better with the availability of Sage Intelligence Reports, which provides a more analytical look at company finances.
The application includes standard accounts payable reporting such as aging payables, an accounts payable summary, and a vendor list, but the best report is the Analysis of Accounts Payable report, which includes a Due by Age chart, a list of top five vendors by purchase and by amount due, and a Due by Age summary.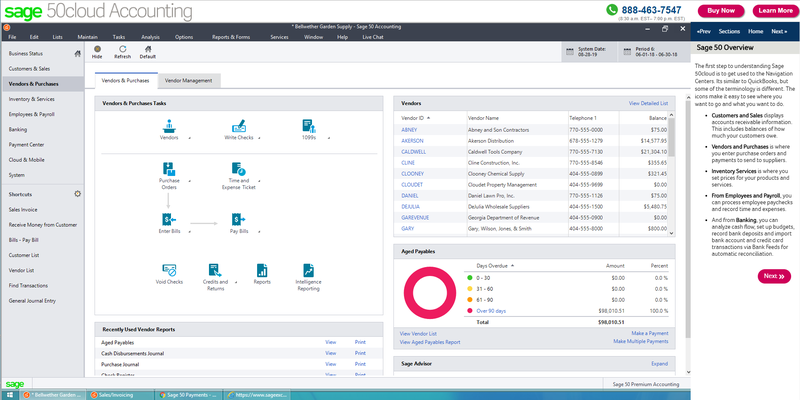 Sage 50cloud Accounting currently offers three plans:
Pro: Best suited for very small businesses, Pro is a single-user system that currently runs $299.95 annually.
Premium: Best suited for small business, Premium supports up to 5 users and is currently priced at $465.95 annually.
Quantum: A good choice for growing businesses, Quantum can support up to 40 users, with custom pricing available directly from Sage.
Read The Blueprint's full Sage 50cloud Accounting review
---
4. Xero
A great choice for sole proprietors, freelancers, and small businesses, Xero offers an easily navigated, newly updated user interface with complete cloud accessibility.
Xero offers good accounts payable capability including the option to email bills directly to the files inbox, while the side-by-side feature allows you to view all of your accounts payable files alongside the vendor record stored in Xero.
The Bills screen in Xero lets you view all bills that have been entered, displaying details such as invoice date, due date, whether the bill has been paid, and if so, the date paid.
You can enter bills and then schedule them for payment immediately, or choose a payment date at a later time. Xero also includes a Purchases dashboard that lets you view all outgoing payments as well as any upcoming bills that may be due.
You can also set up recurring bills in Xero with the option to change the amount due when necessary.
If you bill customers for your expense reimbursement, you'll appreciate Xero's ability to bill the expense directly to your customer. For instance, if you spend $100 at the office supply store for items purchased for your client, you can bill that $100 purchase directly to the client from the accounts payable entry screen.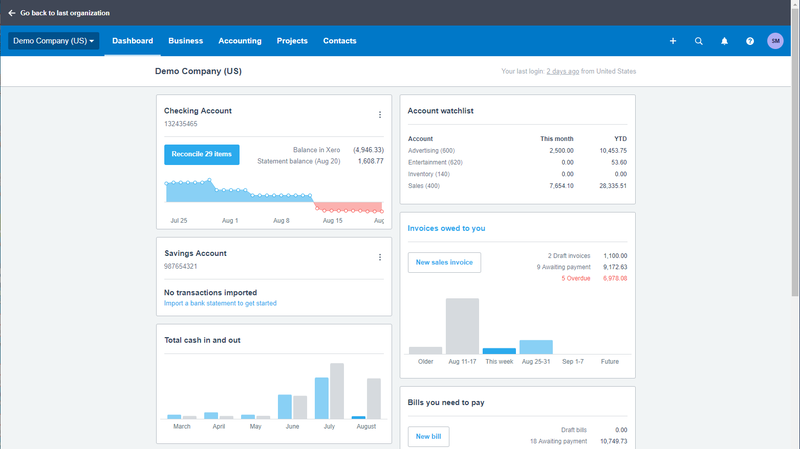 Xero's reporting options continue to improve with each new release, with a variety of accounts payable reports available, including a vendor list, aging accounts payable report, as well as a 1099 report designed to make year-end 1099 processing easier.
Xero currently offers three plans:
Early: The Early plan is ideal for sole proprietors and freelancers and currently runs $9/month.
Growing: Ideal for small business, the Growing plan runs $30/month.
Established: A good choice for growing businesses, the Established plan currently runs $60/month.
Read The Blueprint's full Xero review
---
5. QuickBooks Online
QuickBooks Online has come a long way since its launch in 2001, with more than 3.2 million subscribers in the U.S. alone.
This steady growth can likely be contributed to a substantial increase in features and functionality, turning a basic bookkeeping application into a solid accounting application well-suited for sole proprietors, freelancers, and small businesses alike.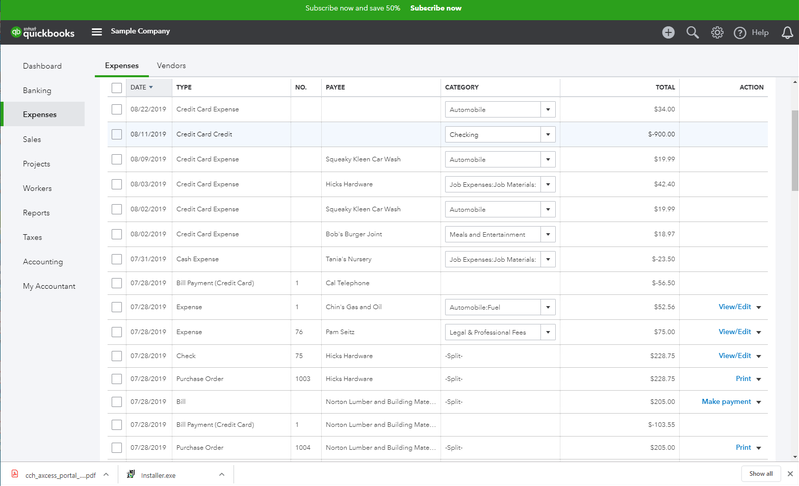 In order to take advantage of the accounts payable features in QuickBooks Online, you'll need to purchase the Plus plan, one of five plans offered by QuickBooks Online.
In the Plus plan, you can enter bills for payment, manage payment due dates, schedule payments for a specific date, and pay bills either electronically or by printing checks.
QuickBooks Online will also track possible early payment discounts offered by a vendor, so you don't miss the opportunity to save a little money.
The Expenses feature in QuickBooks Online provides an easy way to manage expenses, set up bills that need to be paid, and manage vendor details.
You'll be able to create recurring payments, print vendor checks, or pay your vendors directly from this screen as well. QuickBooks Online also includes a good mobile app that allows you to enter and pay a bill electronically if necessary.
The application also includes a good selection of accounts payable reports that include aging detail, a bill payment list, an unpaid bill list, an aging summary, and a check detail report.
QuickBooks Online offers five plans:
Self-Employed: Offers basic program functions and runs $7.50/month
Simple Start: Good for freelancers, Simple Start is $12.50/month
Essentials: Supports up to 3 users and runs $20/month
Plus: Good for those with inventory, Plus costs $35/month
Advanced: Best for growing businesses, Advanced supports up to 25 users and runs $75/month
All QuickBooks Online pricing reflects introductory pricing, which is good for the first three months.
Read The Blueprint's full QuickBooks Online review
---
Accounts payable is an important part of the accounting process
Processing accounts payable is an integral part of the accounting cycle. As a small business owner, it's important that you or your bookkeeper have the tools to manage your accounts payable properly from the start.
Choosing the right software can go a long way toward accomplishing that goal. To make the process easier, take a look at the accounts payable systems highlighted, download a few demos, and find the accounts payable program that's right for you.