It's no secret: Email marketing works. It's the key to increasing revenue and expanding your customer base. Perhaps you've been using ActiveCampaign, one of the major players in the email marketing field, or are looking to get started for the first time, and you want to know what your options are.
Either way, depending on your specific needs, there are viable alternatives to ActiveCampaign that we'll go over below.
Here are the top alternatives to ActiveCampaign as an email marketing software:
---
What to look for in a great ActiveCampaign alternative
While ActiveCampaign is a good fit for some companies, it's not designed for email marketing novices, with its steep learning curve to master the ins and outs of all its features.
That's why you'll want to keep the factors below in mind as you choose from alternative email marketing services for your current and future needs.
1. Ease of use
You can have the most powerful software in the world, but it means nothing if it's difficult to navigate and use. With email marketing, that includes the initial onboarding process, interface design, and other key features. And don't forget about support.
You have to judge any service on the amount of customer support it provides, whether by email, chat, or phone. And look for additional resources such as an easily accessible knowledge base, instructional videos, and community forums.
2. Features
Sending a single email is simple enough, but mass scale email marketing is a whole different world in terms of the features and capabilities available.
You want to be able to design and send out multiple types of emails, using dynamic content, segmenting your distribution lists, conducting A/B testing, targeting specific marketing channels, and having access to other features that are comparable, for example, to ActiveCampaign automation templates.
In addition, the best email marketing software will offer the ability to integrate directly with third-party accounting, e-commerce, and customer relationship management (CRM) applications.
Otherwise, you have to look outside for a paid service like Zapier to link different software or If This Then That (IFTT), a free alternative to Zapier.
3. Analytics
It's Marketing 101: Easy access to the performance analytics of your email marketing efforts is critical. If you're not tracking the direct return on investment (ROI) for each campaign, you'll be operating in the dark about what does and doesn't work and how you should tailor your future marketing emails.
That means generating reports that measure delivery success, opens, bounces, complaints, clickthroughs, and revenue generated.
---
Our top 8 picks for ActiveCampaign alternatives
ActiveCampaign does many things well, including advanced customer segmentation and responsive email design. You may have other priorities, however, that are demonstrated strengths in the different software options below. And are you looking for ActiveCampaign free alternatives? You'll find some of those too.
---
1. Best for email design: Zoho Campaigns
Zoho Campaigns is The Blueprint's overall top-rated email marketing provider. That's based on features that include the ability to generate reports organized by campaign as well as by list and its CRM-style contact management.
An added bonus: you can create autoresponders based on your goals and target audiences.
Zoho Campaigns' email design features are strong. Like the ActiveCampaign email templates, there are plenty of options to choose from or you can create your own in the drag-and-drop editor that uses images, text, buttons, tables, videos, and HTML code.
You can also add attachments, calendar invites, and polls. Even better, you can employ dynamic content based on one or more conditions you define such as recipient list segmentation, custom contact fields, and tags.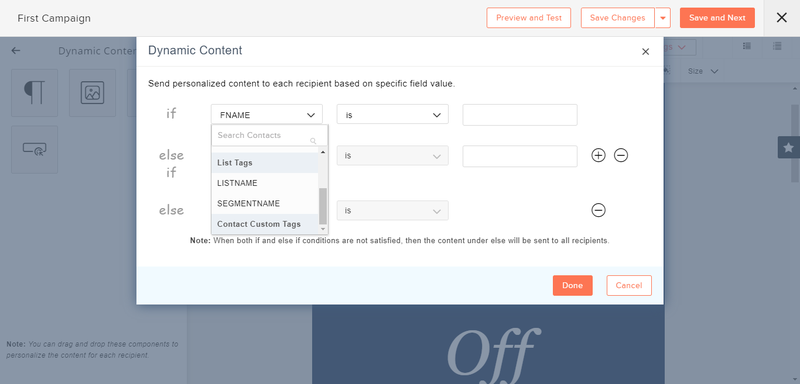 Zoho Campaigns has a free plan that allows you to send up to 12,000 emails per month to 2,000 subscribers. Choose from three paid plans, ranging from $3/month to $12/month, based on how many additional emails you need to send.
Read The Blueprint's full Zoho Campaigns review
---
2. Best for email campaign analytics: Mailchimp
Mailchimp is worth looking at because it has almost two-thirds of the email marketing sector, over seven times more than its closest competitor.
It must be doing something right. Its dominance is due to a variety of factors that include a feature-laden "forever free" plan, powerful email autoresponder capabilities, and useful built-in support tools and tips.
Mailchimp shines, however, with its analytics capabilities. Tracking your email campaign performance at a granular level will show you your immediate ROI and inform your future efforts.
Besides standard metrics such as opens, bounces, clickthroughs, and shares, Mailchimp's analytics also tracks revenue generated: number of orders, total revenue, and average order amount.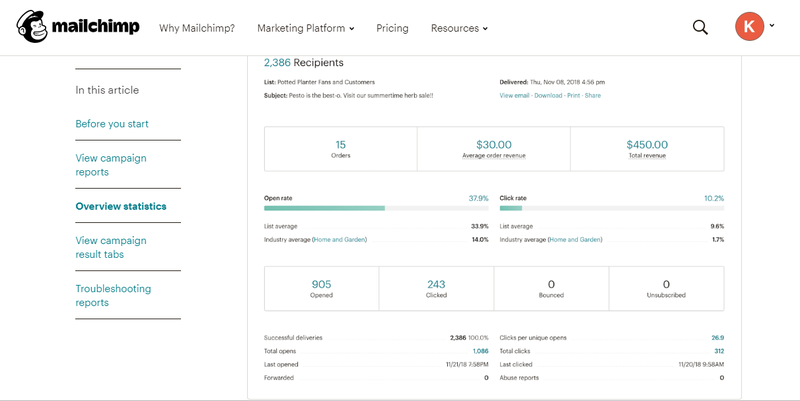 Mailchimp has a free plan that lets you send up to 10,000 emails per month along with basic contact management and a selection of email templates. If you have fewer than 2,000 contacts, that may do. Bigger mailshots on your horizon?
You can choose from three paid plans, starting at $9.99/month, that offer increasing levels of functionality.
Read The Blueprint's full Mailchimp review
---
3. Best for email marketing novices: Benchmark Email
Benchmark Email proves that less can be more. Instead of inundating users, especially email marketing newbies, with more bells and whistles than they need, the stripped-down, intuitive user interface employs well-organized navigation to use its features.
And it's free version offers substantial customer management abilities.
Benchmark Email's strength is how it supports newbies to email marketing. The email editor walks users through each step of email creation, one page at a time. There's also a checklist to make sure you've completed all the necessary tasks.
Multiple email templates are easily customizable using drag-and-drop editing. If you get into trouble, you can contact customer support on the phone or online 24/7 and access training videos and a knowledge base.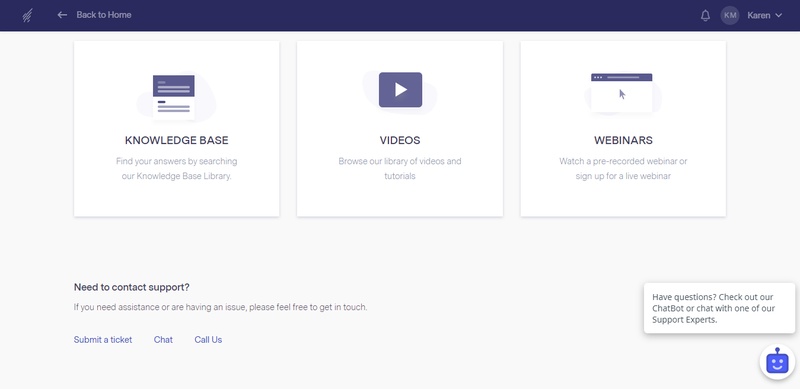 Like its competitors, Benchmark Email offers a free plan that allows you to send 14,000 emails per month to up to 2,000 subscribers. But for that price, you'll live without autoresponder features or A/B testing.
Its paid plan includes unlimited emails with the price depending on the number of contacts, starting at $18.69/month for 600 to 1,000 subscribers all the way to $44.19/month for 3,501 to 5,000 subscribers.
Read The Blueprint's full Benchmark Email review
---
4. Best for email sign-up forms: SendPulse
The Blueprint rates SendPulse #1 for customer support, which is important because its interface contains three navigation menus and an initially overwhelming amount of information. Once you get past that, however, its email list segmentation options and SMS and push notifications are impressive.
Customer acquisition is an important part of email list management, and one of SendPulse's strengths is its subscription form creator.
For example, the four available sign-up form options — embedded, pop-up, floating, and fixed — allow you to tailor each form to the context in which it will appear without distracting customers. You can easily track performance metrics to see which forms are working best in their respective environments.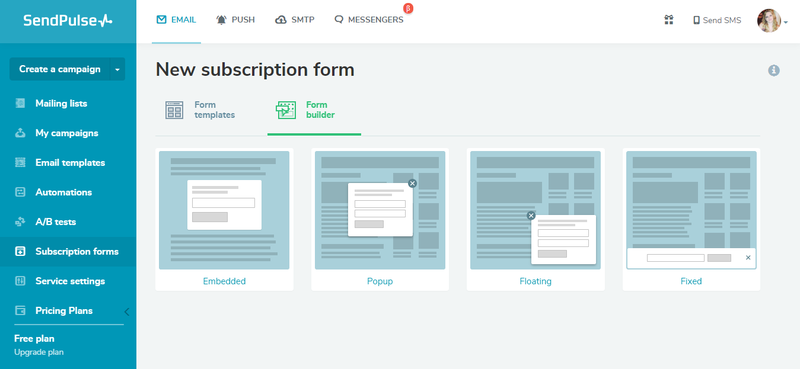 SendPulse's free plan lets you send emails to up to 500 subscribers. After that, pricing is based on number of contacts, so you'll pay $7.80/month for 501 to 1,000 contacts on up to $20.80/month for 3,001 to 4,000 subscribers. Even better, all plans come with all features on board.
Read The Blueprint's full SendPulse review
---
5. Best for mailing list segmentation: MailerLite
MailerLite is rated the best overall value by The Blueprint. It earns that cap based on its ability to create multiple types of campaigns, optimize popups and embedded forms, and define automated workflows triggered by specific actions such as subscribing to a newsletter or completing a form.
MailerLite's ability to integrate customer segmentation into email campaigns is well developed. For instance, after you've created your email, you can use advanced segmentation to send it to specific users based on sign-up date, sign-up source, number of previous emails sent, time inactive, or other custom fields.
You can also combine defined segmenting conditions to create a distribution list that's even more granular.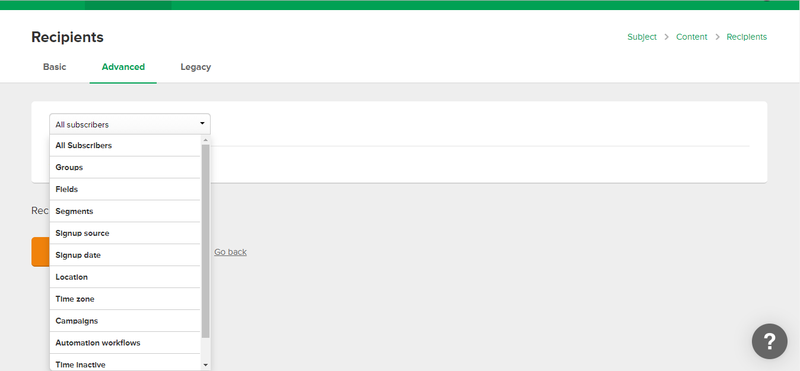 MailerLite's free plan allows you to send up to 12,000 emails to 1,000 contacts, but you'll have MailerLite's logo on all your emails besides limited analytics and no live customer support.
Paid plan prices are based on number of contacts, ranging from $10/month for one to 1,000 contacts on up to $50/month for 5,001 to 10,000, but you can send an unlimited amount of emails.
Read The Blueprint's full MailerLite review
---
6. Best for full range of features: Hubspot Marketing Hub
When picking an email services provider, always think about anticipated needs. That way you don't have to move to another vendor with greater capabilities. Hubspot Marketing Hub gets this and leaves room for you to grow.
It can be a good choice because of its all-in-one inbound marketing software as opposed to just email marketing.
It does what the other services do: provides email templates, list segmentation, email automation, and performance analytics. But it goes beyond by offering CRM functionality, lead generation, social media marketing, customer service, and collaboration features. However, be sure you can afford it.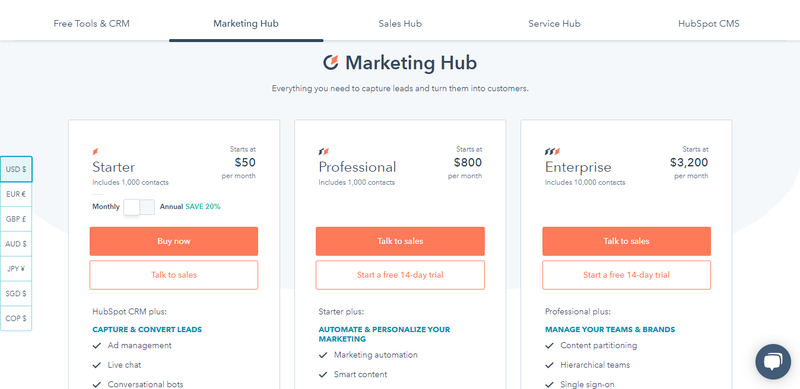 HubSpot offers email marketing tools with its free CRM but limits you to 2,000 emails per month to 100 contacts. Its most inexpensive paid plan, which comes with a very limited set of features, is $50/month for 1,000 contacts.
After that, prices increase substantially to $800/month or $3,200/month to have more contacts and functionality.
Read The Blueprint's full Hubspot Marketing Hub review
---
7. Best for A/B testing: GetResponse
GetResponse serves businesses of all sizes and users with varying levels of email marketing experience. Much like Hubspot Marketing Hub, GetResponse also offers additional capabilities such as CRM, webinar marketing, lead generation within sales funnels, social media marketing, and e-commerce features.
One of the digital marketing tips you'll always hear is the importance of A/B testing. That's when you test multiple variations of the same thing to see which iteration performs best.
This is important, for example, when determining which email subject line results in more opens by recipients. GetResponse will allow you to test up to five subject lines at a time and conduct A/B testing for delivery times, types of content, and the email from field.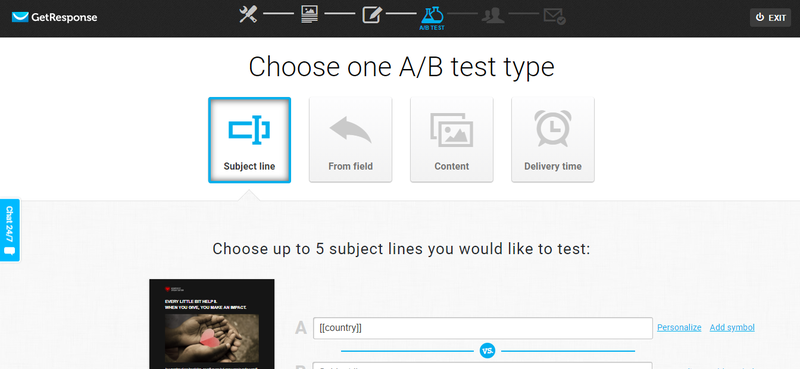 GetResponse offers three main plans: Basic at $15/month, Plus at $49/month, and Professional at $99/month. Each plan supports up to 1,000 contacts, and you'll then pay progressively more to add additional subscribers.
There is also an enterprise plan that comes with 100,000 contacts, but it begins at $999/month. Unlike many other vendors, there is no "forever free" option, just a 30-day free trial period.
Read The Blueprint's full GetResponse review
---
8. Best for onboarding: Mailigen
Mailigen has a no-frills approach good for businesses just beginning their email marketing efforts. The support options will be very useful, and the autoresponder templates and dynamic segmentation features provide powerful functionality.
It does not include, however, features like the ActiveCampaign landing pages creator.
Mailigen's easy onboarding process will have you sending out campaigns in no time at all. The email campaign wizard uses responsive templates so your message will be optimized for multiple devices, and a step-by-step checklist walks you through the creation of each campaign, all from one location.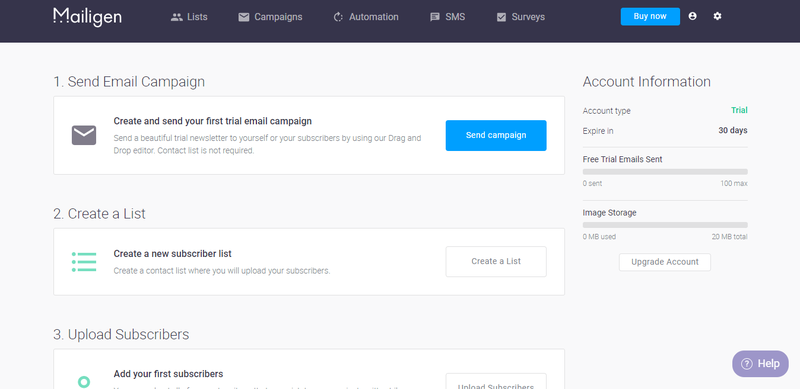 Each Mailigen plan includes all features, and prices differ based on number of contacts. Plans start at $10/month for 500 subscribers and scale up with four more levels to $60/month for 10,000 subscribers.
Mailigen does not have a "forever free" plan, but unlike the ActiveCampaign free trial that is only 14 days long, Mailgen has a 30-day free trial during which you can send up to 100 emails.
Read The Blueprint's full Mailigen review
---
Choose your best email marketing solution
Choosing the "best" email marketing solution means identifying your particular needs and finding the software that dovetails most closely with them. Then, you'll be well positioned to leverage email marketing best practices to increase revenue and grow your customer base.