ActiveCampaign and AWeber are both industry heavyweights and well known within the email marketing space.
They don't have the exact same target market, with ActiveCampaign aiming its product at more experienced marketers running complex campaigns, often at B2B companies. AWeber, in contrast, goes for the mass-market approach, trying to appeal to everyone.
Find out which one can help you transform your company's email marketing campaigns as we compare ActiveCampaign vs. AWeber below.
---
ActiveCampaign vs. AWeber: An overview
Deciding which software is right for you starts with considering who the email marketing tool was created for.
Who is ActiveCampaign for?
ActiveCampaign is a complex marketing solution with a ton of advanced features, such as very advanced segmentation and personalization capabilities.
This means it's great for experienced marketers who have used email marketing software extensively in the past and want to be able to create highly-targeted campaigns using very granular data.
For novice users, ActiveCampaign presents a steep learning curve; it's not as intuitive or easy to pick up as other email marketing solutions.
This can potentially cause delays in setting up campaigns as you have to learn how to use the software first before diving in to create email messages.
ActiveCampaign is also suitable for both B2C and B2B marketers due to its ability to add multiple contact addresses to one customer account and to add business details to each customer entry.
Who is AWeber for?
AWeber is a very well-known email marketing solution that's been around for a while, so there's a chance marketers have used it before.
AWeber, an ActiveCampaign alternative, has the right mix of advanced features and usability to make it suitable for all levels of email marketers.
While its navigation and the organization of features aren't always intuitive, it doesn't take long to get up to speed with how to create and optimize campaigns.
---
ActiveCampaign vs. AWeber: Features
No email marketing software is created equal, and many solutions excel in one area but fall short in another. In ActiveCampaign's case, it has an excellent roster of features, but it can be difficult to use. AWeber has a strong feature set, yet nothing makes it stand out above other software.
What ActiveCampaign offers
ActiveCampaign has an excellent range of features, with the highlight being its segmentation functionality. The software lets you create super-specific segments that incorporate several different conditions customers must meet to be included.
For example, you can create a segment for people who live in California, subscribed in the last 30 days, and have visited four different pages on your site.
This allows you to personalize and tailor messages with more relevant content.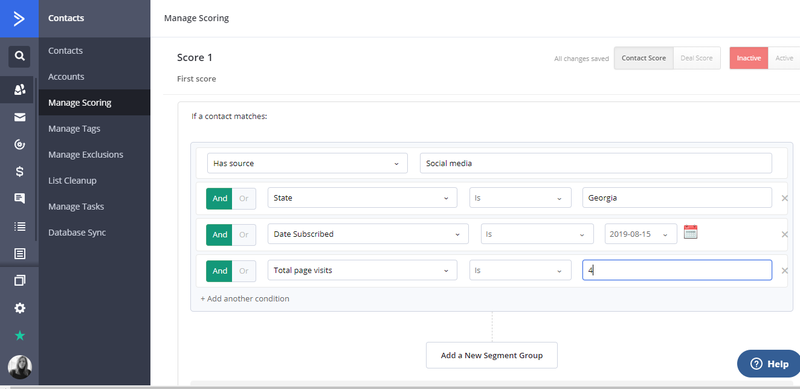 ActiveCampaign also allows you to add as many custom fields as you'd like in your contacts to help you create these segments.
Other useful features include:
Drag-and-drop email editor
The ability to test your email to see what it looks like across different email clients
Spam check to see if emails will reach a recipient's inbox
Built-in automation templates
What AWeber offers
AWeber has excellent contact management (or subscriber management, as it's called in the solution) functionality.
You can customize the fields you use to collect customer data which allows you to gather specific information you need to create personalized campaigns. This lets you start an email in ways that are tailored to the needs of your customers.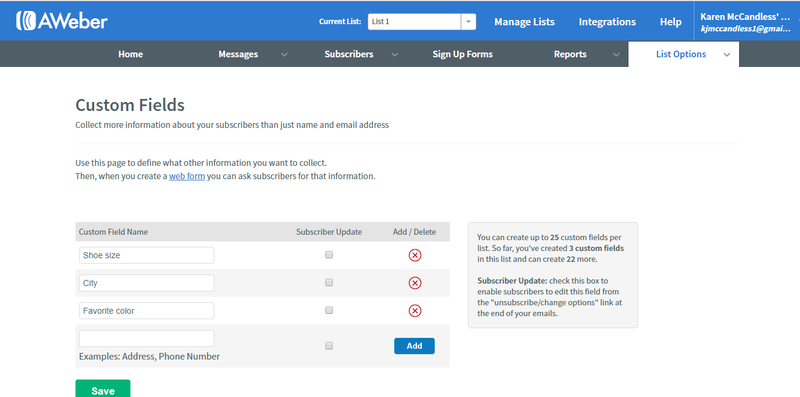 As you enter more contacts, AWeber's automation capabilities suggest tags and campaigns you could add based on past behavior, meaning you can create better segments more quickly.
Another way to create segments quickly is to search and filter your contacts by criteria such as:
Date added
Web page visited
Sale amount
City
Custom fields you have added
Once you've completed the search, you can create a segment from the results in one click.
The downside is that AWeber only provides basic email newsletter templates with minimal graphics, colors, and styles and limited editing options.
It only lets you change the background color on the template, not the shades, borders, or other styles. Also, you can only schedule emails for a certain time as opposed to automatically sending emails based on your customers' time zones, or at an optimal time based on their past open times.
Results
ActiveCampaign wins this round with its unrivaled segmentation capabilities and excellent contact management functionality.
---
ActiveCampaign vs. AWeber: Support
Both ActiveCampaign and AWeber scored 9 out of 10 in their respect reviews, so it was a close contest to see who would win out when it came to support.
What ActiveCampaign offers
ActiveCampaign provides limited live support options from 8 a.m. to 4 p.m., Central Standard Time. You can also email and call for support, or if you happen to live near Chicago, you can get in-person support.
Other options include scheduling one-on-one support virtually or signing up for a training webinar.
When you're using the software, you can click on ActiveCampaign's sticky help button at the bottom of the screen, which means you can access support options at any time without having to leave your current screen.
What AWeber offers
AWeber's major selling point when it comes to support is that it offers 24/7 live chat to all customers, no matter the price plan. The company also provides 24/7 email support and phone support from 8 a.m. to 8 p.m. Eastern Time on Monday to Friday.
Additionally, AWeber provides links to knowledge base articles that are relevant to the feature you're currently using, as well as video tutorials and guides to help you hone your email marketing skills.
Results
This was a tough one to call, as both solutions provide excellent support options, but AWeber's 24/7 live chat and email support put it a nose in front.
---
ActiveCampaign vs. AWeber: Ease of use
Neither product wins a gold star in this category. One is a touch old-fashioned and unintuitive, and the other needs a fair bit of explanation and training.
What ActiveCampaign offers
ActiveCampaign is not an easy solution to use. Today's employees — especially millennials and Generation Z — expect to be able to get up and running with new software without needing an instruction manual or hours of training.
To get the most out of this solution and be able to use its vast feature set to the fullest, you need to spend time on training and playing around with where everything is and what it does before you start creating campaigns.
ActiveCampaign relies on you having prior knowledge of concepts (for example, lead scoring), as it doesn't provide any form of explanation. It also overcomplicates processes, which makes them more time-consuming.
For example, when creating a list, you need to enter a URL and a description instead of just a name.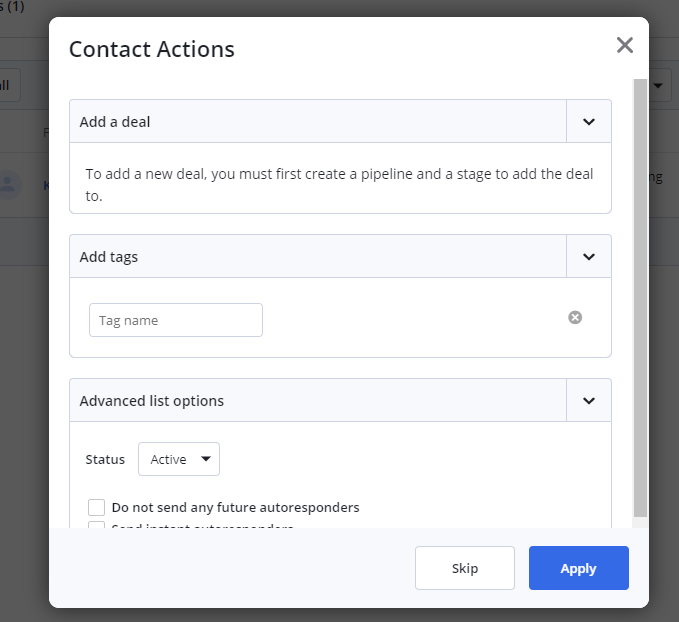 You can only use certain features after having carried out previous steps, which slows down campaign creation and setup. For example, creating a lead score is dependent on having already set up a segment.
What AWeber offers
AWeber lacks the modern and intuitive user interface of other email marketing solutions, and it can feel like you have to put a lot of effort into completing each action.
It tries to help guide you through the setup process by making you create an email list and enter a subject line and message confirmation text when you first start using the software.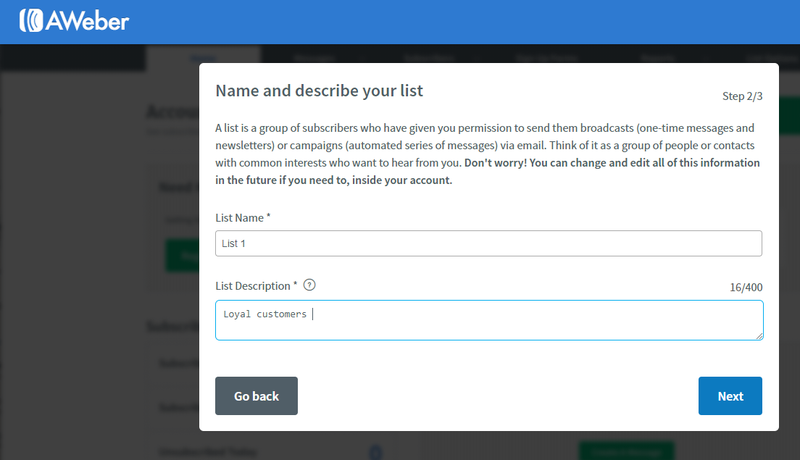 However, this is not a logical first step for a novice email marketing user who might not already have a list.
Results
While neither of these solutions offer a superior user experience, AWeber is the less complicated and overwhelming of the two.
---
ActiveCampaign vs. AWeber: Pricing
Pricing is a crucial factor when deciding which software is best for your business. There wasn't much to choose from between ActiveCampaign and AWeber in this category.
What ActiveCampaign offers
Free plan: No
Free trial: Yes (14 days)
Discount: Yearly discount depends on the pricing plan
Starting price: $15/month for up to 500 subscribers and unlimited emails
Number of pricing tiers: 4
ActiveCampaign's pricing is much less expensive when you choose to pay yearly instead of monthly. For example, the Lite pricing plan – which is the least expensive tier – costs $15/month when you pay a month at a time, compared to $9/month when you pay yearly.
It doesn't have a free plan, and the ActiveCampaign free trial only lasts 14 days.
What AWeber offers
Free plan: Yes
Free trial: No
Discount: 14.9% yearly and 14% quarterly discount
Starting price of paid plans: $19/month for up to 500 subscribers and unlimited emails
AWeber's free plan is limited because it doesn't include automations, advanced analytics, or A/B testing, and your emails all carry AWeber branding.
AWeber's paid pricing plans are good value for the money for small businesses since you get access to the same features no matter what plan you choose. You also get a 14% discount when you pay quarterly and a 14.9% discount when you pay annually.
Results
ActiveCampaign and AWeber both offer free trials, but neither offers a free version. The starting price for both is very similar ($15 for ActiveCampaign and $19 for AWeber for 500 contacts and unlimited).
AWeber takes this round, though, because it offers the same features for all of its pricing plans.
---
ActiveCampaign vs. AWeber: Integration with other software
Most modern email marketing solutions offer native integrations with a wide variety of different types of software, plus an API to build these integrations yourself.
What ActiveCampaign offers
ActiveCampaign calls out some of the most popular integrations on its website. These include:
Facebook
Zapier
Unbounce
Google Analytics
ClickFunnels
Pipedrive
ActiveCampaign offers an API that allows you to build integrations with other software if there's something you want that's not on the list.
It also provides a whole host of resources in its knowledge base to help you overcome any obstacles.
What AWeber offers
You can connect AWeber to a variety of different business systems, including those for growing your social media following, creating landing pages, and managing your shopping cart.
Popular integrations include:
WordPress
GoToWebinar
PayPal
Shopify
ClickFunnels
Zapier
Facebook
Google Analytics
AWeber also offers an API that allows you to build integrations with other software if it's not on the list.
The AWeber customer solutions team also offers to personally help you integrate the solution with any other software that isn't on its native integrations list.
Results
There's almost no difference between these two when it comes to integrations. The only factor that goes in AWeber's favor is that its customer solutions team will personally help you build an integration with apps not on its native integration list.
This is helpful for companies with limited development and IT resources.
---
How They Compare: ActiveCampaign vs. AWeber
| Feature | ActiveCampaign | AWeber |
| --- | --- | --- |
| Advanced segmentation | | |
| Landing page builder | | |
| Live chat | Limited | 24/7 |
| Automation workflows | | |
| A/B testing | | |
| API | | |
| Email deliverability | | |
| Dynamic content | | |
| Free trial | | |
| Multiuser collaboration | | |
| Signup forms | | |
| Custom form fields | | |
---
Our overall winner: AWeber
It was a close-run competition and almost a photo finish, but AWeber emerged as the winner. While ActiveCampaign has a stronger feature set, its ease of use lets it down, seeming to cater only to very experienced marketers.
While AWeber is by no means perfect — it lacks anything that makes it stand out — it's a solid option that won't let you down. It's straightforward to use, has a good range of features, and offers excellent support options.