Scheduling and managing appointments is sometimes a time-consuming and frustrating process for individuals and businesses. It often involves several back-and-forth emails to determine availability, with confusion or double booking often the result.
Acuity Scheduling resolves these issues. It automates almost every aspect of managing appointments. It also makes online scheduling a breeze for your clients, which is an added incentive to book with you rather than your competitors.
With numerous powerful integrations, extensive customization options, and reasonably priced plans, Acuity is one of the best appointment scheduling software packages available.
---
Who is Acuity Scheduling for?
Acuity Scheduling works best for service-based businesses that ask clients to schedule appointments. The software also works well for individuals who use appointments, such as tutors, therapists, photographers, or consultants.
With Acuity, you can enable clients to easily make an appointment with up to 36 employees, based on each employee's availability.
If you're looking to automate processes and save time, Acuity online scheduling can help. It syncs with your existing calendars and integrates with popular tools for accounting, analytics, email, CRM, video conferencing, and online payment software.
Easily embed your calendar into your website, social media, or emails, allowing intuitive self-scheduling for your clients. Think of Acuity as an assistant that helps with nearly every aspect of scheduling and managing appointments.
---
Acuity's features
Acuity offers a wide range of features focused on automation and customization. If you want to significantly reduce the time you spend scheduling, these features will help.
Integrations
Sync your Acuity calendar with Google Calendar, iCloud, and Outlook. Then add integrations for a variety of your favorite business apps, including QuickBooks, Mailchimp, Constant Contact, Google Analytics, Facebook Pixel, Salesforce, Zoom, Google Hangouts, and many more. With Zapier, you can connect to over 500 more apps.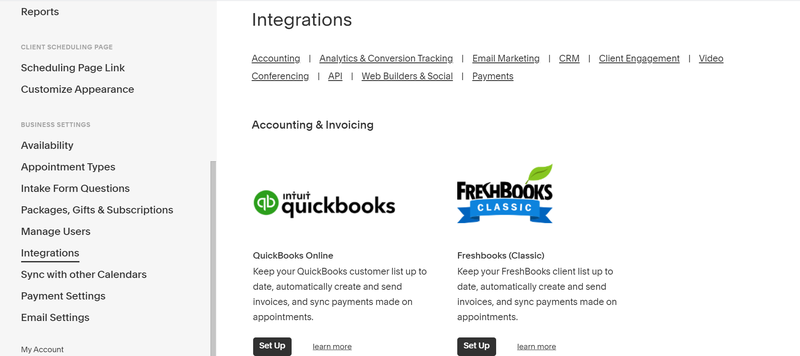 With companion Acuity apps for iOS and Android, managers and employees can manage their appointments on the go via a scheduling app.
Online payments
Acuity allows you to accept payments through Stripe or Square right from your scheduling page. You can also save your clients' credit card information for future payments. Alternatively, you may redirect clients to PayPal.
Advanced preferences
During set-up, Acuity guides you to indicate the days and times you're available. Later, you can set up multiple meeting types and advanced preferences through your dashboard.
Decide how far in advance you want clients to schedule meetings by choosing a minimum number of hours before start time and a maximum number of days in advance. Toggle the client's ability to reschedule and cancel appointments on or off.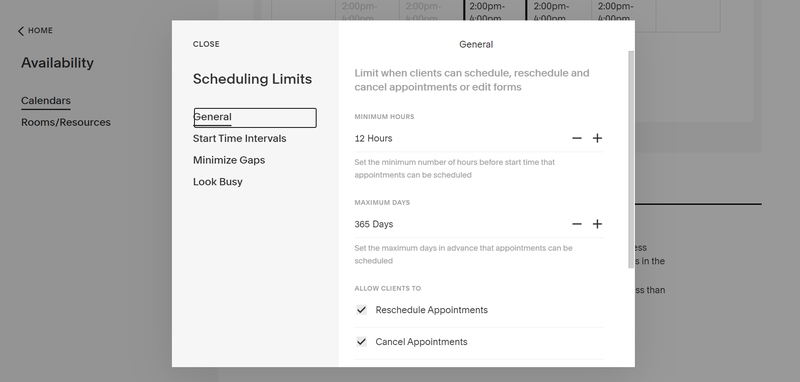 Other preferences include choosing your start time intervals, asking Acuity to minimize gaps, and "looking busy" by reducing the number of available appointments.
Extra client offerings
With Acuity, you can offer more than appointments. Offer your clients memberships, discounts, coupons, gift certificates, packages, and group classes, too. You also have the option to suggest add-ons at checkout.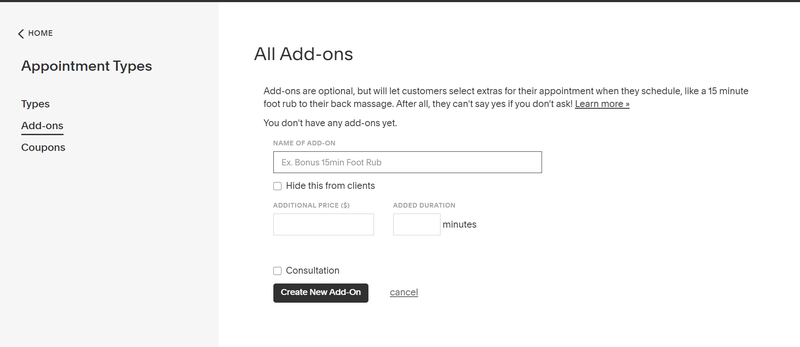 Reporting
Access advanced reporting on appointments, revenue, cancellations and no shows, and more through your Acuity dashboard. You can also create a custom intake form, and Acuity will capture and store client answers for you.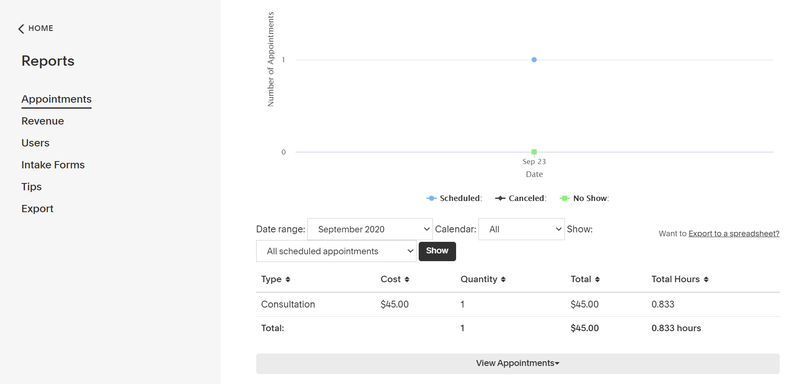 Branding and customization
Acuity gives you the option to add your logo, change color and font, and customize your scheduling information and copy. The Powerhouse plan also includes custom API and CSS for developers, plus the ability to remove "Powered by" on your scheduler.
Reminder emails and text messages
Cut down on time you spend sending emails using custom reminder emails and text messages. Acuity provides customizable templates you can set up for initial confirmation, up to three reminders, cancellation and rescheduling emails, and follow-ups.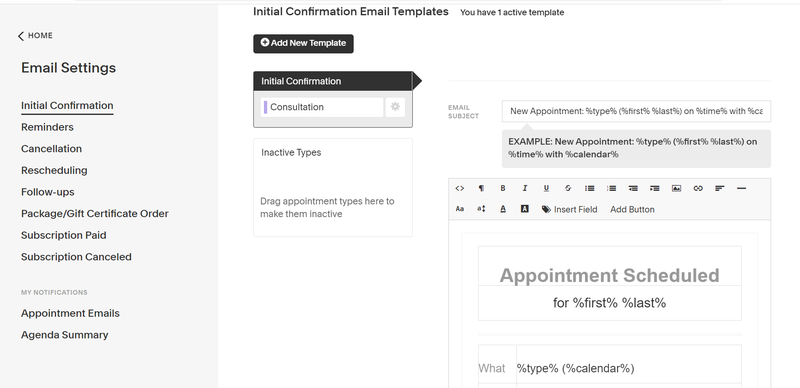 After filling out the template, indicate when you would like the email to send (e.g., 24 hours before the appointment or two days after appointment), and Acuity handles the rest for you.
---
Acuity's ease of use
Overall, Acuity is highly intuitive and easy to use. On-screen prompts during setup smoothly guide you through the process, and the dashboard is well-organized and easy to follow.
Sometimes, you may need to click around to find a specific feature you're searching for. Additional drop-down menus would be helpful in finding settings and features when the location is not readily apparent. However, you'll find anything you're looking for with just a few clicks.
Getting started with Acuity is a quick process. Once you're set up, little to no intervention is required to keep the software running smoothly. Importantly, Acuity booking is intuitive and straightforward for your clients too.
---
Acuity's pricing
Acuity pricing includes four plans: the $0/month Freebie plan, the $14/month Emerging plan, the $23/month Growing plan, and the $45/month Powerhouse plan.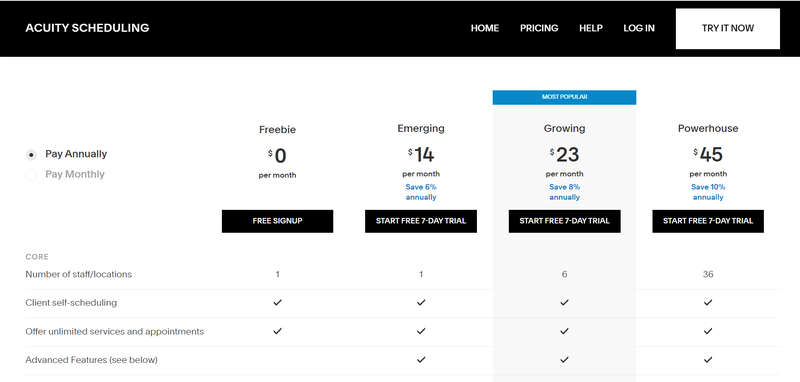 The free plan includes client self-scheduling and unlimited appointments for one staff member or location. All paid plans include advanced features like the ability to embed the scheduler into your website, accept payments, and access advanced reporting.
Paid plans also offer integrations with popular business apps and coupons, discount vouchers, workshops, classes, and group events for clients.
Like the Freebie plan, the Emerging plan is only for one staff member or location. The Growing plan is for up to six staff members or locations, and the Powerhouse plan is for up to 36 staff members or locations.
If you have more than 36 staff members or locations, Acuity can work with you on a custom solution. The Powerhouse plan also offers the highest level of customization, including custom API and CSS for developers, plus the ability to remove "Powered by" on your scheduler.
You can pay for your Acuity plan either monthly or annually. If you pay annually, you receive one month free.
---
Acuity's support
Acuity offers an extensive Help Center with a range of articles and FAQs. They also have live training webinars with Q&A sessions.
Outside of these options, however, Acuity customer service and support is available via email only. The support hours are Monday to Friday from 7 a.m. to 8 p.m. EST, and "periodically throughout weekends and holidays."
If you need more hands-on assistance, Acuity will connect you with an Acuity Certified Expert (ACE). Acuity Certified Experts are independent professionals who can provide personalized help over the phone or through virtual meetings.
Acuity Certified Experts may gain certification in up to three areas: Set-Up Ninjas, Business Strategists, and Technology Wizards. Acuity will connect you with an ACE free of charge, but ACE rates vary.
---
Benefits of Acuity
Acuity saves time for you, your employees, and your clients in scheduling and managing appointments. Integrations with a wide range of popular business apps help you stay organized and offer top-notch customer service with little to no work.
Other features include the ability to embed the scheduler on your website and customize branding, send automated reminders and follow-up emails, and track success through advanced reporting.
---
Automate your appointment scheduling process with Acuity
Take away the stress, frustration, and time involved in scheduling appointments with your clients. Let Acuity handle this part for you, so you can focus on other important business tasks.
Acuity is reasonably priced, offers stellar integrations with other business apps, and provides you with the flexibility and customization you need.
---
Frequently Asked Questions for Acuity
Does Acuity offer a free trial?
Yes, you can try any Acuity plan free for seven days. Acuity also offers a "Freebie" plan, which includes a calendar for one person at a single location.
With the free plan, you can access basic features like client self-scheduling and unlimited client services and appointments. The free plan does not include integrations, customizations, or the ability to accept payments and deposits.
How many employees can use Acuity?
With Acuity's Powerhouse plan, you can allow clients to schedule appointments with up to 36 staff members or locations. The Growing plan allows up to six staff members or locations, while the Freebie and Emerging plans allow only one.
If these plans don't meet your scheduling needs, you can contact Acuity for a custom solution.
Will Acuity integrate with my website?
You can easily embed your Acuity scheduler into your website and link it to your social media accounts and emails. With paid plans, you can customize the scheduler with your logo and add colors and fonts that match your brand and your website's look.

If you'd like to automate scheduling and managing appointments, try a free trial with Acuity Scheduling.
If you'd like to automate scheduling and managing appointments, try a free trial with Acuity Scheduling.
The Motley Fool has a Disclosure Policy. The Author and/or The Motley Fool may have an interest in companies mentioned.