Adobe Captivate Prime is Adobe's mobile, cloud-based learning management system (LMS). Unlike many of its competitors, Captivate Prime is not an authoring platform. To create course content, you would need to use a course builder such as Adobe Captivate and import the content into Captivate Prime for delivery. Adobe Captivate subscriptions are available separately starting at $33.99/month per user.
Captivate Prime has many sophisticated features that you won't find in other learning systems, including social learning tools and content curation driven by artificial intelligence (AI).
---
Who is Adobe Captivate Prime for?
Because of the annual contract requirement and the lack of authoring tools, Adobe is not a simple, all-in-one solution. It isn't the best fit for very small businesses or those with sporadic training needs. It is best suited for businesses with substantial training needs and stable user groups.
There is an alternative pricing model based on active users, which accommodates businesses with more fluid user groups. That pricing is available by quote and might be worth checking out if your learners and content creators tend to come and go.
The software also doesn't support e-commerce, so if you're planning to sell online courses, it is not the LMS for you.
Looking beyond Adobe Captivate Prime's price and contract requirements, this is an impressive LMS that can meet pretty much any corporate training need, no matter how big or complex your organization. It also supports external training for partners and customers.
---
Adobe Captivate Prime's features
Captivate Prime comes with all the administrative features you expect from a sophisticated LMS. As noted above, you will need to author your content in another platform, but once you have the content, Captivate Prime takes it from there.
In addition to the usual administrative features, Captivate Prime comes with a lot of unique, advanced features to help learners succeed.
Content management
From the main administrative menu, you'll find a comprehensive toolset for managing courses and scheduling live, virtual, and on-demand training modules.
You can import content created in any e-learning environment as long as it complies with standards such as Shareable Content Object Reference Model (SCORM) and Tin Can (xAPI). Videos, documents, presentations, and other media can all be uploaded into courses. Captivate Prime also provides a migration wizard that walks you through the process of porting users and data from other systems.
Courses can be connected into paths called Learning Programs. In addition, you can use Learning Plans to automatically assign certain courses, certifications, or learning programs to users and user groups.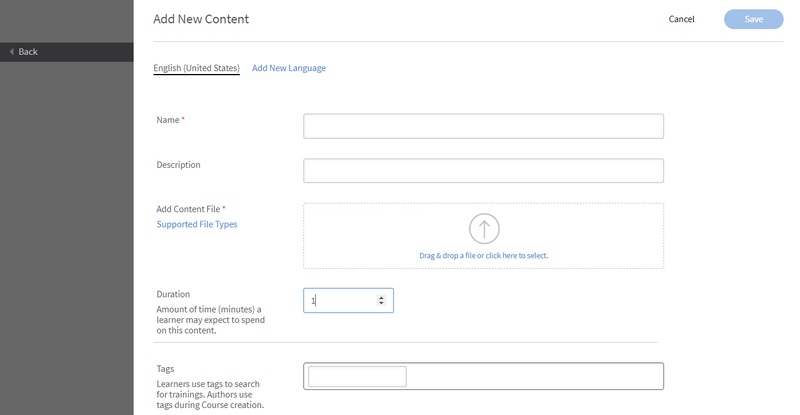 Captivate Prime automatically saves your course content into folders. You can also tag content as a "job aid," which is a resource employees can access directly without dialing into a course.
Like other LMSs, Captivate Prime tracks learner progress and pushes notifications to keep learners, user groups, instructors, managers, and administrators in the loop.
User management
Users can be bulk imported via spreadsheet, added individually, or self-enrolled. Captivate Prime can also sync with your human resources management system (HRIS) data to automatically sort, enroll, and remove users.
You can create Learning Plans for various groups to automatically enroll and track them through a series of courses and certifications. Captivate Prime can also sort users into groups for you based on criteria such as role, department, or location.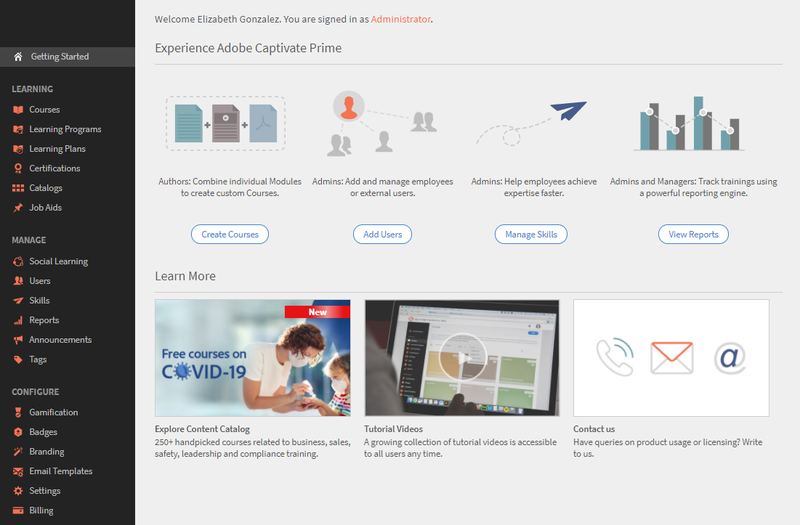 The Skills feature lets you create skill domains for recognition by Prime's AI-driven content curator, Adobe Sensei. Prime recognizes 25 skill sets, ranging from supply chain management and sales to business ethics and finance. You can add custom skill domains of your own.
Courses, levels, and job aids can be connected to different skill sets. Managers can assign skills to employees for development. Prime can also track learners' progress in their assigned skills and suggest content to build them.
External users
Captivate Prime allows you to create login URLs for external users such as partners and customers. Each user you invite receives an automated welcome email with directions for signing in. You can set parameters for different user groups such as requiring email verification on first sign-on.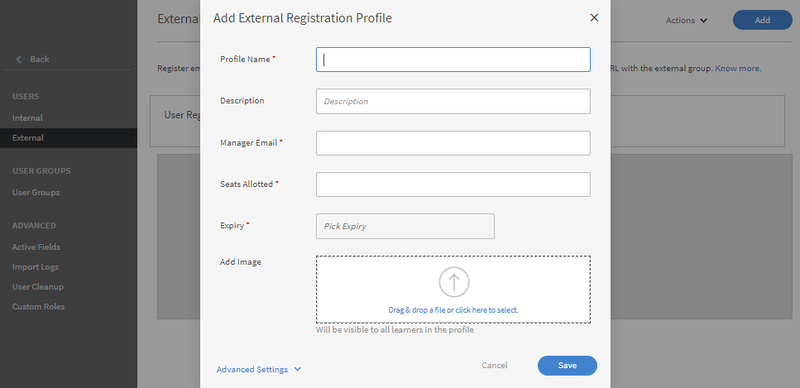 Each external user group has a designated manager. You can also set time and capacity limits on the groups and create a unique theme for their interfaces.
Social learning and user-generated content
It is easy for learners to go beyond completing assignments to engage with their Adobe Captivate Prime e-learning community.
For example, say an employee finds an interesting article on sales online. The employee can easily post it and tag it as a sales article.
Users can also upload their own content via Captivate Prime's free desktop app for user-generated content. The app lets users record, edit, and post webcam and screen capture videos, audio files, and screenshots to share with colleagues.
Prime manages the various feeds via Sensei for a user experience (UX) that rivals social media platforms. The system assigns a quality score before approving content, or moderators can manually approve content.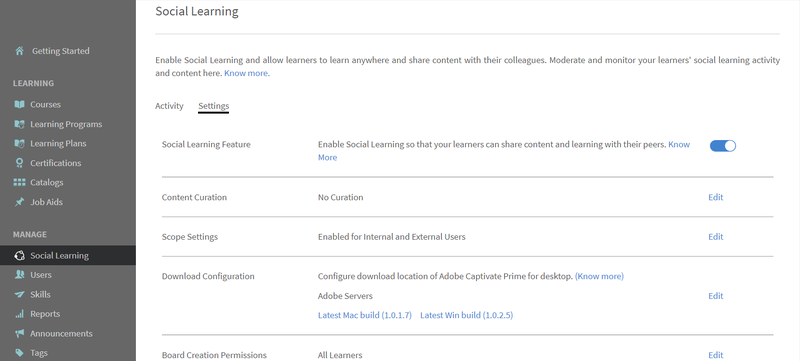 Learners receive points for contributing quality content. If they amass enough points, they can become subject matter experts (SMEs) with the ability to curate content. Users can also follow discussions or fellow users. This aspect of Captivate Prime is exceptional.
Reports
Captivate Prime provides a useful array of dashboard reports tracking system usage, progress, and engagement. You can also create reports and set up groups to subscribe to them.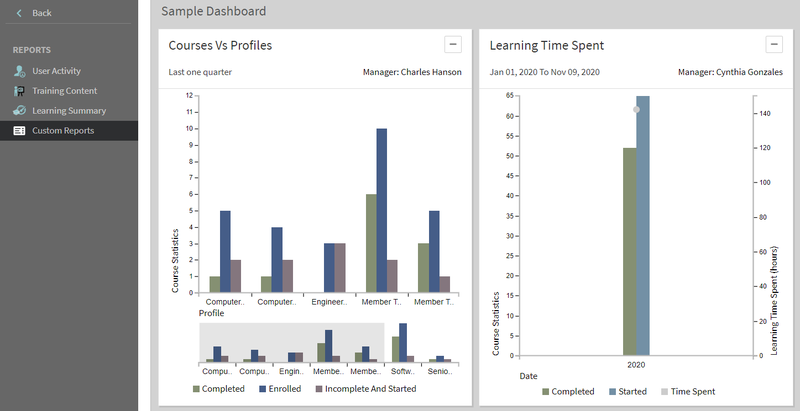 Reports provide snapshots of results broken down by individual learners, groups, courses, learning paths, and more.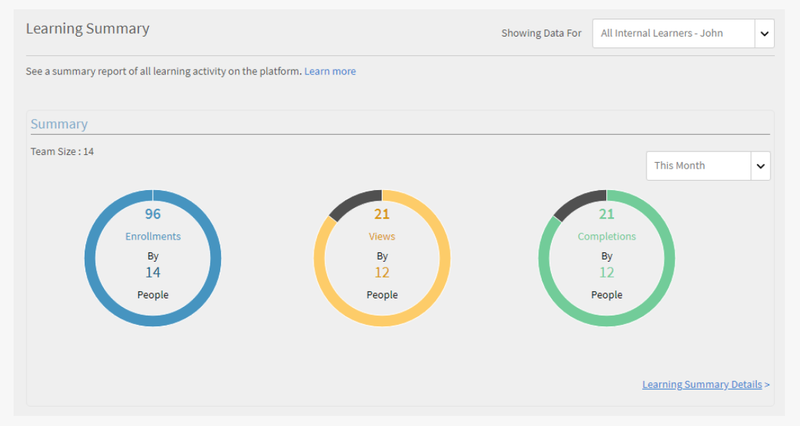 Captivate Prime lets you export data and reports via an integration with Microsoft Power BI. You can also use Power BI templates to create reports within Captivate Prime.
Advanced learning experiences
The learner interface is simple and easy to navigate. Learners can also make themselves at home by rearranging elements via dragging and dropping. Notifications of overdue training and impending deadlines are clearly shown on the learner dashboard. Assigned trainings are presented in a feed to make it easy for learners to pick up training where they left off.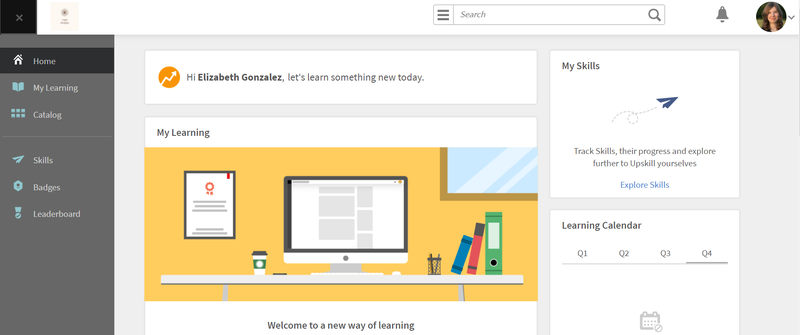 All these features can be accessed on any mobile device through Captivate Prime's native app. Users can check notifications, complete assignments, and download courses to consume offline on their tablets or phones. They can even scan a quick response (QR) code to record attendance.
Captivate Prime's Fluidic Playback lets users stream slide presentations, video, documents, webpages, and other media seamlessly. Learners can open a sidebar to bookmark content and take notes. They can also jump into discussions, post questions directly from the lessons, or create polls for others to respond to.
Gamification and certifications
Adobe Captivate Prime features include gamification and certification tools to engage employees and incentivize training.
Captivate Prime tracks learners' progress against skills and goals they've been assigned. Leaderboards let learners earn points for reaching their goals and compete with others in their skill domain or user group.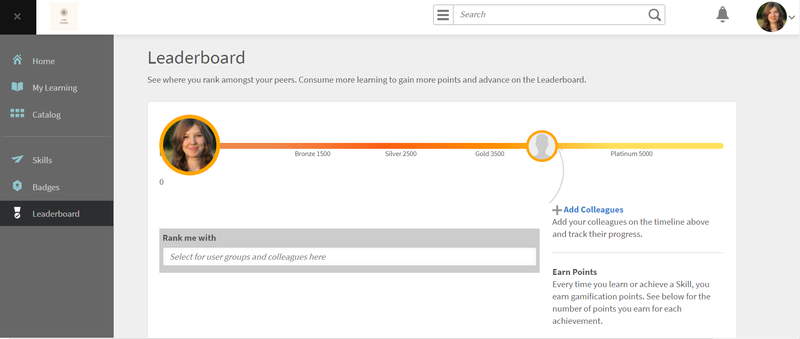 Captivate Prime comes with pre-built badges and certifications, and you can also create your own. Gamification is not available for external users.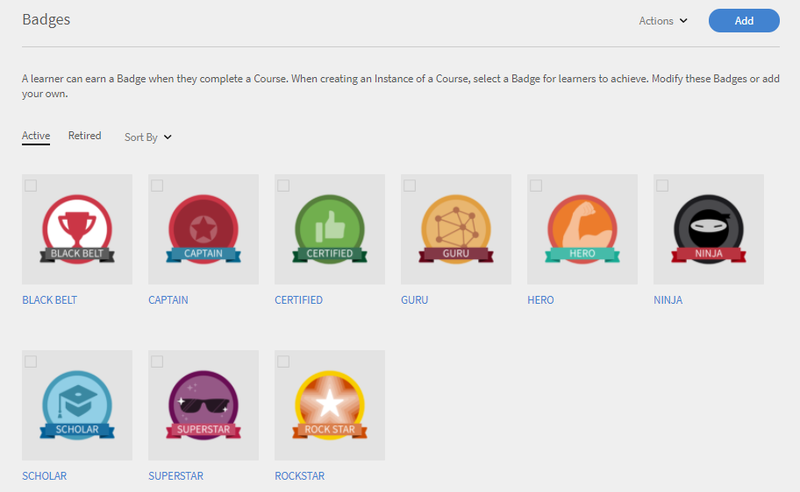 Certifications are also easy to manage in Captivate Prime. Admins can create certifications, schedule renewals, and assign coursework and resources to achieve them. Users can also upload their own certifications and let Captivate Prime track their renewals for them.
API-based integrations
As you might expect from an Adobe LMS, Captivate Prime comes with extensive integration plus an application programming interface (API) layer for integrating Prime into your own systems. Programs that connect with Prime include:
Adobe Connect Virtual Classrooms, Zoom, and Bluejeans
Lynda/LinkedIn Learning, HarvardManageMentor, getAbstract
Power BI
Salesforce
miniOrange
Custom file transfer protocol (FTP)
Single sign-on by Active Directory Federation Services (ADFS)
Course library
You can purchase access to more than 250 courses from Adobe's library within the LMS. Courses cover Adobe's Creative Cloud suite as well as leadership, sales, compliance, safety, and other business skills. Courses are priced at $16/learner per course.
---
Adobe Captivate Prime's ease of use
Captivate Prime is not the simplest or easiest LMS to manage. The interface is straightforward but more layered and complex than that of many other systems. You will need to invest time to bring administrators and managers up to speed, especially to get the full use from Captivate Prime's advanced features.
Adobe Captivate Prime video tutorials are available to help new users navigate its many features.
---
Adobe Captivate Prime's pricing
Captivate Prime costs $4/month per registered user with a 10-user minimum and discounts for organizations with more than 500 users. On a per-user basis, it's quite affordable. Yet the company requires an annual contract, which means you have to factor in turnover to get an idea of the long-term costs to your business.
You can get pricing based on active users by quote, which may change the bottom line for your business dramatically. An Adobe Captivate Prime free trial is available for a full month, so you have a chance to discover exactly what you're getting before you commit.
---
Adobe Captivate Prime's support
Adobe offers support for Captivate Prime by phone, email, and chat. You can also consult the Adobe Captivate Prime forum and Help Center with questions.
As a part of the Adobe behemoth, Captivate Prime may not be as solicitous or agile as some of the up-and-coming LMSs out there. Still, with all the avenues open to you, you can usually resolve issues within a day or two, and there are ample resources to consult while you're waiting.
---
Benefits of Adobe Captivate Prime
The major benefits of Adobe Captivate Prime are the social learning capabilities, sophisticated features, and integrations with other platforms in the Adobe software family and beyond. If you're already using Adobe software or one of the systems integrated with it, Captivate Prime may be a natural extension for your teams.
---
Always be learning
Captivate Prime is a rich LMS with exciting social capabilities that set it apart from the crowd. Having a highly functional social media platform within your learning community has great potential for engaging learners, amplifying the effects of your training, and creating a culture of continuous learning.
On that basis alone, Captivate Prime merits your consideration as a business training solution. And with a free trial, it makes sense to get in and take a look around.
---
Frequently Asked Questions for Adobe Captivate Prime
What's the difference between Adobe Captivate and Captivate Prime?
Adobe Captivate is an e-learning authoring tool that lets you create course elements such as lessons and tests. Captivate Prime is a learning management system for delivering courses to students and managing their learning experiences.
Is Adobe Captivate Prime LMS expensive?
At $4/registered user per month with a minimum of 10 users, the monthly pricing is affordable. Yet Captivate Prime requires an annual commitment, so if you have a lot of turnover among learners and learning system managers, the costs could add up quickly.
Pricing is available on an active-user basis, which means you only pay for users who are active each month. Check both pricing options and consider user churn to determine the bottom-line cost for your business.
What is Social Learning in Captivate Prime?
Social Learning is a feature set within the Captivate Prime LMS that functions just like a complete social media platform. Learners can upload articles or videos to share with colleagues, post questions, respond to posts, and follow other users. This adds a unique social learning dimension that sets Captivate Prime apart from other learning management systems.

Adobe Captivate Prime is a sophisticated LMS with unique social learning tools built in. Find out what social learning can do for your business.
Adobe Captivate Prime is a sophisticated LMS with unique social learning tools built in. Find out what social learning can do for your business.
---
How Adobe Captivate Prime Compares
The Motley Fool has a Disclosure Policy. The Author and/or The Motley Fool may have an interest in companies mentioned.